Diver Bliss is one of the few blogs dedicated to Scuba Diving, Ocean Conservation, and Sustainable Lifestyle. With 15,000 to 20,000 unique page views per month, DiverBliss.com has served as a resource guide to scuba divers and ocean lovers from all over the world.
I founded Diver Bliss in 2019. In this short time, my website has received over 330,000 page views. I also have more than 16,000 followers across different social media platforms. Through Search Engine Optimized (SEO) Content Creation and effective Social Media Marketing, I have organically grown Diver Bliss without paying for a single advertisement.
My readers and followers are made up of real consumers who are actively searching for the best experiences, travel accommodations, attractions, products, and services. As an experienced scuba diver, traveler, and ocean advocate, I have built trust with my readers through the high-quality and honest content that I produce.
Read the About Me page to learn more about my personal story and experiences.
Website Statistics
• Total Unique Pageviews (since March 2019): 368,000+
• Total Page Views (December 2022): 27,941
• Average Time on Page (December 2022): 3:38 minutes
• Domain Authority: 22
• Page Authority: 31
• Mailing List: 650+ Emails
Social Media Statistics (as of December 2022)
• Instagram: 11,126 Followers
• Facebook Page: 2764 Follows
• Twitter: 1012 Followers
• Pinterest: 850 Followers with 89.2k Monthly Views
• YouTube: 344 Subscribers
• Tiktok: 556 Followers
Collaboration and Features
Here are some of my collaborations with other websites and publications:
Explore Fiji Magazine- Dua Tale, Please!
Alajode- Scuba Diving in the Philippines
She Wanders Abroad- Most Beautiful Islands in the Philippines
Dive Happy (Podcast)- The Philippines Super Secret Macro Paradise
Voyaging Herbivores- Eco Resorts in the World
Coral Cay Conservation – Dive Scholar Blog: Ara Juan
BBC Travel – The Sheep That Photosynthesise
Diver Bliss Audience
DiverBliss.com has readers from all over the world (190+ countries).
United States (40%)
Philippines (21%)
UK (4%)
and the rest of the world (35%)
The majority of readers are 18-44 years old.
25-34 years old at 32.11%
35-44 year olds at 19.74%
18-24 year olds at 17.36%
While scuba diving is a male-dominated industry, that is not the case for my blog. 57% of my readers are female and 43% are male.
How We Can Work Together
With more than 10 years of experience in building businesses and brands, I can help you reach your audience through creative storytelling. Alongside my skills in photography, videography, graphic design, and writing, I pride myself on being up-to-date with trends in SEO and online marketing.
Each partnership is unique, which is why I recommend setting goals and creating tailor-fit packages to reach your objectives.
Get in touch with me for:
Press trips & destination campaigns: Partner with me to promote destinations. I can help you increase awareness through promotions on Diver Bliss website, social media, and email list.
Content marketing: Get your brand's message across by hiring me to produce content that leads to sales. I have created articles and posts that have converted well for various affiliate brand partners.
Search Engine Optimized Blog Posts: I have written more than 150 articles for Diver Bliss resulting in consistent organic traffic. The majority of the articles I've written have ranked on Google's top 100 search results for over 17,000 keywords. You may also hire me to write articles for your own website to help drive consistent traffic over time.
Social Media Campaigns: Reach your brand's target market through my highly engaged social media followers across multiple channels. I can also create content or social media plan for your own brand's online platforms.
Product and service reviews: Present your company to a fresh set of eyes as I create engaging yet honest reviews of your products and services. Take note that if you would like to work with me, I always stay true to my audience and will always be transparent.
Brand Ambassadorships: I would be happy to represent your brand if your mission and values align with mine. I do not promote brands that I personally do not trust or believe in.
If you would like to work with me, please email me at hello(a)diverbliss.com or drop me a message below. I would be happy to help you reach your business goals.
Media Kit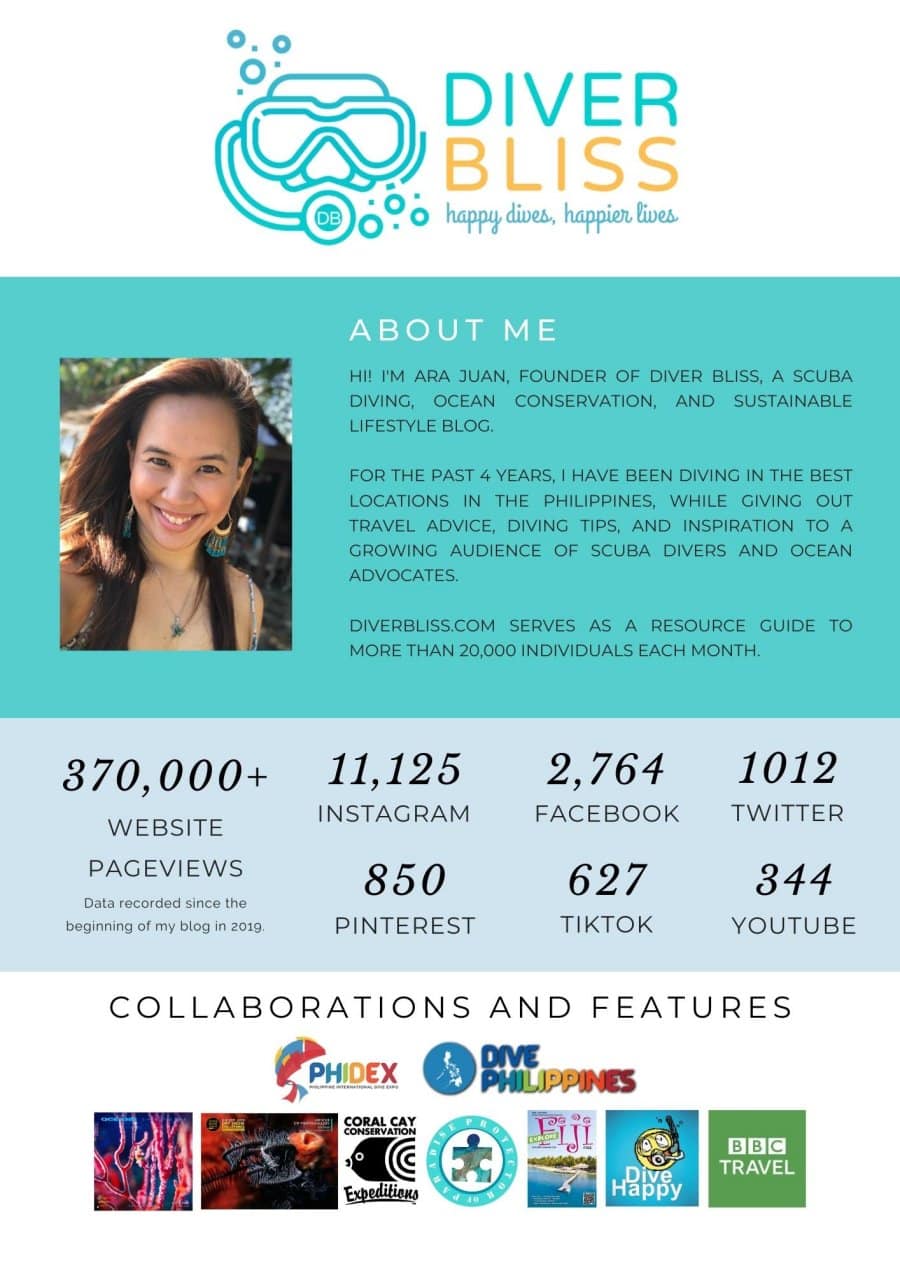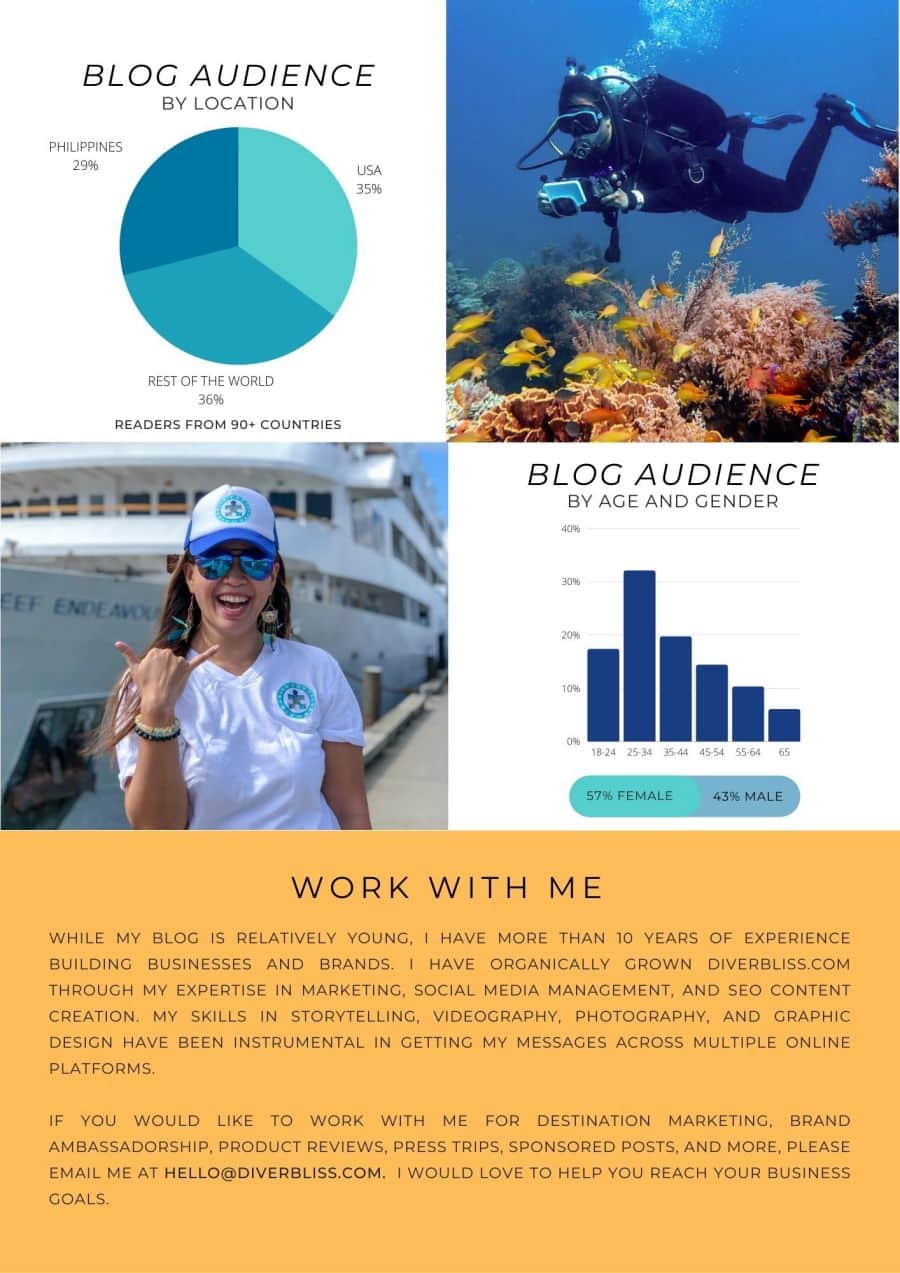 contact me