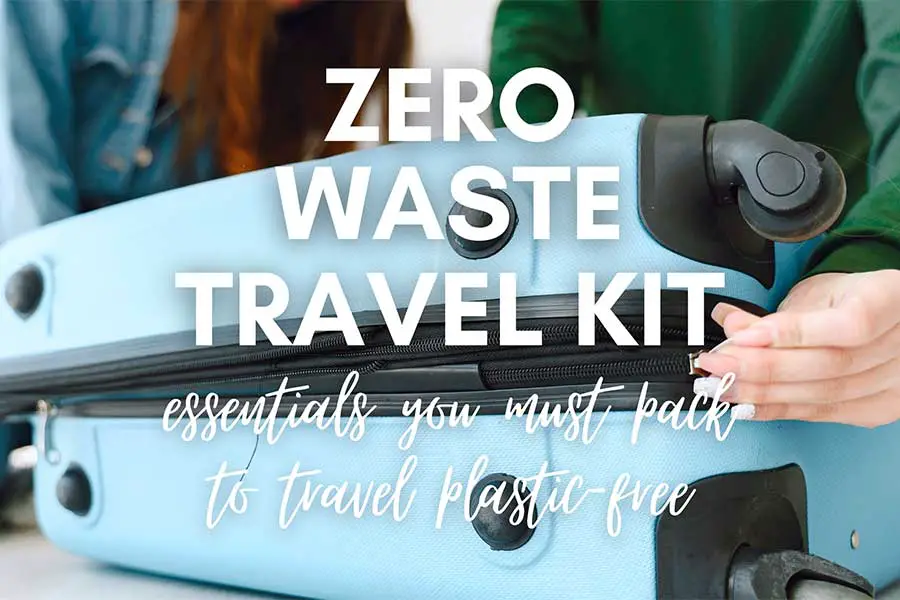 The links below may be affiliate links. If you shop through them, I'll earn a commission at no additional cost to you. For full information, please see my disclaimer here.
If you want to travel more sustainably and reduce waste when traveling, I highly recommend putting together your own zero waste travel kit. In this post, I will share with you some zero waste travel essentials that you should take with you when you are traveling.
As a scuba diver who has seen the negative effects of plastic pollution in our oceans, I make a conscious effort on reducing the amount of plastic I use in my life. Since traveling is a huge part of my life, I try to minimize my environmental impact while traveling.
One of the ways I do this is by using less plastic while I am on the go. Through the years, I've changed many of my purchasing habits and the choices I make while traveling. One of the things I've done, which I think every eco-friendly traveler should do, is putting together a zero waste travel kit.
While I have not completed my plastic-free travel kit, I am slowly working my way towards that. If you want to do the same, here are some zero waste alternatives you can include in your own zero waste travel kit.
Zero Waste Travel Essentials
1. Reusable Water Bottle
Say no to single-use plastic water bottles by bringing a reusable flask. This zero waste travel essential will not only save you money but will also help save our environment.
Just imagine if you're traveling for 1 week and you buy 2 1-liter bottle of water a day, that's at least 14 bottles of single-use of plastic. By using refillable travel flasks, you can stop wasting money on water bottles.
You can simply refill your reusable bottle from the tap (if it's potable) or ask your accommodation to refill your flask for free. Many hotels or tourist accommodations or restaurants will have a filtration system and you can ask them to refill your bottle for you.
2. Reusable Coffee or Tea Mug
Single-use coffee cups are so wasteful. Not to mention the coffee sleeves, coffee cup covers, and coffee stirers that you might also use when you enjoy a cup of joe. If you love drinking coffee or tea while you're on the go, having a reusable mug should be part of your zero waste travel kit.
If you're staying in a hotel, Airbnb, or hostel, you might also want to consider making your own coffee or tea at home base where there is no need for single-use cups. Or if you enjoy buying from a cafe, why not stay for a bit, and request for your drink to be served in a mug or glass.
3. Reusable Cutlery Set
Another plastic-free essential that you should pack in your bag is a reusable cutlery set. You will need them when you're eating out so you don't have to use the disposable spoon and fork the restaurant offers you.
4. Reusable Straw
So many establishments and restaurants love serving their drinks with a plastic straw. Immediately inform your server that you prefer to consume your drink without a plastic straw.
However, if you're the type who enjoys drinks like smoothies and boba milk tea, that may require you to use one, get yourself your own reusable straw to avoid single-use plastic.
5. Eco-bag for Shopping
Shop ChicoBag VITA Compact Reusable Shopping Tote on Amazon
If you love shopping for souvenirs or groceries while you're traveling, you should include an eco-bag or reusable shopping bag in your zero waste travel kit. Eco-bags will eliminate the need for single-use paper or plastic bags every time you need to buy something in a shop. These come useful too as an extra everyday bag.
6. Reusable Food Containers
Taking your own reusable snack containers is another money-saving, zero waste travel hack you should try.
If you love snacking while on the go, having your own reusable containers will reduce your single-use plastic consumption. You can buy fruits from a local fruit stand or bread from a bakery and take these with you in your reusable food containers. Bringing your own food instead of buying from a restaurant for all your meals will save you money when traveling.
If you like buying takeaway meals, you can also bring your own container and the restaurant or cafe to place your meal in your reusable food container.
You can also bring your own reusable containers for when you have leftovers. Instead of asking for foil wrapper or styrofoam food boxes, simply place your extra food in your reusables and take it home for you to enjoy later on.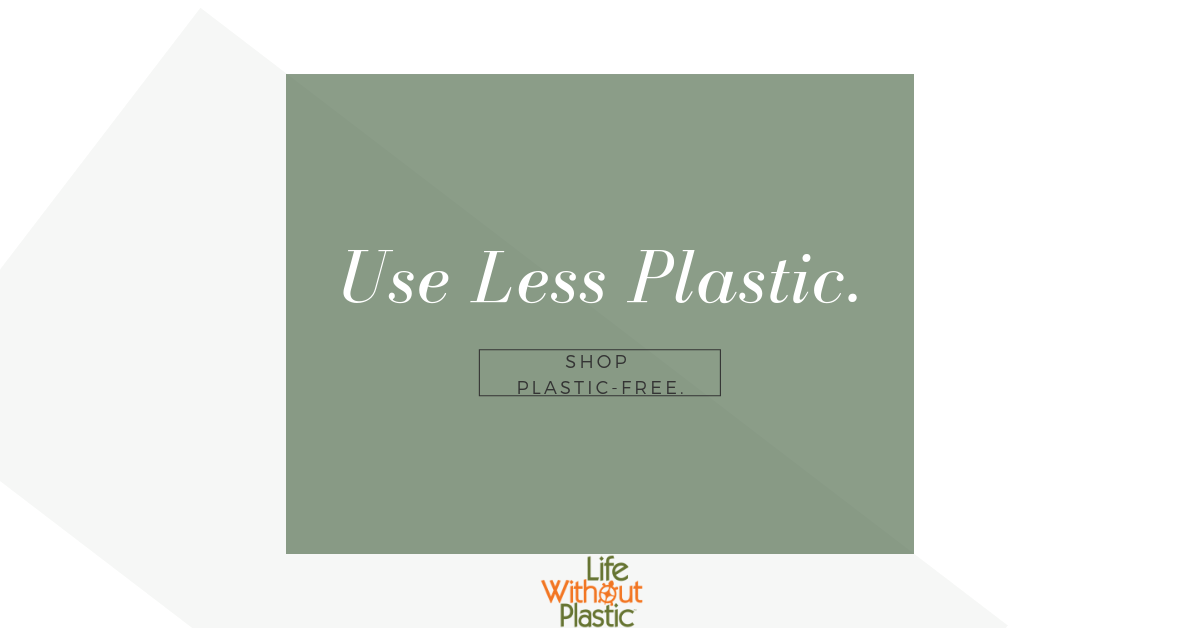 Reduce your plastic waste even when you are not traveling! Here are 101 ways you can say no to plastic every day.
Zero Waste Travel Toiletries
Taking your own zero waste travel toiletries instead of using complimentary free ones in hotels can drastically reduce the amount of plastic you can consume.
I admit, I was one of those people who would hoard all those hotel toiletry kits, until I realized how much plastic I was hoarding and throwing away. Now I bring my own toiletries and avoid hotel toiletry kits. Even if they are free, they are not plastic-free.
Here are some low waste or plastic-free travel toiletries you can include in your zero waste travel kit.
7. Body Soap Bar
Include in your zero waste packing list a solid bar of soap instead of liquid soap that comes in a single-use plastic bottle. Not only will you use less plastic, but it will also save you luggage space. Body soap bars are also easier to package without having to worry about spillage. You can put your soap in a reusable travel soap container to keep it intact while traveling.
Shop Dr. Bronner's – Pure-Castile Bar Soap on Amazon
8. Shampoo and Conditioner Bar
Another easy zero waste swap you can do is to replace your liquid shampoo and conditioner to solid bars. Many shampoo and conditioner bars come in zero-waste packaging that is perfect for eco-friendly travelers.
Shop Organic Shampoo Bar and Conditioner Bar Travel Set on Amazon
These zero waste alternatives are compact and spill-proof. You can just throw them into your luggage without having to worry about space, weight, and liquids creating a mess in your bag.
For more recommendations, check out my list of best plastic free shampoos and conditioners.
Also, check out my list of eco-friendly hair brushes and combs if you need to buy one for your zero waste travel kit.
9. Zero Waste Natural Deodorant
If you're a heavy deodorant user, you must include in your zero waste travel kit some natural zero waste deodorant. Traveling can get you really sweaty and cause heavy body odor so pack your toiletries with plastic free deodorant.
10. Bamboo Toothbrush
Another zero waste travel essential for eco-friendly travelers is a bamboo toothbrush that uses less plastic. Bring your own eco-friendly toothbrush instead of using the complimentary free toothbrush set your hotel provides for you.
11. Zero-waste Toothpaste
Make sure to pack eco-friendly toothpaste in your zero waste on the go kit. Nowadays, you can buy toothpaste in bottles and get rid of all toothpaste plastic tubes altogether.
12. Zero-waste Floss
Most over the counter floss is made from plastic and come in plastic container. If you want have greener teeth flossing ritual, get some organic bamboo floss that comes in plastic free packaging.
13. Zero-waste lipbalm
When you are traveling you can be exposing yourself to extreme weather conditions that can cause your lips to become chapped and dry. Kiss plastic goodbye with these plastic free lip balm. Keep your lips and the planet protected with these earth-friendly and natural alternatives.
14. Reusable ear swab
Shop LastSwab Reusable Cotton Swabs for Ear Cleaning on Amazon
Carry only one reusable ear swab wherever you go. With the LastSwab, you no longer need to bring several ear swabs that has a plastic stem nor would you need to throw away ear swabs ever again.
15. Organic Facial Rounds
Just because you're traveling doesn't mean you skip your daily skin care routine. If you travel with your cleansers, toners, and makeup removers, lessen the use of cotton pads or cotton balls by bringing your organic reusable facial rounds.
These low waste alternatives are friendlier to the environment. Simple wash after each use and reuse them over and over again.
16. Plastic Free Safety Razor
Invest in a good quality razor instead of buying disposable razors. It is more economical and earth friendly to buy a heavy duty razor that will last you lifetime, rather than buying razors that you throw away after a few uses.
For a cleaner shave, these plastic-free safety razors will allow you to replace the razor blades as needed.
17. Plastic Free Shaving Soap
Change the way you shave by using plastic-free shaving soap. By switching to this eco-friendly alternative, you don't need to buy plastic tube shaving cream which can make a mess in your luggage or canned aerosol shaving cream that can take up too much space.
18. Menstrual Cup
Another zero waste travel essential for women is menstrual cups. Switching to a menstrual cup is a travel hack that will save you money and save the environment. Menstrual cups will drastically reduce the amount of feminine product waste you use every time you get your period.
Unlike most disposable feminine products that need to be replaced every 4 hours, menstrual cups are safe to use for 10-12 hours. You can wear them without having to worry about swapping, which is perfect if you have long days out traveling.
Since menstrual cups are reusable, you also would not need to stress about finding the right tampon or pad for you while you're traveling in the middle of nowhere.
If you do not want to use a menstrual cup, check out my post on zero waste period products.
19. Zero Waste Reef-Safe Sunscreen
Protect your skin and ocean from harm by using zero waste reef safe sunscreen. It's very important to use sunscreen to protect your skin from the harmful rays of the sun. However, don't just use any kind of sunscreen while traveling. Most sun creams contain harsh ingredients that are also bad for the ocean so switch to a reef safe sunblock. Go the extra mile and find one that is certified reef-safe and plastic free!
Zero Waste Safe Travel
20. Travel Hand Soap
Rather than using travel wipes which are often non-biodegradeable and wasteful, these paper soaps will leave you cleaner and greener wherever you may be.
Shop FOMIN 3-Pack Lemon Foaming Hand Soap Sheets on Amazon
Simply add water, lather up and rinse to wash away dirt and germs while you are on the go. Lightweight and compact, these portable soap sheets are perfect for when you go on hikes, backpacking, or traveling. Don't forget to bring a handkerchief or small towel to dry your hands.
21. Reusable Face Mask
Experts recommend that social distancing and wearing masks should still be practiced when traveling. Since surgical masks are becoming a huge contributor to plastic pollution, include in your zero waste travel kit a reusable face mask instead.
Make sure to follow the mask guidelines set by experts so you get the correct reusable mask to keep you safe while traveling.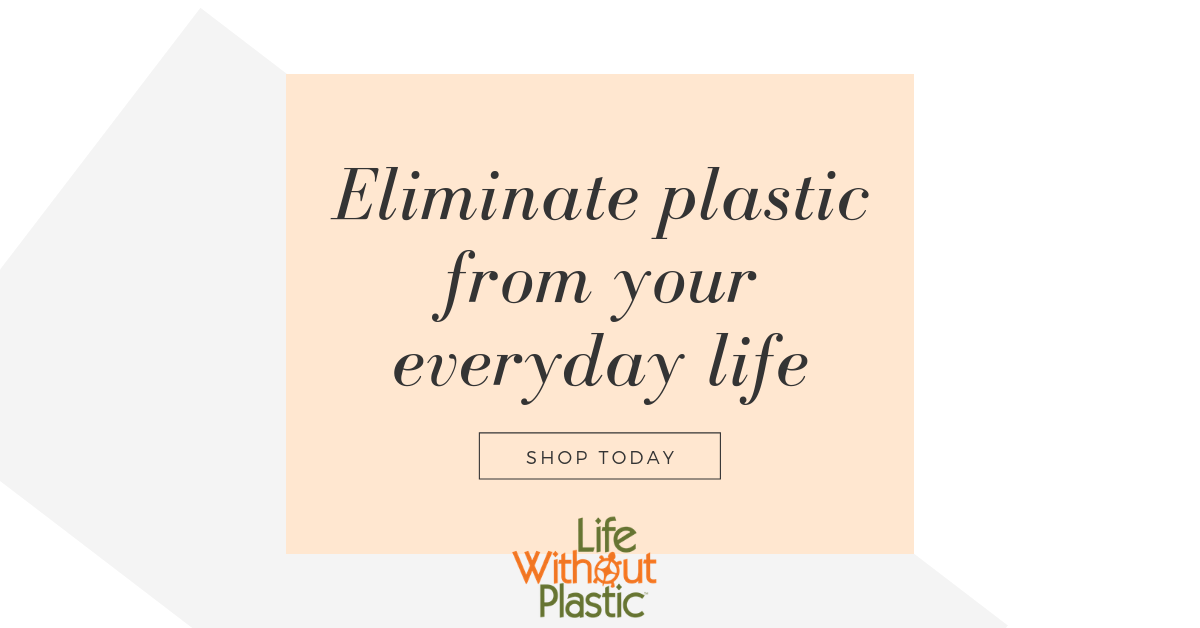 Zero Waste Travel Starter Kits
To help you in your plastic-free journey, here are some of the best zero waste starter kits. If you're looking for zero waste travel essentials, these sets might have everything you are looking for.
They are wonderful environmentalist gifts for yourself or for a traveler that you know who wants to travel more responsibly.
Buying as a set can help you save money. It is also better for the environment if you shop from the same store as it will reduce your carbon footprint.
Do check out my list of best zero waste subscription boxes that can help you get started with your zero waste living.
If you would like to shop for your zero waste travel essentials online, you may also check out these sustainable stores that ship plastic-free.

USA: EarthHero | EcoRoots | Life without Plastic | Net Zero | Zero Waste Store | Zero Waste Outlet | Bamboo Switch | Me Mother Earth | Well Earth Goods

Canada: Zero Waste MVMT | Etee Shop | Smile Boutiques | Plantish Future

UK: Battle Green Box | Plastic Free Zone | Bambootique UK | Jungle Culture

Australia: Dirty Hippie Cosmetics

Philippines: Eco Shop Ph | EcoShoppe Ph

For more recommendations, you may also search my List of Zero Waste Stores Online to find the best eco-friendly shop nearest you.
Remember that the first rule to zero waste lifestyle is to refuse. As much as possible learn to say no so you don't produce waste. However, if you really need to buy, do consider any of these plastic-free alternatives.
Put together your own zero waste travel kit based on your personal needs, if you don't need it, don't buy it. Let's all do our part and travel more sustainably by making smarter and better choices. Because now is the best time to start being a conscious traveler.
Zero waste and eco-friendly guides you might want to read:
60+ Best Online Zero Waste Stores and Eco-friendly Shops
45 Easy Zero Waste Swaps for a Plastic Free Life
15 Best Zero Waste Starter Kits and Bundles
21 Zero Waste Travel Essentials
101 Ways to Say No To Plastic
Best Zero Waste Subscription Boxes
Best Zero Waste Reef Safe Sunscreen
Best Zero Waste Shampoo and Conditioners
Best Eco-friendly Hair Brushes and Combs
Best Zero Waste Period Products
Amazing Ocean Companies Saving Our Seas
10 Saving the Ocean Bracelets
27 Best Environmentalist Gifts: What To Get An Eco-friendly Person
Pin for later
What's in your Zero Waste Travel Kit? What zero waste alternatives do you use for a plastic-free travel? Leave a comment below!
The links above may be affiliate links. If you shop through them, I'll earn a commission at no additional cost to you. For full information, please see my disclaimer here.