One of the best parts of traveling as a Protector of Paradise, was staying in Eco Resorts in Fiji! If you want to travel sustainably, it's important to support businesses that care about the environment.
Traveling to Fiji has made me more aware of the possibilities and potential my country can do when it comes to tourism. I saw how Fijians and tourists alike enjoy the benefits of sustainable tourism.
If you're curious to know which eco-friendly resorts I visited in Fiji and the 15 creative ways they are helping save the ocean, then keep reading!
Model for Sustainability
Jean-Michel Cousteau Fiji is a 5-star Eco Resort in Savusavu. It is an environmentally and culturally oriented family resort conceptualized by Jean-Michel Cousteau, son of the legendary ocean explorer Jacques Yves Cousteau.
This Eco Resort in Fiji dedicates itself to caring for the environment by creating sustainability and educational programs that leave lasting impressions to their guests.
Their philosophy is to take as little from the environment as possible, to give back as much as they can, and to respect humans and nature with whom they share this planet.
Teach Kids about the Ocean
One of the programs they have is the "Bula Club". This program is for the children visiting the resort to better appreciate the world around them.
Aside from learning about Fiji's culture, the kids are given stimulating activities thought out their stay in The Jean-Michel Cousteau Fiji Resort. The program teaches kids about the environment and how they can conserve and protect it.
Sustainable Reefs Program
Snorkeling and scuba diving is one of the best things you can do in Fiji. And because The Jean-Michel Cousteau Resort takes sustainability seriously, they have a dedicated Marine Biologist and Naturalist on its staff. He ensures the guests are exploring while understanding the natural beauty of Fiji.
On some nights, their marine scientist invites guests to join presentations about marine life and coral reefs found in Savusavu bay. Guests are also welcome to join him on reef checks as part of an international program that monitors the health of the reefs around the world.
Establish Marine Protected Area
When Mantaray Island Resort negotiated to lease the land for the resort, part of the agreement was to include the waters in front of the resort as a voluntary marine reserve. This plan paid off and the house reef is now considered to be one of the best in Fiji!
Because of these efforts the marine life around the island has flourished. Even the local community has become involved in protecting the reserve.
Organize Eco-Friendly Activities
One of the most popular activities in Mantaray Island resort is Swimming with Manta Rays! The resort has strict rules when it comes to interacting with the manta rays. Briefings are mandatory and expert guides are always present to ensure the safety of guests as well as the mantas!
Activities like these are great to educate people about ocean life. When people are aware, they start to care.
Create Odourless Self Composting Toilets
In Mantaray Island Resort, instead of flushing toilets, they have odourless self-composting toilets. Human waste does not go into septic tanks that can potentially leak into the ground and into the ocean.
Instead, waste is mixed with bacteria and sawdust. This naturally breaks down into compost which is then used as fertilizers on the resort gardens.
Waste Water Treatment System
Another concept Mantaray Island Resort has implemented is the use of bio-gills. These are naturally occurring micro-organisms that "eats" waste from the water.
Quality recycled water is produced by treating all wastewater from the kitchen, laundry, showers with the bio-gills. The treated water is then reused in the gardens so nothing is really wasted!
Install Eco-bin stations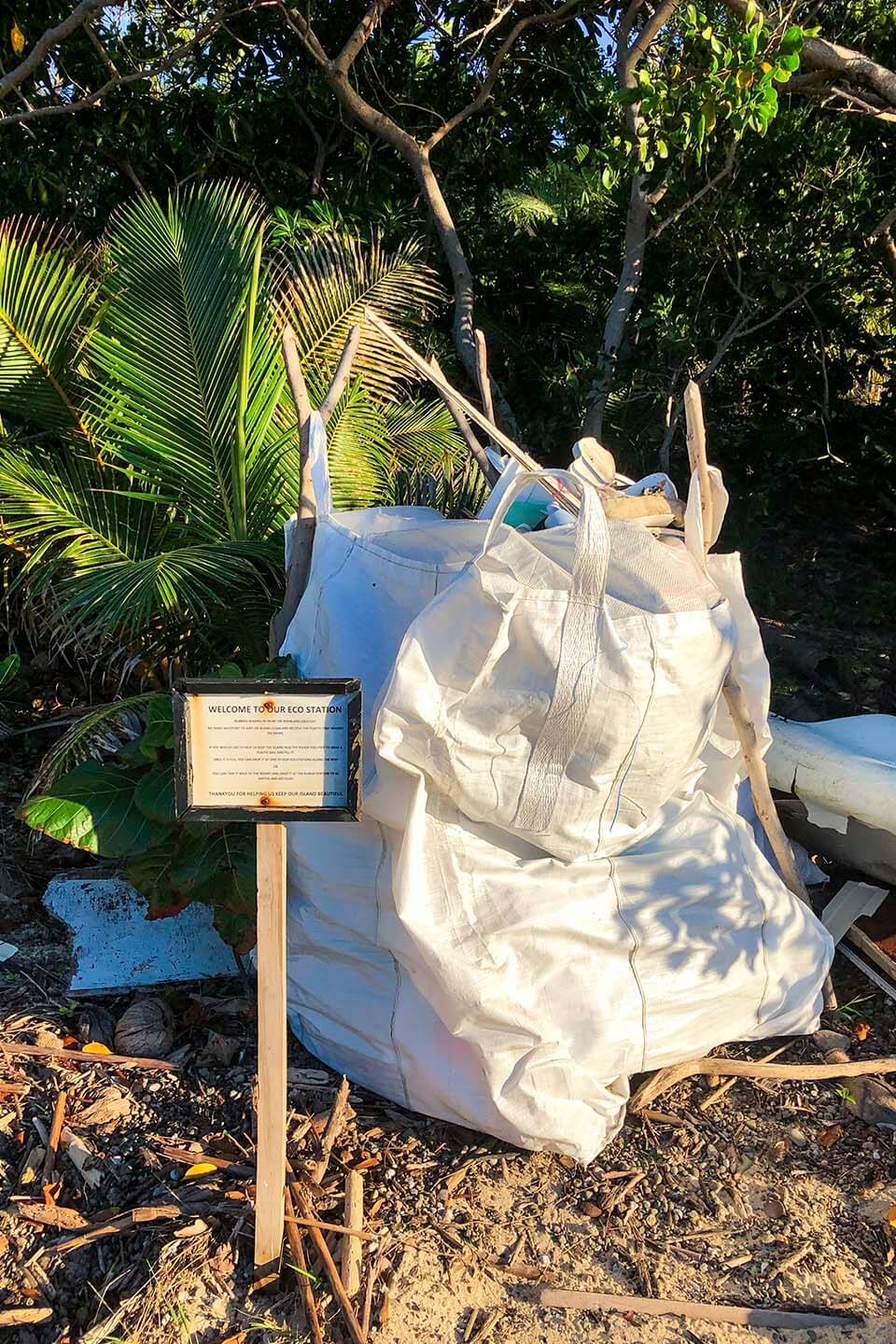 While walking on the beach at Mantaray Island, you will find Eco-bin stations to encourage visitors to pick up plastic trash they see.
Providing Eco-bins around the island encourages people to easily do beach clean-ups. This is something that's easy to implement and I do wonder why not all resorts by the beach are doing this yet!
If you're impressed with this Eco Resort in Fiji, do book Mantaray Island Resort for your next vacation!
Crush and Upcycle Bottles
Malamala Beach Resort is one of the more popular eco resorts in Fiji because it is very easy to get to. With thousands of guests visiting their island, you can just imagine the number of beverages that get consumed each month.
To solve some of their waste problem, they invested in a glass crusher machine. Glass bottles from beverages like water, beer, and wine, are cleaned and dried. After this, it goes through the glass bottle crusher that pulverizes the glass into sand!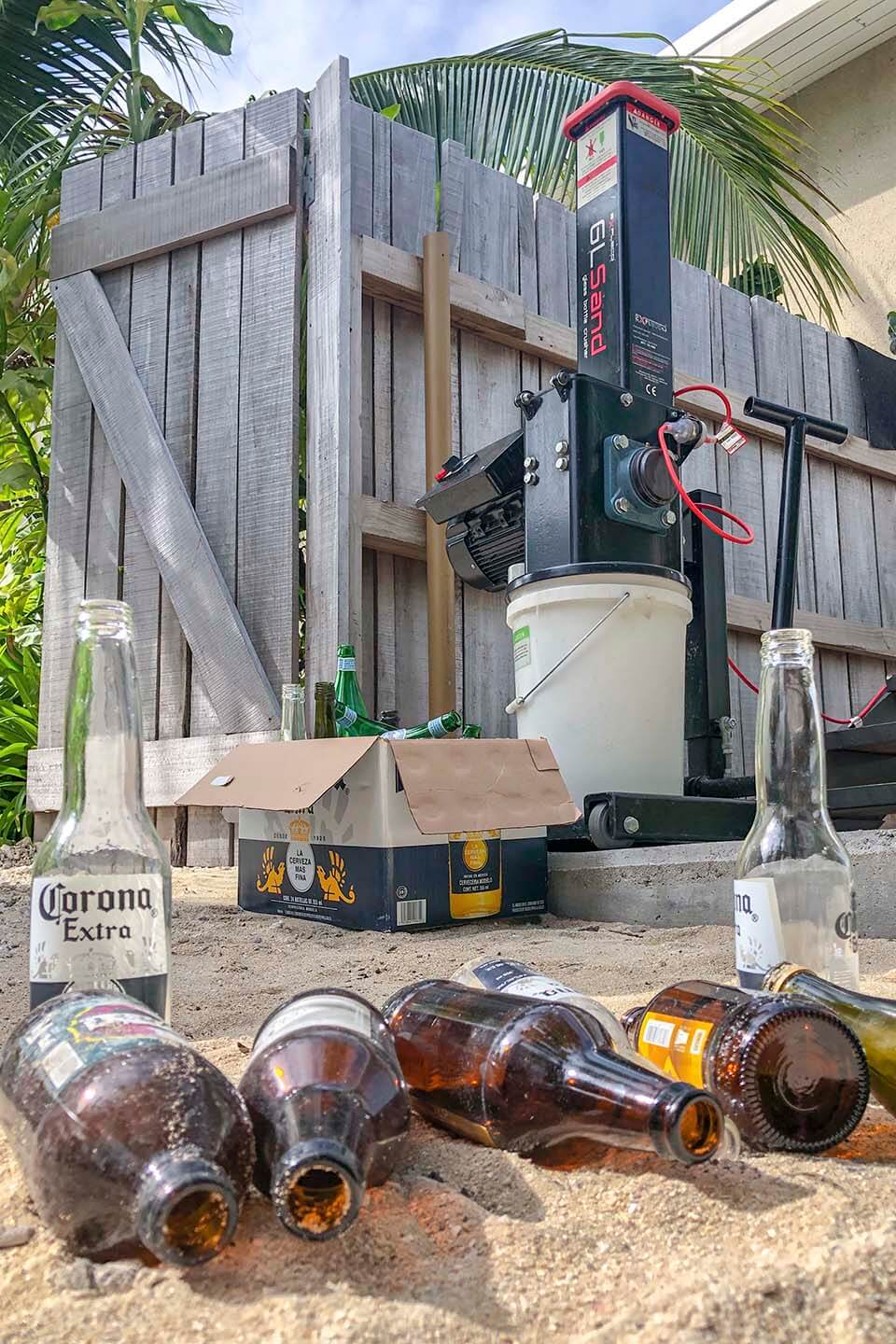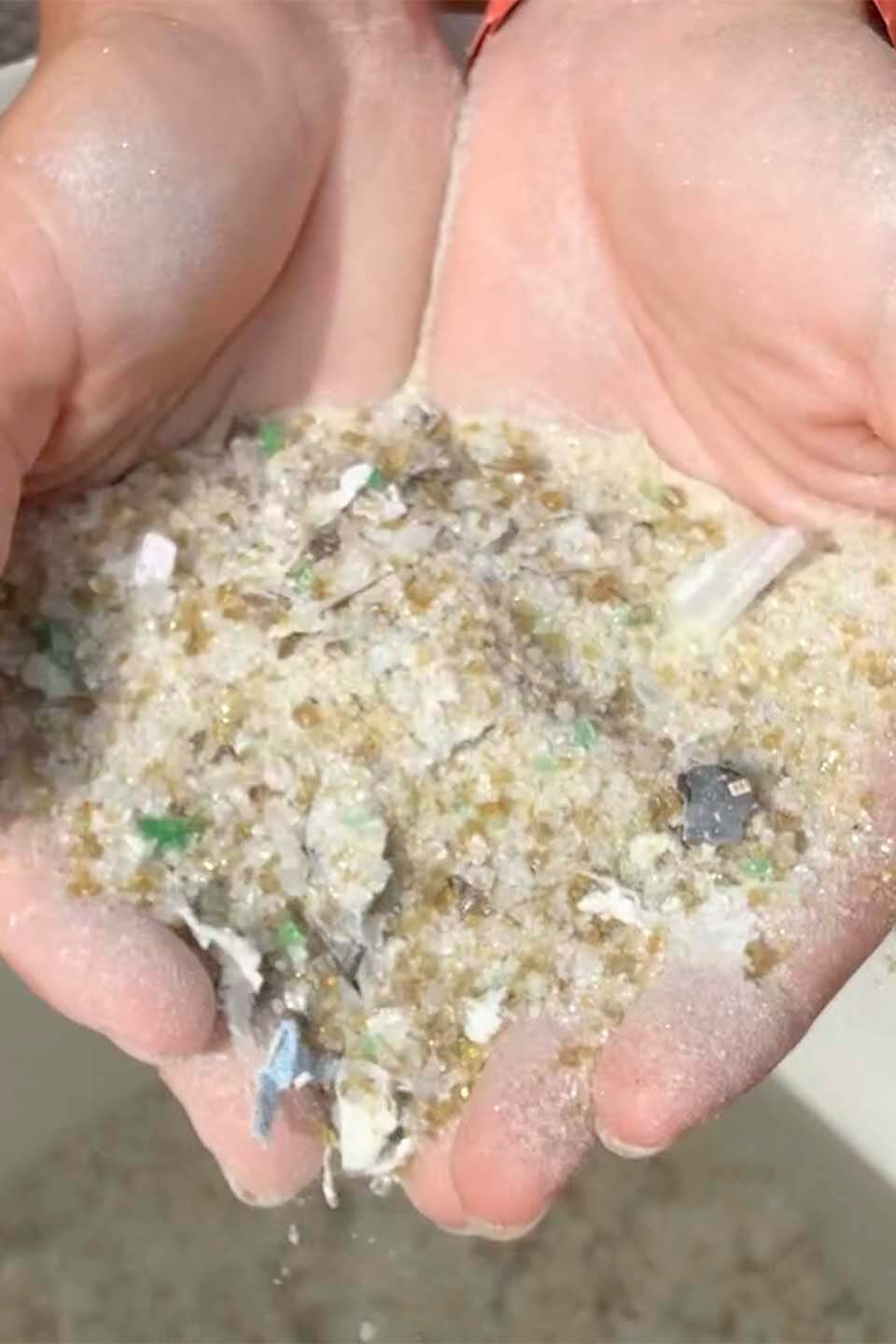 They crush approximately 1000 bottles a month. The crushed glass is used to build structures around the island.
Protecting Turtles and Nesting Sites
Did you know that sea turtles return to the site where they are born so that they can lay eggs for the next generation of sea turtles? But because of humans hunting them or developments taking over their natural nesting sites, most sea turtle species have become endangered.
To help protect the sea turtles, Malamala Beach Resort has a sign to inform guests that the island is a nesting site. Precautions are taken so that the sea turtles' breeding is not interrupted.
Reduce the Use of Plastic
Majority of the resorts we visited were already using paper straws but Korovou Eco Tour Resort was extra special for using organic straws made from Papaya stalks!
While visiting this eco resort, you can even learn how to make woven hats and baskets made out of leaves. It was amazing how they made easy plastic-free swaps from nature. They show you that Fiji's culture has many sustainable practices that we can all learn from.
Teach local communities about the oceans
While Staying in Korovou Eco Tour Resort, we also had the opportunity to interact with the local village through Vinaka Fiji. This is a volunteer program that aims to improve the provision of basic needs and amenities in the villages in Yasawas.
One of the key focus of this non-profit organization is to do Marine Conservation work like Manta Research, Reef Checks, Coral and clam nursery, and many more. The data they use help establish Marine Protected Areas that guarantee the protection of the oceans and food security for future generations.
Water Re-filling Stations
Single use plastic like water bottles are one of the biggest pollutants in our ocean. To battle this problem, Tavarua Island Resort has set up water refilling stations to minimize plastic waste.
By promoting the use of refillable bottles, they are encouraging their guests to say no to plastic. You can refill your bottles anytime, and it's for free!
Provide Reef-Safe Sunscreen
According to recent studies, sunscreen contains chemicals that may actually be harmful to corals. Fijians want to protect their corals, but it can be hard to find reef-safe sunscreen in Fiji.
This eco-resort in Fiji took it upon themselves to source reef-safe sunscreen and offer it to their guests. So if you are visiting Tavarua Island Resort you really have no excuse but to protect yourself from harmful rays while protecting the corals.
Set up a Giant Clam Nursery
The giant clams are a vital part of reef-building. But in Fiji as well as in other parts of the world, they are slowly declining due to human consumption.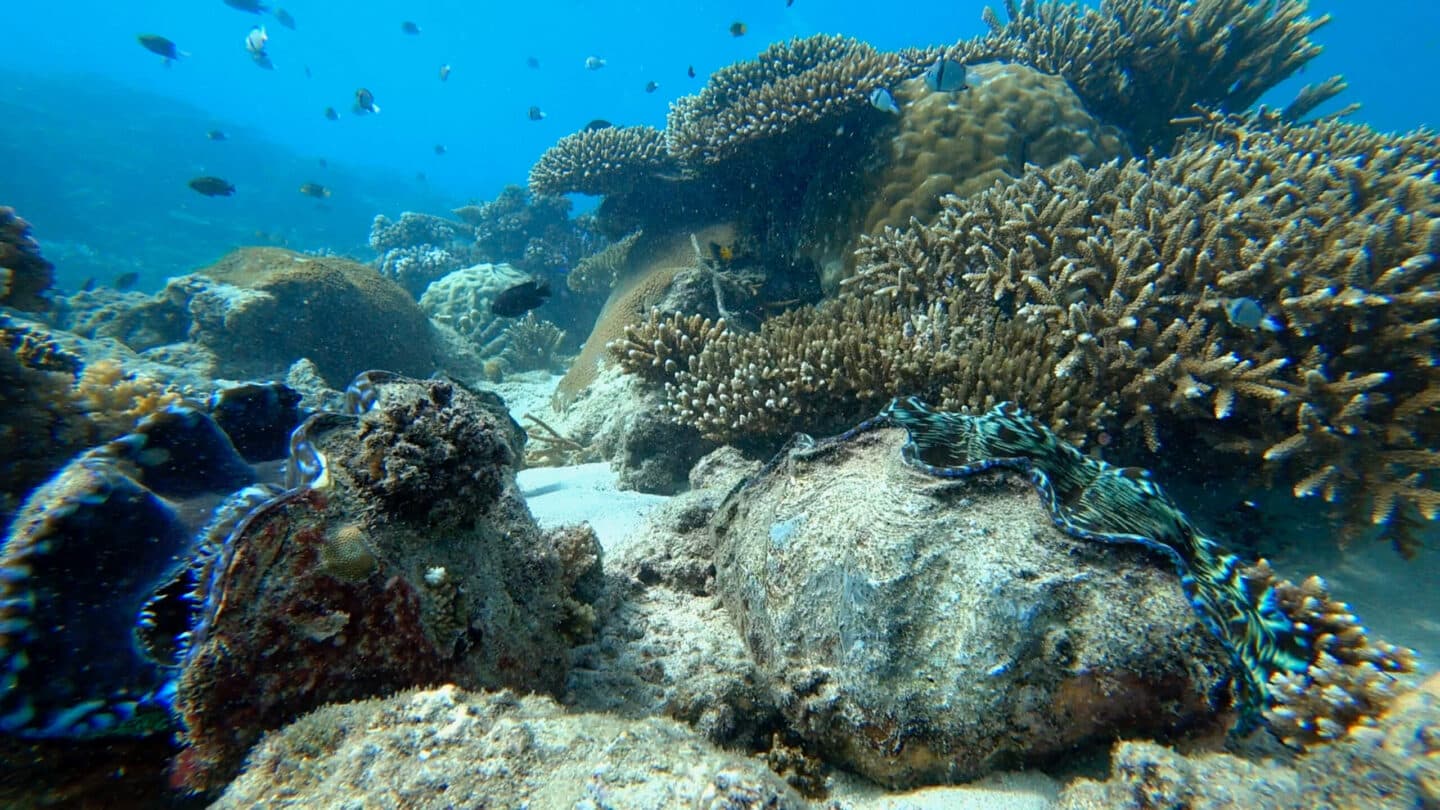 To address this issue, Tavarua Island Resort set up their own Giant Clam Nursery to ensure that Fiji will continue to have giant clams! By working together with experts and Fiji's Ministry of Fisheries they are able to successfully breed and grow giant clams.
To learn more about the giant clams conservation, read this article on how they are saving the giant clams in Fiji.
---
Traveling around Fiji was not only fun but also inspirational. The different initiatives these businesses were doing were very impressive. The creativity and the dedication Fijians have when it comes to saving our oceans is truly remarkable.
Their efforts didn't necessarily have to be big or grandiose. Because really, it is the little things that we do that can change the world.
I hope that conservations efforts such as these can be replicated not just around Fiji but also around the world. These best eco resorts in Fiji are truly worth imitating don't you think?
Pin this for later or forward this article to a friend!
If you know someone who might benefit from these ideas, please share this article with them!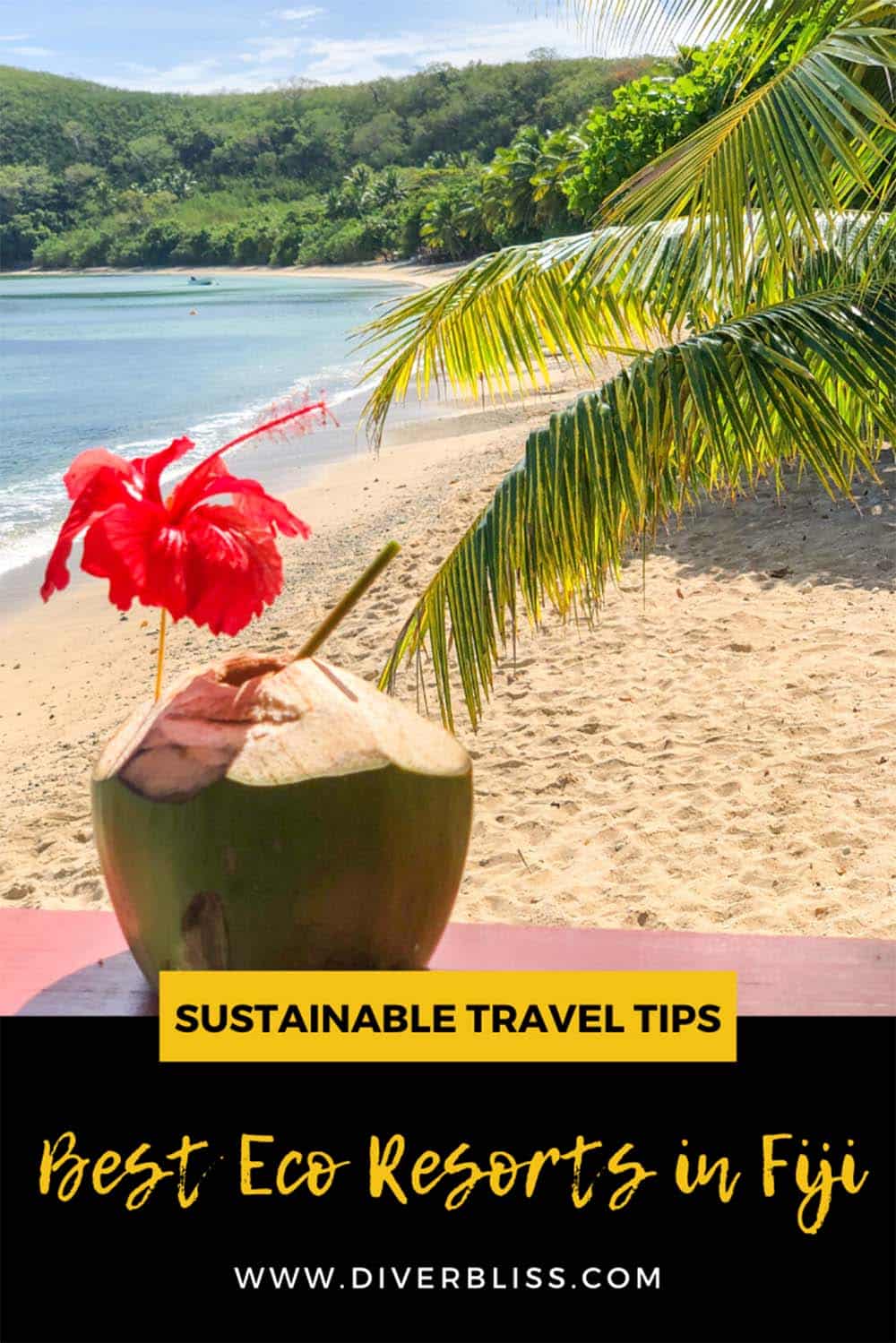 Which of these efforts did you find cool and worthy of doing? Do you know any other resorts in Fiji that are doing amazing things to save our oceans? Leave a comment below!
The resort stays and visits were sponsored by the partners mentioned above as part of the Protector of Paradise campaign. I am not obligated to post about them, however, I genuinely had a great time and want to share it with you! As always, all opinions are mine.