If you haven't gone scuba diving in Caluya Antique then you are definitely missing out! I have never heard of an island called Caluya until this year. But then again, with over 7000 islands in the Philippines, it is very hard to keep track.
I discovered Caluya Island by accident when I was planning my scuba diving trip to Anini-y, Antique. Since I had never visited Antique, I wanted to maximize my trip and see this side of the Philippines. What was supposed to be weekend trip ended up to be a week of traveling through the underrated and picturesque coastal province.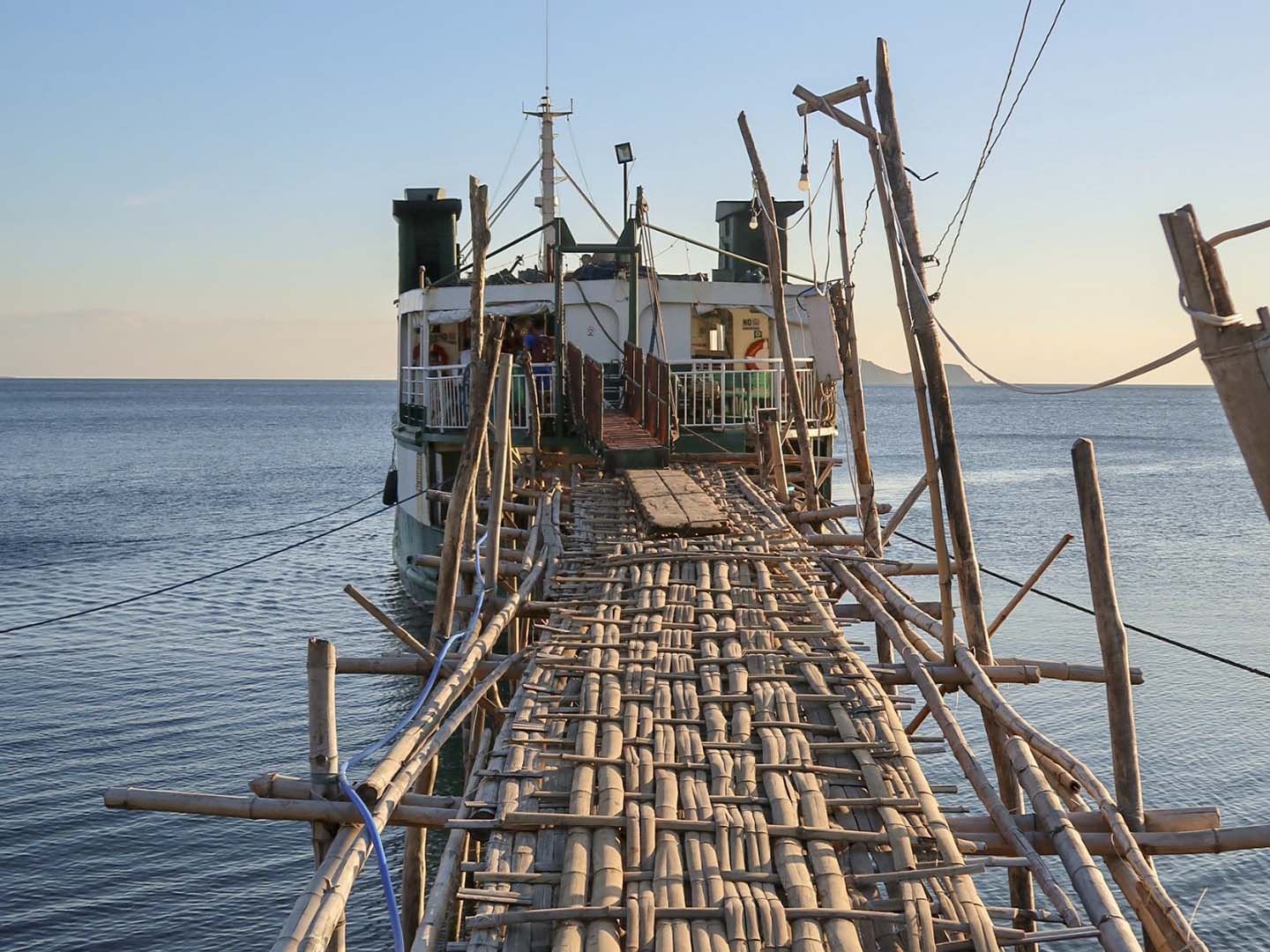 My journey to the island of Caluya started after my side trip to Mararison Island. Upon arrival in Culasi, I took a trike to the pier where I took a ferry to Caluya.
---
About Caluya, Antique
The island-municipality of Caluya can be found among the seven islands of Sibay, Sibato, Panagatan, Sibolo, Liwagao, Nagubat and Semirara in the northern most part of Antique.
Located 3 hours from Boracay, which is one of the most popular tourist destinations in the country, Caluya remains to be one of the hidden gems of the Philippines.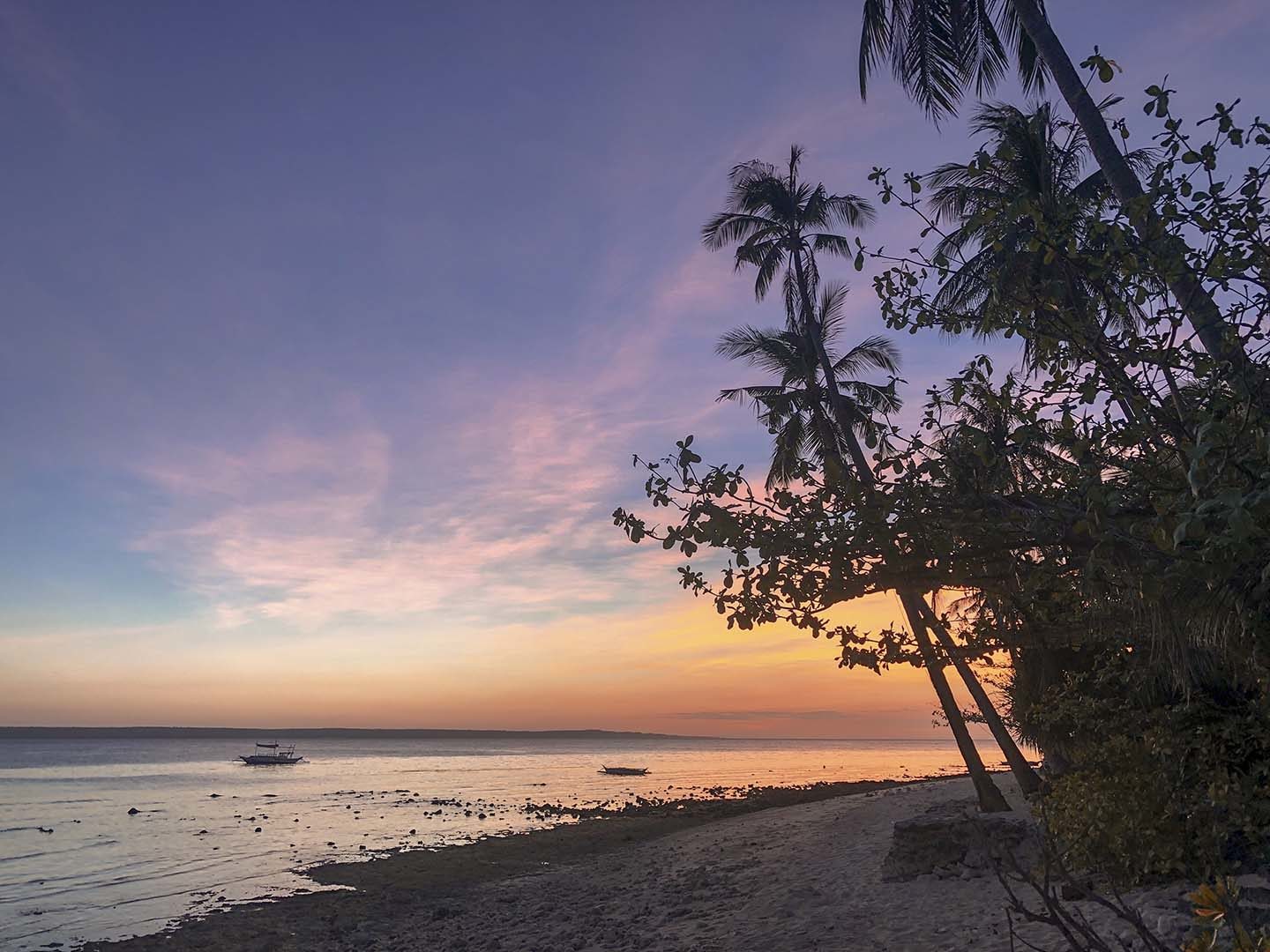 Like most things that are worthwhile, getting to Caluya can be a challenge. There are only a few ferries that travel to this island. Despite the many inconveniences of travel, you will be greeted with beautiful beaches. And of course, one of the most untouched diving spots in the Philippines.
The island is not yet set up for mass tourism. So prior to visiting, it is advisable to coordinate with Caluya's tourist office or whichever accommodations you will be staying in.
It is only recently that they started building roads and installing street lights. Resorts and accommodations are limited. There are no ATMs so you need to bring cash. Mobile signal is limited and in selected areas only. You can expect the most simple lifestyle while on the island. Make it an opportunity to experience how most Filipinos live.
---
Scuba Diving in Caluya, Antique
Recommended Dive Resort in Caluya Island
As I was only visiting Caluya island for scuba diving, I coordinated directly with the only dive shop in the area- Caluya Island Divers.
The dive shop is located in Sabang which is about 30 minutes away from the port. The dive resort was established in 2016 by husband and wife tandem Roli and Cindy Meier. They are based in Switzerland but during the dive season, the couple returns to the Philippines for some awesome scuba diving in Caluya, Antique.
There are three comfortable bungalows on the property. Each fan room with its private bathroom is good for two. At any given time the resort can only accommodate six people.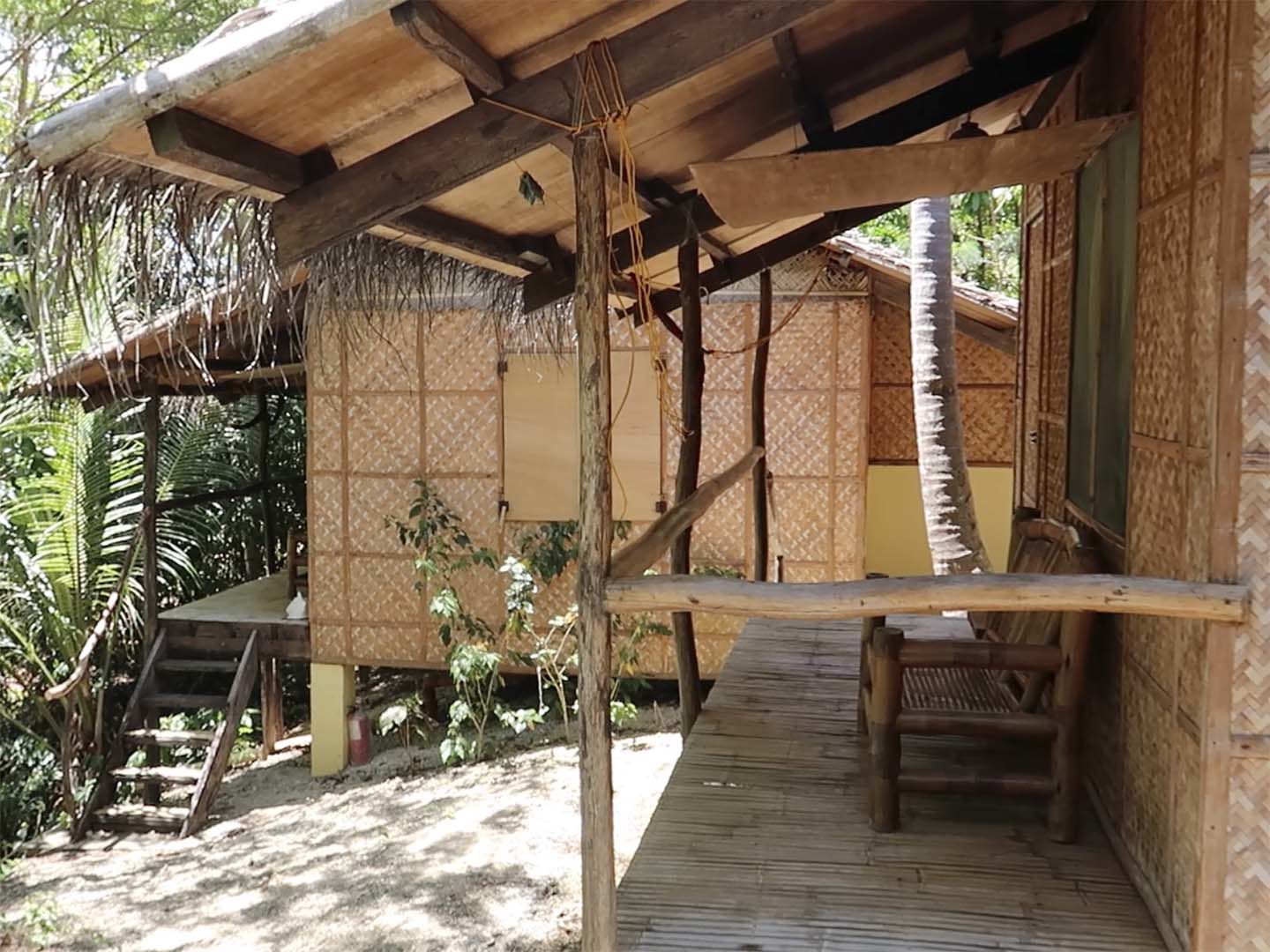 If you don't plan to dive, you can still stay in the resort since the accommodations around the island is quite limited. But since you are already there, you might as well try scuba diving since Roli and Cindy are both instructors.
Meals vary depending on what is available locally. If you have special food requests or requirements you can inform them. As I am not very picky I just ate whatever they prepared. On my last night on the island, Roli even prepared a Swiss dish (which I cannot remember the name) but it was really good!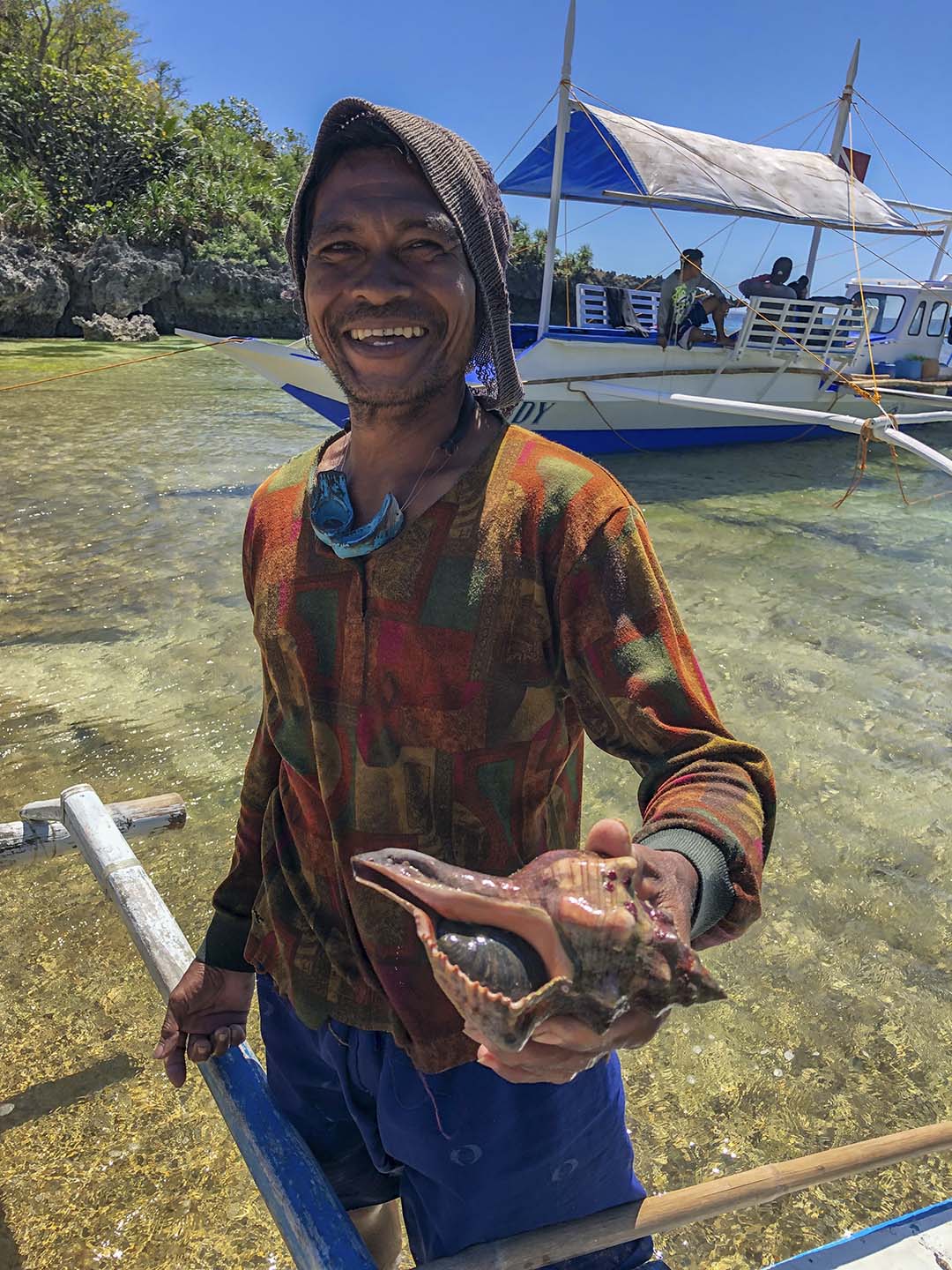 I did not bother going out for meals as there weren't any other restaurants close by. Do take advantage of the tranquility that the island and the resort have to offer! I felt very much at home at the resort and Cindy and Roli will treat you like family.
There is no mobile or internet on the resort. I was happy to be disconnected for a while and only got a cell signal when we went diving in an area closer to the town proper. If you need to read or send messages you will need to take a boat or motorbike closer to town.
Scuba Diving Season in Caluya, Antique
The best time to scuba dive in Caluya, Antique is from December to June. However, Caluya Island Divers only accept 4 divers from December to January since their small boat can only fit few divers. Their bigger boat does not get in the water until February.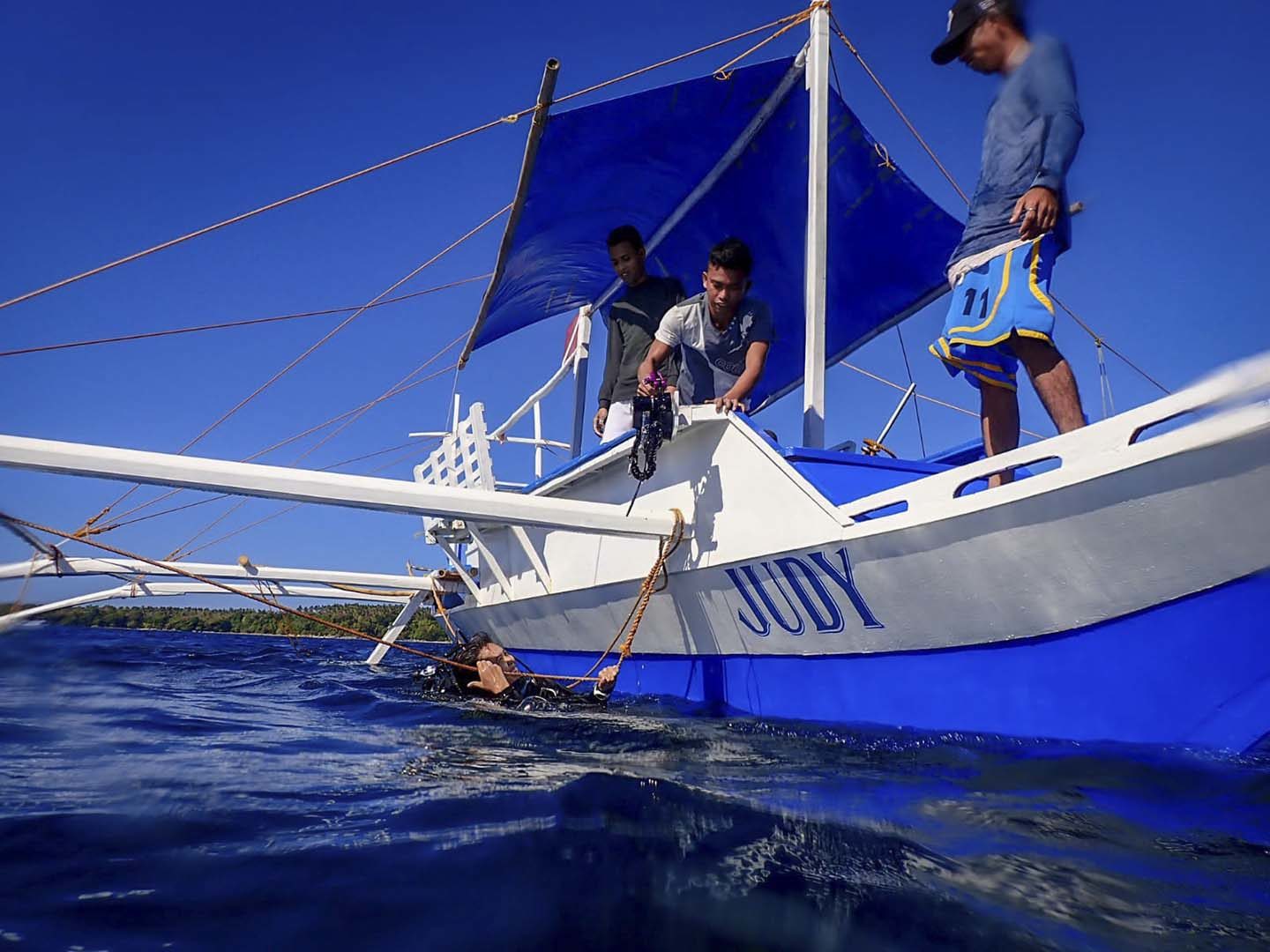 During the offseason, they return to their other home in Switzerland and close the dive shop. It is best to get in touch with them first to make sure they are open for business and that your reservation is secured.
Recommended reading:
Amihan and Habagat: Diving Seasons in the Philippines Explained
Best Time To Dive in the Philippines + Monthly Guide on Where to Go
Water Temperature and visibility
Water Temperatures can range from 26-31 degrees Celcius. Visibility is at 15- 20 meters. Sometimes visibility can go farther! You can wear a 3mm wet suit due to the warm water temperatures.
Dive Spots and Marine Diversity in Caluya Island, Antique
One of the biggest come on for scuba diving in Caluya, Antique was the possibility of the exploratory dives. Caluya Island Divers is the only dive center on the island and is a relatively new shop, they still have not completely mapped out all the dive sites in the area.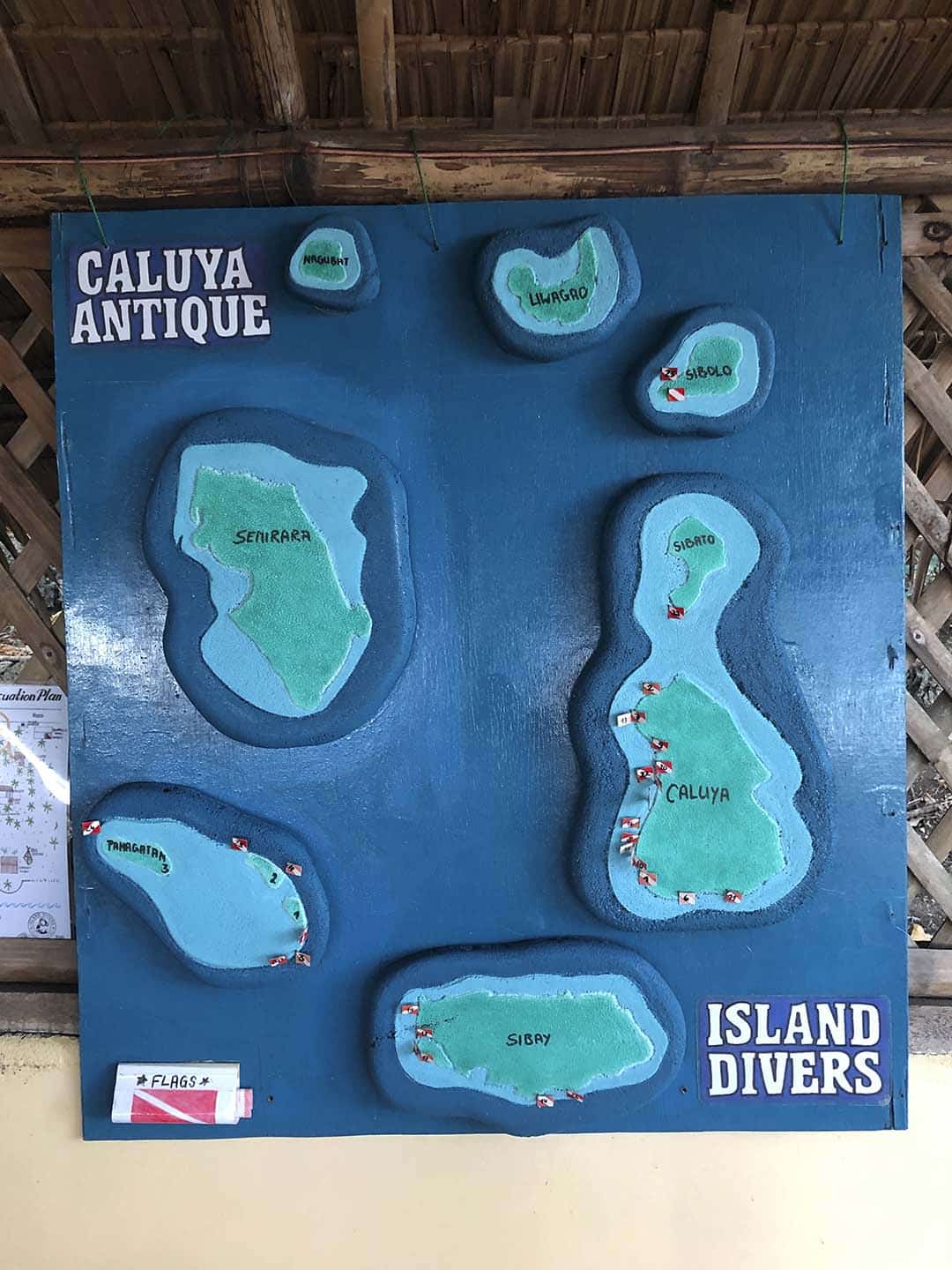 There are shallow dives from 7-18 meters. Wall dives start at 14-35 meters and go farther down to 60-100 meters. There is a variety of underwater terrain and conditions you can choose from depending on what kind of dives you like. Caluya Island has a lot to offer for both beginners and advanced divers.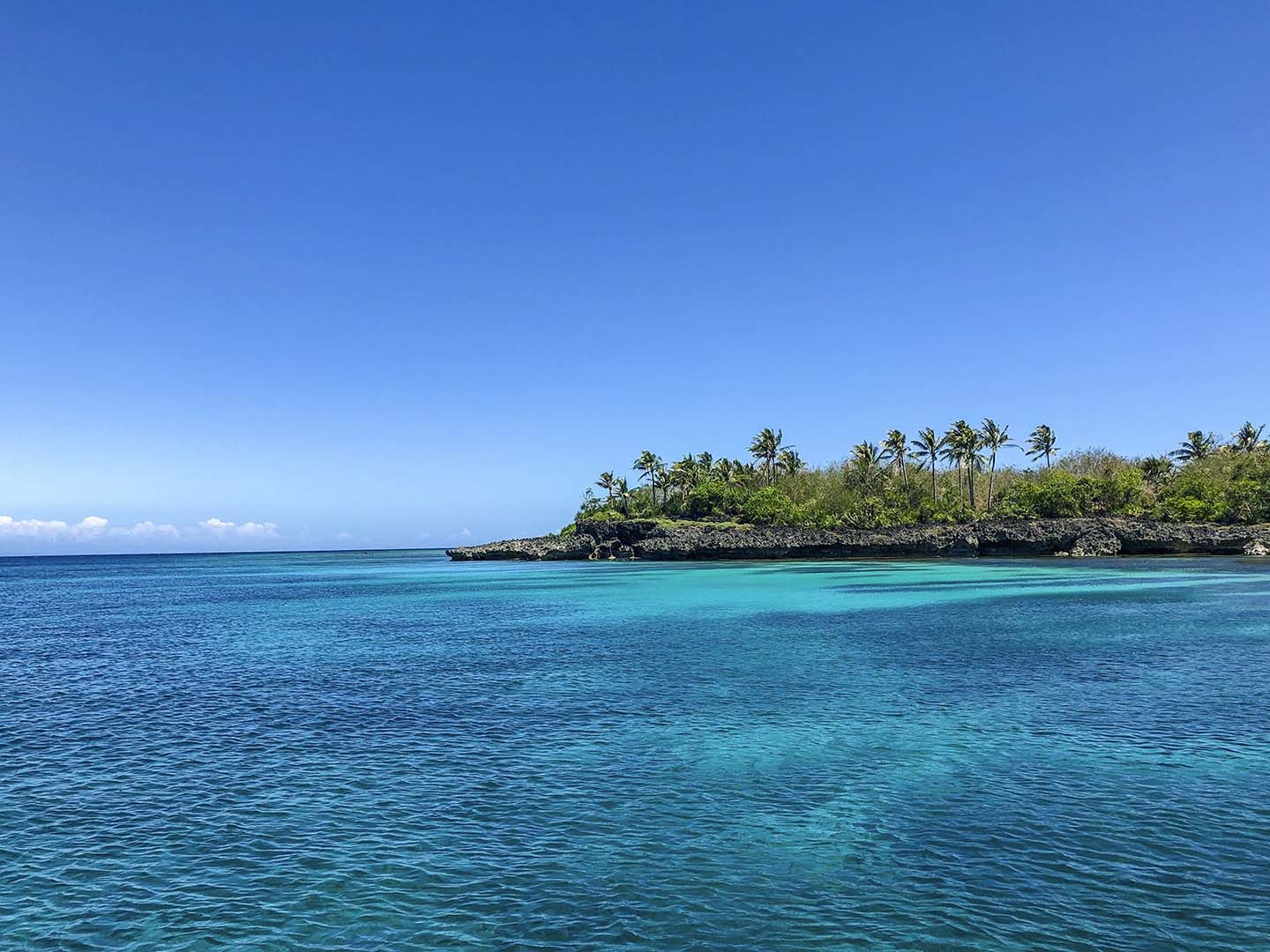 On my first dive, a few seconds into the dive, I spotted an eagle ray for the first time ever in my life! I knew from that moment that diving in Caluya was going to be amazing!
I saw a variety of hard and soft corals. There were also schooling fishes of fusiliers and moorish idols. I also saw some scorpionfish and lionfishes. I spotted several nudibranchs, a ghost pipefish, and a baby frogfish.
Below are some of the dive sites and marine creatures I saw during my scuba diving in Caluya, Antique.
Make sure to browse through the slideshow in each dive spot!
Pigery and Bearded Rocks
Napai
Lizah's Fear
Lost Forrest
Coral Sands
I was told that Caluya is on the whale shark route. Though I did not see any big creatures during my visit in March, around June, Roli sent me photos of whale sharks and a whale they spotted while diving in the area.
Night Diving in Caluya Island, Antique
Doing a night dive in Caluya Island was possibly one of my favorite night dives that I have done in the Philippines. It was a shore entry in front of the resort. We were able to do a long dive due to the shallow reef. It was one of my favorites because of the different creatures I saw for the first time.
I saw a lot of weird nocturntal critters and of course for me the weirder the better!
Reef Check in Caluya Island
Out of the 7 dives, I only picked up 1-2 plastic rubbish while scuba diving around Caluya, Antique. However, upon reaching the shore you can find plastic bits on the beaches.
What I noticed while scuba diving around Caluya island, was a great number of fishing nets on the reef. Some of the nets were covering large areas. To my dismay, I even witnessed fishes trapped in the nets. Although I wanted to remove them from the reef, it appears to have been there for a while as corals have grown on top or around it.
What to pack for Caluya Island Diving
Here is the scuba equipment and dive gear I bring while diving in the Philippines.
My Scuba Diving Gear
Regulator: Scubapro MK25 Evo, C300 and C200 2nd Stage
BCD: Aqualung Axiom
Mask: TUSA M-212 Freedom Ceos
Snorkel: TUSA SP-170 Platina Hyperdry II
Booties: Poseidon Pink Dive Boots
Fins: Problue
Wetsuit: Seavenger
Vest Hoodie: Scubapro Hybrid Hooded Vest
Dive Watch: Suunto D4i Novo
Dive Knife: Aqualung Blunt Tip Knife
Dive Leggings and Rash: Blue Adaptation Coral Sea Fan

My Underwater Camera Gear
Underwater Camera: Canon G7X Mark II
Underwater Camera Housing: Fantasea FG7XII
Video Lights: Big Blue AL1200XP
Underwater Action Camera: GoPro Hero9
360 Camera: Insta360 X3

> Canon G7X Mark II full review
> Insta360 X3 underwater camera review
> Scuba diving camera recommendations for beginners.

Dive Insurance
Divers Alert Network (DAN)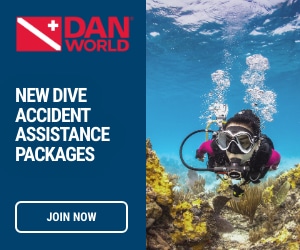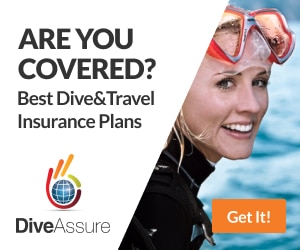 Need travel insurance for your trip? Get a quote from Safety Wing.
If you're traveling and diving in the Philippines for the first time, make sure to read my posts on
Ultimate Travel and Dive Guide to the Philippines
Philippine Packing List: What to Bring to Your Dive Trip.
---
How to Get to Caluya Island, Antique
Getting to Caluya Island is a bit of a challenge especially when there are no direct flights and ferry schedules are limited.
The nearest airports are in Iloilo, Caticlan and in San Jose, Occidental Mindoro. If you are coming from Iloilo or Caticlan you must then find your way to the Lipata Port in Culasi, Antique. If you are coming from San Jose, Occidental Mindoro you must go to the Port of San Jose also known as Caminawit Port.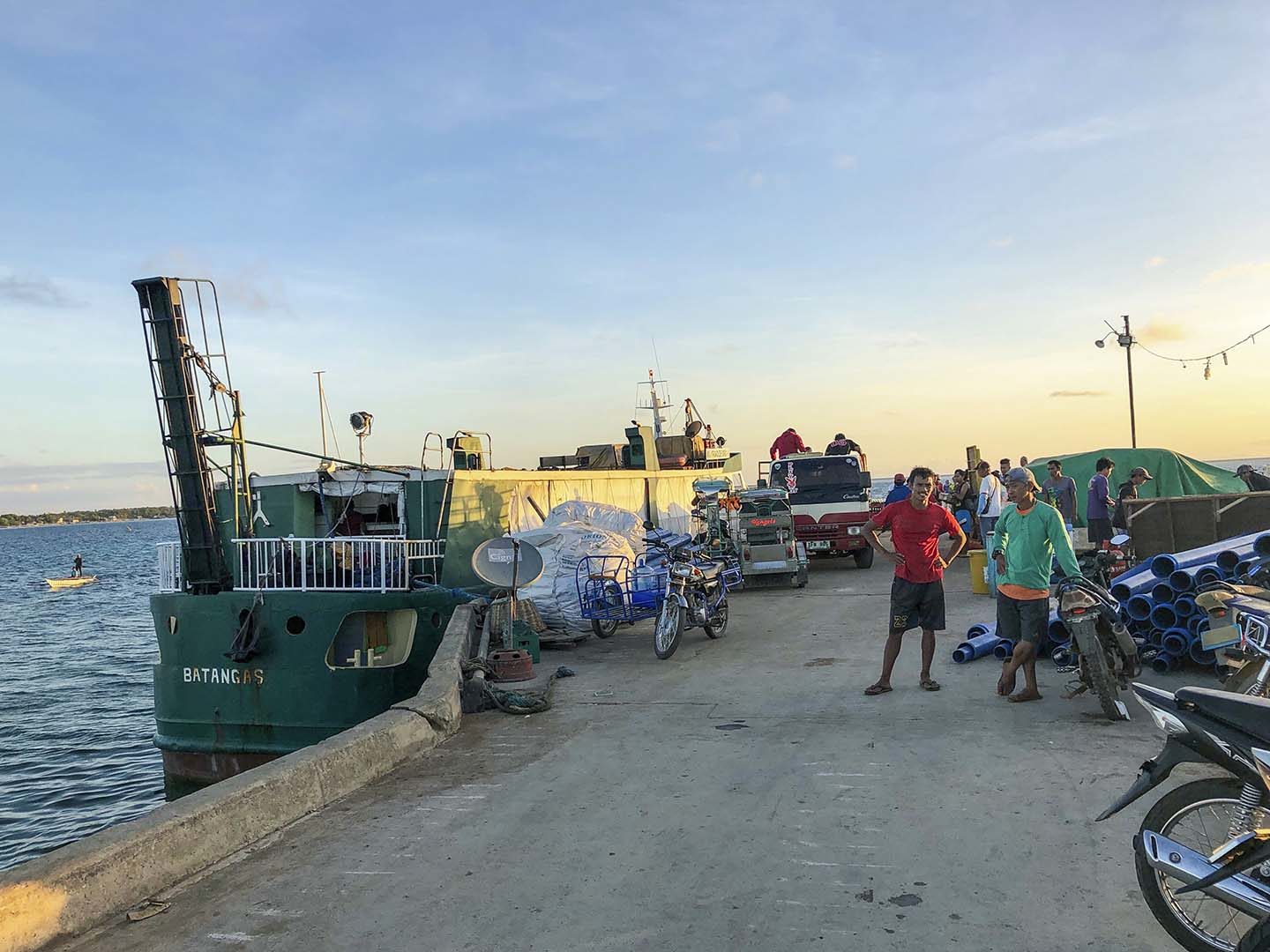 Kalayaan Shipping Incorporated's MV Argo de Oro I, II, III covers the route from San Jose, Mindoro – Semirara, Antique – Caluya, Antique – Culasi, Antique and vice versa. Make sure to contact them prior to your trip in case of any changes in schedules.
Kalyaan Shipping Inc contact number: +639175471715
Here is the schedule for the Kalayaan Shipping Lines: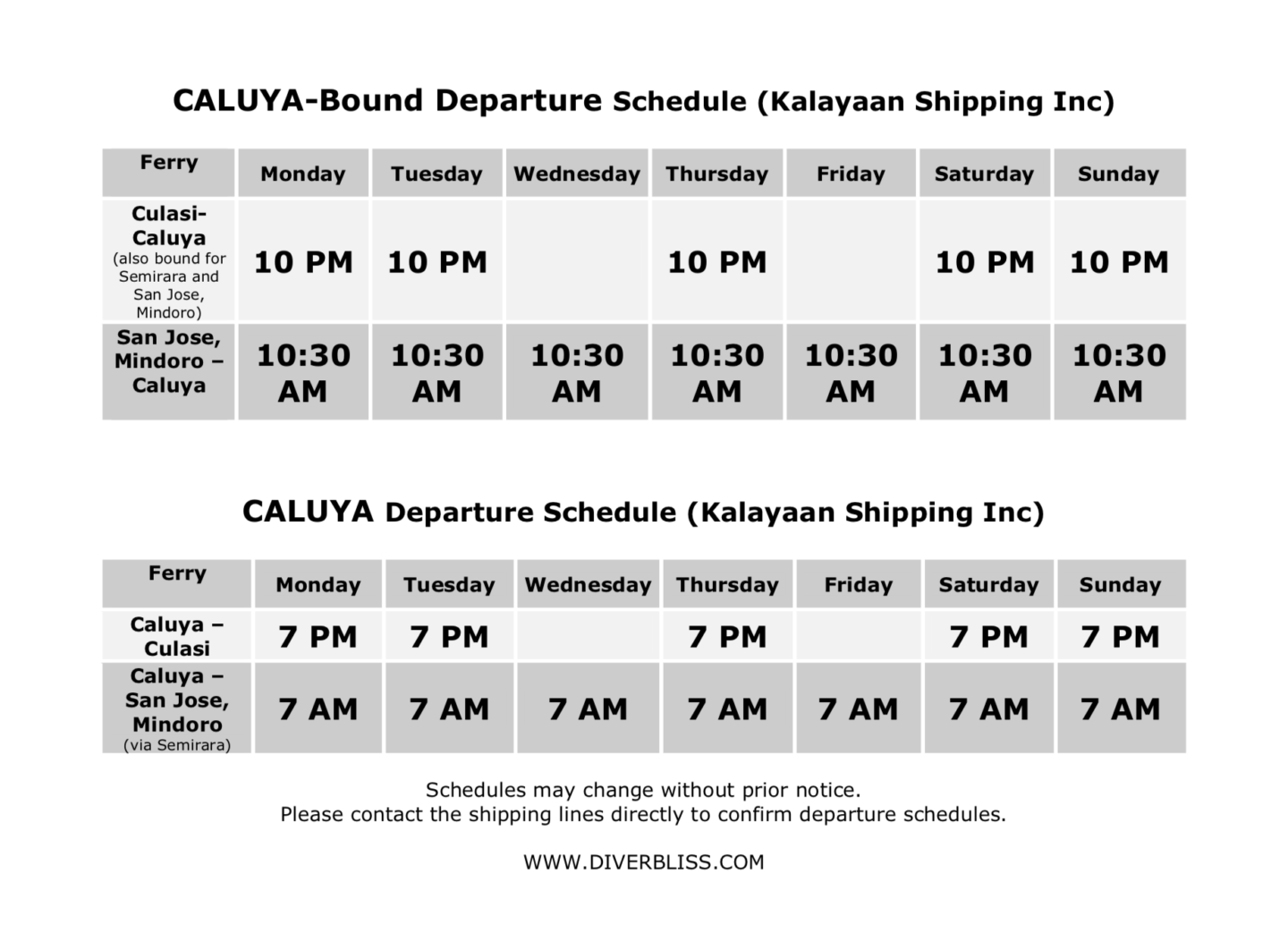 Option 1: Take a ferry from Culasi, Antique to Caluya, Antique
Route A: From Iloilo City to Culasi, Antique
If you are coming from Iloilo Airport, go to the Molo Terminal in Iloilo City and take a bus or van bound for Culasi, Antique. Travel time from Iloilo to Culasi may take an approximately 5 hours. Take a trike to the port in Culasi.
Route B: From Caticlan to Culasi, Antique
If you are coming from Caticlan Airport, go to Caticlan Jetty Port and take a van or bus bound for San Jose, Antique. Tell the driver or conductor to drop you off at Culasi, Antique. Then take a trike to the port in Culasi.
How to get from Culasi to Caluya
Once you reach the port of Culasi take a Ferry to Caluya Island. This is about Php450 plus terminal fee of Php20.
Kalayaan Shipping Schedule from Culasi to Caluya– Every Monday, Tuesday, Thursday, Friday, Saturday, Sunday at 10 PM
Travel time is approximately 3 hours. Once you land in Caluya, take a tricycle to the resort. I paid Php200 from the port to Caluya Island Divers.
Option 2: Take a ferry from San Jose, Occidental Mindoro to Caluya, Antique
If you take a flight to San Jose, Mindoro, make your way to the port of San Jose. You can take a ferry from the port and land directly at Caluya. Once in Caluya take a tricycle to resort.
Kalayaan Shipping Schedule from San Jose, Occidental Mindoro to Caluya– Daily at 10:30 AM
Take note that this ferry stops at Semirara Island before going to Caluya. Semirara is known for its mining industry so you might experience inhaling some fumes while the ferry is docked. I suggest wearing a mask or scarf in case the fumes are too strong.
---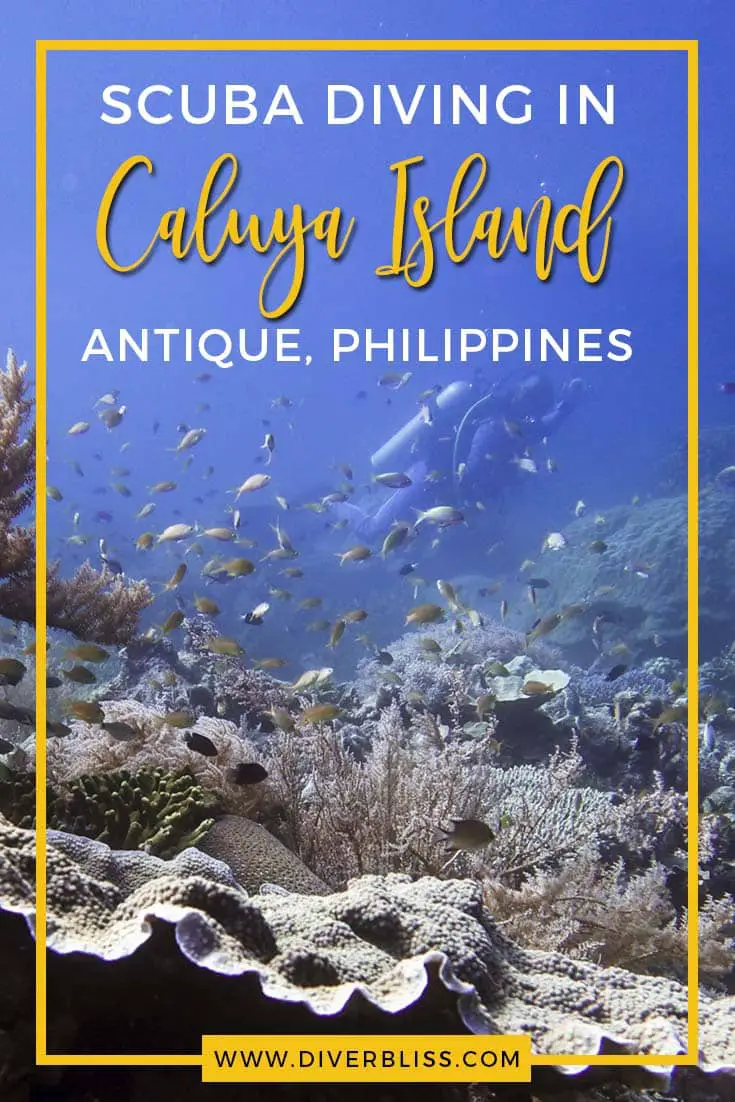 I was very much impressed with my experience in Caluya Island. If you love off the beaten path scuba diving and travel then you must consider visiting Antique. I can't wait to go back to check out the other spots in Caluya. Maybe I can even do an exploratory dive with them!
Do you want to go scuba diving in Caluya, Antique?
Leave a comment below!