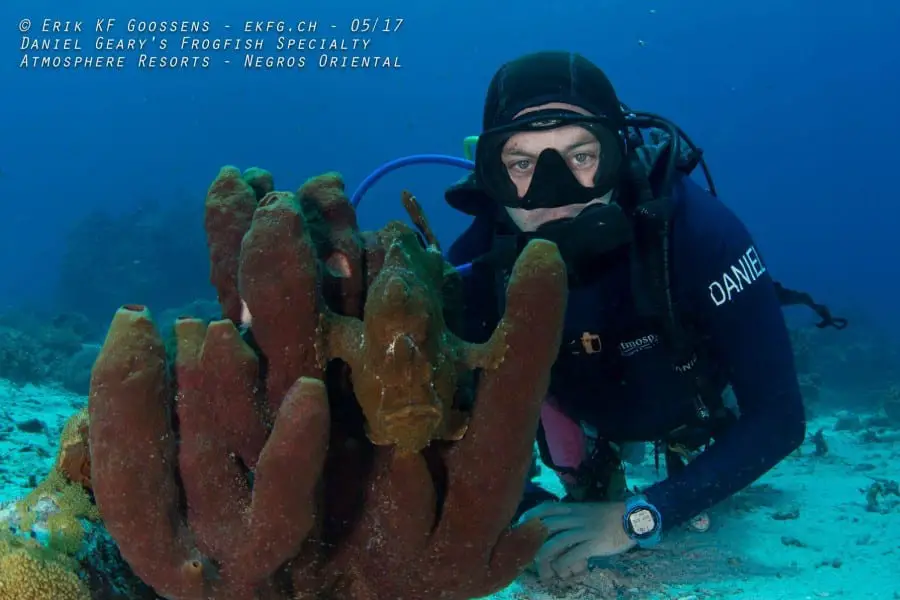 The links below may be affiliate links. If you shop through them, I'll earn a commission at no additional cost to you. For full information, please see my disclaimer here.
One of my favorite ocean animals is frogfish. I think they're one of the most interesting creatures in the sea and I always get a thrill when I see them underwater.
When I heard that a scuba diving certification on frogfishes was being offered in the Philippines, I reached out to the course creator, Daniel Geary aka "Dr. Frogfish" to learn more about this unusual course. As someone who is obsessed with frogfishes, he happily answered some of my questions about the PADI Frogfish Specialist course.
In this post, we dive into the details of one of the most unique dive courses that you might want to take. This specialty dive certification is exclusively offered in Dauin, Negros Oriental, Philippines. Approved by PADI in November 2015, this scuba diving course has produced more than 130 frogfish specialists.
If you love frogfishes then this course might be for you. Continue reading to learn more about this PADI Distinctive Specialty Course for marine life lovers.
What topics will be covered in PADI Frogfish Specialist course?
The PADI Frogfish Specialist Course covers important scientists and discoveries, frogfish biology and ecology (habitat, locomotion, reproduction, juveniles, predation and camouflage, color change, behavior, etc). There is also a focus on the identification of Indo-Pacific frogfish and frogfish photography tips both in the classroom and underwater.
By the end of the course, a diver should have at least a basic knowledge of a frogfish's life and behavior,  as well as the ability to identify ~10 species with the use of my frogfish identification guide.
What useful skills will you acquire when you take this frogfish course?
Some common feedback that I get is that my students are better able to find frogfish after they take the course, a useful skill! Mainly, my students should take from this course a better appreciation for frogfish, a better understanding of how to photograph frogfish, as well as the ability to instantly identify common frogfish species underwater and in photos, as well as rare species with the aid of my frogfish identification guide.
Why is the Frogfish Specialist course important to ocean conservation?
Many divers are not aware of some of the smaller, less popular fish and critters in the ocean, so I wanted a way to introduce divers to, or further them about, frogfish. Frogfish are a perfect subject because, not only are they my favorite fish, but they are a fish that divers really love yet know little about.
I decided to write this course to spread knowledge about frogfish to other divers. Fostering a love of the ocean, and the animals/fish that inhabit the ocean is the best way to introduce someone to ocean conservation or encourage a conservation-based mindset.
How long will it take to become a frogfish specialist?
This course can be done in one day, but I prefer to do the classroom session during the afternoon or evening on the first day. The following day there are two dives in the morning and a debrief during or after lunch. If two dives in the morning are not possible, then the debrief session can be bumped to the second evening.
For packed schedules, the one-day option means a 7:30-8:00 am classroom session, followed by the two dives and debriefing.
What are the pre-requisites to take PADI Frogfish Specialist course?
Any PADI Open Water (or equivalent) or PADI Junior Open Water (or equivalent) Diver can take this course. Most of my students are advanced divers and nitrox certification is recommended due to the extended bottom time to look for more frogfish.
When is the best time to take this course?
The best time to take this course in Dauin, Philippines is between April and July, which is also the best time to visit.
This is the time when there are the most critters (frogfish, flamboyant cuttlefish, ghost pipefish, sea horses, etc) and also the most frogfish. The weather is also very calm. Courses during this time can have anywhere from 8 to 30 frogfish found over the two dives.
Related read: Marine Life in the Philippines: 100 Sea Creatures You Must See!
Why is Dauin the best place to take this PADI Frogfish Specialist course?
One of the best things about Dauin is that we have frogfish year-round, although the majority of the species are only around in the first six months of the year. On good days, while diving during peak season, you can see up to 7-8 species of frogfish. It is also not uncommon to see 10-20 frogfish on a single dive!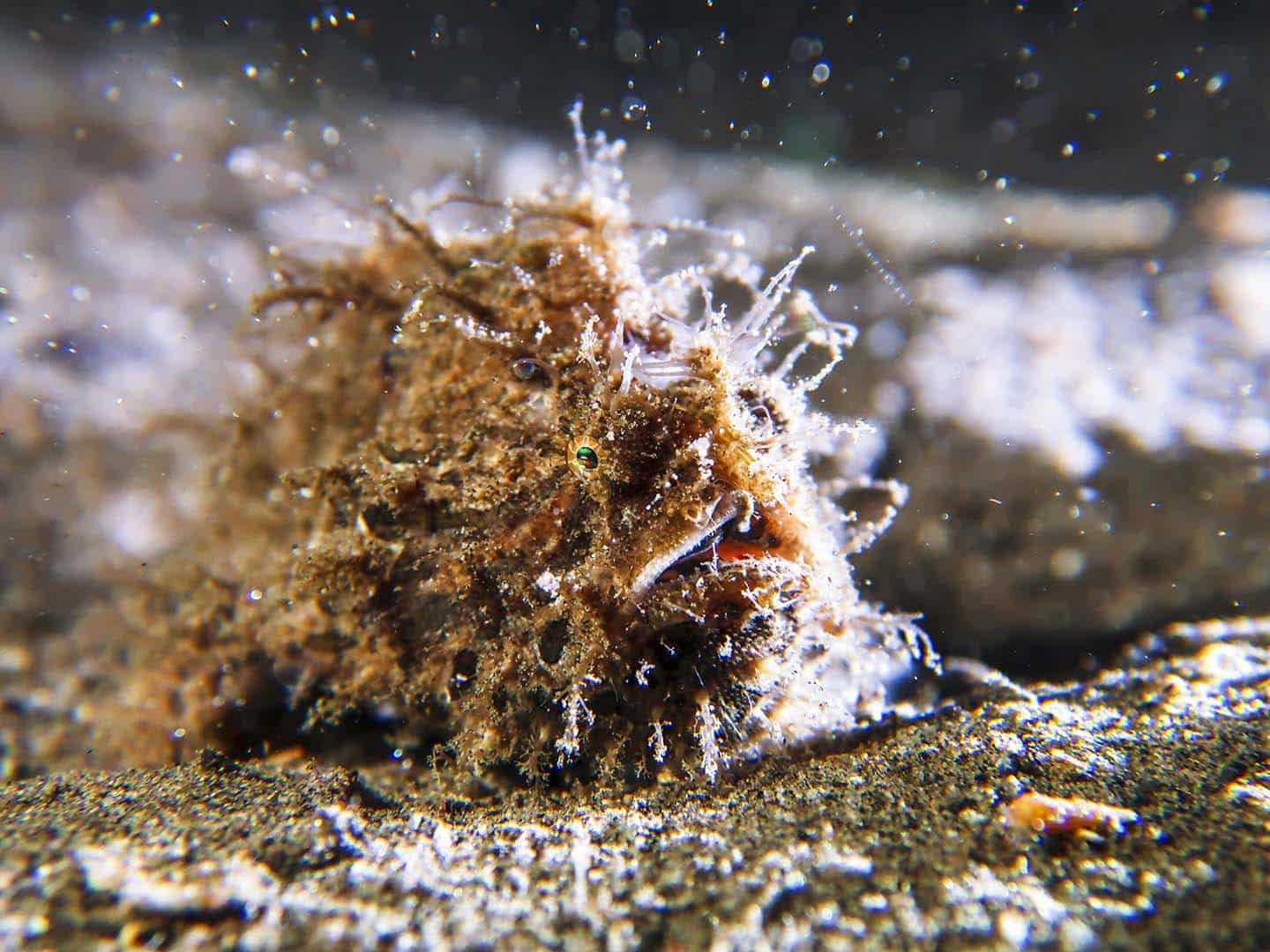 To be honest, I'm not actually sure what makes Dauin unique for frogfish. Some dive sites have no frogfish, and others that seem 'identical' habitats are full of them. In other areas of the coast, one dive site will be full while twenty meters away there are none.
What I can say for sure is that we have a great frogfish nursery in the first few months of the year – meaning all the babies show up. Our average size, not including Giant frogfish, is around 1 cm. Dauin is also pretty small compared to other dive locations, so the frogfish sightings and hotspots are more concentrated. 
To learn more about diving in Dauin, check out my guide to muck diving in Dauin.
How much is the PADI Frogfish Specialist certification?
The course currently costs Php 7,000php (USD150) added to your dive package. This includes all course fees, a separate local guide for both dives, and access to my frogfish identification guide, and any photos taken during the dives.
Dives, nitrox, and marine park fees are NOT included in the price because the course is offered at multiple dive resorts in Dauin. The total price will depend on where the course is conducted and how much the dive centers will charge the dives. I base my course on 2 dives per 4 students, so I join larger groups for more dives and have a general debriefing at the end of all dives.
Where can you get certified as a frogfish specialist?
The course is currently based in Dauin, Philippines, and is offered at multiple resorts along the coast.
I am currently the only instructor authorized to teach the course, but when the world is back to normal, I will slowly be expanding locations, starting with Malapascua in the Philippines, followed by Alor in Indonesia and Palm Beach, Florida.
I will also be leading frogfish-based dive trips in the future to locations such as Bonaire, Alor, Lembeh, Ambon, and locations in the Philippines. Stay tuned at @drfrogfish for future announcements and trip schedules.
Which dive centers – I am currently a freelance instructor, so it is offered all along the coast of Dauin. Some dive centers that are familiar with my course are Atmosphere Resorts & Spa, Silver Reef Dive Resort, and  La Tortue Diving Center.
Additional info about course author and dive instructor, Daniel Geary
I am a marine biologist and frogfish expert and like to describe the PADI Frogfish Specialist Course as a marine biology course that includes diving. I have won first prize in a national competition here in the Philippines as well as had photos in multiple finals and honorable mentions in international competitions, so any student in the course will also come away with some great photography tips. I have been told that my passion for frogfish is contagious, so you will genuinely come away from this course loving frogfish.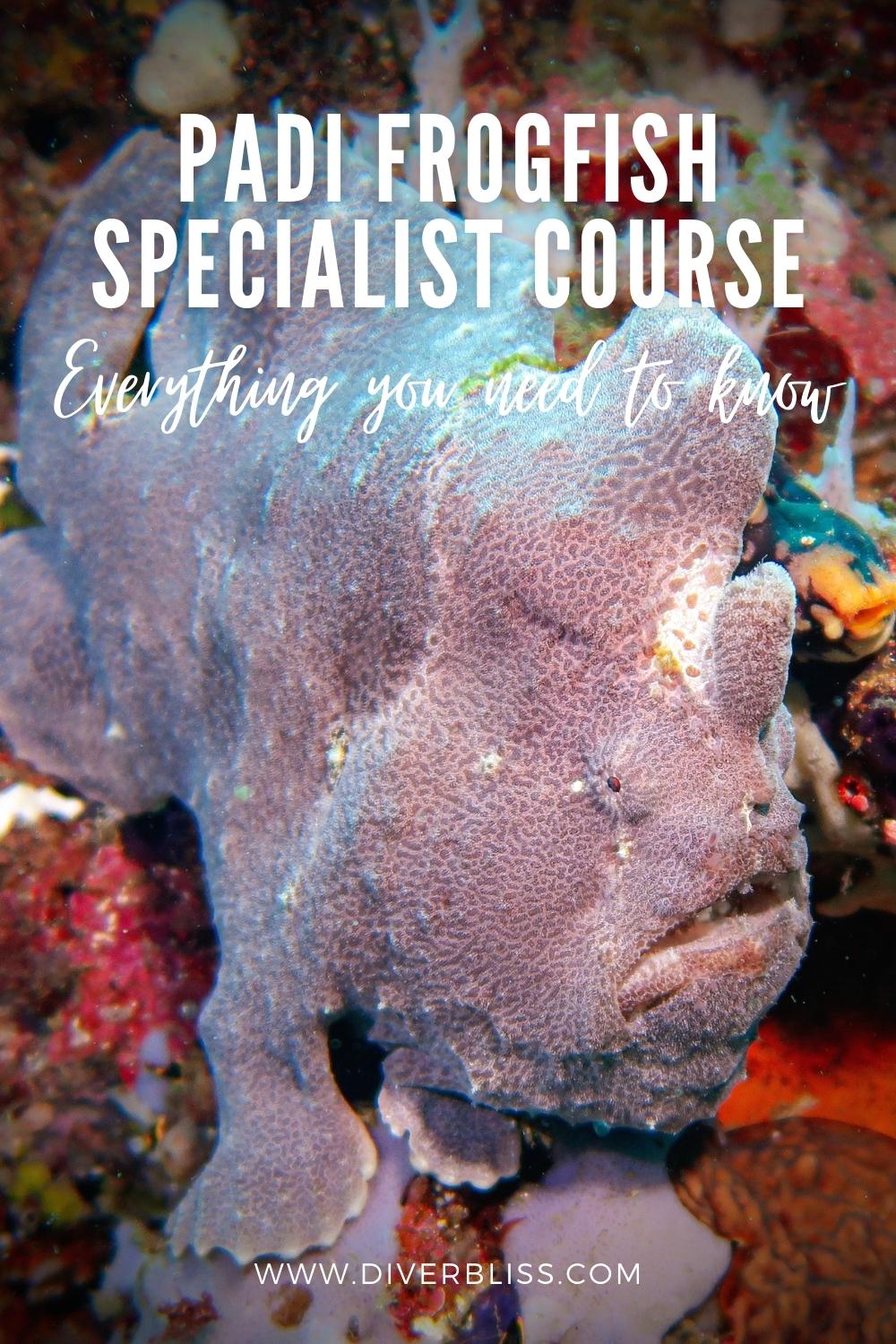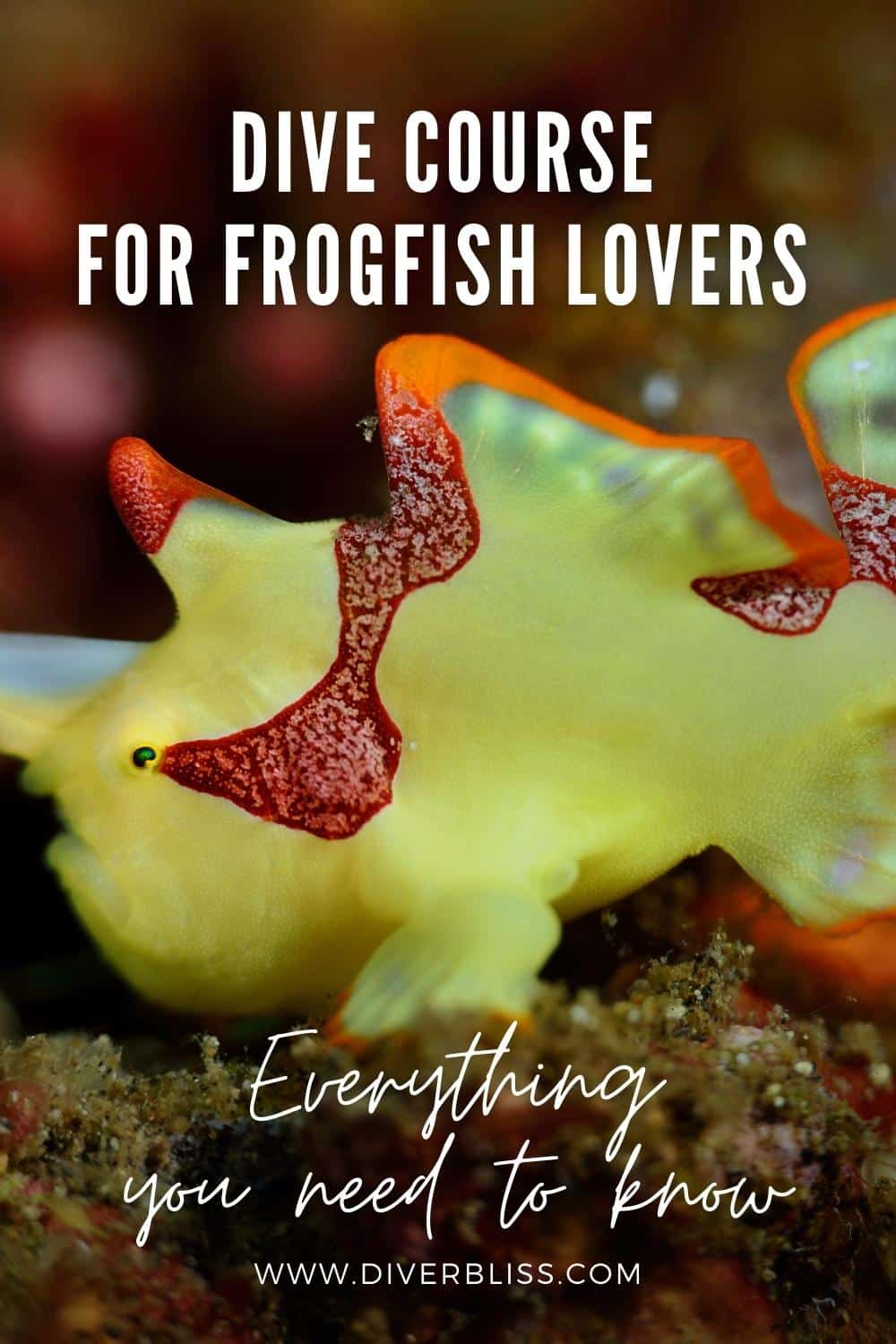 Do you want to become a frogfish specialist? Have you taken this course, what was it like? Leave a comment below!
The links above may be affiliate links. If you shop through them, I'll earn a commission at no additional cost to you. For full information, please see my disclaimer here.