Do you need dive destination tips from actual scuba divers who have "been there and done that?" Are you looking for trustworthy information and advice about scuba diving in general? In this post, I share with you some of the best women scuba diving blogs you should read in 2021.
As someone who loves to dive and travel, my go-to sources of information are dive blogs owned by fellow scuba divers. I have found that these blogs are more honest, authentic, and relatable than many generic scuba diving websites.
A good dive blog should always have a personal touch. It is like approaching your dive buddy or mentor, whom you know and trust, to ask for opinions and insights when it comes to diving. These are usually more engaging and can include personal pictures, videos, stories, and anecdotes.
There is a lot of stuff out there but I want to focus on diving blogs by and for women because they are hard to find. With all the clutter and noise on the internet, the great content written by these women often does not even see the light of day.
After spending much time searching on social media and Google for the best dive blogs by women, I realized how underrepresented women are in the dive community. It is a known fact that the majority of scuba divers are male, so it is not surprising that much of the content you can find online caters to that segment of the market.
Women tend to have different wants, needs, struggles, and experiences when it comes to travel and scuba diving, and a woman's unique perspective on these matters is sorely needed.
If you're looking for support and advice from a fellow woman scuba diver, or you want to read scuba diving blogs written from a woman's point of view, I've put together this list of amazing women dive bloggers. Continue reading if you'd like to know more about these inspiring women.
Coffee with a Slice of Life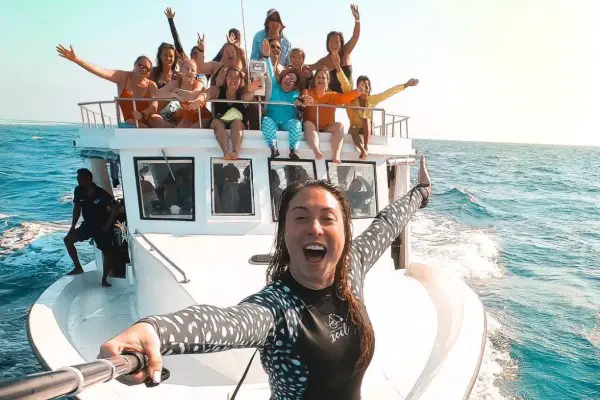 Sarah first started blogging when she noticed that there weren't many, and definitely not many female bloggers writing about scuba diving. She decided to create more scuba content on her personal blog Coffee with a Slice of Life sharing destination guides, gear advice, and creating a safe space for female divers. 
Blogging for nearly 10 years and building scuba websites to cater to women divers, her area of expertise is definitely females in diving. She is all about bringing inclusivity into diving. You will always find her sharing female-specific tips on diving and talking about issues women face in a predominately male-dominated sport.
There were many trials and tribulations along the way – and many scuba diving courses – but all of it has allowed her to grow as a diver and a blogger. Sarah is a certified divemaster, but she is now more known in the industry for starting Girls that Scuba, the world's largest female dive community.
Sarah is currently in her home in the UK but pre-pandemic she loved traveling to her favorite dive destinations in Mexico, Red Sea, or Asia. She loves the social aspects of liveaboards that she even hosts trips for Girls That Scuba. These trips quickly sell out, so make sure to follow Sarah @coffeethentravel and @girlsthatscuba on Instagram for updates.
---
If you are looking for support from other women divers, don't forget to join the 50,000+ Girls That Scuba on Facebook. You can also avail of the Girls That Scuba Private Membership to enjoy exclusive discounts and offers from selected scuba brands and partners.
World Adventure Divers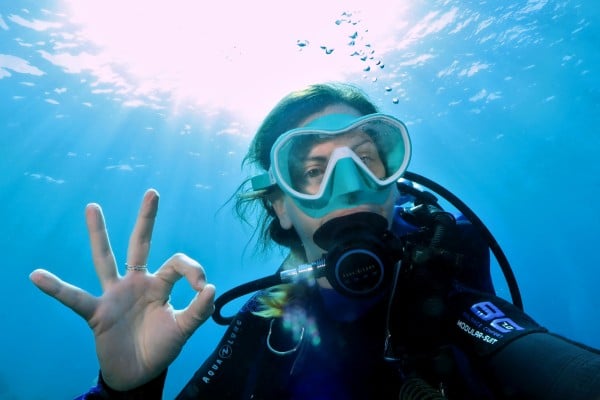 Florine is a Divemaster from France. Although she did her first discovery dive at 14 in the French Caribbean Island of Guadeloupe, it was only 11 years later, she could finally follow her dream of becoming a scuba diver. She was so hooked that she became a rescue diver in less than a year.
Her love for being underwater was so strong that it didn't matter whether the water was warm or cold. She wanted to scuba dive everywhere. From traveling from South-East Asia to Patagonia, her diving blog World Adventure Divers, initially focused on solo scuba diving adventures worldwide, no matter the water temperature, without breaking the bank.
However, over the years, diving destination after diving destination (she covered more than 100 diving destinations), she noticed something was wrong. Although scuba divers are taught not to touch anything underwater and only leave bubbles, many destinations promote activities doing quite the opposite, including shark feeding experiences. With rising awareness about the environment, she couldn't ignore the impact of her daily choices and travel style. That's how WorldAdventureDivers.com slowly shifted towards promoting sustainable travel and responsible diving, beyond making sure divers don't kick coral with their fins.
Having lived in Scotland, Japan, and New Caledonia, she covered in detail how to explore and scuba dive in these destinations and her home country too, France. With the Covid-19 travel restrictions, it was finally the opportunity to focus on local diving. She is currently exploring her home region of Brittany and scuba diving in the Atlantic Ocean.
If you want to know where in the world Florine is, follow @worldadventuredivers on Instagram.
---
Seaside With Emily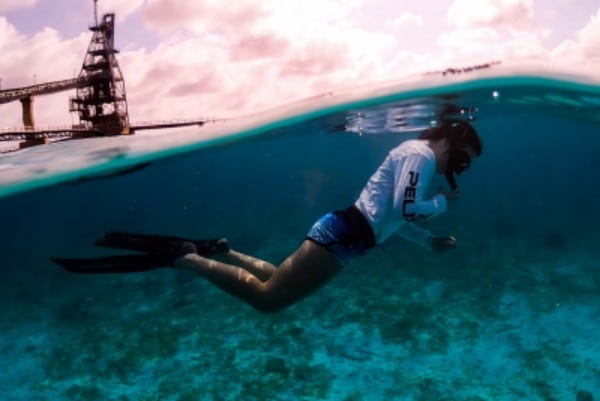 Emily De Sousa is the voice behind Seaside with Emily, a travel blog for millennial women who love coastal destinations, food culture, and wine. As a fisheries scientist, she is incredibly passionate about sustainable seafood. A lot of her travel blog content focuses on seafood travel and seafood traditions around the world. 
Emily has been scuba diving since 2016 and became a PADI Divemaster in 2018. Her love for the ocean, traveling, and seafood are what separate Seaside with Emily from other travel blogs. She is passionate about dive travel around the world, while also showcasing local food culture and the importance of the marine ecosystem to coastal communities.  
Emily has spent a lot of time diving in the Florida Keys and the Hawaiian Islands. She describes herself as a "lazy diver" which is why her favorite dive spots are The Keys and Bonaire. Though, her most memorable dive experience was diving with whale sharks in The Maldives in 2017. She also had the opportunity to dive off The Açores Islands which is where her family is from. It's quickly become one of her new favorite dive spots that she's looking forward to writing more about on her blog next year. 
If you're interested in learning more about travel in coastal destinations and sustainable seafood around the world, follow @seasidewithemily on Instagram or sign up for her newsletter to get exclusive updates. 
---
Dutch Mermaid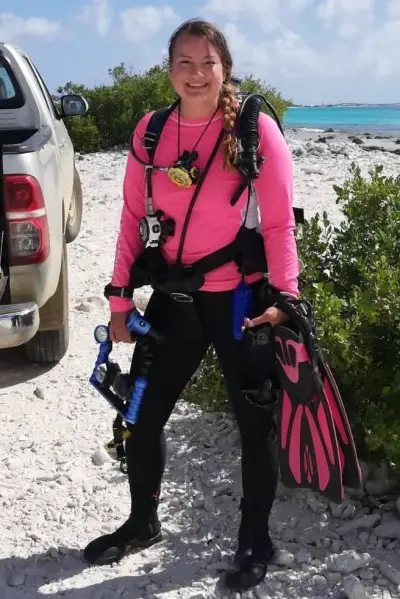 When Rianne, aka the Dutch Mermaid, did her PADI Open Water course in 2012 she did not expect her newfound hobby was going to end her banking career in 2018. In just six years, she got so much into scuba diving that it became her "full-time job" to talk about it – everywhere. Her blog is perfect for divers looking for travel inspiration world-wide.
Having just spent 6 months in Bonaire, her dive blog is currently focussed on diving around this gem of a Caribbean island. So if you're thinking about heading over to Bonaire this is the time to start paying attention to the Dutch Mermaid.
Future trips that are already lined up include; a month in the Maldives (with the unique Liveaboard of The True Maldives), Fiji (soft coral capital of the world) and Socorro (manta's, sharks and more). Rumor has it she's also already working on an epic Galapagos adventure. In other words, she is all over the place and loves telling you about her dive holidays.
Whilst Rianne travels the world she participates in all kinds of conservation projects, such as taking the Reef Renewal course in Bonaire. Offered through the Reef Renewal Foundation in partnership with the dive shops on the island, the course teaches you to grow staghorn and elkhorn corals! You can read all about Rianne's experience on coral restoration in her blog post.
Rianne is also big into beach clean-ups. When she's in Australia (where her boyfriend lives) she sails around the uninhabited islands doing beach clean-ups and collecting data on the trash they find. One of her dream goals is to find a formula where collecting/recycling plastic trash becomes more profitable than just creating more plastic. If you're interested in reef conservation or scuba destinations make sure to follow @thedutchmermaid for updates.
---
Lena on the Move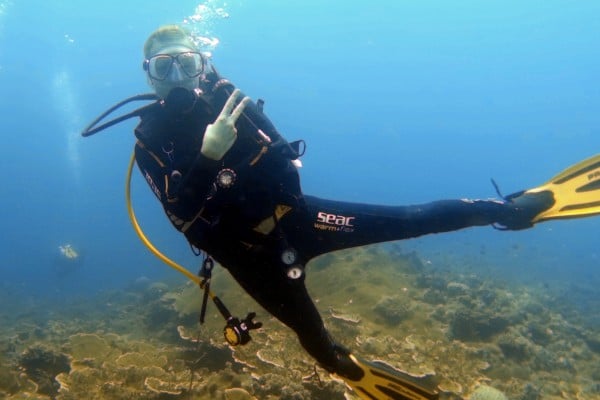 Lena is a Divemaster and pufferfish lover. She started her diving career in the Caribbean in 2015 and completed her rescue diver and divemaster training in 2017 while working at a dive center in the Philippines. During her 8-month stay in Southeast Asia, she had the chance to explore many dive sites around the Philippines – this is where, in addition to her love for sea turtles, she discovered a particular interest in macro creatures as well as pufferfish of all kinds.
On her blog, Lena on the Move, she mainly focuses on budget diving as part of her island adventures. She points out ways how everyone can go diving without having to spend a fortune. Lena is one of the pioneers in this field and combines the popular budget travel philosophy with diving to make the underwater world accessible to more people.
Besides diving as a pure hobby, Lena has been involved in several marine conservation projects, including Project Aware, and has put campaigns like "Dive Against Debris" into practice in multiple dive centers. Through her studies in tourism management, Lena also works with tourism and diving companies as well as tourism boards, including marketing campaigns on diving destinations.
Ironically, in her home country of Germany, Lena doesn't go diving at all and spends more time on the stand-up paddle than underwater.
---
Watch this inspirational video that will get you into diving!
Jo's Ocean Media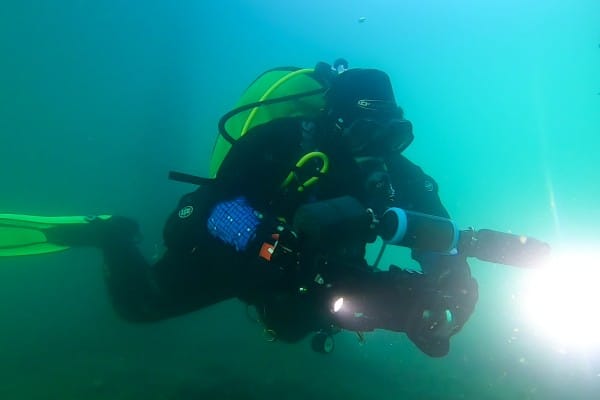 Jo is a PADI Master Scuba Diver blogger and videographer from the United Kingdom. Her love of the oceans started a few years ago when she learned how to dive. Jo shares the beauty of scuba diving in the UK on her website, Jo's Ocean Media. 
Armed with a camera, she wants to change the perception that UK diving is too cold or uninteresting. As someone who has done most of her dives in the UK, she knows that many dive spots are often overlooked. Her blog shows her readers the colorful reefs, wrecks, and exciting marine life in the UK waters.
Aside from her passion for underwater photography and videography, Jo is passionate about learning. Her dive blog was also inspired by the struggles she experienced when she started to dive. Every time she had a scuba diving problem, she wanted to seek advice from others who might have had similar issues. However, in her search for answers, she noticed that there were not a lot of scuba diver blogs that she could relate to as a beginner.
Because of this, Jo made it her mission to share her experiences so that other new divers may learn from her diving struggles and achievements. You can read her scuba education posts, where she shares the ups and downs of her journey as a female scuba diver in the UK. 
Love underwater photography? Here are 15 Amazing Women Underwater Photographers You Should Follow on Instagram.
Diving in Wonderland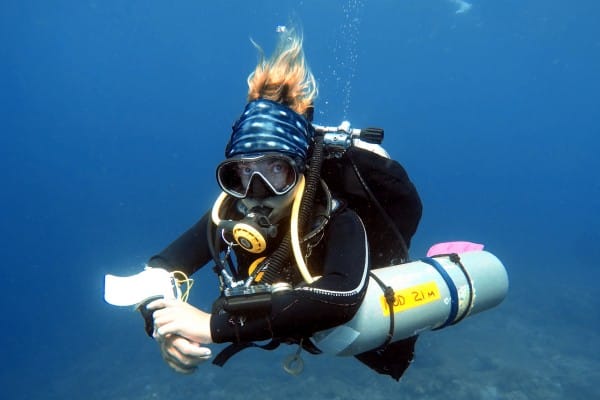 Iris is a PADI dive instructor, technical diver, and freediver. Originally from The Netherlands, she now lives in The Philippines.
Before she became an instructor Iris worked as a Marketing Manager for a software company, when she got increasingly fed up with sitting in an office all day. She quit her job and booked a one-way ticket to the Philippines, where she did her Divemaster training and later her IDC.
I never had the intention to actually work in diving. I just wanted to become more confident in the water, but helping other people get over their fears and teaching them about something I was so passionate about, turned out to be the most rewarding thing I had ever done.

Iris of Diving in Wonderland
Fast forward to March 2020: the pandemic hit and the dive industry collapsed. Iris was one of many dive professionals who lost her job. Besides the financial consequences, she really missed teaching. So with nothing but time on her hands, she decided to start sharing her knowledge about diving on her website Diving In Wonderland and on Instagram. According to Iris, "Having something like that to focus on really helped me get through that time, and the positive response I received was overwhelming."
On her scuba diving blog, Iris primarily writes for inexperienced and insecure divers. She gives tips & tricks on how to improve dive skills, with a big focus on safety and confidence. Because the dive industry can sometimes be intimidating, her goal is to create a safe place with a friendly vibe where it's ok to make mistakes – because we've all made them at some point.
Click here to read the latest post on Diving in Wonderland or Connect with Iris on Instagram
---
One Fin Wanderer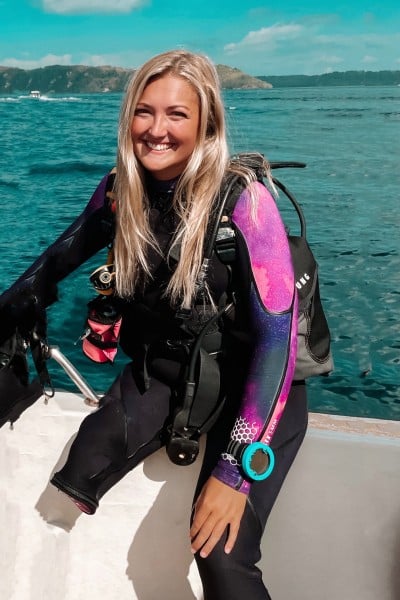 Rosie Bancroft is a newly qualified divemaster from the UK, currently living and diving the dream in Bali. Born with only one leg, Rosie used to represent GB for para-swimming, while studying for a degree in Zoology from University of Manchester. When she failed to qualify for the Rio 2016 Paralympic games, she decided to go on a solo travel trip around the world for a few months – where she fell in love with scuba diving.
This one-finned diver has never let her missing leg hold her back from anything. She has always lived her life without any limits. Following what was in her heart, she pursued a career in diving and ocean conservation in Indonesia. When Rosie is not in the water, she writes on her blog One Fin Wanderer where she inspires many other to not let any disability stop them from chasing their dreams.
Her blog focuses on her experiences as a solo, female, disabled traveler and her journey towards becoming a dive professional. Aside from her scuba diving stories, Rosie gives great tips on traveling solo and ethical volunteering abroad. She also shares detailed travel itineraries for countries such as Thailand, Philippines, and more.
If you need some inspiration to go for it in diving and travel and not let anything stop you – this blog is for you! Visit One Fin Wanderer so you can read about how Rosie has overcome missing her leg to become a professional diver and see the world. You may also follow her on Instagram @onefinwanderer.
---
Dive Into Life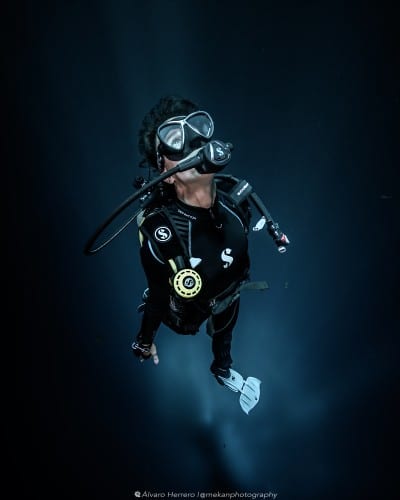 Isidora is a serial entrepreneur and passionate globetrotter. She has traveled 5 continents and dove the tropical waters around the equator. Isidora is a PADI AmbassaDiver, Divemaster, and the founder of the Dive into Life blog.
Dive into Life is a diving travel blog that shares insider tips and travel hacks to help you pick the next diving destination. It aims to inspire the readers to discover new tropical places. Through the lenses of some of the most talented underwater photographers, Isidora shares the beauty of our oceans, making you fall in love all over again with what is beneath the surface. 
You can follow Isidora's adventures and scuba voyages on @dive_into.life
The Very Hungry Mermaid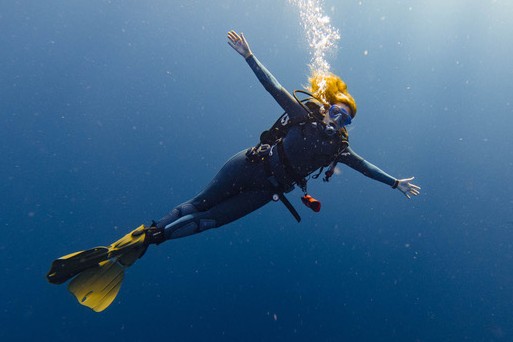 Annika blogs over at The Very Hungry Mermaid where she combines her love for travel, food, and scuba diving. She started diving in Koh Tao a few years ago and is now well on her way to becoming a PADI instructor and has been a Scubapro ambassador from the get-go. 
She has dived all over Indonesia and Thailand but also shares her adventures in South Africa, Mexico, and Europe – as long as there is an ocean to dive and water warm enough not to need a dry suit, she will be there! 
On her dive blog, she puts together detailed itineraries about those places and how to plan a dive or liveaboard trip to some of the best scuba destinations around the world. These travel guides are quite in-depth and don't just cover diving logistics and highlights of the area, but also how to get there, where to stay, and what else there is to do. 
In addition, she offers detailed posts about various scuba courses, what to expect, and who should sign up for them – whether you are a newbie diver, want to become a pro, or move into the world of technical diving. Ultimately her goal is to put together and offer trips for readers that combine two of her biggest loves: food & scuba diving! 
Click here to read the latest post on The Very Hungry Mermaid or connect with Annika on Instagram!
---
Do you enjoy reading about women divers? You might also love my popular posts:
Don't Date A Girl Who Dives
Coconut Odyssey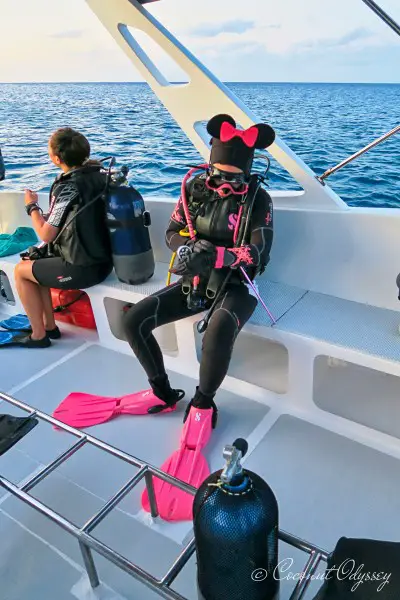 After nearly 2 decades of diving and traveling the world, wildlife travel blogger and PADI diver Michelle of Coconut Odyssey decided to create a blog to share her passion for adventure, scuba diving, wildlife, and travel around the world…with a touch of luxury thrown in.
Michelle has now been diving for over 14 years and logged well over 500 dives, however, it wasn't always easy! Despite her love of the ocean she had never learned to swim, that was until she met her partner who shared the same passion and wanted to take her diving. So, with a strong will and determination, Michelle was swimming lengths within a matter of weeks all in preparation to fulfill her dream of learning to scuba dive in the Maldives! 
Although Michelle has dived many places around the world from French Polynesia to Malta, Hawaii to South Africa, It's the Indo-pacific that has truly taken a hold of her heart. After plunging into the Indo-pacific for the first time several years ago, the technicolor underwater world had her hooked. After visiting the Maldives and Indonesia over 10 times you could say she's somewhat of an expert! 
As a passionate diver & UW photographer that loves animals above and below the waves, anyone visiting her blog can expect to gain travel inspiration not just for scuba diving destinations but also on the best places for wildlife safaris. So, if you are looking for advice on liveaboards, exotic dive destinations, African safaris, and hotel reviews, all with a touch of luxury, head over to CoconutOdyssey.com.
Follow Michelle on Instagram for more epic underwater photography and dive travel inspiration.
---
Diver Bliss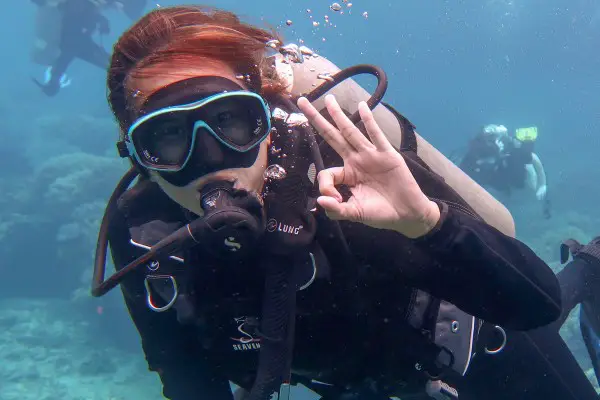 As I am the content creator behind this solo female scuba diver blog, I would like to shamelessly plug my website as one of the blogs you should be reading in 2021! Diver Bliss is a blog that focuses on scuba diving, ocean conservation, and sustainable lifestyle and travel.
My diving journey began in 2013 after receiving a scuba diving scholarship from Coral Cay Conservation. My experience of learning how to dive in a marine protected area sparked my love for the ocean and the desire to protect it. Scuba diving became a part of my life after but it wasn't much later that I became obsessed with it.
After having my heart broken, scuba diving became my therapy. I fell in love with diving and the ocean all over again and this paved the way for Diver Bliss– a platform where I share my dive happiness and experiences with others.
Since launching my site, it has been my goal to scuba dive and blog about 20 of the best dive destinations in the Philippines. I realized that not a lot of people are aware of how amazing diving is in my country and I wanted to change that. Diving in the Philippines also made me more aware of the harm humans have on our oceans. This is why I also write about marine conservation and sustainable living on my blog.
It is my hope that through my website I can inspire more people to go scuba diving and love the ocean as much as I do. So, if this resonates with you, make sure to follow me on Instagram @diverbliss or sign up for my newsletter to get exclusive updates. 
Every year in the month of July, we celebrate PADI Women's Dive Day to honor the women in diving. If you would like to meet other women divers check with your local PADI center if they have anything lined up. I've personally met so many amazing women divers through PADI Women Dive Day Event in the Philippines.
Don't forget to send this post to your dive buddy or Pin this for later!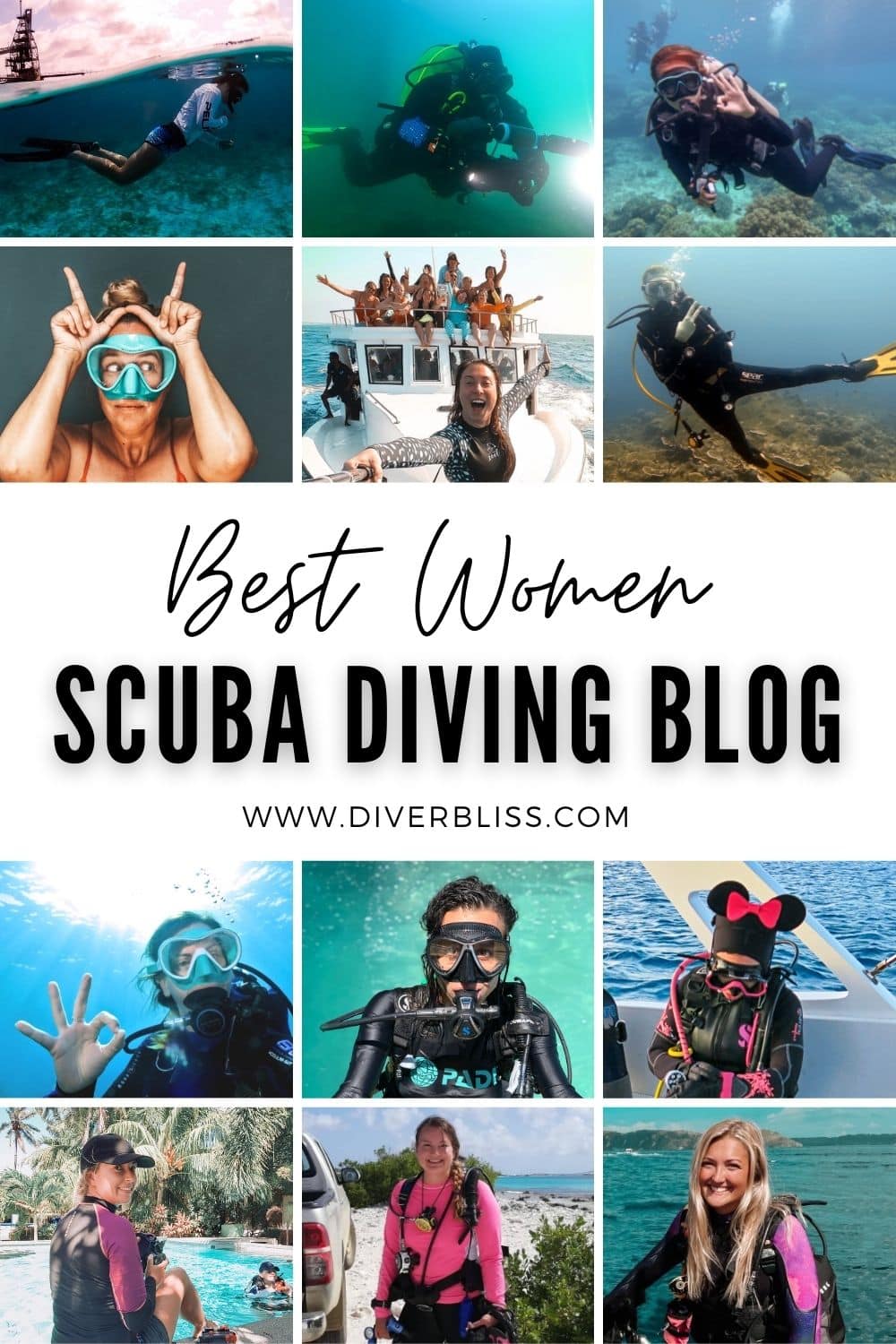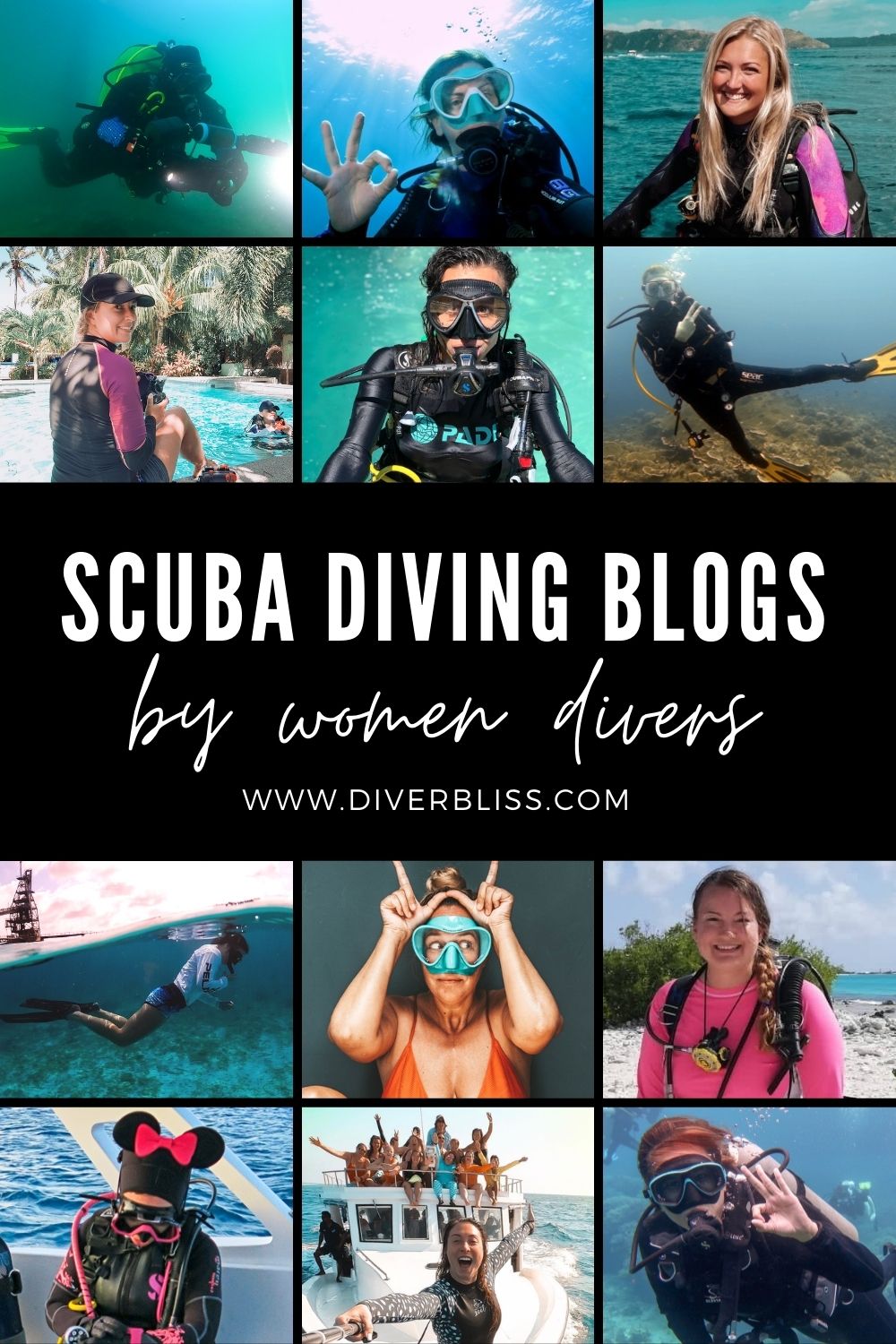 If you would like to follow the adventures of these women divers, do follow them on Instagram:
Coffee with a Slice of Life- Sarah @coffeethentravel
World Adventure Divers – Florine  @worldadventuredivers
Seaside with Emily @seasidewithemily
Dutch Mermaid – Rianne @thedutchmermaid
Lena on the Move – @lena.on.the.move
Jo's Ocean Media @josoceanmedia
Diving in Wonderland- Iris @divinginwonderland
One Fin Wanderer – Rosie @onefinwanderer
Dive Into Life – Isidora @dive_into.life
The Very Hungry Mermaid – Annika @midnightblueelephant
Coconut Odyssey Michelle @coconutodyssey
Diver Bliss – Ara @diverbliss – ME!
What did you think of this list of women diving blogs? Did I fail to include your favorite female dive blogger? Do you have a favorite dive blog that you recommend I read? Leave a comment below so I can consider them for my next review!