Are you in need of some underwater photography inspiration? Or perhaps you are looking for a photographer who can teach you a thing or two about underwater photography? Then this list was made for you!
In this post, you will find some of the most amazing women underwater photographers on Instagram.
From all over the world, these brave and creative female divers are capturing the most impressive and jaw-dropping underwater imagery. Their skills in photography and diving, combined with their artistic visions and determination, produce the most spectacular underwater photos that will leave you wanting more.
From vibrant reefs and somber wrecks to magical cenotes and mysterious caves, the underwater photographs by these women will leave you in awe and wonder. If you like tiny critters, majestic ocean giants, or anything in between, then you are in for a visual treat.
Continue reading to discover the women photographers who will make you fall in love with the underwater world.
Copyright Notice: All images featured on this post were used with consent from their respective owners. You may not use any of the images without their permission. Kindly respect their work. If you would like a copy, you may contact the photographers directly using the links provide on their write ups below.
Marissa Eckert is a passionate full-time technical diving Instructor and dive shop owner in North Central Florida. She has a wealth of experience and knowledge in both open circuit and rebreathers, caves, side mounts, underwater photography, among many others.
When she is not teaching, Marissa enjoys traveling all over the world, exploring new places, and hiking thru the jungle. She loves doing challenging new dives that help her grow and learn as a diver.
What really motivates Marissa is the desire to show people this amazing world. Whether that's thru caves, wrecks, ocean diving, deep diving, rebreather diving, sidemount diving, or photography. Marissa's major passions are teaching and photography. 
Marissa is certified on multiple rebreathers and can teach the SM Liberty, the X-CCR, the SF2, the KISS Sidekick, and the KISS sidewinder.  She has logged tons of hours on rebreathers and 1000s of cave dives.   Whether it's a cavern class or a cave DPV class, she loves helping people get a glimpse into this amazing underwater world.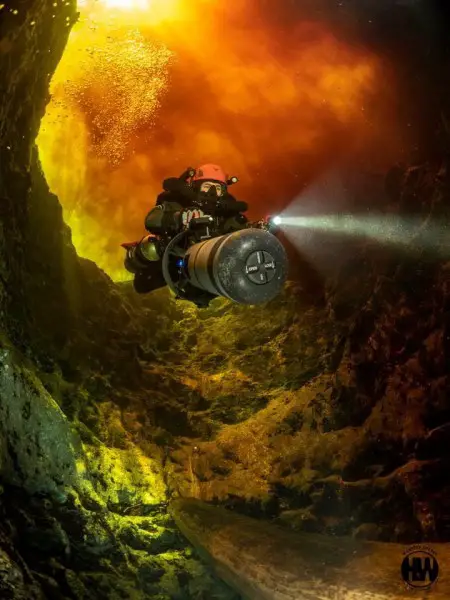 Marissa describes her underwater photographs as illuminated, unique, and otherworldly. Her favorite dive locations to photograph are the cenotes of Tulum and Muyil in Mexico. Her favorite underwater subjects/sceneries are definitely caves but especially caves in Mexico and the Bahamas that have beautiful formations. She also loves large pelagics.
If you love Marissa's underwater photographs, you can do a class with her or book a photo shoot. She also sells her digital files so you can get images printed in whatever format you like. For more details, you can reach Marissa via Instagram or her website Dive-Cave.com.
---
Elisabeth Lauwerys is a creative award-winning female underwater photographer and filmmaker with thousands of hours behind the camera. Her life has been devoted to traveling, freediving, scuba diving, and underwater photography and video.
From Humpback Whales and Tiger sharks in the open oceans to the tiniest Nudibranchs on tropical reefs, the sea's vast riches have fallen under her lens…
She continues to teach budding underwater photographers to discover and express their passion for the aquatic world. With her guidance, her trainees are able to produce beautiful underwater imagery. Equipped with their cameras and housings, Elisabeth enjoys traveling the world with her customers in pursuit of the most spectacular and diverse diving environments.
Elisabeth loves to create underwater photographs in black and white or pastel in color with shallow depths of field. Her favorite dive locations to photograph are Baja California in Mexico, from Magdalena Bay and Cabo Pulmo to Socorro. Her favorite underwater subjects these past years are out in the blue and pelagic. She loves being in the open ocean waiting to see what encounters they will get. Most of these encounters are freediving.
If you love Elisabeth's work, you can check out her underwater photography courses in Koh Tao and learn directly from her.
---
Can't think of what to put on your IG Photo Captions? Check out my post on 101 Ocean and Diving Quotes for Instagram.
Kellda is proof that things can only get better: knowing nothing about photography, she flooded her first underwater camera (a Canon point and shoot).  Since the death of that camera, her photography has gotten featured on Wetpixel, Dive Magazine, and Philippine newspapers.
You'll see a lot of macro critters on her feed since she's based near Anilao and took up her divemaster course in Dauin (both have great macro diving!)  You'll also see a lot of colorful reefs and big animals from her travels around the Philippines, Indonesia, Mexico, Maldives, Cayman and Fiji.
She considers herself an underwater photography hobbyist and has a day job as a corporate director.
When asked how she would describe her photography in 3 words, Kellda says "Nature. Simple. Progression." If you check out her Instagram, it's exactly that- a showcase of how her underwater photography has beautifully evolved throughout the years.
Unlike other photographers who specializes in one niche or style of underwater photography, Kellda enjoys doing both wide and macro shots. Shrimps, nudibranchs, mantas and sharks always catches her attention. Anilao, Tubbataha (Philippines), and the Cenotes in Mexico are her favorite photography destinations.
Kellda sells prints and give personalized workshops on underwater photography.  If you are in the Anilao area and wants to photo dive or model for her, you may message @scubakellda directly.
---
Lisa Beasley started scuba diving at 11 years old and fell in love with the underwater world instantly. She became obsessed early on with the very tiny and colorful creatures – especially nudibranchs. Having traveled and dived all over the world, it is freediving in the cold water Kelp Forests at the southern tip of Africa that is her true love and inspiration.
Passionate about the ecosystems of Cape Town's tidal pools, she spearheaded a campaign to change the way the pools are cleaned in order to ensure no harmful chemicals are used. In cooperation with the City of Cape Town, she also works with various groups to help increase awareness and community cohesion, particularly among the youth.
Whether teaching, counseling, freediving, taking pictures, or introducing kids to our rich marine environment, she is dedicated to helping others deepen their connection with nature and our oceans.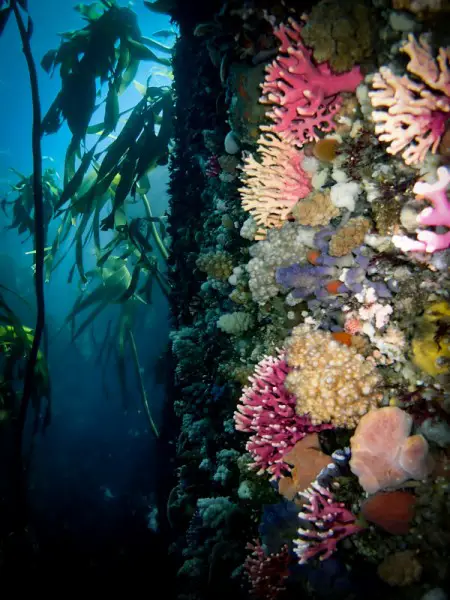 Lisa has been involved in a long-term project with the City of Cape Town to find healthier, less invasive cleaning methods for the tidal swimming pools around the coast. A part of this project is to create awareness with the public that uses these pools about the incredible diversity in these spaces.
Because of her ocean advocacy, you will often see her exploring with wonder in the kelp forests and rock pools in Cape Town. Her absolute favorite things to photograph are the tiny sea animals (nudibranchs, fan worms, hydroids, etc) that most people don't even know about. Many of her photographs also capture the way light shines through the kelp in the cold water kelp forests.
If you want to support Lisa's project or see more of her mesmerizing underwater photographs, you can visit the Cape Town Tidal Pools website.
---
After giving the corporate world a try, Nurul decided it was not for her and followed her dreams to become a dive instructor and worked on various paradise islands. At some point, she decided to pick up underwater photography as a new challenge and immediately fell in love with it.
Fast forward nine years, she has been featured in numerous diving magazines and websites and has won multiple awards for her work. Whether she is swimming with sharks in the Bahamas or fighting against the strong currents in Mexico, it is always with a camera in one hand and her eyes wide open. She tries her utmost to document and create stories through her underwater imageries.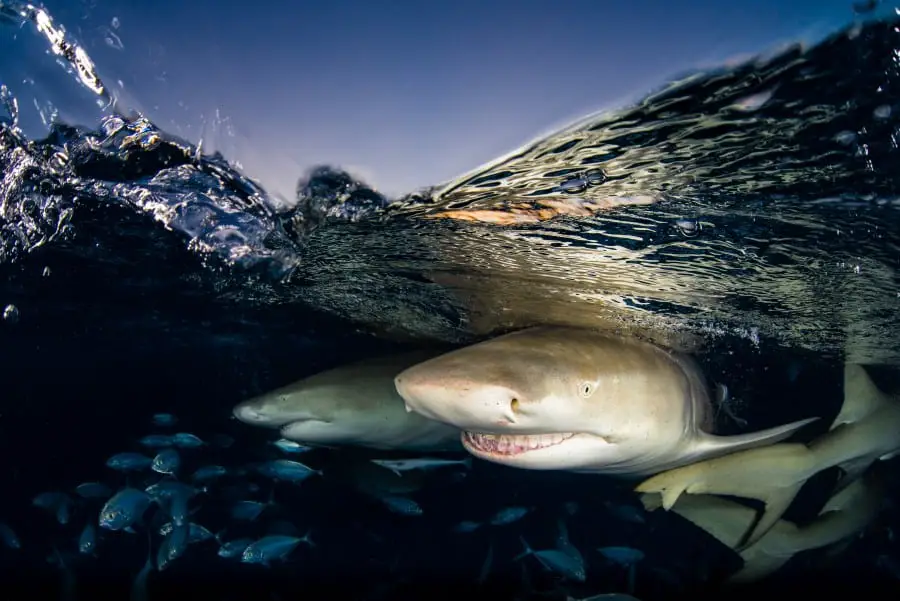 Nurul's underwater photographs can be described as bold, bright & colorful. For wide-angle photography, her favorite dive locations are Tiger Beach, Bahamas & Raja Ampat, Indonesia. For macro photography, her go-to location is Lembeh Straits in Indonesia. From tiny critters to big pelagics, Nurul loves capturing animal behaviors such as fish hunting, mating, or even laying eggs!
Nurul conducts underwater photography workshops and dive trips from time to time. You can follow her on Instagram or check www.nurulyazid.com to get updates.
---
Learn from my mistakes, read the 5 Underwater Photography Mistakes You Can Avoid as a Beginner.
Francesca Reina is an Italian-born, Mexico-based underwater portrait and fashion photographer. 
When she landed in Mexico, in 2016, she fell in love immediately with the cenotes and the amazing photo opportunities offered by their crystal clear water and beautiful natural backgrounds. It didn't take long before she started to experiment with underwater portraits.
Now her biggest passion is to photograph people underwater, not limiting herself to underwater models and free divers, but giving everyday people the opportunity to be models in her dreamy images.
Francesca's biggest talent is coaching non-swimmers, to be able to pose safely underwater, allowing them to experience the surreal beauty of the underwater world.
Fran describes her underwater photographs as dreamy, empowering, and surreal. She loves to photograph people in the cenotes, which are a natural opening to the underground cave system of the Eastern part of Mexico. She loves to get creative with her models and clients in the dreamy atmosphere offered by these rainwater-filled cave openings.
The mesmerizing blue columns of light and incredible water clarity, in conjunction with the relatively warm water temperature, make these cenotes the perfect natural setting for her underwater photoshoots. The cenote's freshwater makes it ideal for her models and clients to pose. It's easy to sink and it's gentle on the eyes since it doesn't contain chlorine and salt.
When she is not doing underwater portraits, Fran also enjoys photographing pregnant bull sharks in Playa del Carmen and the whale sharks off Isla Mujeres.
Aside from following Fran on Instagram, make sure to enroll in one of her cenotes photoshoots when visiting the Riviera Maya, Mexico. You can find the details on her website www.franreinaphotography.com
---
Carolina Wells studied Art, Photography & Design at the Superior Art School of Tarragona, where she received the award for the best end-of-year project. Before finishing her photography studies, it was clear to her that she wanted to do projects related to the ocean. More specifically, she wanted to become an underwater photographer.
She started to dive in 2016 and since then she knew that this was the project of her life. Now as an SSI/IANTD dive instructor and technical diver, she combines her dive profession with her love for the sea and photography.
Her underwater photographs are part of a personal project born of intense love for nature. That calm, tranquil, beauty attracts her to the blue.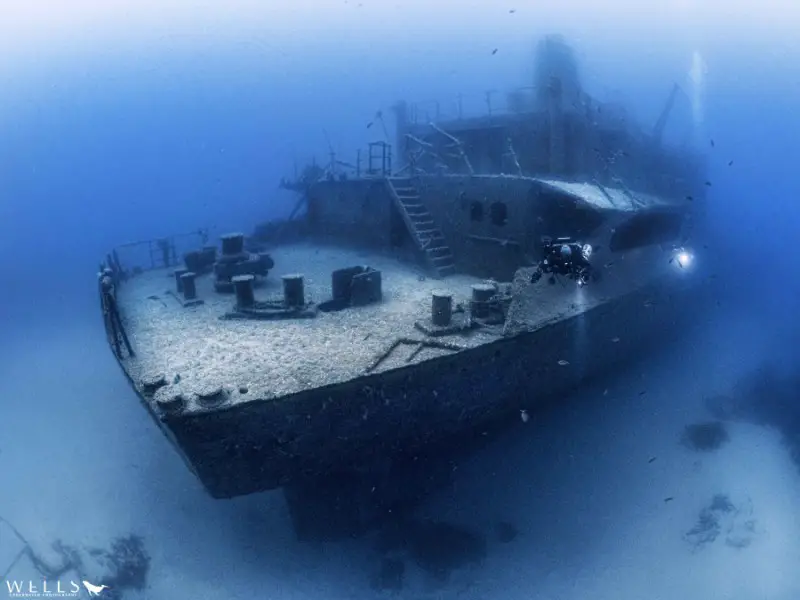 Caro specializes in underwater landscape photography with wrecks and caves as a constant highlight in her work. She also loves photographing technical divers and freedivers in these environments. The Inland Sea & Karwella wreck in Gozo and Um El Faroud in Malta are among her favorite places to photograph underwater.
If you love Caro's work, her photography is available for purchase. For those in Malta, you can also take her underwater photography courses or avail of her photography packs where she takes your portraits underwater! You can find more details on her website: www.carowells.com.
---
Are you loving the photography tips from women underwater photographers? Here are 85 Best Photography Tips for Beginners!
Charlotte Bories is an award-winning French photographer from Paris, now based in Bali (Indonesia). In 2008, she graduated with an Art & Communication master's degree at the College of Fine Arts.
Ten years later, she had a crush on underwater model photography: for her, who has always been dreamy and creative, this medium was the perfect way to create the poetical and surreal pictures she had in mind.
In the ND AWARDS contest, she received the title of ND Special Discovery of the Year 2020. She is also part of the TOP 101 International Portrait Photographer of the Year 2021.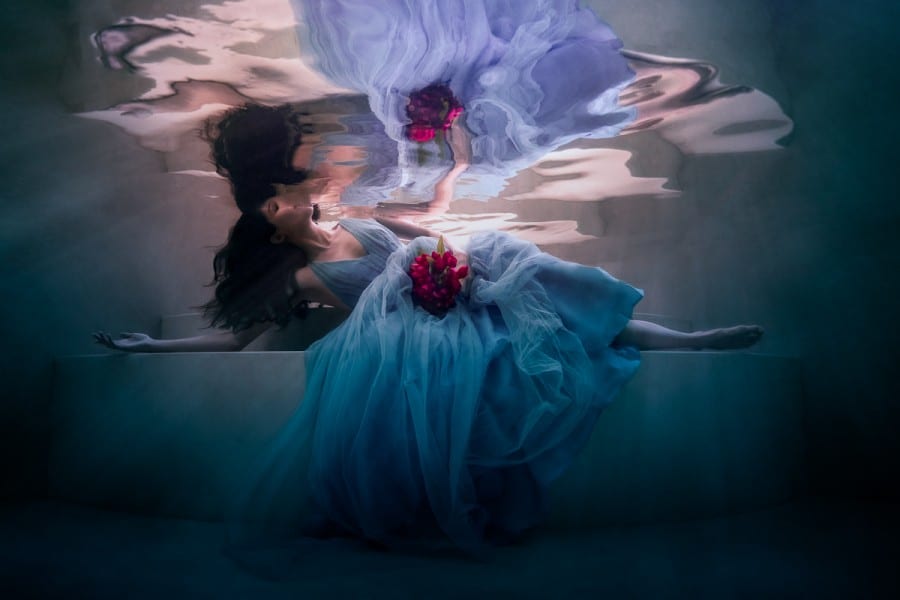 Charlotte describes her underwater photographs as creative, dreamy, and poetic. When asked what she enjoys photographing, she says:
"What I really love to shoot are creative and surreal sceneries. I've kept from my childhood a strong affinity for costumes and drama. I love the idea that you can dive underwater in the same way you dive in your dreams. You can be whoever you want, you can move however you want, you are free to fly or sink…I also find it interesting that water is ambivalent. Just like dreams, water has two sides : one wonderful and the other frightening, one bright and the other dark… I think that both sides are mesmerizing and deserve to be explored."
Charlotte, who is a PADI Advanced Open Water and Molchanovs Freediving Wave 1 diver, loves scuba diving and freediving is Nusa Penida in Indonesia. The island is conveniently situated only 40 minutes away by boat from her home in Bali. But more than that, it is a place where she can dive with manta rays! Swimming close to these majestic creatures is always a magical experience for her.
If you would like to have a copy of her underwater fine art portraits, just slide into Charlotte's DM to inquire. Charlotte offers photography services for individuals, couples, families, and businesses. You may also want to hire her to do one-of-a-kind underwater pregnancy portraits. For more details, visit her website: www.charlottebories.com
---
Stop using #beautiful for your IG photos, here are 500 Instagram Hashtags for Divers and Ocean Lovers
Pía Oyarzún studied Journalism in Chile, but eventually realized that she couldn't see herself being a journalist for the rest of her life.
When she graduated, she got a job as Social Media Manager for an airline company. Her daily work routine started at 8 in the morning where she would read complaints and write down reports. She would spend 10 hours seated every day with just a white wall as a background. She knew that this was not for her.
So on weekdays, she was working in the office, then on the weekends, she would be freelancing for a local dive shop. Working in exchange for PADI courses, she managed to complete her Advanced Open Water Diver all the way to Instructor. Once she became an Instructor, she quit her desk job and took the first plane to Brazil. She became a Dive Instructor in one of the most amazing places in the world: Fernando de Noronha Island.
While working on the island, she found out that she could also become an underwater photographer, and that is where her life felt more complete. She knew she had found her passion and this was what she wanted to do for the rest of her life.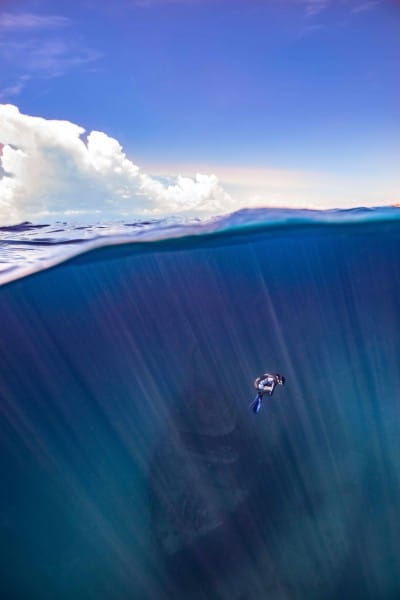 Pia describes her underwater photographs as passionate, adventurous, and free. She loves taking pictures of sharks and shipwrecks. And her favorite dive location to photograph is the Ray of Hope in Nassau, Bahamas.
Pia runs a personalized dive operation in Nassau where she takes people diving and does photoshoots with them. If you are in the Bahamas or know someone who would love to avail of her services, you may reach Pia through Made in Water Excursions.
---
Want to earn some money from your photography? Check out this post on 10 Ways You Can Make Money As An Underwater Photographer.
Kathrin Landgraf-Kluge was fascinated by nature from childhood on. She fell in love with diving when she was 20 years old. Her love for underwater photography started only some years ago when she fell in love with the supertiny underwater critters in Indonesia.
She specializes in compact camera macrophotography and wants to share her passion for underwater critters with the world.
Kathrin loves taking super-macro shots when she goes diving. On her Instagram, you will find the tiniest underwater critters like nudibranchs, sea slugs, sea horses, shrimps, crabs, frogfishes, and more. Indonesia is her favorite hunting ground for these often overlooked sea creatures.
Head over to her Instagram and give all these tiny critters some "love". Leave a comment on your favorite photo that Kathrin took. And of course, don't forget to follow @kathrin_underwater on IG!
---
Lexi Laine is a freediving fine art photographer based in the UK. She specializes in figurative photography and has a passion for creating otherworldly art.
Inspired by her love for baroque art, Lexi likes to use light to create a dramatic underwater dream-like imagery. In 2020, she won 1st place in the Beautiful Bizarre Art Prize photography award. She exhibits and sells her work worldwide.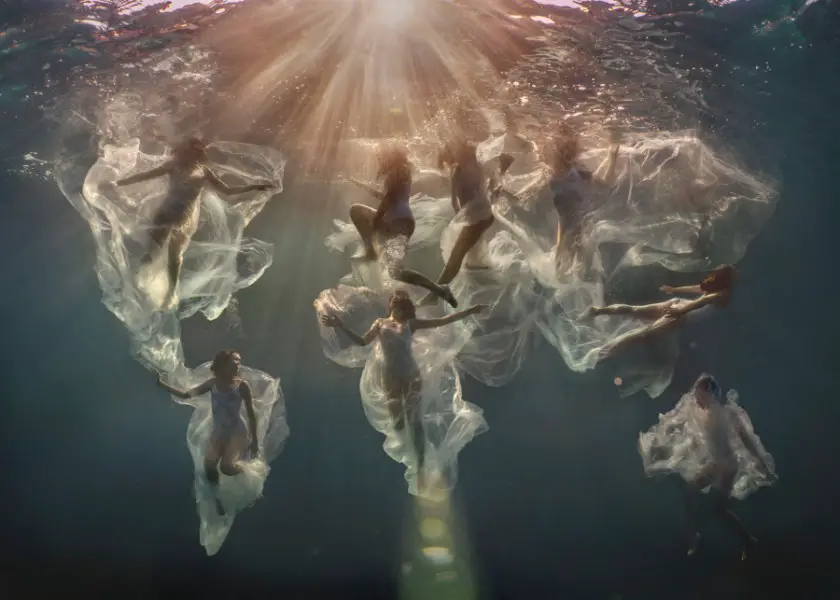 Lexi describes her underwater fine art portraits as dark ethereal dreamscapes. Her favorite subjects to photograph are female figures in natural open water landscapes. She loves deep dark backdrops and avoids sand like the plague. This is one of the reasons why the Cenotes in the Yucatan region of Mexico are her favorite location to shoot.
If you love Lexi's style of underwater photography she has exhibits and sells prints of her work. Details can be found on her website https://lexilaine.co.uk/
---
Engage your followers with IG story game templates, click here to get FREE Instagram Story Game Templates for divers.
If you love sharks, then you'll love Chelle's photography work!
Chelle Blais is a Canadian Female UW Photographer based in Bimini, Bahamas. Combining her passion for photography and her love of sharks, she works with the world-renowned shark research facility, the Bimini Shark Lab.
Every day, Chelle strives to take creative shots of sharks and rays and uses those images to engage the audience and hopefully spark interest and conversation. Talk about living the dream!
If you visit Chelle's Instagram account, it clearly shows that her favorite underwater subjects are sharks! If you're obsessed with them too, then you will enjoy Chelle's unique and creative take on them. Her favorite place to photograph sharks is in Bimini, Bahamas. She also loves this place for the dolphins and rays that she encounters in the clear blue waters.
It's not very obvious in her recent IG posts, but if you scroll down far enough, you will see how much Chelle loves macro photography too. She recommends heading to Amed, Indonesia for the macro critters and colorful nudibranchs.
In case you're drawn to Chelle's photos, you can purchase prints on her website www.chelleblais.com. Also, if you would like to support the research, conservation, and education of sharks and rays, you may check out the Bimini Shark Lab.
---
Use your Instagram for good. Here's how you can Grow Your Instagram to Advocate for the Ocean.
Having experienced a near-drowning incident in childhood, Rina Jones was very apprehensive of getting into scuba diving. But with the encouragement and support of her husband, she finally gained the confidence to go into the ocean. Her fears were replaced with joy as she explored all the wondrous sights and life to be found underwater.
While diving made her happy, Rina found a different level of happiness once she held an underwater camera in her hands. It was a whole new way of seeing and experiencing the aquatic environment. Since she lives in Anilao (Philippines), where the marine macro world is simply phenomenal, it was really not surprising how quickly she fell in love with underwater photography.
The excitement of the unknown drives Rina to keep photographing the macro underwater world. In her relentless search for that perfect underwater critter image, Rina discovered "Blackwater" photography.
Blackwater photographers like Rina, dive in open waters at night to photograph the planktons that migrate from the deep ocean to the surface. This opened up a new layer of marine diversity for her. She finds it thrilling to photograph the bizarre-looking species against the hypnotic black environment.  
Her photography is truly a gift to the world. Many of the marine life that Rina photographs are rarely seen by divers let alone captured on camera. It is always a delight to see her photographs as she has the unique ability to make the weird look wonderful under her lens.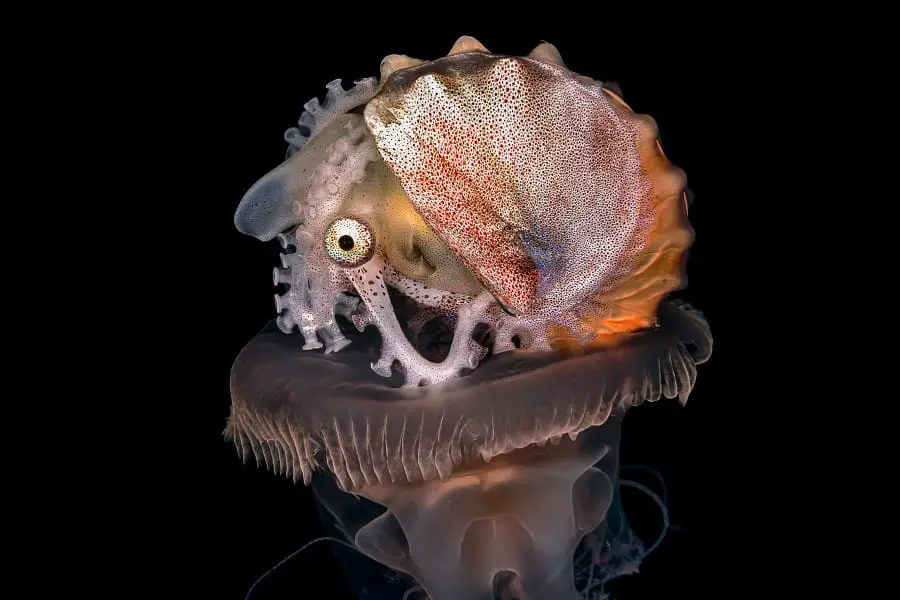 Rina describes her photography as a uniquely beautiful experience. Blackwater photography steals her heart but she also loves photographing daytime critters. Skeleton shrimps and colorful nudibranchs are also her favorite. Of course, her favorite place to dive is Anilao where she can take as much underwater photos as her heart desires.
If you like any of Rina's blackwater or macro photos, you can message her directly on her Instagram to purchase a copy. She is also a part-owner of Anilao Photo Academy, a dive center catered to underwater photographers. So do contact her if you are interested in doing a photo dive or photography workshop with her.
If you would like to know more about blackwater diving, read my post on Blackwater Diving for Beginners: Complete Guide for First-Timers
---
For Maru Brito, it all started when she took her first diving course, 5 years ago. At that instant, she knew that she wanted to dedicate her life to the sea. When she started taking photos of her underwater encounters, people responded positively. She decided to stop teaching diving to focus her energy on learning to be an underwater photographer.
Pursuing a career in photography allowed her to work on projects with BBC, Apple TV, Disney, and Discovery Channel, among others. The ocean has changed her life and she is eternally grateful for the amazing opportunities it had opened up for her. Everything she has done since then has been worth it, and she owes it all to the ocean.
As her way of giving back to the sea that has given her plenty, she uses her underwater photography to advocate for the conservation of the ocean.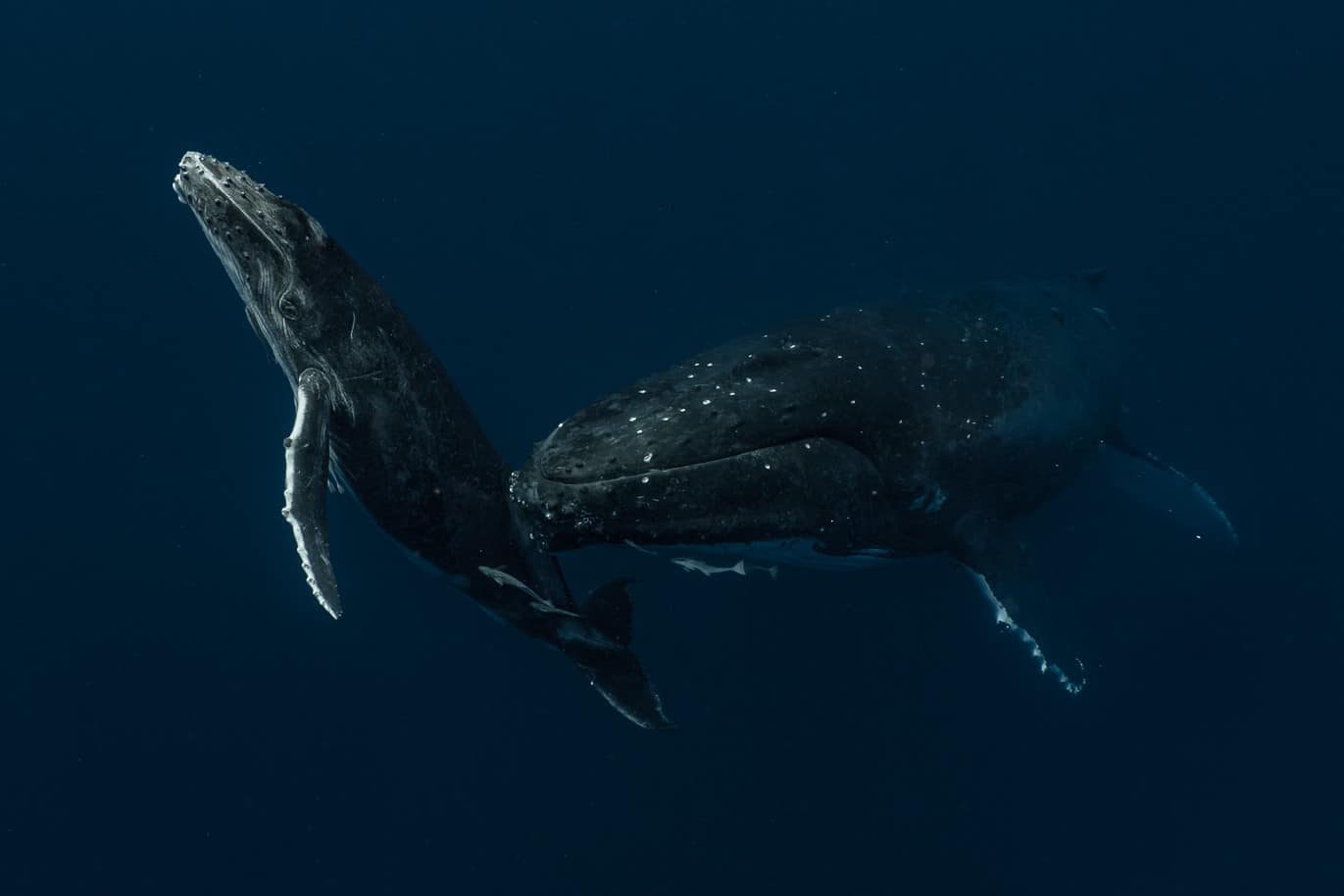 Maru describes her photography as tender and generous. Her Instagram feed is filled with images of turtles, dolphins, rays, seals, and whales frolicking in the wild. And one cannot help but feel freedom simply by looking at her underwater photos and videos. Her favorite places to photograph are Revillagigedo and Tonga.
If you love any of her photos and would like to purchase them as prints, you can contact @mbritop on Instagram.
---
Don't be that photographer no one wants to dive with, read the 10 Underwater Photography Etiquettes You Need To Master.
Jami is avid cold water scuba diver, and Divemaster, who is never without a camera. She has a passion for creating visual stories to educate, inspire, and support ocean conservation efforts. She loves to share her underwater adventures with her photography and videography that only a fraction of the population has had a chance to experience and bring to light just how amazing cold water diving can be. You can follow her adventures online on her website and social media. Reach out with with any questions on diving or photography!
Jami describes her photography as raw, candid, and vibrant. Her favorite place to photograph is the Channel Island off the coast of California. She enjoyes taking close focuse wide angle photos of kelp forests and the sea creatures that reside in them.
If you would like to support Jami, you may purchase her images as prints. You may also hire her as a content creator. She is available for gear agear and trip write ups, and her photos and videos are available for licensing. For more details, visit her website: www.UnderwaterPaparazzi.com
---
Do you enjoy reading about women divers? You might also love my popular posts:
Don't Date A Girl Who Dives
12 Best Women Scuba Diving Blogs You Should Read in 2022
Some of you might be wondering why I chose to feature only women underwater photographers. I intentionally did so because I wanted to put the spotlight on the women who are often overlooked in predominantly male communities- whether it be in diving or photography.
As a beginner underwater photographer, I am always on the lookout for talented photographers whom I can learn from. And when I looked at my Follow list on Instagram I noticed that there were not a lot of female underwater photographers on it. I literally had to go through hundreds of accounts just to find these women who could be my role model.
Some of the women featured on this list were divers I already followed on Instagram, but the majority were new discoveries I made after actively searching for them and asking fellow divers for recommendations. I took a subjective approach to the selection process, narrowing it down to who I thought was kicking ass in the different dive environments and photography niches.
I am honestly blown away with these women's artistry and I can only hope that someday my underwater photography skills will be of the same caliber as theirs.
For more underwater photography inspirations, make sure to follow these 15 amazing women photographers:
Marissa Eckert | @marisssa_eckert_
Elisabeth Lauwerys | @oceans_below
Kellda Centeno | @scubakellda
Lisa Beasley | @lisambeasley
Nurul Yazid | @nurul_yazid
Fran Reina | @cenote_portraits
Carolina Wells | @divewellphotography
Charlotte Bories | @charlotte_bories
Pia Oyarzún | @madeinwater
Kathrin Landgraf-Kluge | @kathrin_underwater
Lexi Laine | @lexilainephoto
Chelle Blais | @chelleblaisphoto
Rina Jones | @rinayumol_jones
Maru Brito | @mbritop
Jami Leslie Feldman | @underwaterpaparazzi 
If you liked this post, make sure to follow me @diverbliss on IG or join my mailing list!
Pin this for later!
Do you have a favorite female underwater photographer that should be on this list? Leave a comment below so I can consider her for my next review!