In this post, I will share with you my experience of getting certified as a PADI Rescue Diver. If you want to know how to become a rescue diver, here's everything you need to know to get certified too!
In 2013, I had gotten my Open Water and Advanced Open Water Certification while volunteering at Coral Cay Conservation. After completing those scuba diving courses I knew that eventually, I wanted to get my PADI Rescue Diver certification as well.
It was only a matter of time.  
I was never really pressured to do it right away. After all, experience is a great teacher when it comes to scuba diving. So I got into the water as much as I could until I decided to finally get my PADI rescue diver certification in September of 2019.
What's stopping you from getting your Rescue Diver Certification?
In hindsight, I think I was delaying getting certified as PADI Rescue Diver because I was scared of what it meant. Or what I thought it would require from me if I finally got my certification.
The name in itself intimidated me. RESCUE DIVER.
To me, it meant I will have to rescue someone. Other divers might need to rely on me. Or there could be a scuba diving accident and I might have to save someone! The thought of being in those situations scared me.
This will sound selfish but I did not want to be responsible for other people once I become a rescue diver. After all, I dive for fun, and I was confident that the divemasters (DM) in my dives would help me out in case of an emergency.
And besides, I have always been a careful scuba diver. I never go beyond my limits, I stick to the rules and I have managed to log 150 dives without getting into a diving accident. Do I really need to get certified now?
I also told myself that there really was no rush. I can just take the PADI Rescue Course when I decide to become a PADI Divemaster, right? Since the rescue diver certification is a requirement to become a dive professional, I can just take it when I'm ready to be a DM.
Oh! And where would I do it? And Do I even have the budget for it? Because, you know, I really want to buy strobes for my camera…
As you can tell, I kept giving myself excuse not to do it. When really, I should have been looking into why I should.
I let my fears and ignorance get in the way, so I delayed it for 6 years.
Then one day, I received a message from my Tita Gigi who was a PADI dive instructor. ("Tita" is a Filipino honorific term we use to call a female older than yourself) She told me that she was organizing a rescue dive course for her students and asked if I wanted to join her class.
I took this as a sign. It was about time to face my fears and get certified as a rescue diver. So I finally said YES.
And it is one of the best decisions I've made when it comes to scuba diving.
Why should you take a PADI Rescue Diver Course?
So, why are so many scuba divers, myself included, always raving about the PADI rescue diving course?
It is a favorite among many divers because the knowledge and skills we've acquired in the rescue diving course have made us more confident and safer scuba divers.
The rescue diving course is empowering in such a way that instead of being an observer or bystander, you can confidently address any safety issues that arise in your dives. You will learn how to prevent, respond, and manage dive emergencies.
As a PADI Rescue Diver, you will be more proactive. You will learn to identify problems that could lead to a diving accident. Thus, preventing them from occurring in the first place. At the same time, you will gain skills and the confidence to be reactive should a dive emergency take place.
Rather than feeling anxious before a dive, you can enter the water more at ease knowing you have undergone the training needed for a safer dive experience.
The rescue diving course will teach you to look out for yourself and your dive buddy. You will be more aware of yourself and of others. And most importantly, you will learn skills that can save your life or someone else's.
The Rescue Diver course is mentally and physically demanding but even more so rewarding and fun.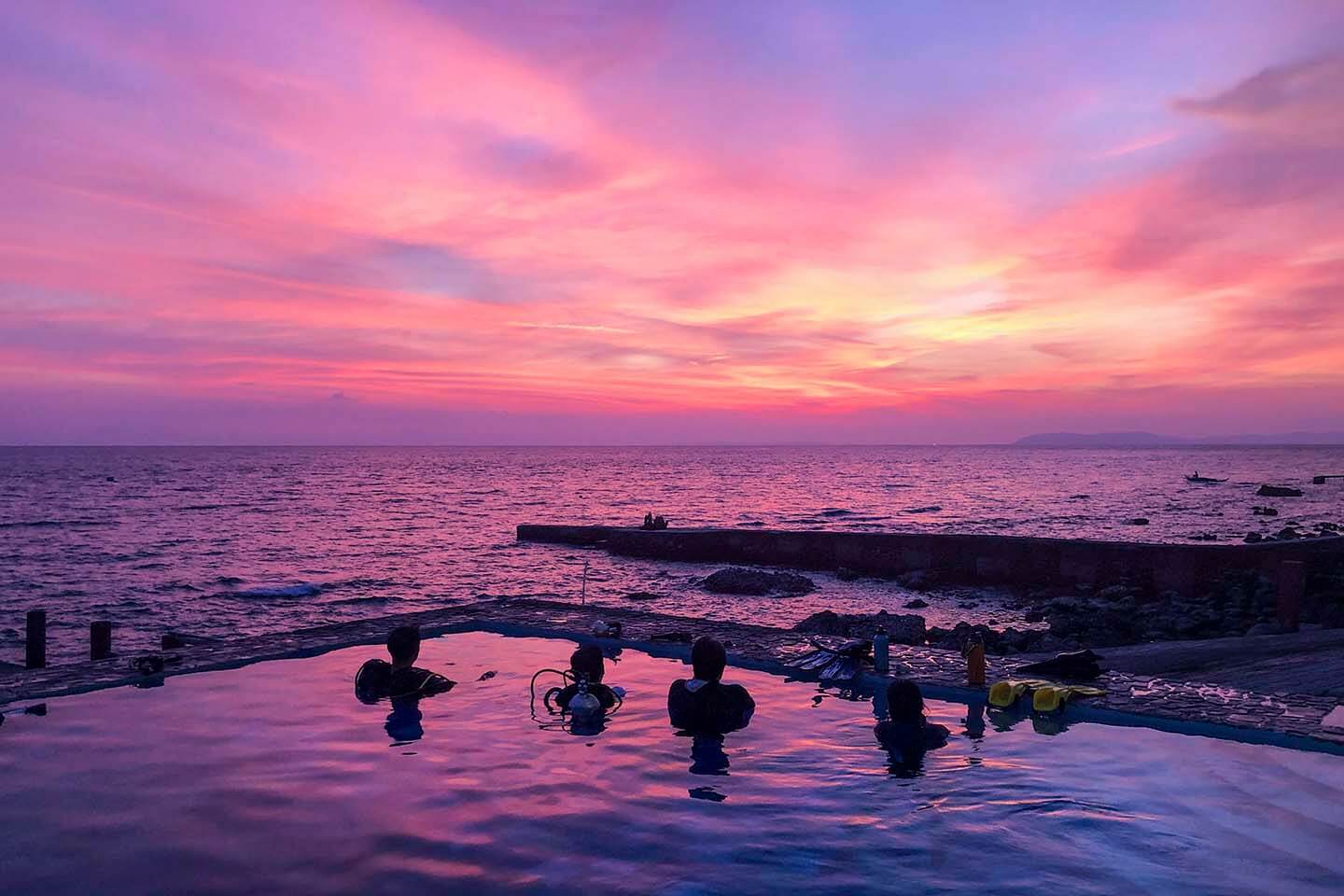 What are the PADI Rescue Diver Requirements?
Like most dive courses, you can take it anytime and at your own pace for as long as you meet the basic requirements of the course.
These are the requirement for the PADI Rescue Diver Course:
You should be at least 12 years old.
You are an Adventure Diver/ Junior Adventure Diver with completed Underwater Navigation Dive.
You should have Emergency First Response Certification within 24 months (if you have a valid first aid and CPR Training that qualifies too)
Now that I have completed the PADI Rescue Diver Course, I would tell you to get certified as soon as you can. With the caveat that you are already comfortable in the water and you're not struggling with your basic diving skills like your buoyancy.
Gain some experience beforehand but do not wait as long as I did either.
Divers who have completed the PADI Rescue course will probably say the same thing: I wish I took this sooner!
What happens during the PADI Emergency First Response (EFR) Course?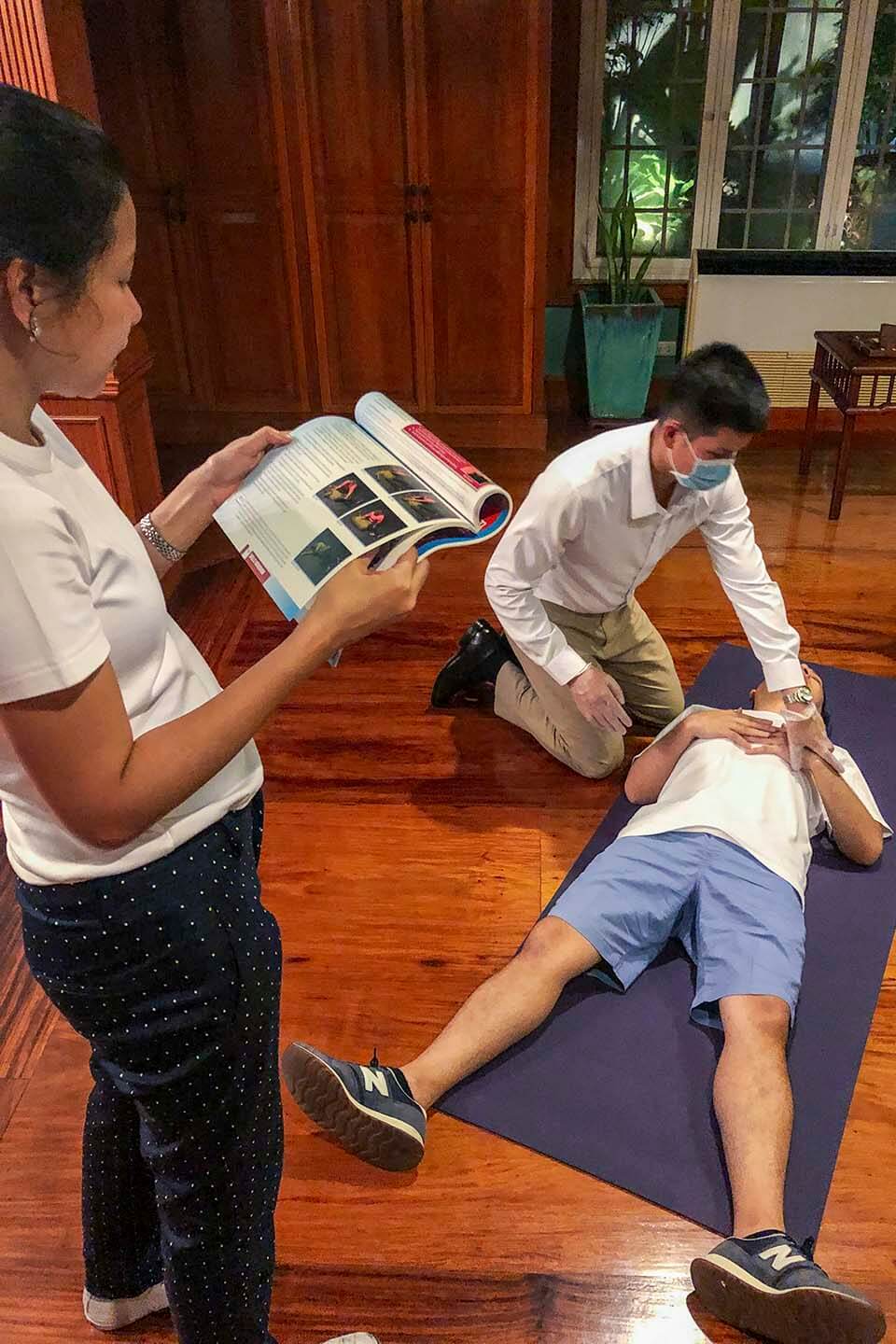 Our instructor, Gigi had organized 4 of us to join her PADI Rescue Diving Course.
Since all of us did not have first aid or CPR training within the last 2 years, which is a requirement for the PADI Rescue Diver course, we all had to get our Emergency First Response (EFR) Certifications first.
We were all based in Manila so we agreed to meet up after work to complete the EFR course.
During the Emergency First Response Course, you will learn by reading from the workbook and answering chapter reviews. The EFR Training will have a lot of videos that will show you different emergency situations and how you should respond. You will also be doing role-playing and demonstrations. So get your acting skills ready!
What will you learn in the PADI EFR Course?
The PADI EFR Course has two sections: Emergency First Response Primary and Secondary care.
During the EFR Primary Care Training, you will be taught how to handle life-threatening emergencies. You will learn skills for aiding patients who are unresponsive, not breathing, may have a spinal injury, in shock and even serious bleeding.
You will learn how to perform Cardiopulmonary Resuscitation (CPR) to a doll named Resusci Annie. You will learn to do 30 chest compressions to the beat of "Staying Alive" by the Bee Gees, then give her 2 rescue breaths. After, you will also be taught how to use an Automated External Defibrillation (AED) in an emergency situation.
The EFR Secondary Care Training will teach you how to handle non-life-threatening medical conditions. You will learn how to provide first aid to ease a patient's pain while waiting for emergency medical services. You will learn practical skills like bandaging and splinting.
By the end of the PADI Emergency First Response training, you should have the Confidence to Care.
How long is the EFR training?
The PADI EFR training can be done in one day. But the duration may vary depending on the group's pace and size.
Our group's EFR training was done after work. We did it from 6PM until around 1AM. So it was about 6-8 hours.
What happens during the Rescue Diving Course?
After completing your Emergency First Response Primary and Secondary care training, you can now start your PADI Rescue Diver Course.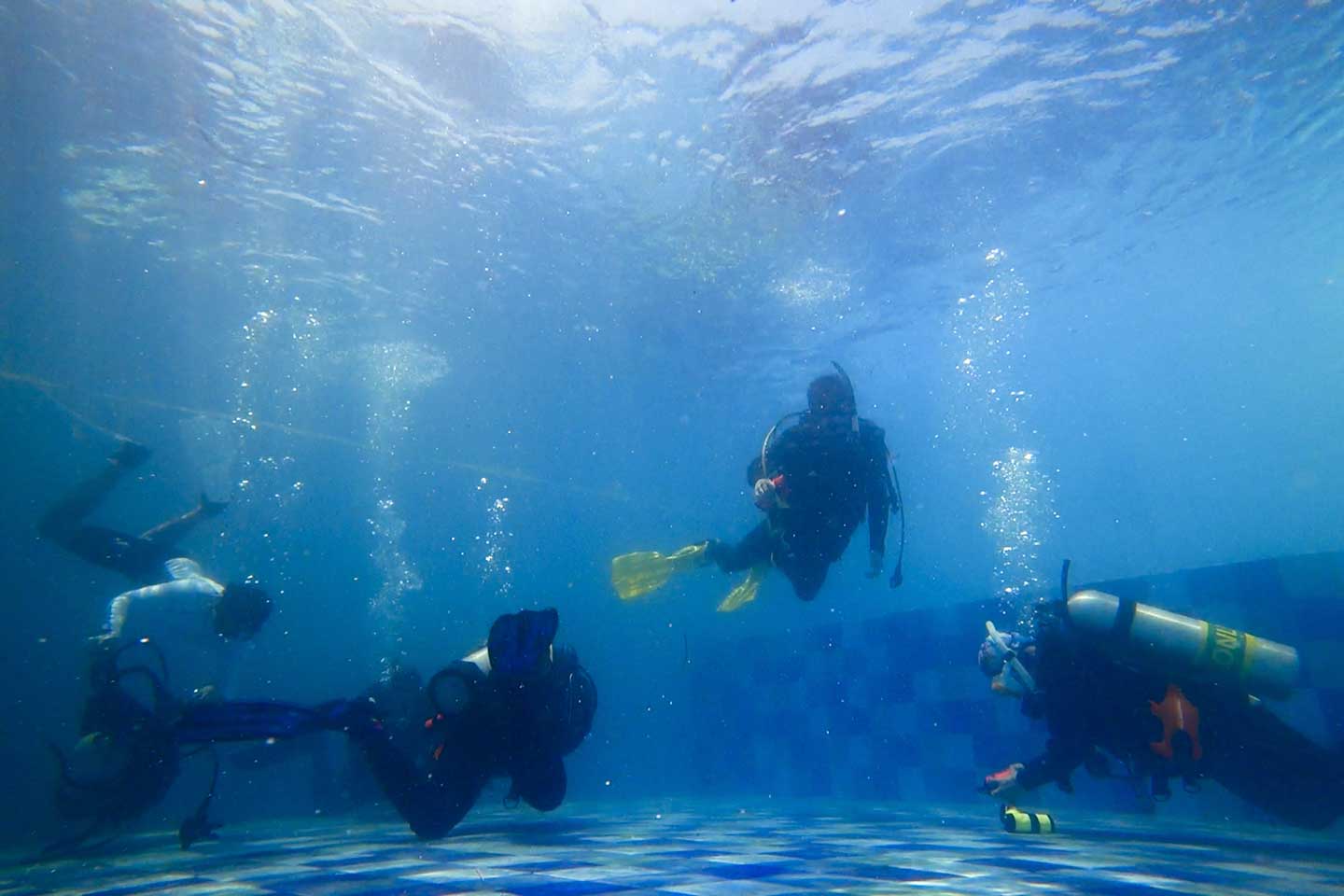 How much time do you need to complete the PADI Rescue Diver Course?
Traditionally, if you do your PADI Rescue Diver Course through a dive resort or dive center you will need 3 days to do this. 1 day is for the knowledge section and 2 days will be for in-water training.
If you have a tight schedule, you have the option to do the knowledge portion through the eLearning course. This will allow you to do the knowledge section at your own pace wherever in the world you are. You should however complete your e-learning before you go through the 2-day in-water training with your dive instructor.
PART 1: PADI Rescue Diving Course eLearning
Since our group was composed of young professionals, we opted to do the first portion of the PADI Rescue Diving Course online. Our rescue diving instructor helped us set up our PADI eLearning account where we could access the course materials. This allowed us to go through the lessons in our own homes and at our own convenience.  
The PADI Rescue Diver eLearning course is accessible via your computer, or offline via your mobile device or tablet. The web-based system will give you access to the digital version of the Rescue Diver Manual. 
You will go through five knowledge development sections with each chapter ending with an online review. A final exam will also be given to ensure you understand the knowledge portion of the PADI Rescue Diver Course.
If you prefer a face-to-face method of learning, you can also go to a local PADI Dive Center or Resort to enroll in the course. You will be given a hard copy of the Rescue Diver Manual which you can read ahead of time.
During the on-site learning session, you will be watching the Rescue Diver Videos. Then your knowledge review sessions and exams will be supervised by your rescue diving instructor.
PART 2: Practice Exercises
For our PADI Rescue Diving in-water training, we did it in Portulano Dive Resort in Batangas. We left Manila early Saturday morning and stayed in the resort until Sunday afternoon to complete our course.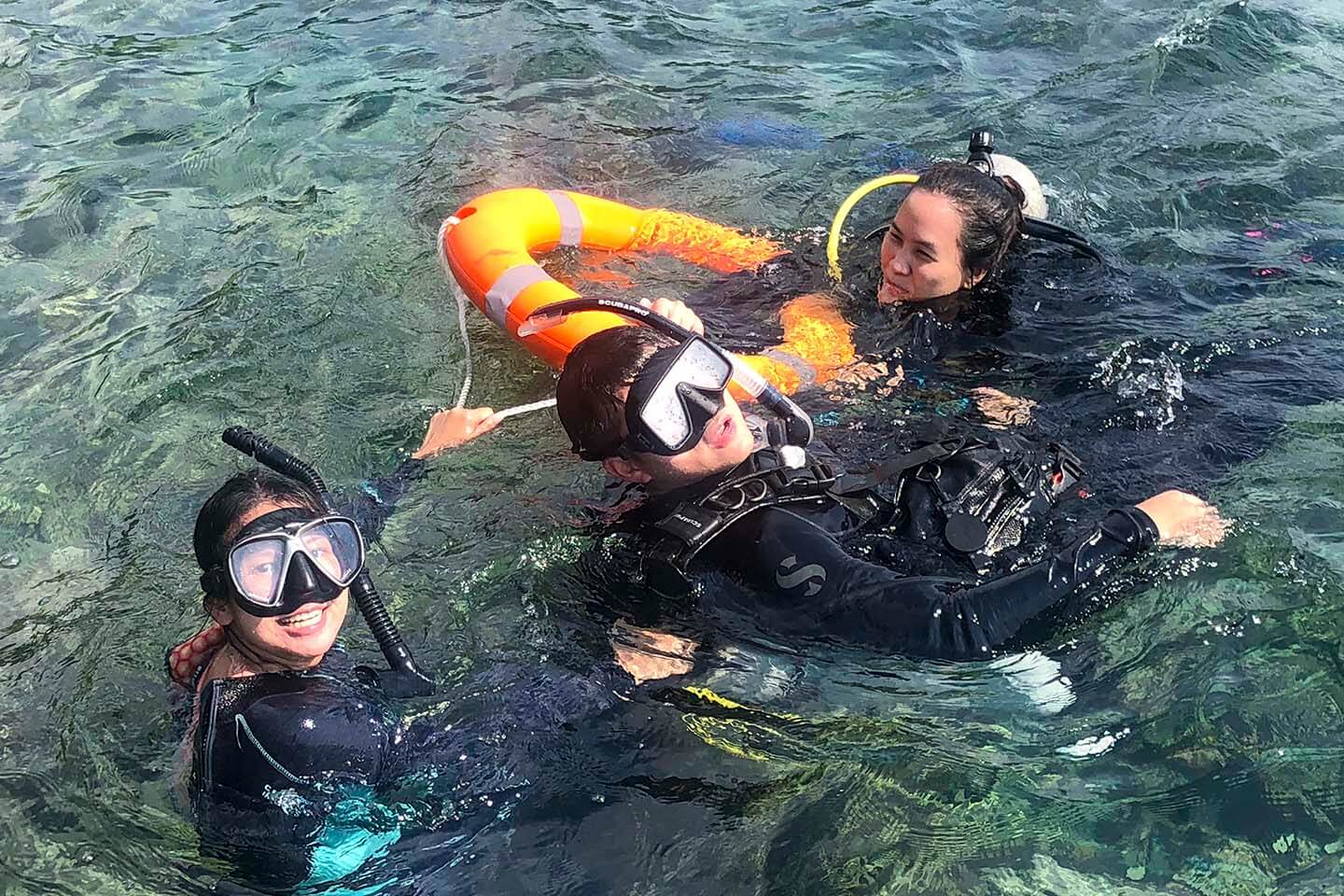 During this part of the PADI Rescue Diver course, we reviewed how to do Self Rescue, then learned how to respond to different emergency situations. There were 10 situations we had to practice on each other:
Tired Diver
Panicked Diver
Response from shore, boat, dock for a responsive diver
Distressed Diver Underwater
Missing Diver
Surfacing the Unresponsive Diver
Unresponsive Diver at the Surface
Exiting the Unresponsive Diver
First Aid for Pressure Related Injuries & Oxygen Administration
Response from Shore, Boat, Dock for Unresponsive Diver
Our rescue diving instructor would first explain the situation and demonstrate how to properly respond. Then she would ask us to either play the role of the "rescuer" or the "victim". We took turns practicing the drill on each other. Any mistakes we made were corrected.
Some of the exercises were in the pool and some were done in the ocean. For instance, we did the missing diver exercise in the ocean and got to practice our underwater navigations skills too.
This portion of the rescue diver training was fun but very exhausting for both the "rescuer" and the "victim". Acting like a panicked or distressed diver was hard work too!
PART 3: Rescue Scenarios
The final part of the rescue diving course is doing a simulation where you need to carry out rescues to emergency situations. During this part, you will put together everything you have learned and apply it to the emergency scenario that your instructor has crafted.
Unlike the practice exercises where the instructor tells you what is happening, this portion is very life-like with dive assistants playing the parts of victims and onlookers.
In our case, our dive instructor asked one of her friends to play the role of a missing diver. And in another situation, she asked one of the divemasters of Portulano to be an unconscious diver.
As with all emergencies, you will never know what scenarios your dive instructor will give.
But you need not worry. By the end of the PADI rescue diving course, you will have the confidence and know-how to respond to any diving emergency the best way you can.
Additional Tips for Your Rescue Diving Course:
Research and choose a dive instructor whom you trust. Talk to them beforehand to get a feel for their teaching styles and methods.

I was not hesitant to join Tita Gigi's group as I have known her since I was a child through my aunt. She has also certified thousands of divers, including my cousin, so I knew I'd be in good hands.

Do your rescue diving course with other divers. This will help you practice your skills with different divers and their varying equipment setups. It is also a great way to gain new diver friends.

Keep reapplying sunscreen or wear a cap while doing your rescue diving exercises outdoors. We did our drills under the sun the whole day and had painful sunburns after our training!
My Scuba Diving Gear
Regulator: Scubapro MK25 Evo, C300 and C200 2nd Stage
BCD: Aqualung Axiom
Mask: TUSA M-212 Freedom Ceos
Snorkel: TUSA SP-170 Platina Hyperdry II
Booties: Poseidon Pink Dive Boots
Fins: Problue
Wetsuit: Seavenger
Vest Hoodie: Scubapro Hybrid Hooded Vest
Dive Watch: Suunto D4i Novo
Dive Knife: Aqualung Blunt Tip Knife
Dive Leggings and Rash: Blue Adaptation Coral Sea Fan

My Underwater Camera Gear
Underwater Camera: Canon G7X Mark II
Underwater Camera Housing: Fantasea FG7XII
Video Lights: Big Blue AL1200XP
Underwater Action Camera: GoPro Hero9
360 Camera: Insta360 X3

> Canon G7X Mark II full review
> Insta360 X3 underwater camera review
> Scuba diving camera recommendations for beginners.

Dive Insurance
Divers Alert Network (DAN)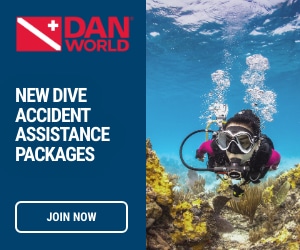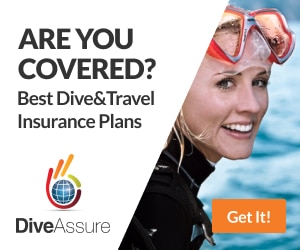 Need travel insurance for your trip? Get a quote from Safety Wing.
How much does the PADI Rescue Diver Course Cost?
The PADI Rescue course will vary depending on where you are diving and whom you are diving with.
But to give you an idea this is what I paid:
| | | | |
| --- | --- | --- | --- |
| PADI Course | PH PESO | USD ($1=₱50) | GBP (£1=₱65) |
| EFR | ₱7,500 | $150 | £115 |
| Rescue Diver | ₱19,000 | $380 | £292 |
| Total Cost | ₱26,500 | $530 | £407 |
Cost of the PADI Courses (with approximate conversions to dollars and pounds)
This included the PADI Rescue eLearning Course, Rescue Mask, EFR Manual and Certification for both EFR Course and PADI Rescue Diver Course.
This did not include the rates for the resort accommodations, meals, and tank rentals, and air refills.  You may check the rates of Portulano Dive Resort on their website.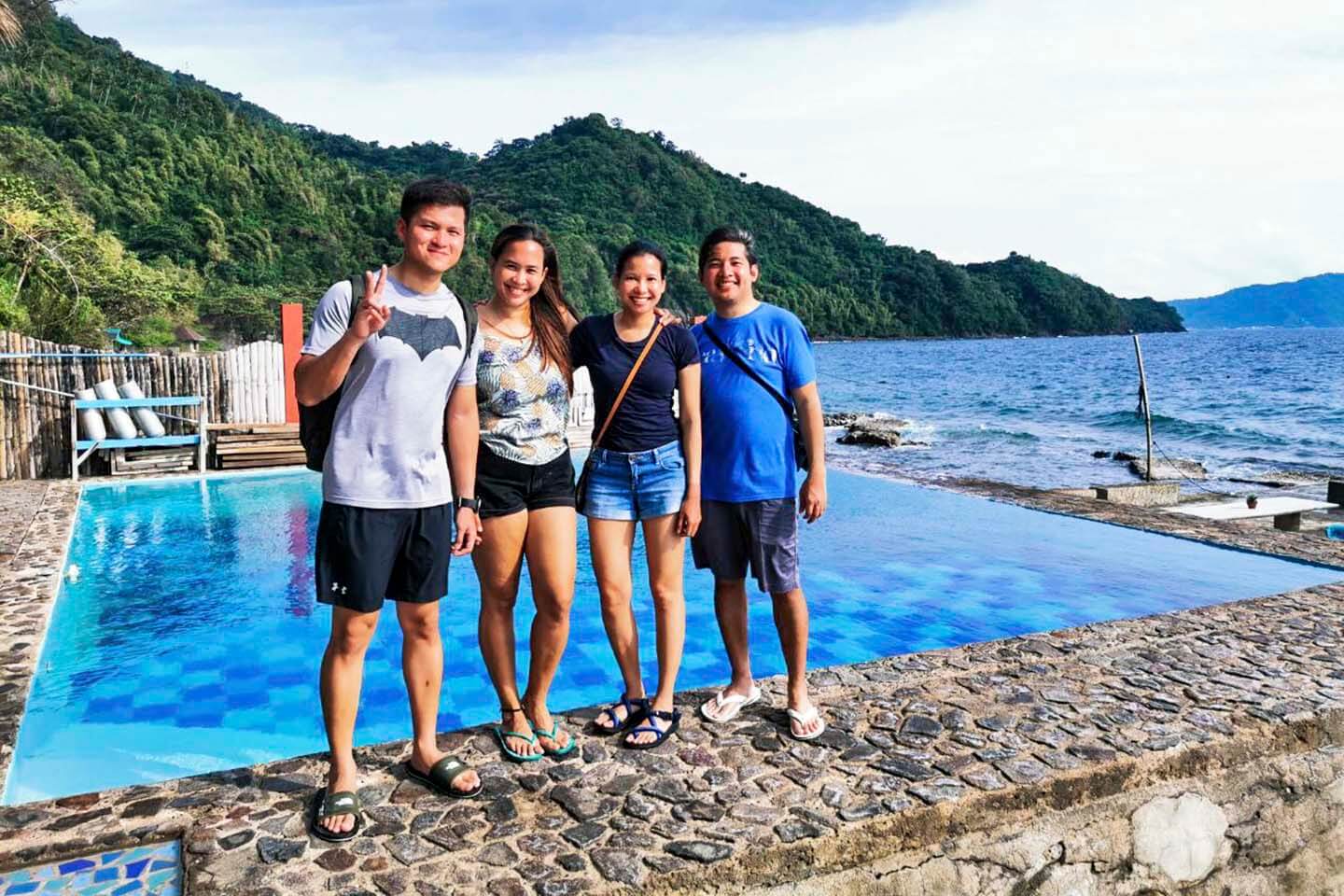 Is it worth it to take the PADI Rescue Diving Course?
For the longest time, I postponed becoming a rescue diver but something clicked when I saw the PADI Rescue Diver Course as an investment for myself.
I was scuba diving more frequently in the past year. And I was going to remote places in the Philippines where help can be limited especially during emergencies.
I realized that I was so scared of the extra responsibility the title gave me, that in the process I was neglecting my own development and well-being as a scuba diver.  It was time to be responsible for myself too.
The course gave me the knowledge, skills, and confidence to be a better scuba diver. Yes, experience is key in scuba diving but just diving frequently is not enough to make you a better scuba diver or better dive buddy.
The PADI rescue diving course is worth the investment because what it gives you is invaluable training that you do not want to learn through real-life experience and situations. But rather they're skills that will prepare you and might even save you from making costly or fatal mistakes.
"Preparation through education is less costly than learning through tragedy."

Max Mayfield
If you are serious about your skills as a diver and your personal safety then this is one course you should take. Don't let your fears and excuses hold you back, as it once did to me.
So when you are ready to invest in yourself, you should grab that chance to get certified as a rescue diver too.
Was this guide helpful for you?
Pin it for later or share this article with a friend!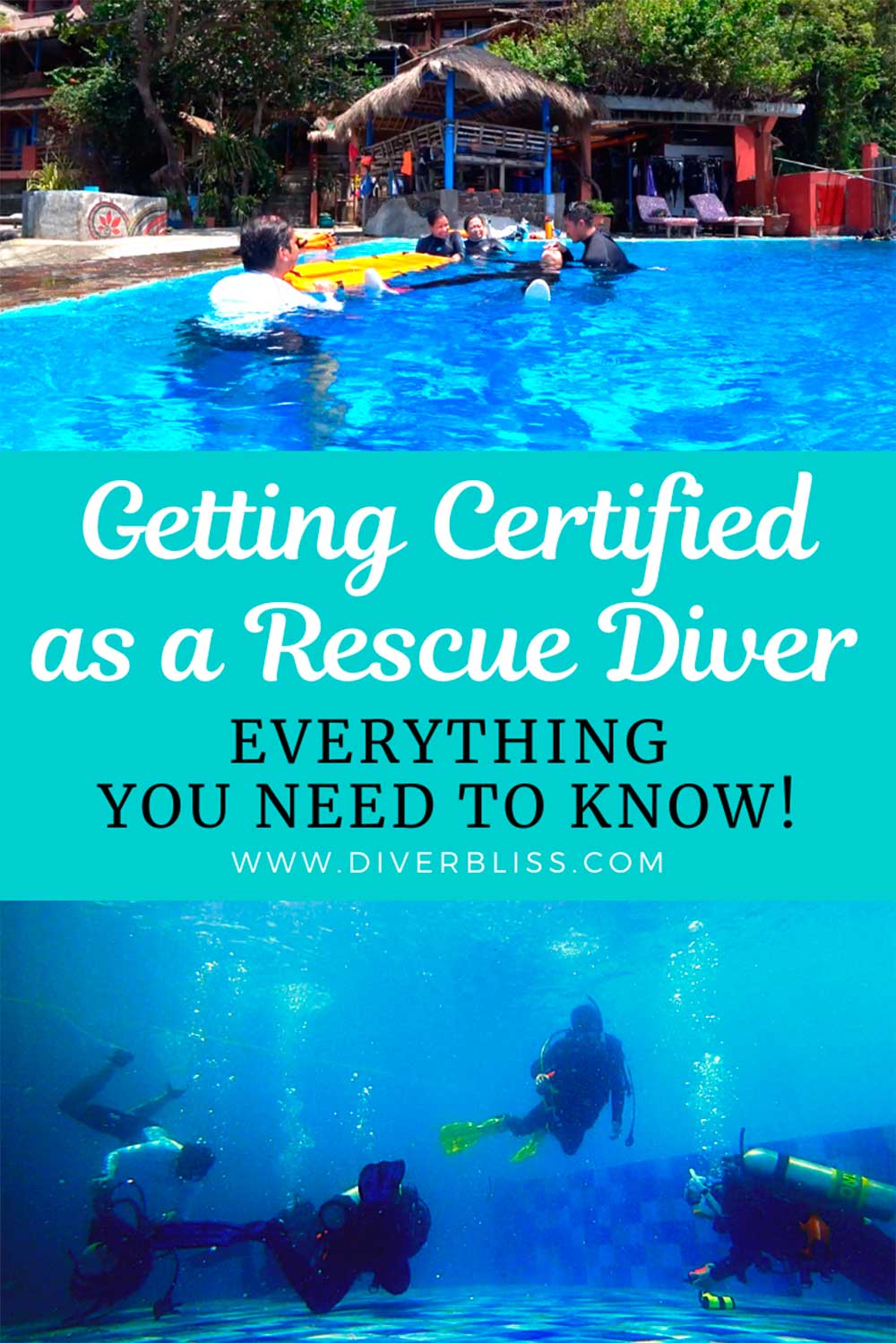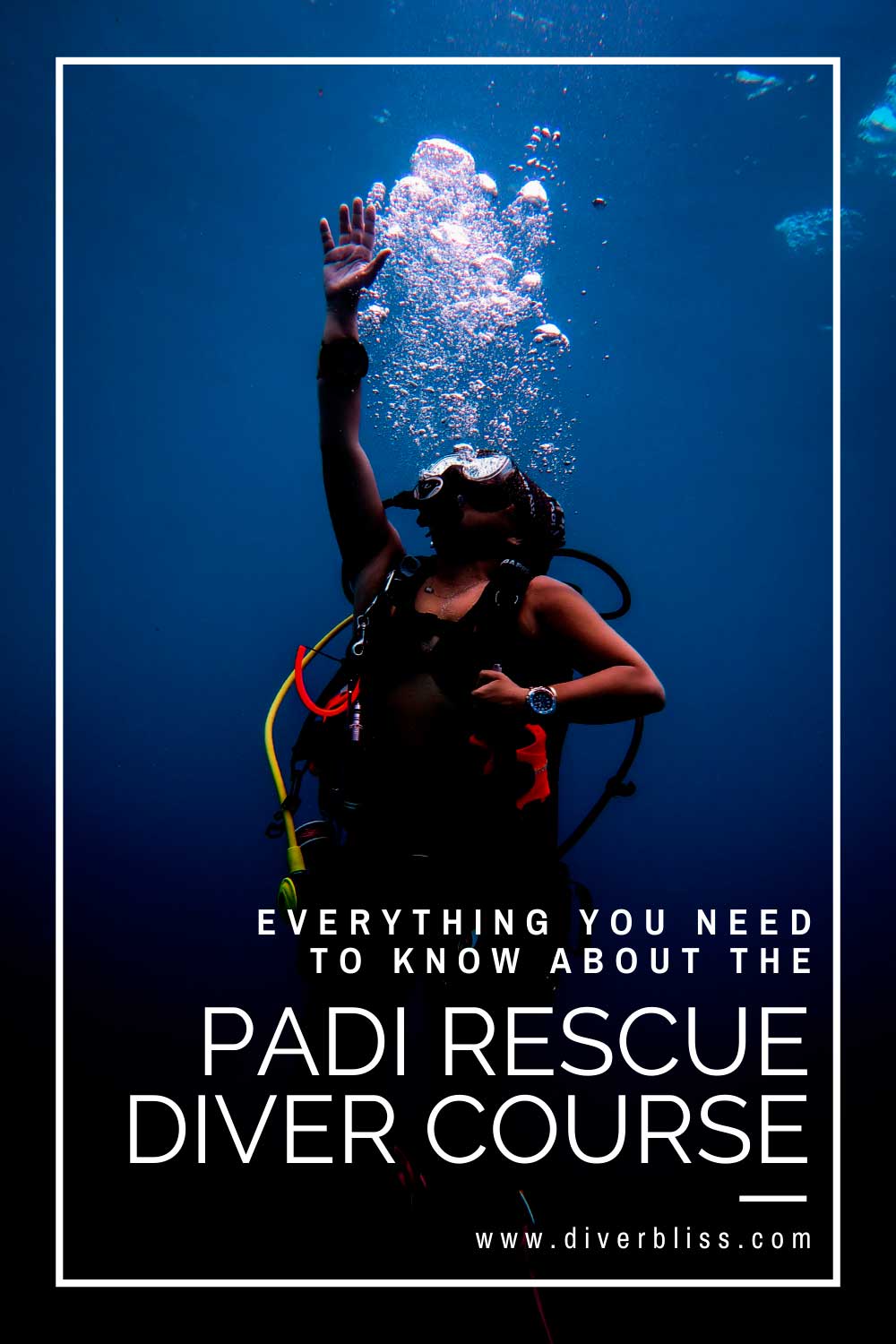 Would you want to take the PADI Rescue Diving Course? Leave a comment below!