From all over the world, travelers seeking adventure go to Malapascua, Cebu, for good reason. It is considered to be one of the best dive spots in the Philippines. Among the many exhilarating dive experiences that await visitors is scuba diving with thresher sharks.
The presence of this type of shark, which is distinguished by its extraordinarily long tails and its distinctive method of hunting, which consists of stunning victims with its tails, is commonly observed in this region.
The fact that you can interact with these amazing animals up close makes the experience really unique; but, in order to do so successfully, proper planning and preparation are required.
If you are interested in learning more about scuba diving with thresher sharks in Malapascua, then this post is for you. Find out what happens during the dive, when the best times are to go, how to dive safely with threshers sharks, and more in this article.
What are thresher sharks?
Thresher sharks, distinguished by their long tails, are among the most mysterious and alluring marine life. The thresher shark is a big fish, with an average of 3 to 6 meters in length. They can have tails that are as long as their bodies, which give them their distinctive appearance.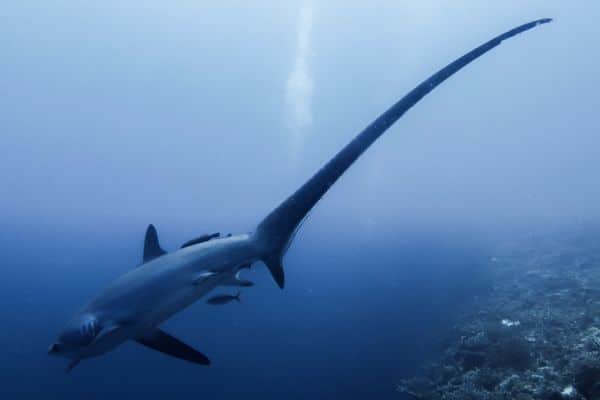 Typically, their bottom is white, and their back has a dark blue-grey tint. They can hunt in deep water because of their distinctive body form and big eyes.
They are a distinct predator in the water since they are known to hunt, utilizing their tails to stun their victims. Additionally, they have the ability to breach the water's surface, which is a tactic employed to shock schools of fish.
Thresher sharks may frequently be found in the Pacific Ocean's deep seas. They favor areas of open water close to seamounts, islands, and reefs. Because of its closeness to deeper seas, Malapascua's undersea environment provides a great home for thresher sharks.
Where can you find thresher sharks in Malapascua?
Thresher sharks are a migratory species that can be found in different parts of the world, including the Philippines. However, Malapascua Island has gained worldwide recognition as one of the best places to encounter these elusive creatures.
Thresher sharks are attracted to Malapascua because of the underwater seamounts called Monad and Kimud Shoals. The shoal is a sunken island that rises from the ocean floor and is located about 45 minutes by boat from the island's shore.
Monad Shoal's shallowest part is around 22 meters deep, while its deepest point is around 270 meters. Monad Shoal is a seamount that rises up from the depths of the Visayan Sea to within 18-24 meters of the surface.
Kimud Shoal is a newly discovered dive site for thresher sharks sightings in Malapascua. It is a shallower than Monad with the top of the shoal at 12 meters deep and the sides dropping off to depths of more than 200 meters.
The unique feature of Monad and Kimud Shoal is that it offers a natural cleaning station for thresher sharks. Cleaner fish, such as the blue-streaked cleaner wrasse, live on the shoal and clean the sharks of parasites and dead skin cells. Thresher sharks visit the shoal early in the morning to be cleaned, and they usually stay in the area for a few hours before heading back to deeper waters.
Thresher Shark Diving Experience
Our dive adventure in Malapascua started with an early morning wake-up call. We knew that the best time to catch a glimpse of the thresher sharks was during their daily cleaning ritual early in the morning at Monad Shoal.
We were staying at Teppanee Beach Resort and went diving with Malapascua Thresher Divers. We left the resort before dawn and arrived at Monad Shoal a little before 6 AM.
Other dive boats were already in the area, which made me feel excited but also anxious about the possibility of seeing the thresher sharks.
Our dive guide gave us a briefing that included the dive plan and safety guidelines for interacting with the thresher sharks.
We descended into the blue waters, eager to catch a glimpse of these magnificent creatures. However, after a few minutes of searching, we still hadn't spotted any sharks. Determined not to give up, we kept swimming around the shoal, hoping to find them.
And then, out of nowhere, we saw a thresher shark. It was an exhilarating moment, and we watched in awe as it gracefully swam past us, its long tail trailing behind it. It was incredible to see the thresher shark up close, with its distinctive features and elegant movements.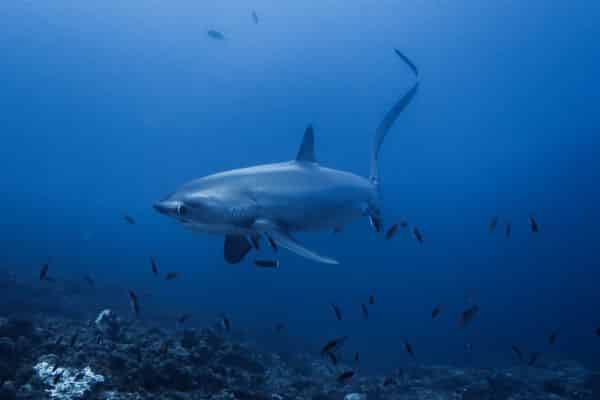 I breathed as slowly as I could and made sure not to make any sudden movements or loud noises that could startle the shark. But deep inside, I could feel my heart racing. I wanted to scream from excitement.
We watched in awe as the thresher shark circled the cleaning station, seemingly unperturbed by our presence. It swam around a few more times while keeping a watchful eye on us. And then it slowly swam away, disappearing into the depths of the ocean.
The dive guide signaled to the group to start ascending and to perform the necessary safety stops. As soon as everyone reached the surface you could feel the joy in the air.
This dive had exceeded all my expectations and I knew that I would never forget this incredible diving experience in Malapascua.
Thresher Sharks Season in Malapascua
Between 5:30 and 6:30 in the morning is the ideal time to go thresher shark diving in Malapascua. At this time, the thresher sharks visit the Monad and Kimud Shoals to get cleaned by the cleaner wrasse.
Thresher sharks can be spotted all year round at Malapascua; however, seasonal variations may have an impact on their visibility. The dry season, which runs from November to May, is the best time to watch them since the seas are calmer and visibility is better.
The waves can be rougher, and there may be storms and typhoons more frequently during the rainy season, which lasts from June to October. This may reduce shark visibility and make diving conditions more difficult.
Amihan and Habagat: Diving Seasons in the Philippines Explained
Best Time To Dive in the Philippines + Monthly Guide on Where to Go
Is it guaranteed to see thresher sharks in Malapascua? 
While Malapascua Island is well-known for its thresher shark sightings, they are not guaranteed on every dive. Thresher sharks are natural creatures whose activity and movements are governed by a variety of factors such as water temperature, currents, and food availability.
The ideal time to watch thresher sharks in Malapascua is early in the morning, between 5:30 and 6:30 a.m., when they visit the cleaning stations. Even during peak season, however, there may be days when the sharks do not appear or visibility is low due to weather conditions.
For example, during my first trip to Malapascua, I had to do a second dive to observe the threshers. On my second visit, we saw thresher sharks three times out of five thresher shark dives. Sometimes it's just a stroke of luck.
However, Malapascua dive operators are typically adept in spotting thresher sharks and can boost your chances of seeing them. They also employ a variety of strategies, such as tracking the movements of the sharks and changing the dive schedule appropriately, to increase the likelihood of a sighting.
Guidelines for diving with thresher sharks in Malapascua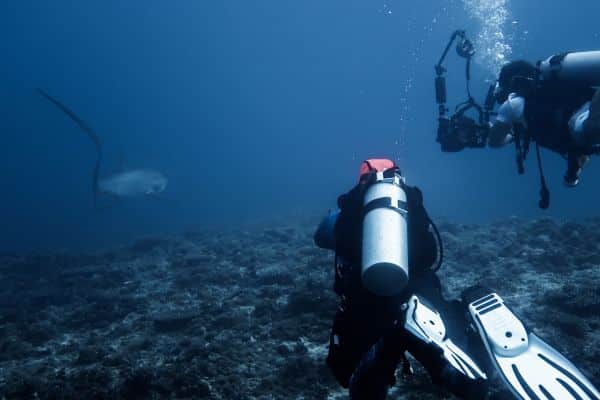 Diving with thresher sharks in Malapascua is an exciting and fascinating experience, but some precautions must be taken to safeguard the safety of both divers and sharks.
Here are some rules to follow when diving with thresher sharks:
Always go with a dive company that has a solid reputation and skilled dive guides. Before diving with sharks, a competent operator will ensure that you have the proper training, equipment, and safety briefing.
Thresher sharks are wild animals, and their natural behavior must be respected. Touching or feeding them might interrupt their eating and mating habits.
Keep a safe distance from the sharks and avoid approaching. Remember that they are wild creatures and can be unexpected.
When photographing thresher sharks, do not use flash or video lights since this might shock them and disturb their activity.
Do not pursue or obstruct the sharks' route. Allow them to swim naturally and monitor their behavior.
Avoid damaging or disturbing the undersea environment by maintaining neutral buoyancy at all times. Do not touch or stand on coral reefs, and do not toss rubbish or waste into the water.
Is it dangerous to dive with thresher sharks in Malapascua?
Diving in Malapascua with thresher sharks generally considered safe as long as the necessary safety guidelines are followed, and you use a reputable dive operator.
Thresher sharks are not known to be hostile toward humans and will try to avoid confrontations unless they feel threatened or provoked. Keep in mind, however, that thresher sharks are wild animals whose behavior can be hard to predict because of their natural state.
The chance to go scuba diving with thresher sharks is thrilling and it must be approached with the utmost care and caution. It is essential to maintain a safe distance from them and to avoid making any sudden movements or making loud noises that could frighten them.
In addition, there are dangers that are inherent to the activity of diving in general, such as the possibility of developing a condition known as decompression sickness, experiencing a failure in the equipment, and being exposed to additional threats that are linked to the environment found underwater.
Because of this, it is extremely important to have good scuba training and to stick to the safety regulations, regardless of the type of marine species you may encounter when diving.
You may lessen the likelihood of potential dangers and increase the likelihood of having a safe and happy experience during your thresher shark encounter.
What are the requirements for diving with thresher sharks?
If you would like to scuba dive with threshers in Malapascua, it iis highly recommended that you are certified as Advanced Open Water Divers or higher. This is because the thresher sharks are often spotted at depths of roughly 25 meters.
The dive sites at Monad and Kimud Shoals are known for it strong currents, thus divers should have some experience diving in deep water and currents.
Your Enriched Air Nitrox certification will come in handy, while diving with thresher sharks. Diving with Nitrox can increase your bottom time while observing these creatures.
Some dive shops in Malapascua may have their own requirements for scuba diving with threshers. It is best to get in touch with your preferred dive center what their minimum requirements are.
Malapascua dive centers for thresher shark diving
Malapascua island is home to several reputable dive centers that specialize in thresher shark diving, each offering a unique experience for divers.
Some of the popular dive centers in Malapascua:
These dive centers in Malapascua offer a range of dive courses, packages, and accommodation options to suit every budget and level of diving experience. With experienced and certified dive instructors, well-maintained dive gear, and a focus on customer satisfaction, these dive centers are the perfect choice for those looking to explore the underwater world of Malapascua and encounter the majestic thresher sharks.
Liveaboards that visit Malapascua
Malapascua is included in the dive itinerary of various liveaboard operators. These liveaboards often operate in the Visayas region, which includes dive destinations including Apo Island, Dumaguete, and Moalboal. While Malapascua is not the primary focus of these liveaboards, divers may be able to dive with thresher sharks if they are fortunate enough to encounter them during their visit.
For specific itineraries and dive spots, you can check the various liveaboard operators below:
1. M/Y Almaroon Intrepid – Philippines Aggressor
2. P/Y Atlantis Azores – Atlantis Dive Resorts Philippines
3. M/Y Infiniti- Infiniti Liveaboard Diving
4. S/Y Philippine Siren- Worldwide Dive & Sail Philippines, Inc.
5. M/Y Resolute – Far East Liveaboards Inc
6. M/V Solitude One – Nomadic Underwater and Tours
What to Pack for Malapscua
Here is the scuba equipment and dive gear I brought when I went diving in Malapascua.
My Scuba Diving Gear
Regulator: Scubapro MK25 Evo, C300 and C200 2nd Stage
BCD: Aqualung Axiom
Mask: TUSA M-212 Freedom Ceos
Snorkel: TUSA SP-170 Platina Hyperdry II
Booties: Poseidon Pink Dive Boots
Fins: Problue
Wetsuit: Seavenger
Vest Hoodie: Scubapro Hybrid Hooded Vest
Dive Watch: Suunto D4i Novo
Dive Knife: Aqualung Blunt Tip Knife
Dive Leggings and Rash: Blue Adaptation Coral Sea Fan

My Underwater Camera Gear
Underwater Camera: Canon G7X Mark II
Underwater Camera Housing: Fantasea FG7XII
Video Lights: Big Blue AL1200XP
Underwater Action Camera: GoPro Hero9
360 Camera: Insta360 X3

> Canon G7X Mark II full review
> Insta360 X3 underwater camera review
> Scuba diving camera recommendations for beginners.

Dive Insurance
Divers Alert Network (DAN)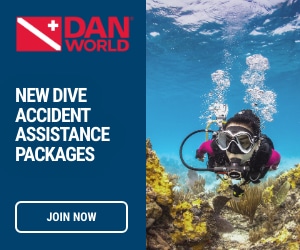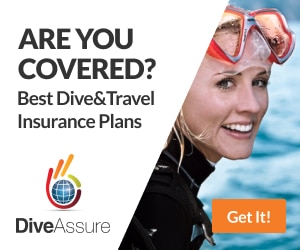 Need travel insurance for your trip? Get a quote from Safety Wing.
If you're traveling and diving in the Philippines for the first time, make sure to read my posts on
Ultimate Travel and Dive Guide to the Philippines
Philippine Packing List: What to Bring to Your Dive Trip.
How to get to Malapascua
Here's how to go to Malapascu Island in Cebu if you wish to dive with thresher sharks.
Fly into Mactan-Cebu International Airport, which serves various domestic and international carriers.
Take a van or bus to Maya Port: From Cebu City, take a van or bus to Maya Port, which is located on the northernmost tip of Cebu island. Depending on traffic and road conditions, the trip takes about 3-4 hours.
Take a boat to Malapascua Island: Once you are in Maya, take a short boat journey to Malapascua Island. Several boat companies provide regular services between Maya and Malapascua, with departures every 30 minutes to an hour. Depending on the sea conditions, the boat voyage takes from 30-45 minutes.
Arrive in Malapascua: When you arrive in Malapascua Island, you can walk or ride a tricycle to your hotel or dive center.
For an additional price, some Malapascua dive operators and resorts may arrange private transfers from Cebu City or Mactan-Cebu International Airport. This can be a more handy and comfortable option, especially if you have a lot of luggage or want to avoid the inconvenience of public transportation.
Diving in Malapascua should be on every diver's bucket list especially if you want to see the magnificent thresher sharks. Even though getting up early can be hard, seeing these amazing animals in their natural environment is well worth it.