Are you still on vacation mode and can't come up with the perfect caption for your Instagram beach photos? Here are some inspirational beach quotes you can use to best describe how you're feeling.
From inspirational and introspective to funny and fun, you'll be able to find the perfect beach caption for your pictures taken by the sea.
The beach is one of my favorite places to be. From playing on the sand or relaxing under the coconut trees, I've taken so many pictures from vacation that would be great for an IG post. But sometimes I struggle to come up with the perfect caption for that magical day spent on the beach.
So I decided to make a beach caption cheat sheet.
Any Instagram expert will tell you that you should put captions on your photos. So if you're in need of a beach quote or two, or a beach caption or more for your then this post is for you!
Continue reading for the best quotes and captions about the beach.
Instagram Beach Quotes and Captions
30 Inspirational Beach Quotes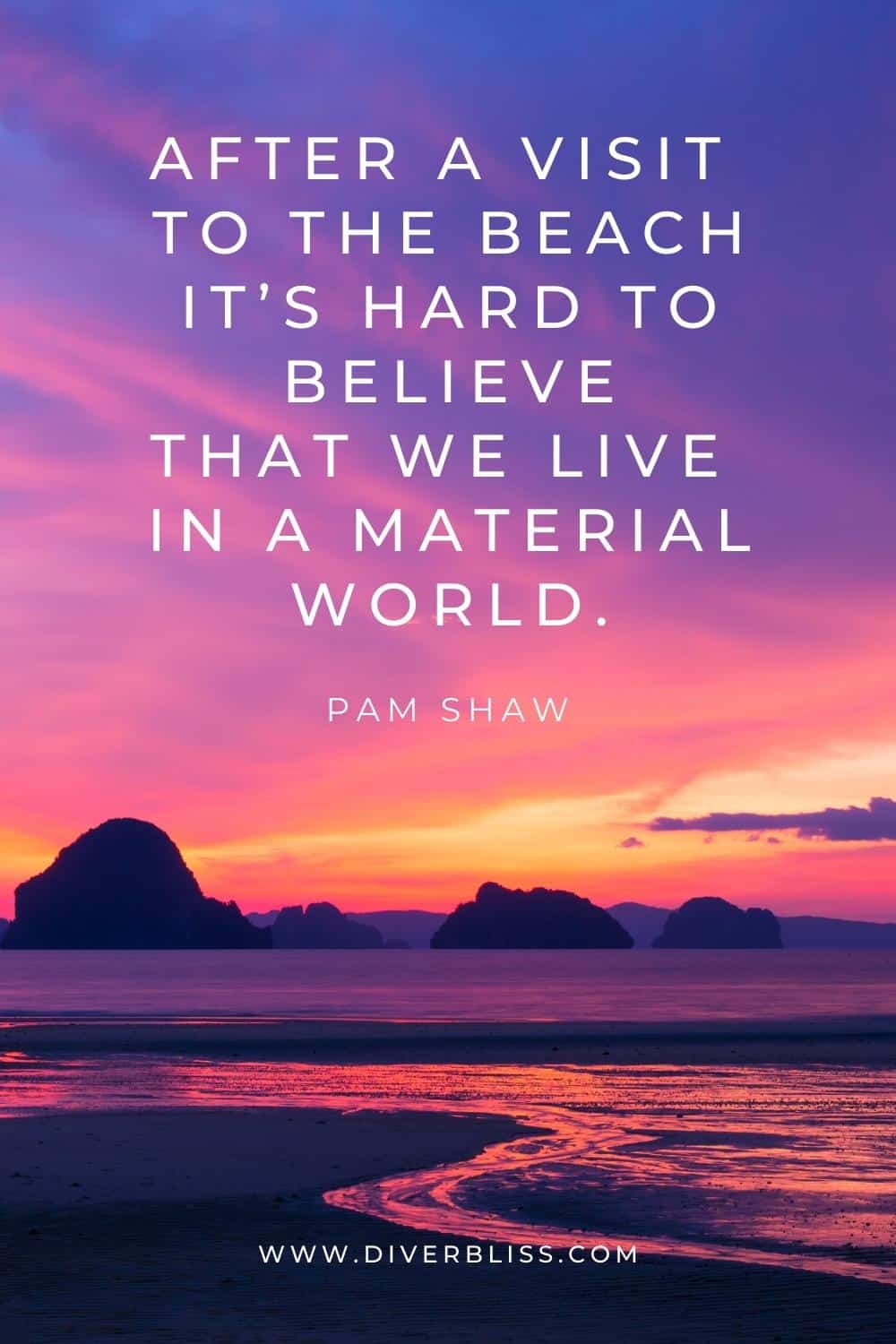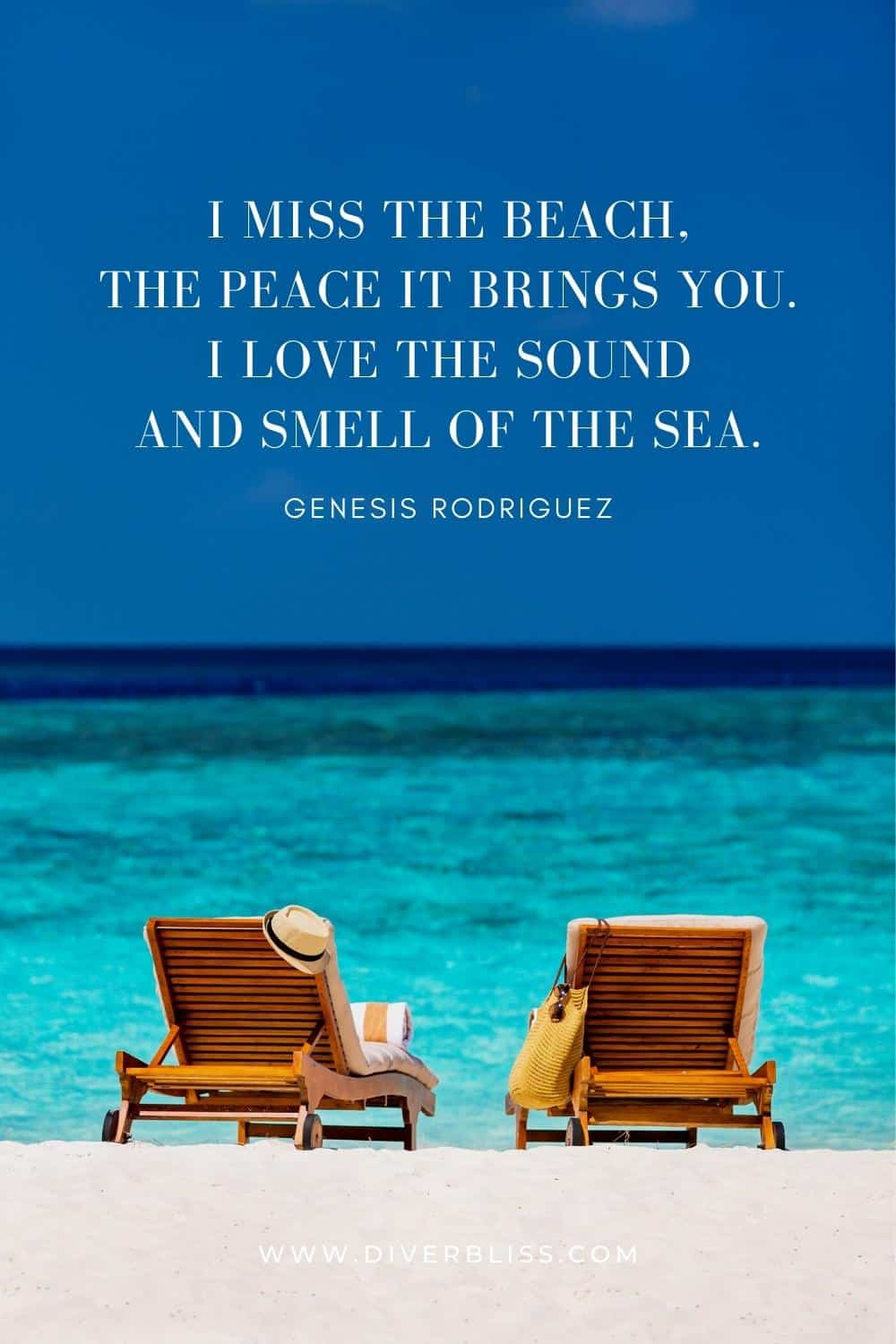 "After a visit to the beach, it's hard to believe that we live in a material world." —Pam Shaw
2. "I miss the beach, the peace it brings you. I love the sound and smell of the sea." —Genesis Rodriguez
3. "The true beauty of a woman can be observed when she has spent the day at the beach." —Troian Bellisario
4. "I want to run the beach's length because it never ends." —Deborah Ager
5. "At the beach, life is different. Time doesn't move hour to hour but mood to moment. We live by the currents, plan by the tides, and follow the sun." —Sandy Gingras
6. "If I have free time, I want to go to the beach, walk around a shopping mall, go grocery shopping. Live a little bit of life." —James Wan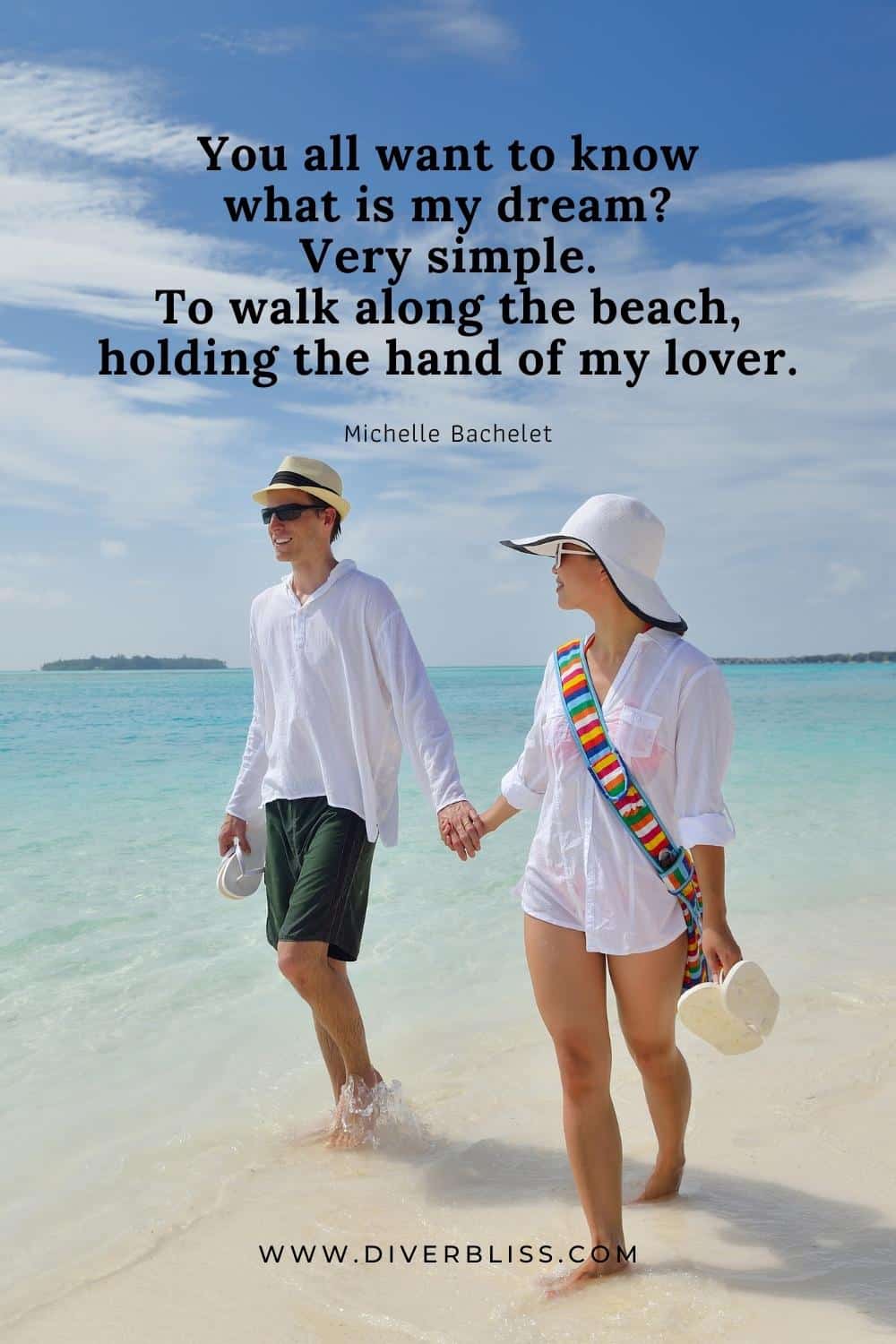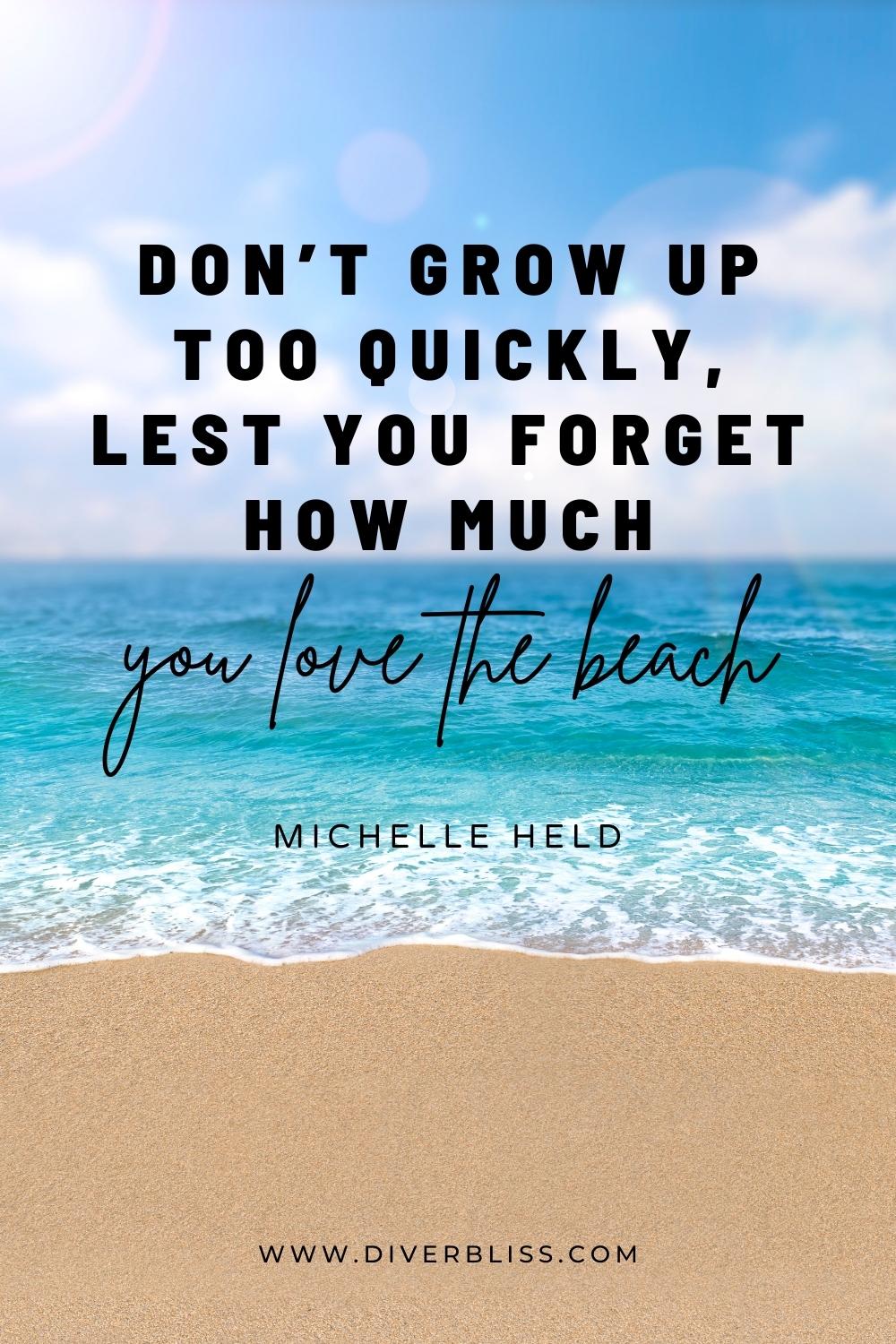 7. "You all want to know what is my dream? Very simple. To walk along the beach, holding the hand of my lover." —Michelle Bachelet
8. "Don't grow up too quickly, lest you forget how much you love the beach." —Michelle Held
9. "The sea does not reward those who are too anxious, too greedy, or too impatient. To dig for treasures shows not only impatience and greed, but lack of faith. Patience, patience, patience, is what the sea teaches. Patience and faith. One should lie empty, open, choiceless as a beach—waiting for a gift from the sea." —Anne Morrow Lindbergh
Love the beach? Check out this list of best gifts for beach lovers.
10. "It's hard for me to put into words why I like the beach so much. Everything about it is renewing for me, almost like therapy… Beach Therapy." —Amy Dykens
11. "To go out with the setting sun on an empty beach is to truly embrace your solitude." —Jeanne Moreau
12. "My life is like a stroll upon the beach, as near to the ocean's edge as I can go." —Henry David Thoreau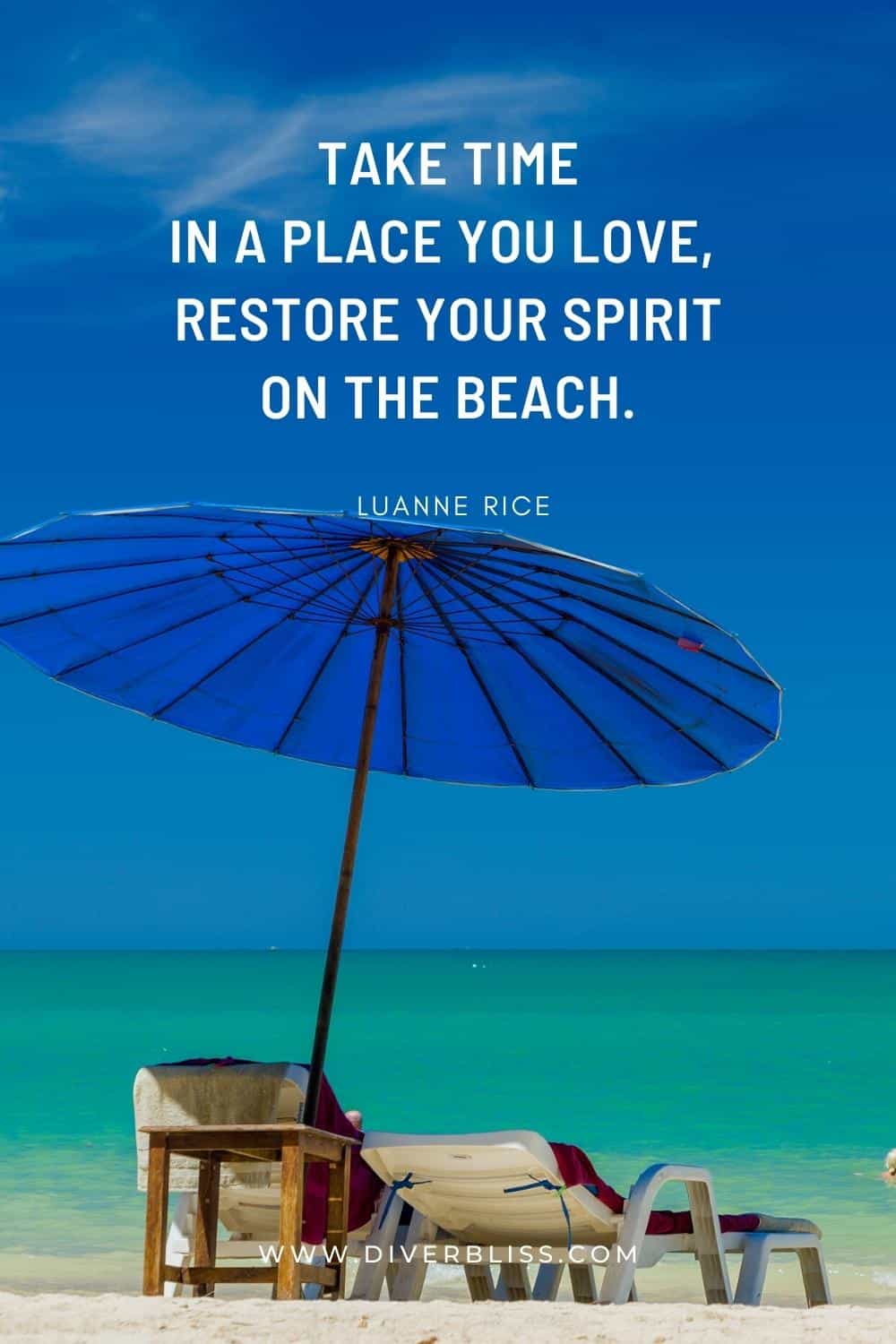 13. "Writers begin with a grain of sand, and then create a beach." —Robert Black
14. "Take time in a place you love, restore your spirit on the beach." —Luanne Rice
15. "The beach is not a place to work; to read, write or to think." —Anne Morrow Lindbergh
16. "Sometimes just being on a beach with my loved ones is all the adventure I need. I am a happy camper and continue to be a citizen of the world. I have yet to discover other cultures, other peoples' dreams and treasures. I will always be a traveler who is discovering beautiful Gaia." —Guy Laliberte
17. "A beach is not only a sweep of sand, but shells of sea creatures, the sea glass, the seaweed, the incongruous objects washed up by the ocean." —Henry Grunwald
18. "I like to escape to the beach and kind of ground myself whenever I can." —Lili Reinhart
Need more quotes for Instagram? Check out my list of 100 Best Scuba Diving Quotes or 35 Plastic pollution quotes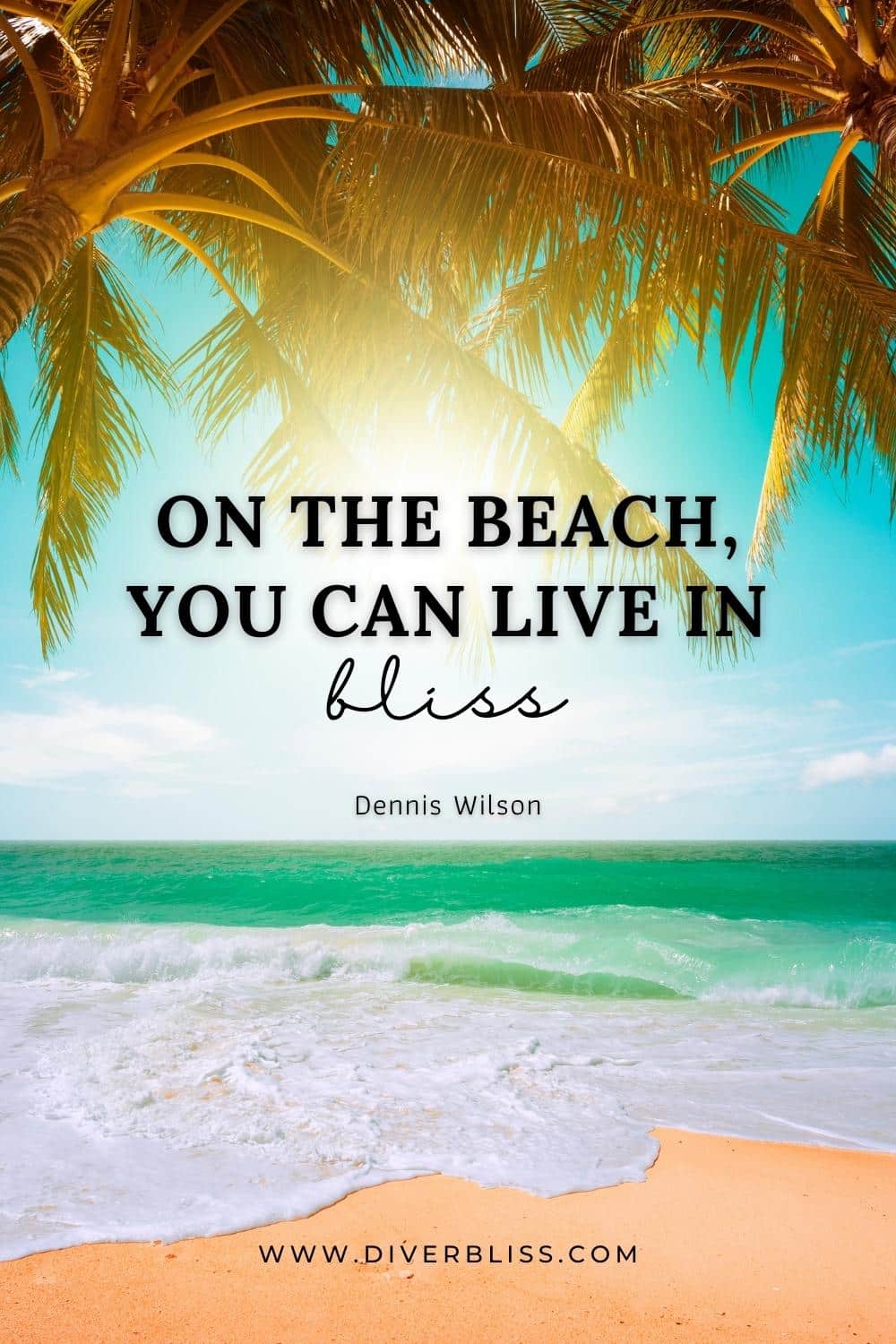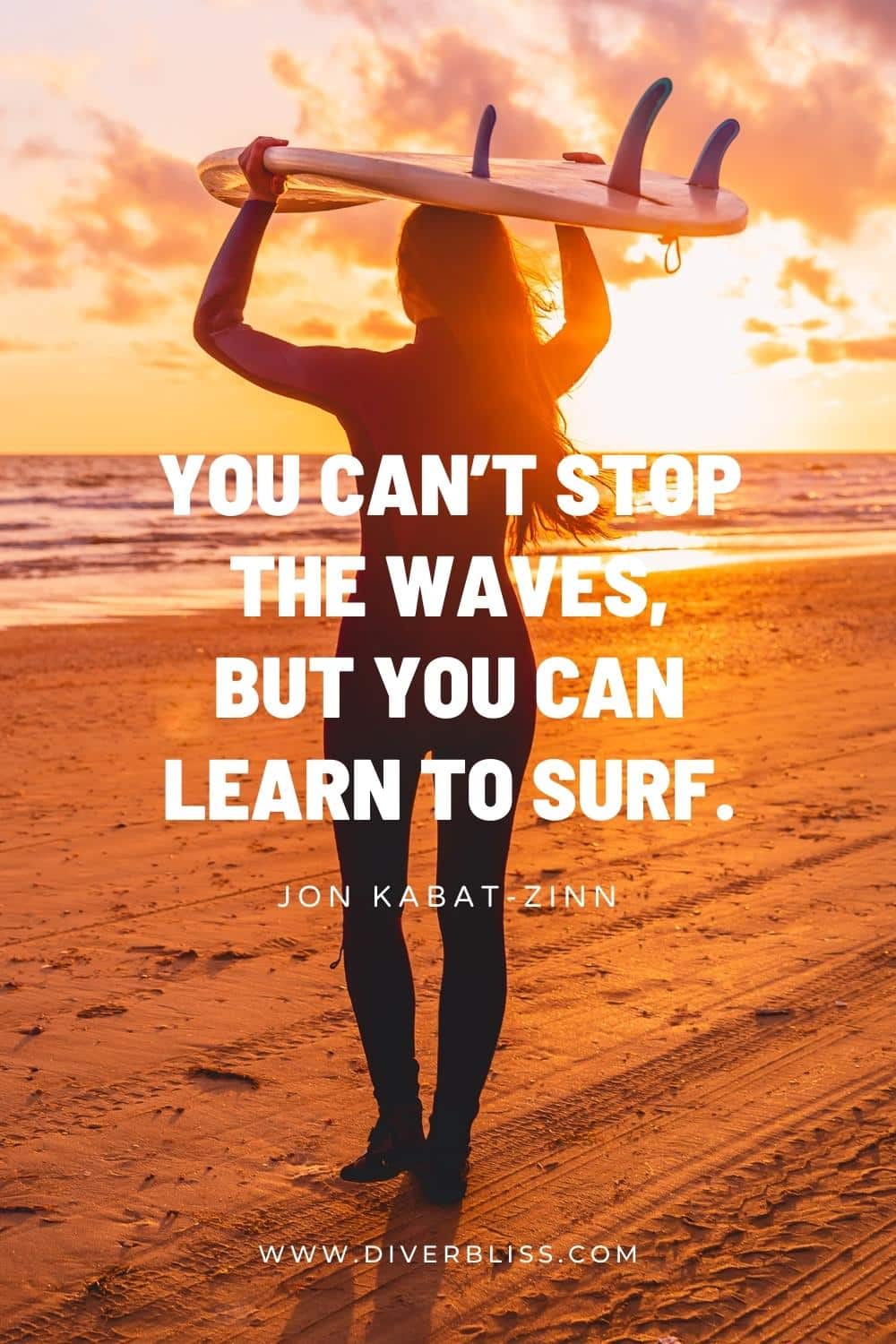 19. "On the beach, you can live in bliss." —Dennis Wilson
20. "You can't stop the waves, but you can learn to surf." —Jon Kabat-Zinn
21. "The beach is in our blood. Everyone in our family returns to the beach instinctively, just like the sea turtles." —Sandy Archibald
22. "Every time I stand before a beautiful beach, its waves seem to whisper to me: If you choose the simple things and find joy in nature's simple treasures, life and living need not be so hard." ―Psyche Roxas-Mendoza
23. "Me, I still believe in paradise. But now at least I know it's not someplace you can look for because it's not where you go.  It's how you feel for a moment in your life when you're a part of something and if you find that moment, it lasts forever." —Leonardo DiCaprio
24. "To escape and sit quietly on the beach – that's my idea of paradise." —Emilia Wickstead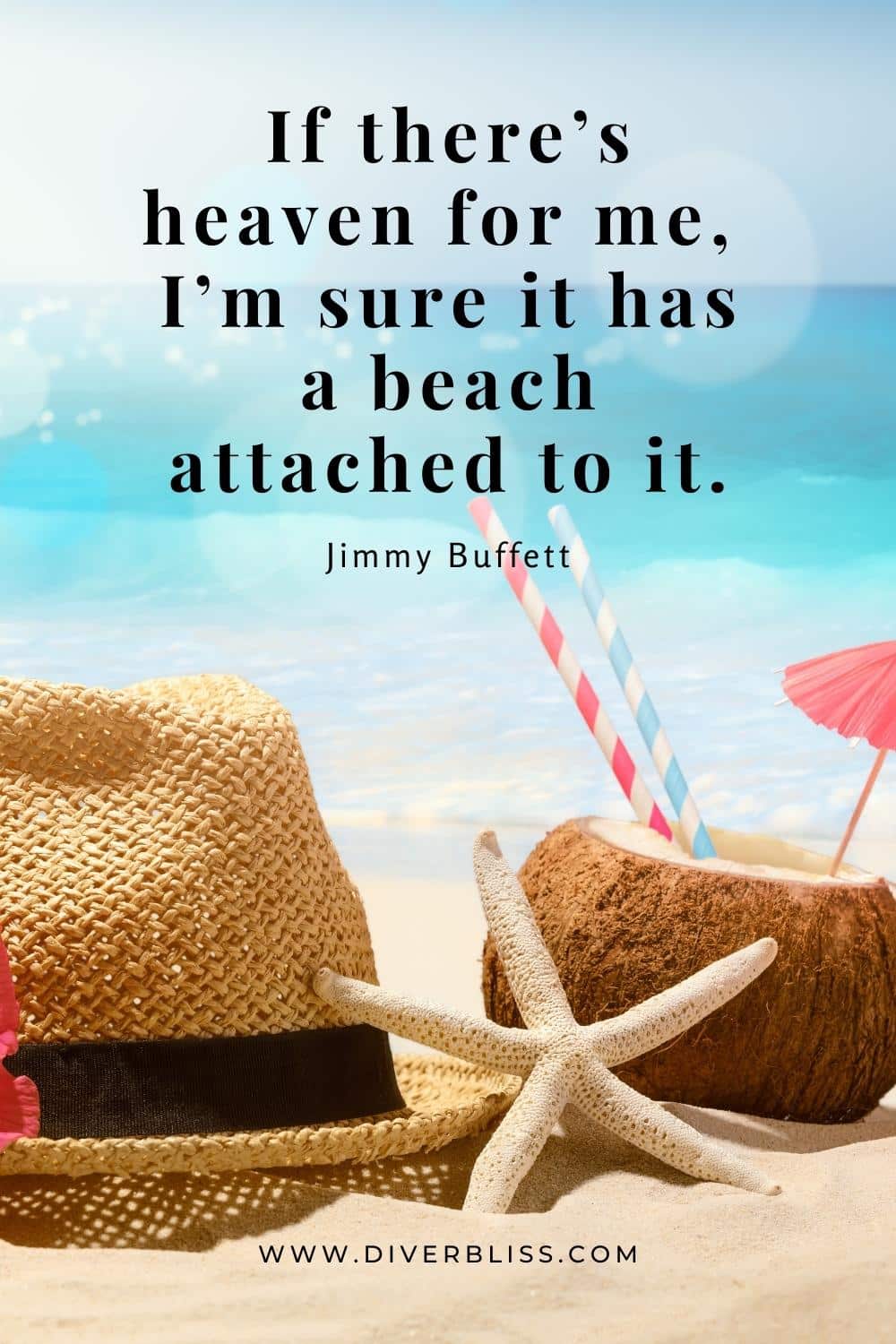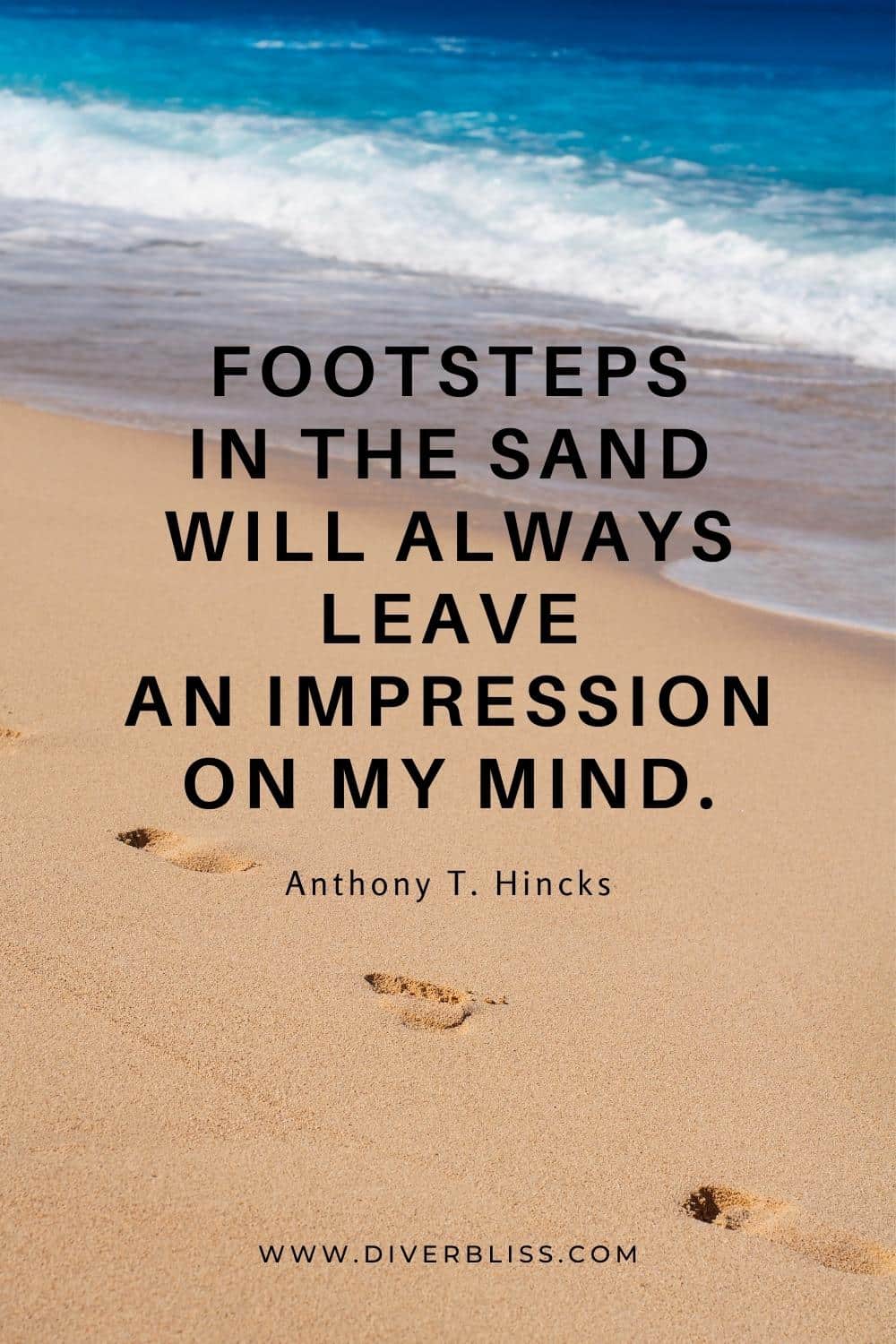 25. "If there's heaven for me, I'm sure it has a beach attached to it." —Jimmy Buffett
26. "Footsteps in the sand will always leave an impression on my mind." —Anthony T. Hincks
27. "Long walks on the beach are the supposed holy grail of a romantic evening. The beach becomes a kind of utopia – the place where all our dreams come true." —Roxane Gay
28. "Isn't it strange, the way time moves? I could stand here and watch the sea crash beneath me for hours and it would feel only like minutes had passed." —Sjana Elisa Earp
29. "The three great elemental sounds of nature are the sound of rain, the sound of wind in a wood and the sound of the ocean outside on a beach." —Henry Beston
30. "My dream is to have a house on the beach, even just a little shack somewhere so I can wake up, have coffee, look at dolphins, be quiet and breathe the air." —Christina Applegate
Level up your Instagram game by adding hashtags to your post! Here are 500 best hashtags for your scuba diving and ocean Instagram photos!
30 Short Beach Captions for Instagram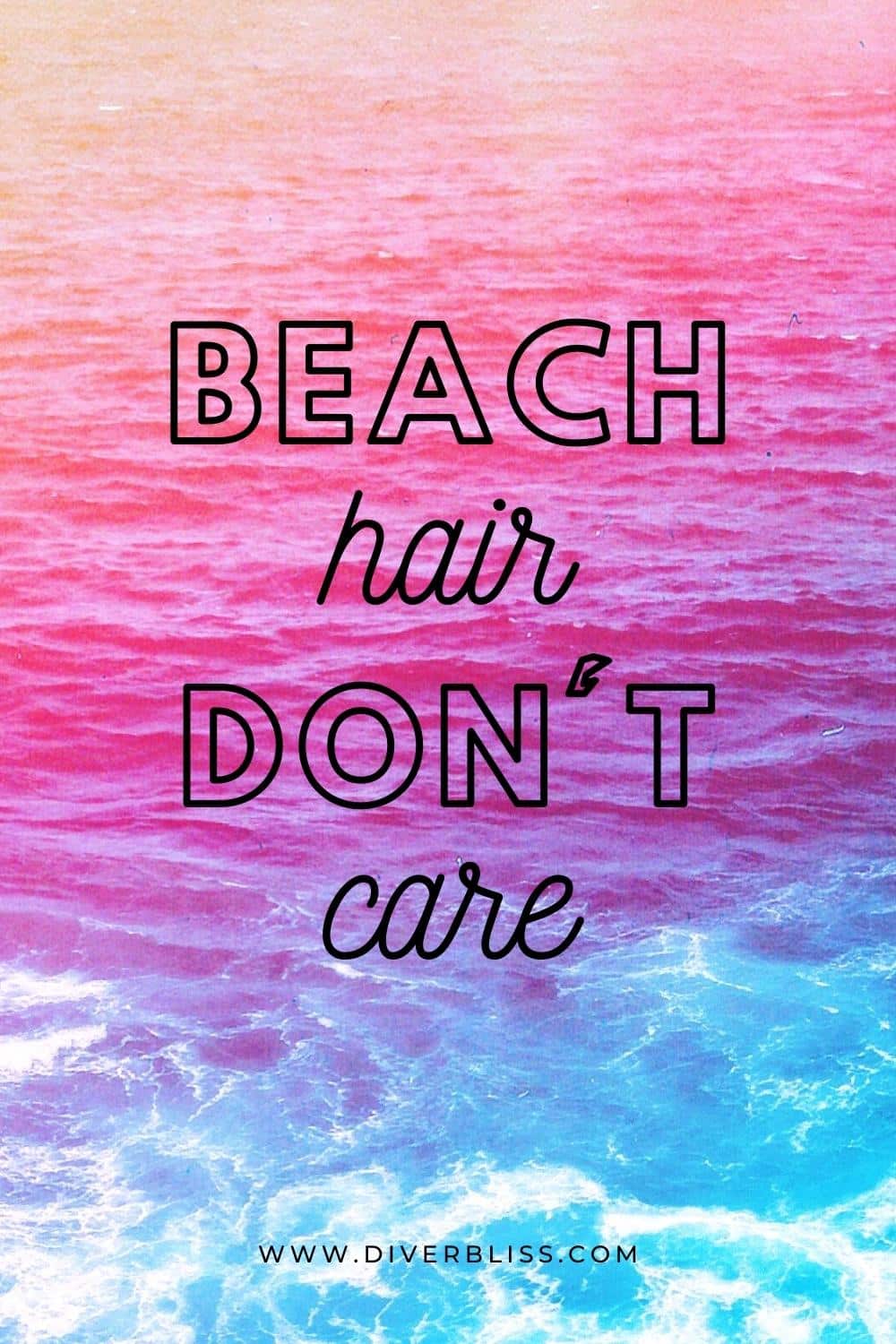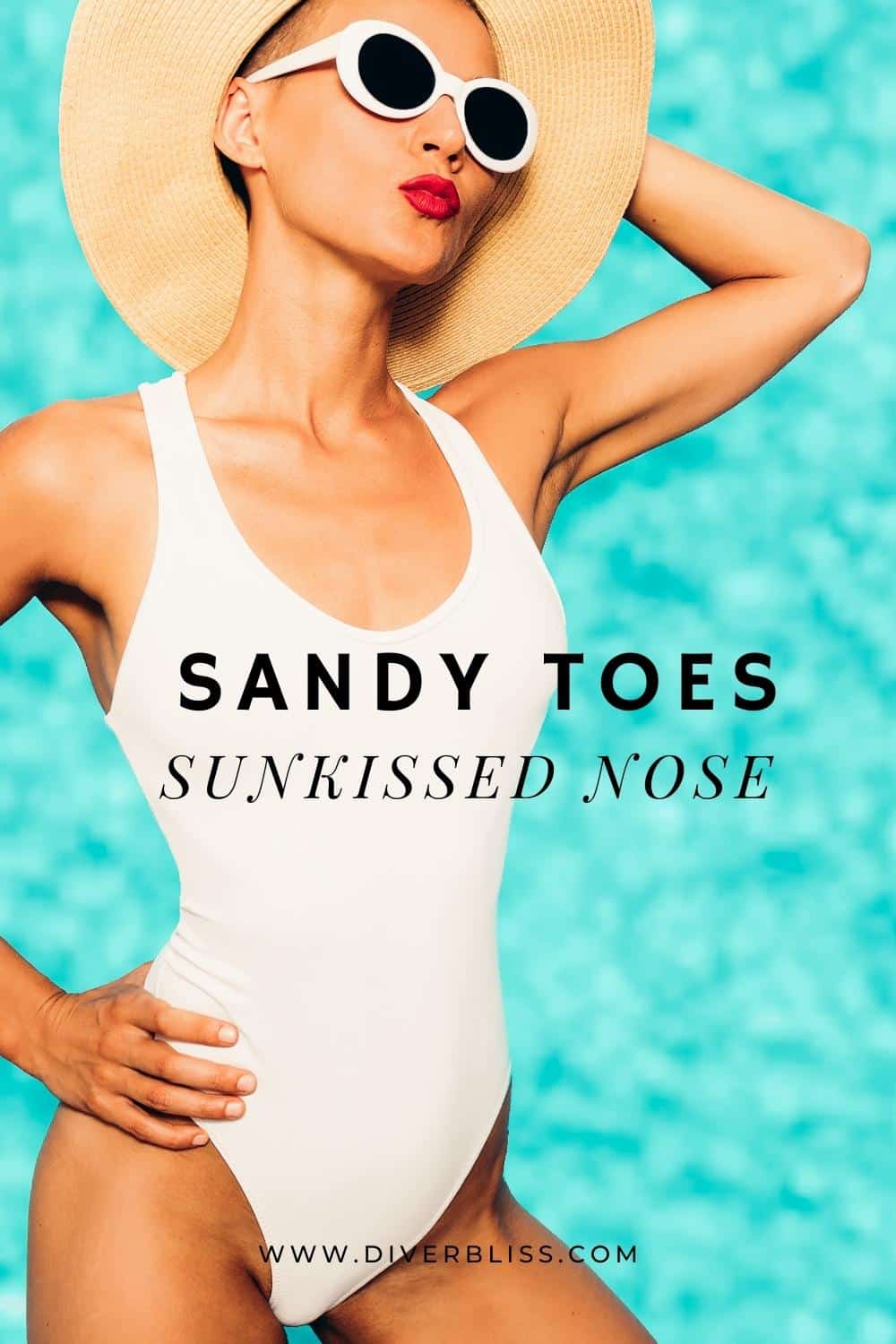 31. Beach hair, don't care.
32. Sandy toes. Sunkissed nose.
33. Life is better at the beach.
34. High tides and good vibes.
35. Life is better in flip-flops.
36. Good times and tan lines.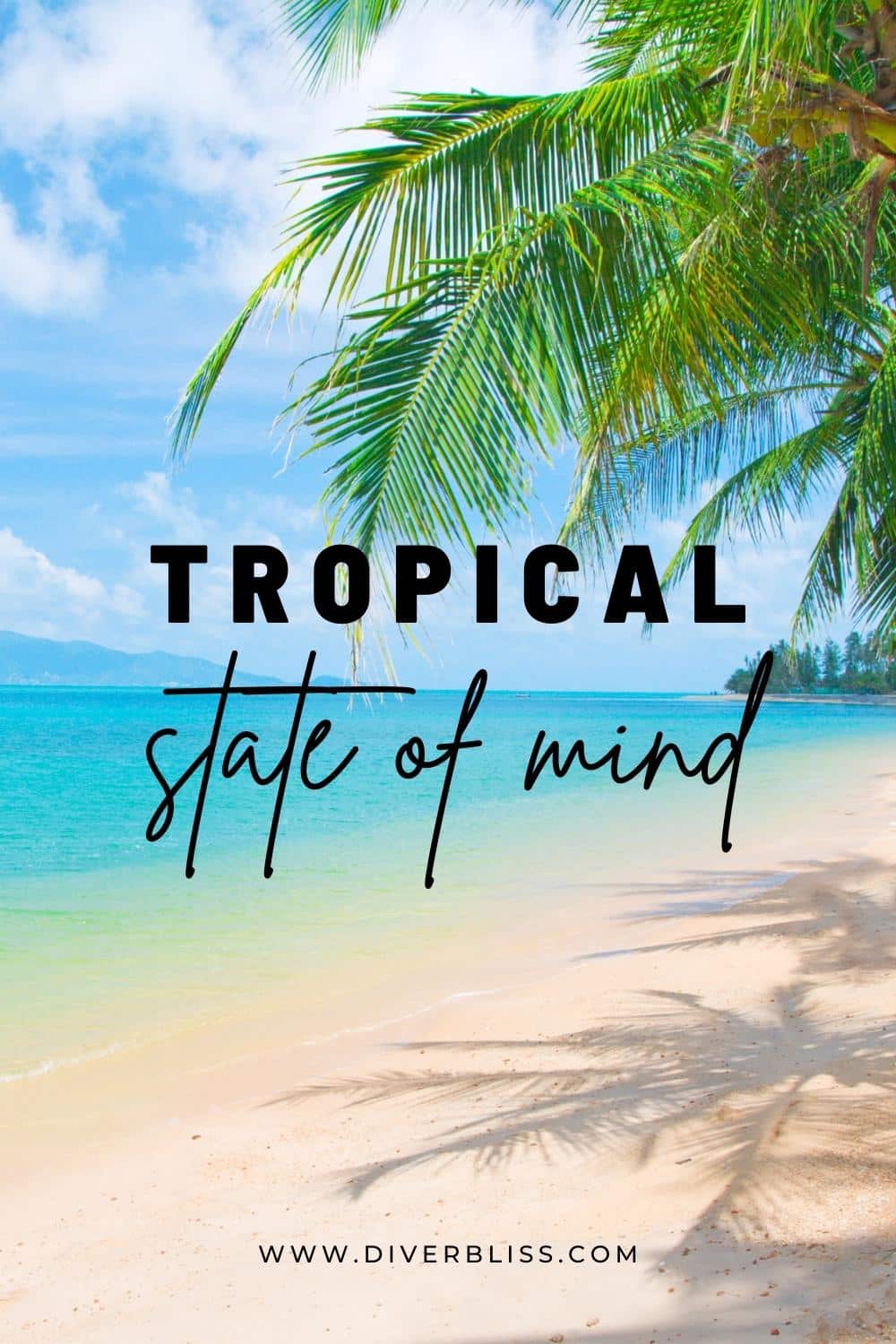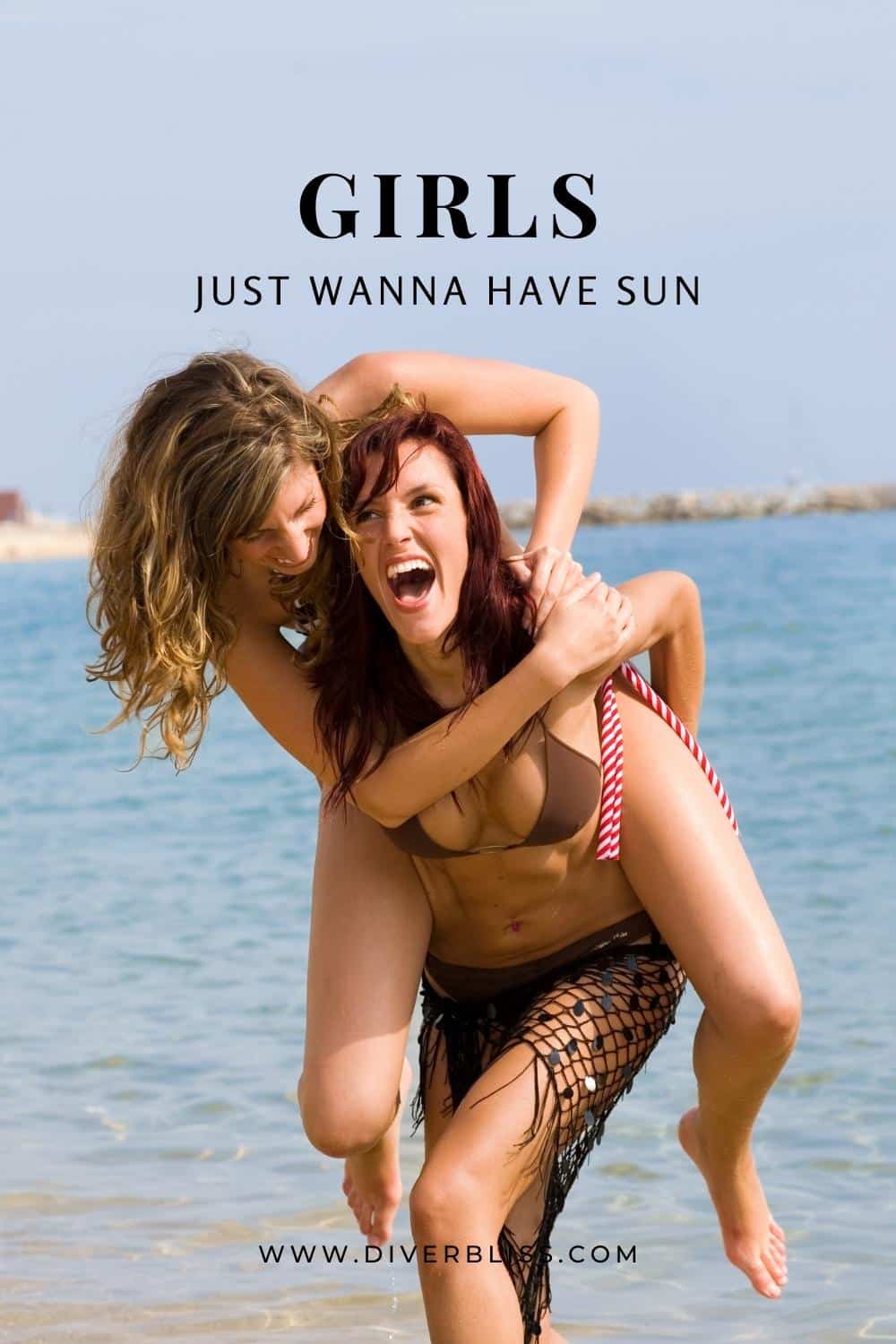 37. Tropical state of mind.
38. Girls just wanna have sun.
39. In need of some beach therapy.
40. Beach bumming.
41. Aquaholic.
42. Life is better barefoot.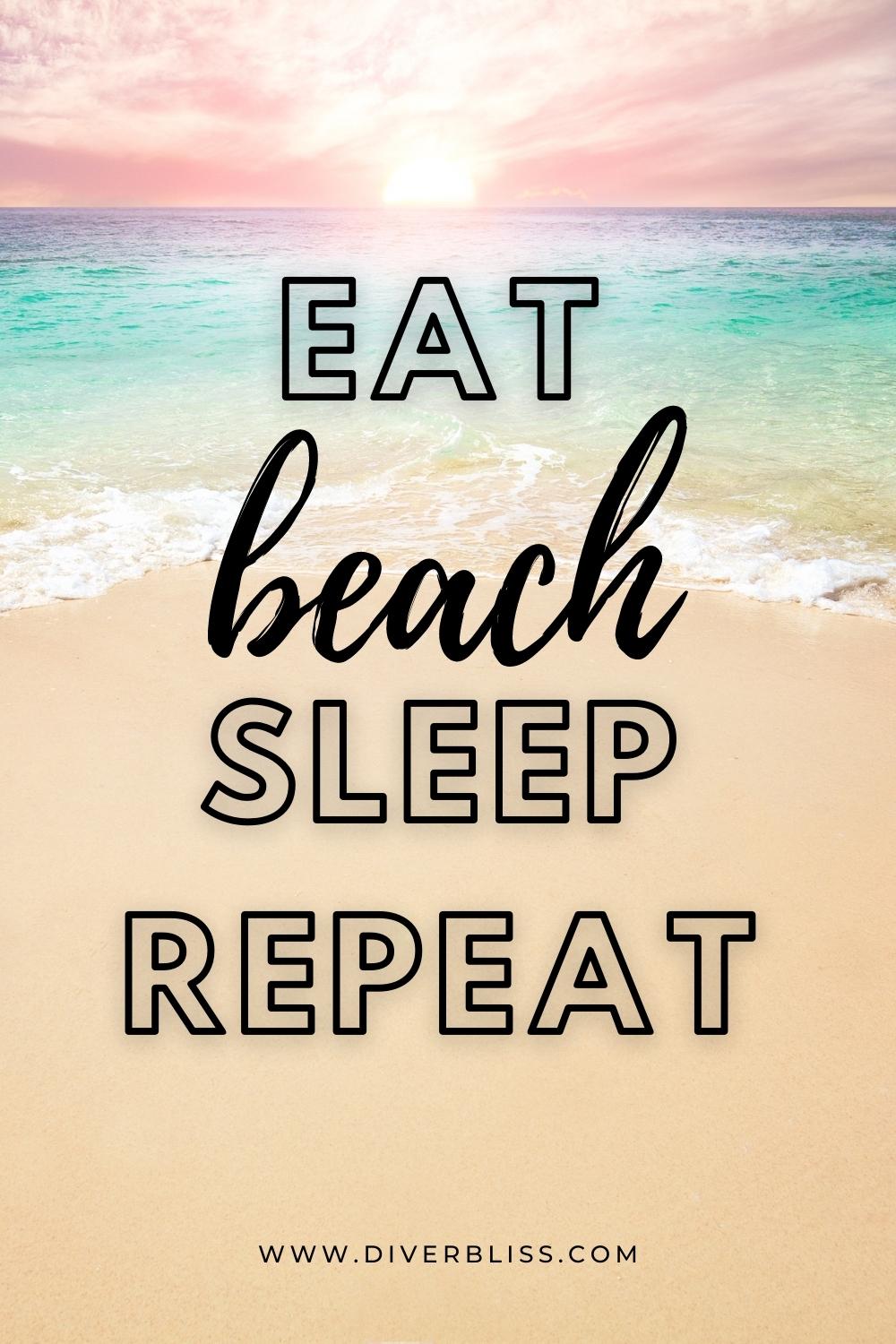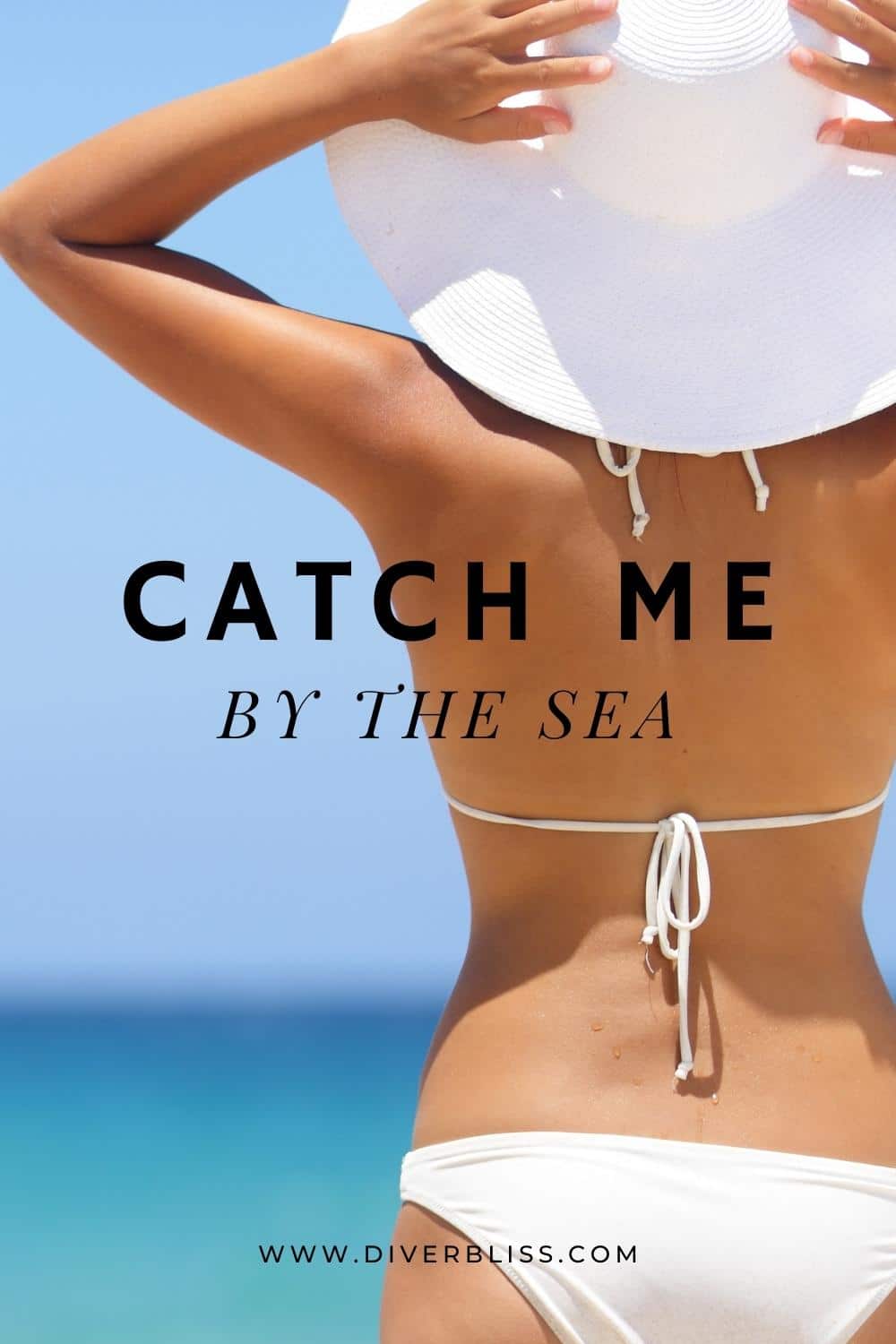 43. Eat Beach Sleep Repeat
44. Catch me by the sea.
45. The beach is calling and I must go.
46. The beach is my happy place.
47. Forever chasing the sun.
48. Paradise found.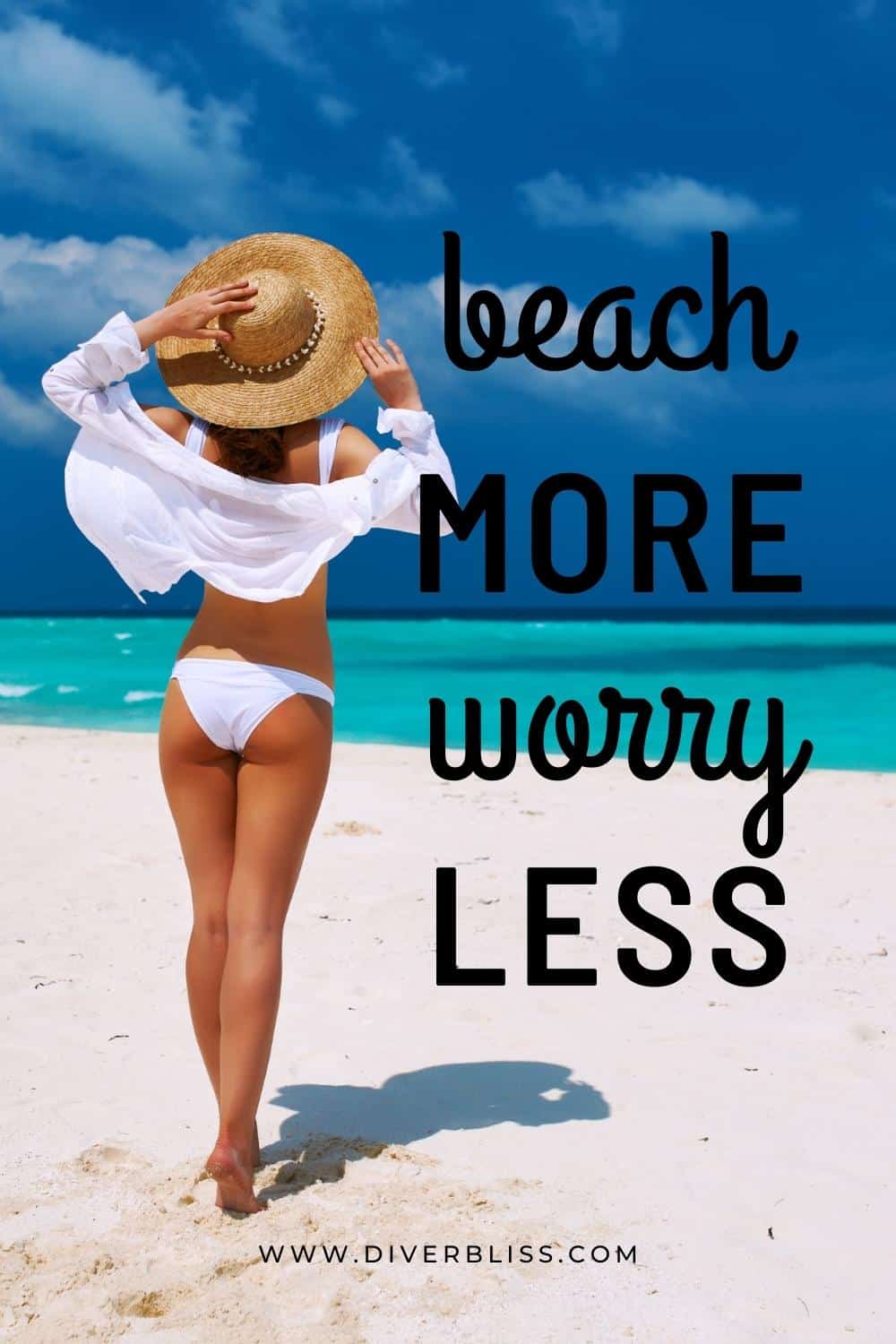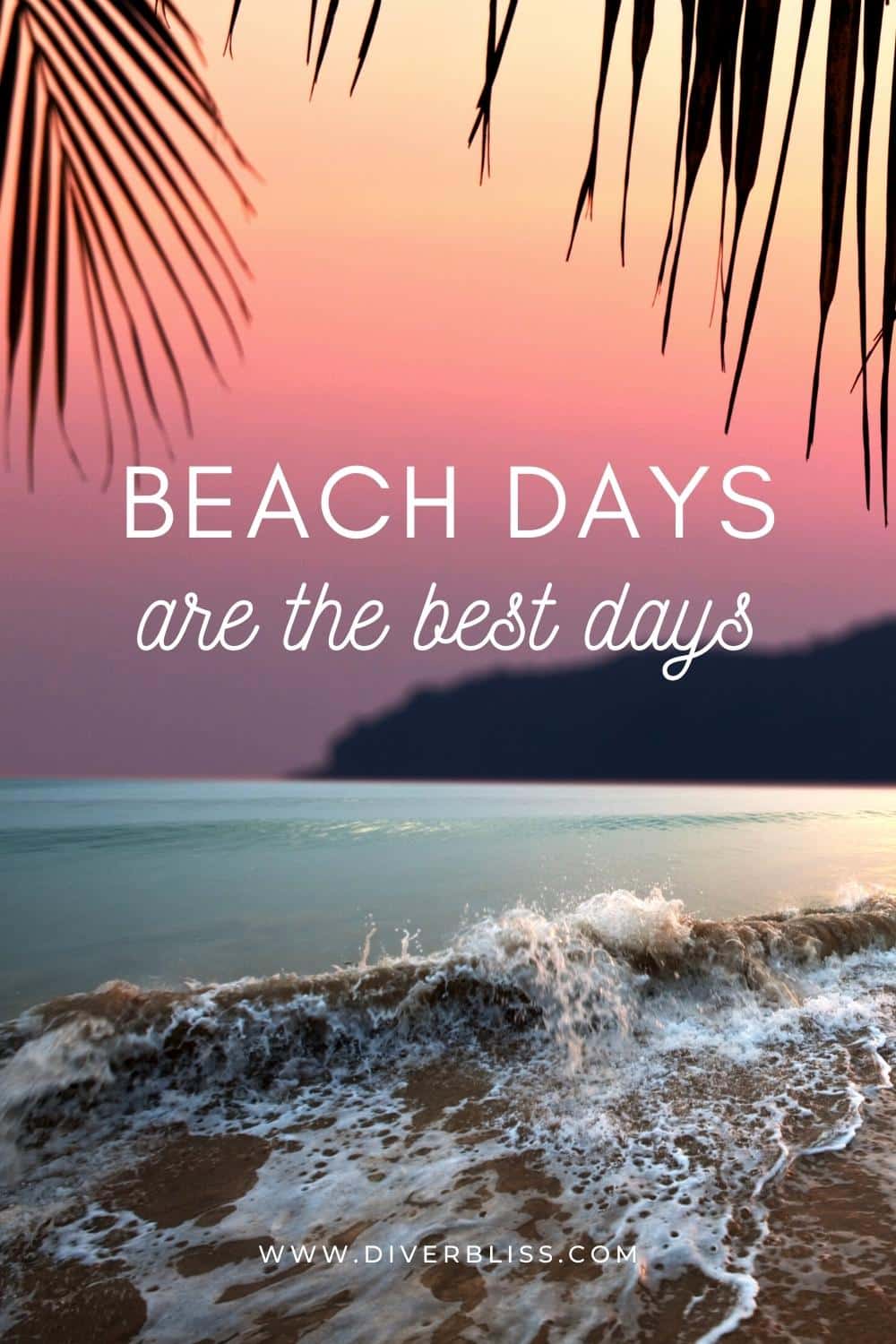 49. Beach more. Worry less.
50. Beach days are the best days.
51. Life is better in a bikini
52. Let the waves kiss your feet, and the sand be your seat.
53. Don't worry, beach happy!
54. Gone to the beach. Be back never.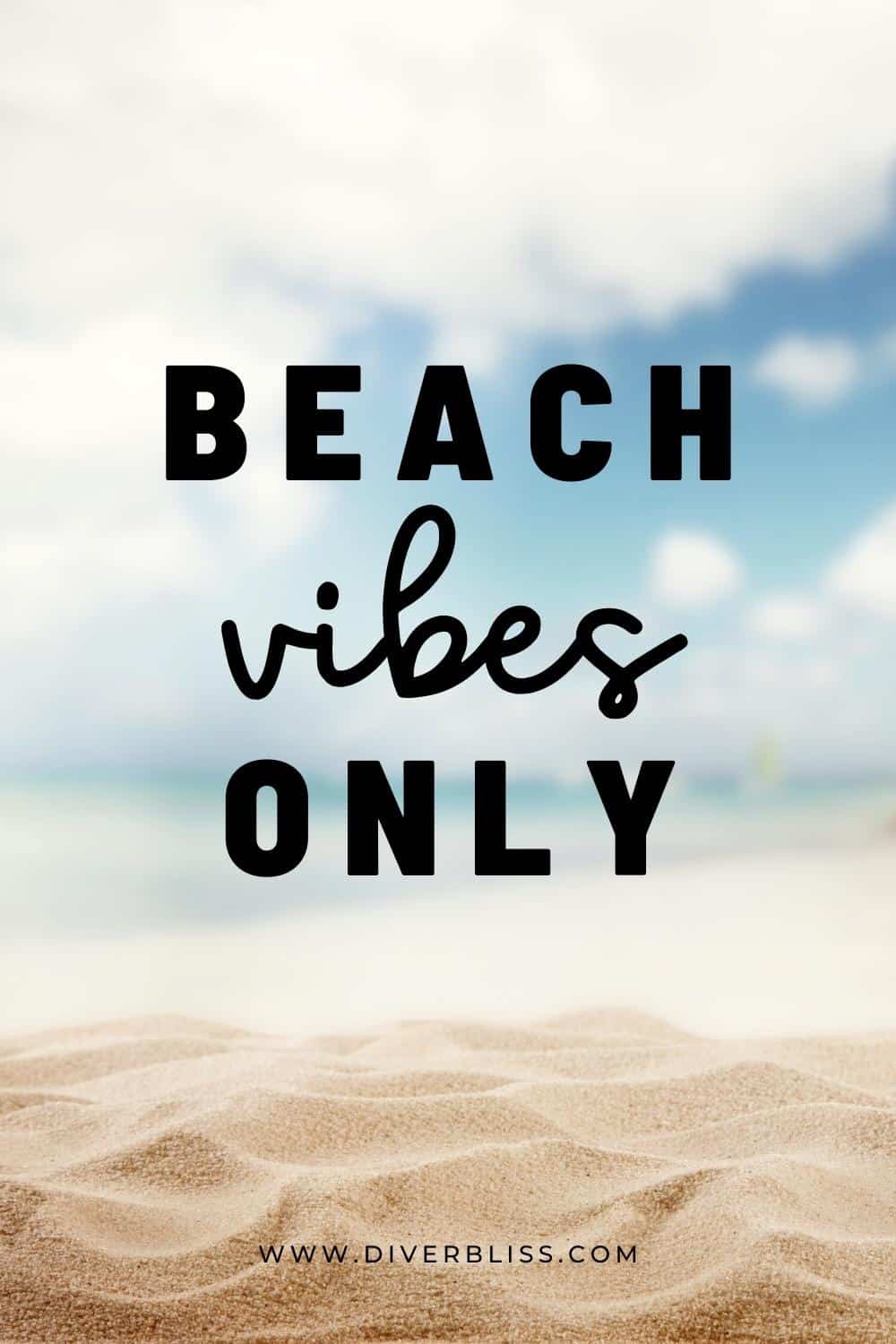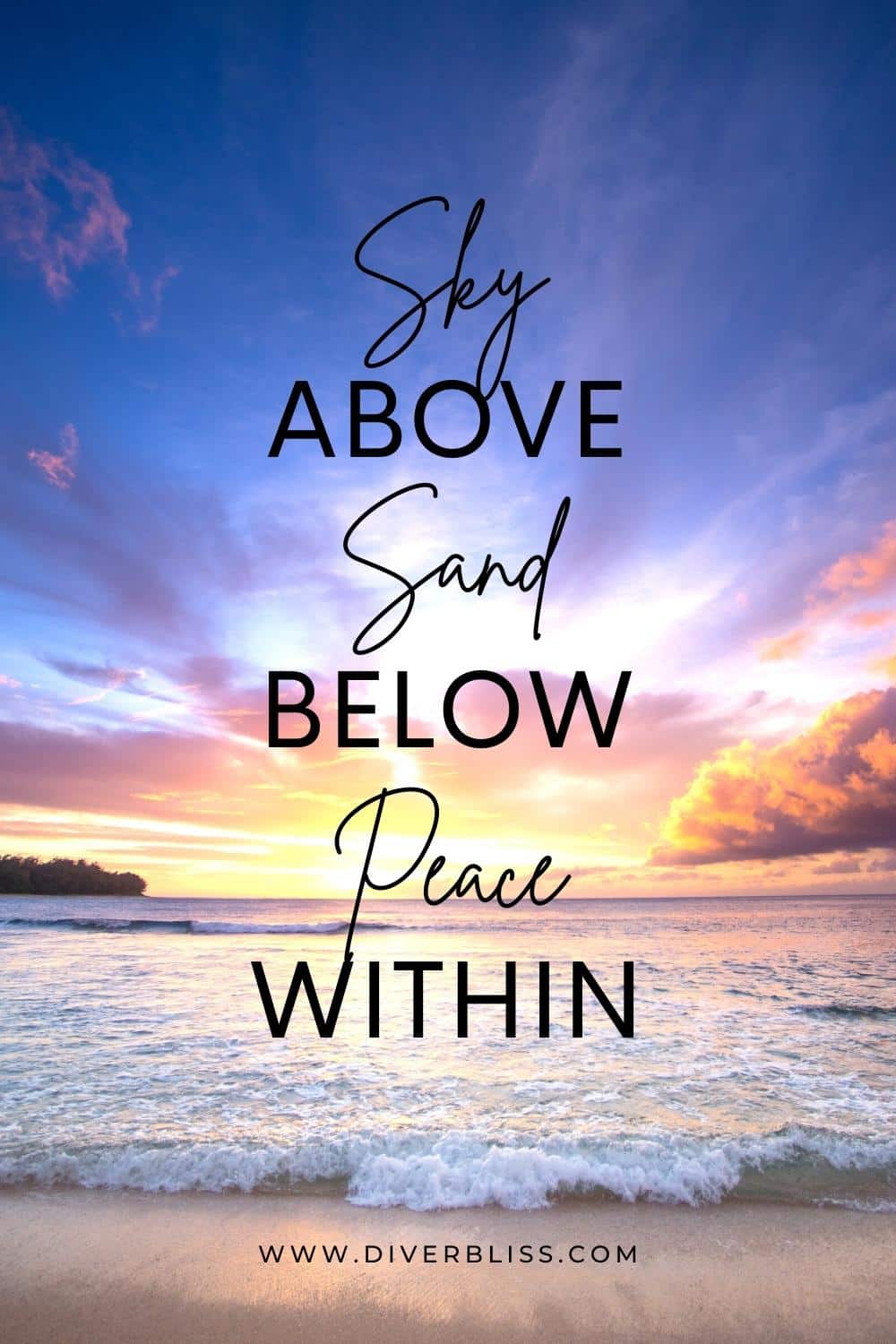 55. Beach vibes only.
56. Sky above. Sand below. Peace within.
57. Happiness is a day at the beach.
58. Love you to the beach and back.
59. You had me at aloha.
60. Time wasted at the beach is time well spent.
For more captions, check out this post on 200+ Sea and Ocean Captions for Instagram
15 Funny Beach Puns for Instagram
61. Getting my dose of vitamin sea.
62. Resting beach face.
63. Crazy sun of a beach.
64. Beach don't kill my vibe.
65. Talk to the sand.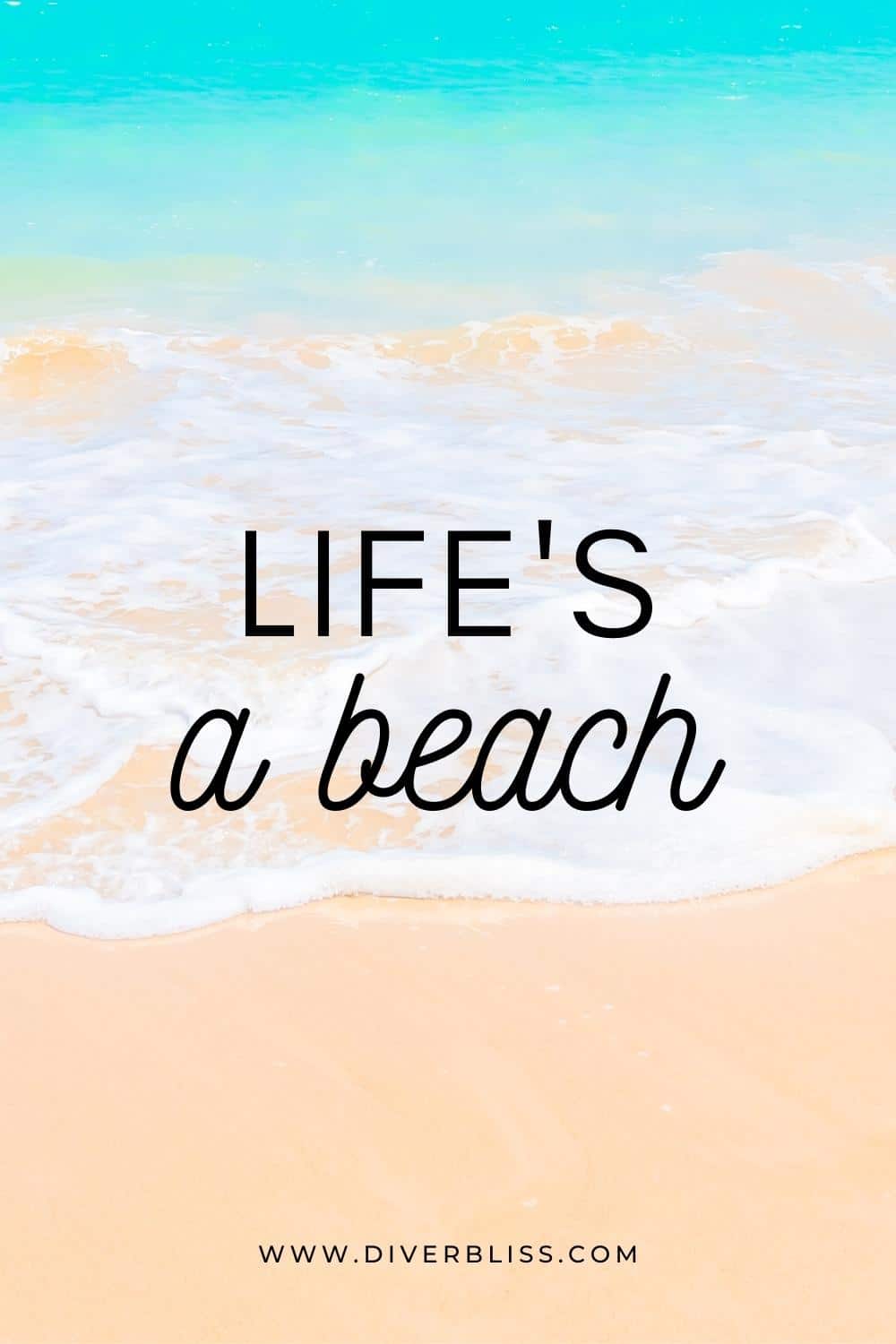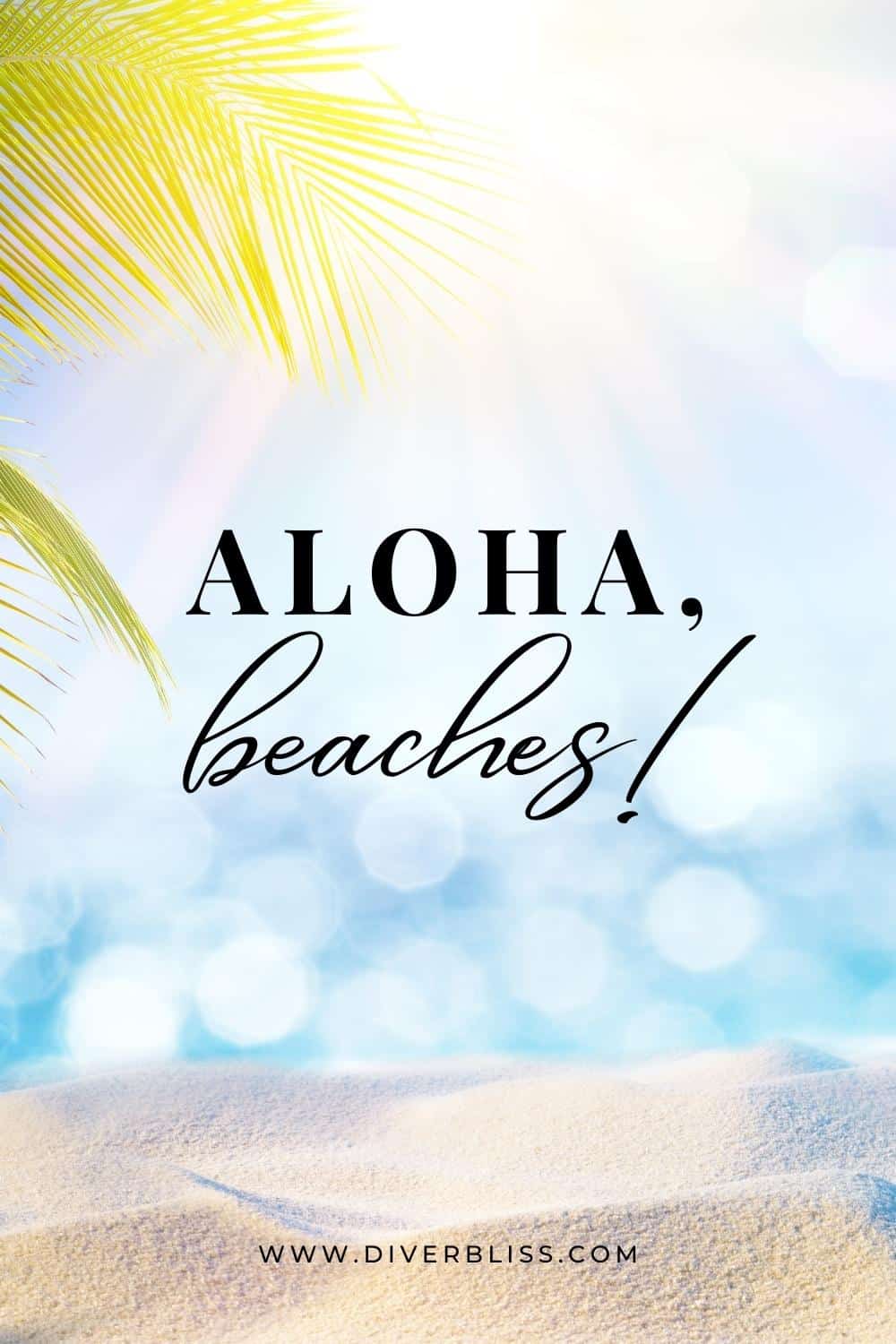 66. Life's a beach.
67. Aloha, beaches!
68. Beach, please!
69. Shell yeah!
70. Time to shell-ebrate!
Unable to travel to the beach? Check out this list of the best travel subscription boxes and best beach subscription boxes for when you are stuck at home.
71. No one likes shady beaches.
72. Long time, no sea.
73. Sea la vie!
74. Shore thang!
75. Salty but sweet.
Do you use your Instagram to talk about beaches and oceans? Here are some tips on how to grow your IG account to advocate for the sea!
Pin this for later or bookmark this page so you'll never run out of beach Instagram captions when you're visiting the most beautiful beaches in the world.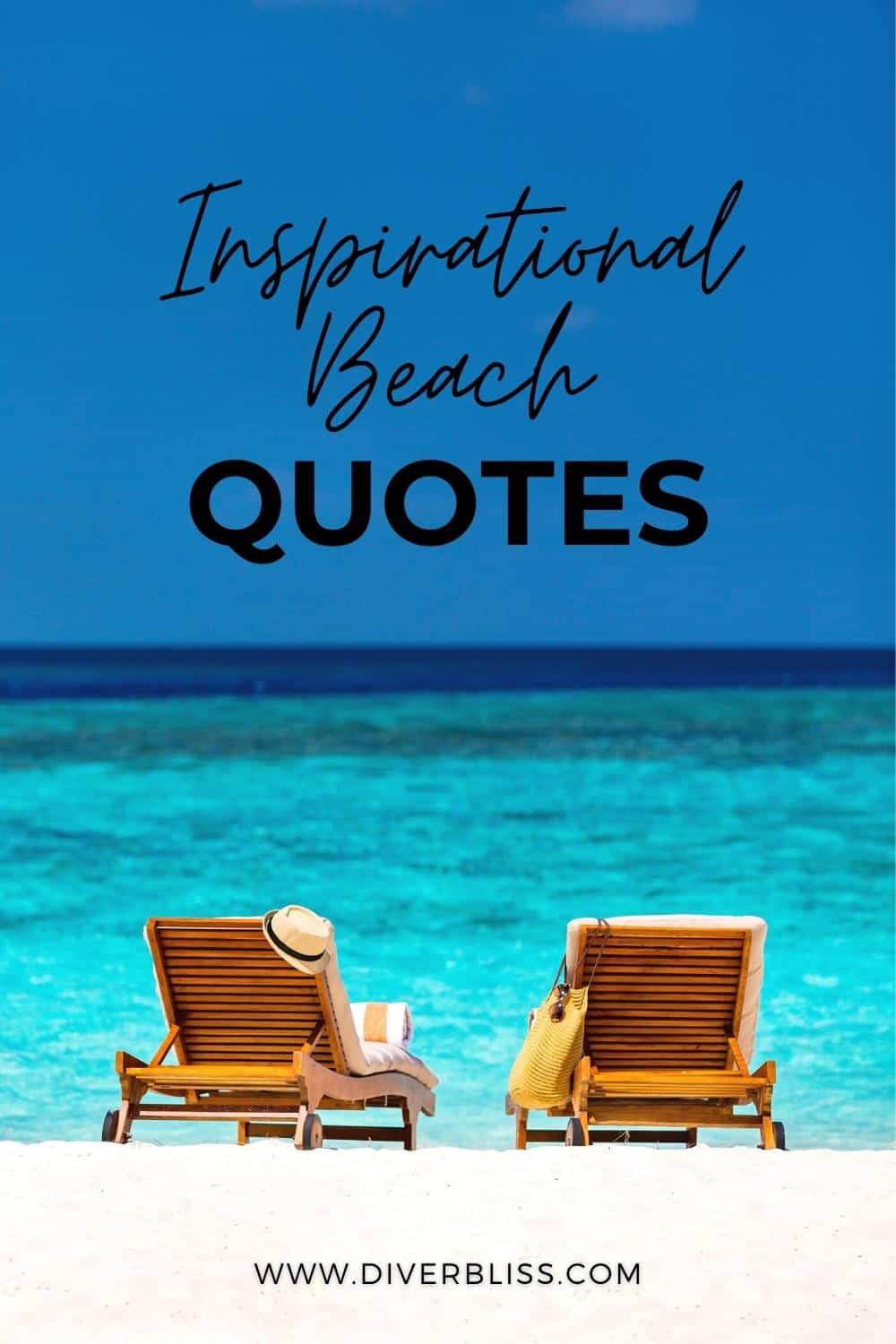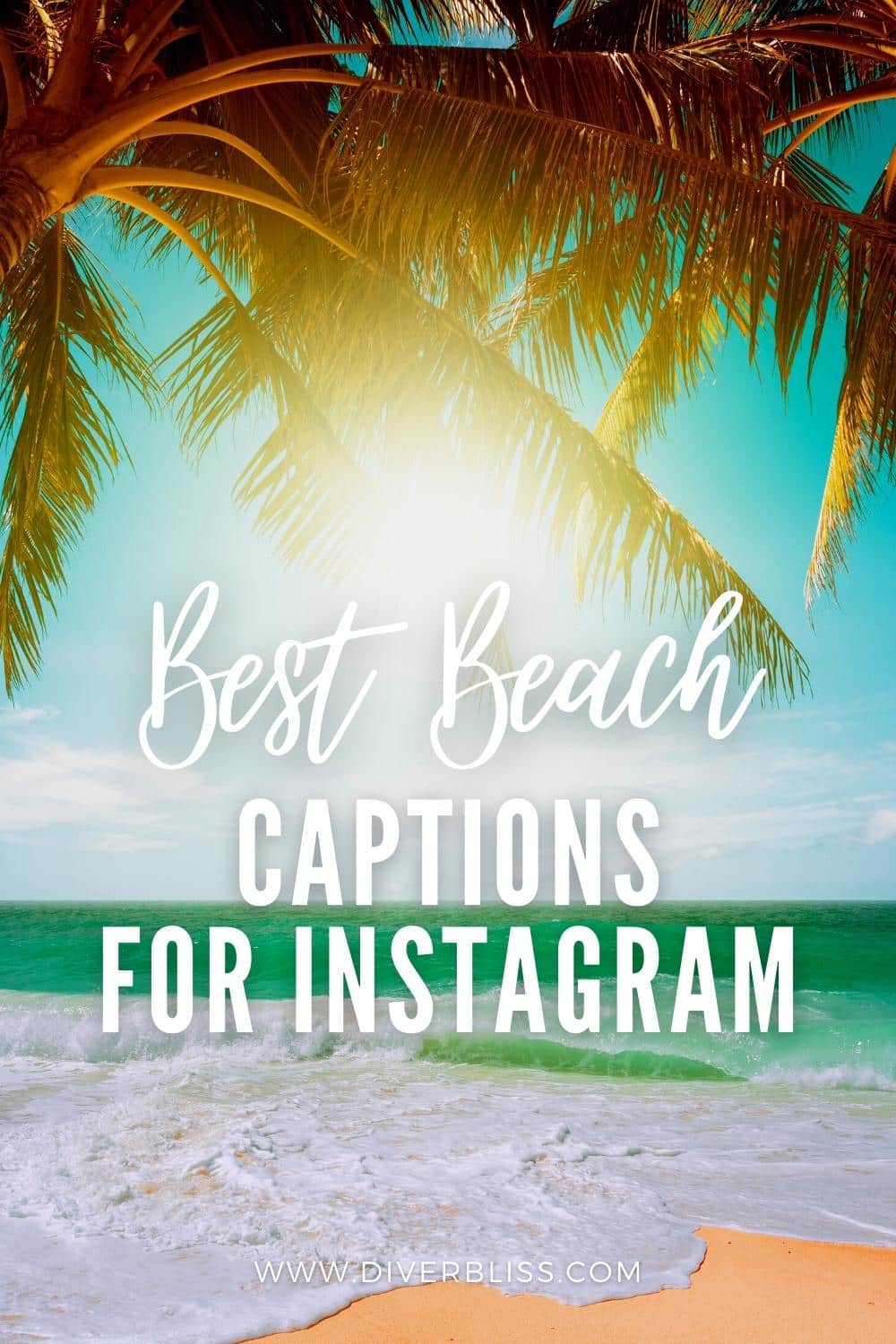 Want an e-book of a collection of inspirational quotes for divers and ocean lovers? Sign up below so I can send it via email!