Did you just capture the most perfect turquoise blue ocean photo for Instagram but can't seem to find the right words to match it? Or perhaps your brain is still on vacation so you can't think of an Instagram caption for the epic ocean adventure you've just had? 
Then, this article is for you!   
If you always struggle with coming up with the best caption for your ocean or sea Instagram photos then look no further. I've put together some of my favorite sea and ocean captions for Instagram so you don't have to worry about what you'll use next! 
From inspirational and introspective to funny and fun, you'll be able to find the perfect ocean caption for your pictures taken at sea. 
Any Instagram expert will tell you that if you want to level up your Instagram game, you should put captions on your photos. So take the opportunity to express yourself by using one of these quotes or captions together when you post your ocean or sea photos. 
Increase your social media engagement by using these sea and ocean captions for Instagram I've compiled for you!
Inspirational Ocean Quotes for Instagram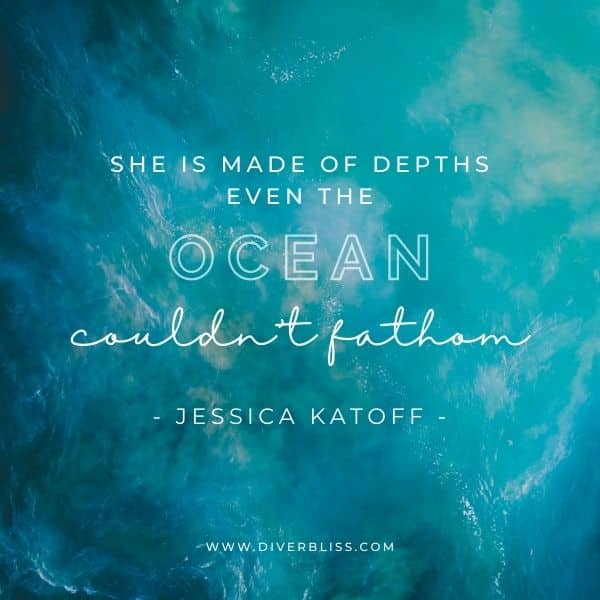 "She is made of depths even the ocean couldn't fathom"
– Jessica Katoff
2. "We have been far too aggressive about extracting ocean wildlife, not appreciating that there are limits and even points of no return." – Sylvia Earle
3. "We need to respect the oceans and take care of them as if our lives depended on it. Because they do." – Sylvia Earle
4. "I hope for your help to explore and protect the wild ocean in ways that will restore the health and, in so doing, secure hope for humankind." – Sylvia Earle
5. "Why is it that scuba divers and surfers are some of the strongest advocates of ocean conservation? Because they've spent time in and around the ocean, and they've personally seen the beauty, the fragility, and even the degradation of our planet's blue heart." – Sylvia Earle
6. "Health to the ocean means health for us." – Sylvia Earle
7. "Far and away, the greatest threat to the ocean, and thus to ourselves, is ignorance. But we can do something about that." – Sylvia Earle
8. "Every time I slip into the ocean, it's like going home." – Sylvia Earle
9. "Sharks are beautiful animals, and if you're lucky enough to see lots of them, that means that you're in a healthy ocean. You should be afraid if you are in the ocean and don't see sharks." – Sylvia Earle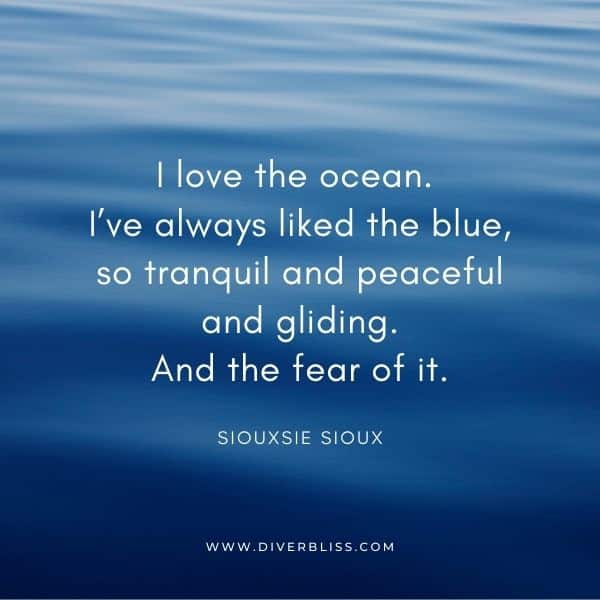 "I love the ocean. I've always liked the blue, so tranquil and peaceful and gliding. And the fear of it."
– Siouxsie Sioux
11. "Faith is knowing there is an ocean because you have seen a brook." – William Arthur Ward
12. "There's nothing wrong with enjoying looking at the surface of the ocean itself, except that when you finally see what goes on underwater, you realized that you've been missing the whole point of the ocean." – Dave Barry
13. "The ocean stirs the heart, inspires the imagination, and brings eternal joy to the soul." – Robert Wyland
14. "The ocean was magical to her, its depths and mysteries were boundless, its call irresistible." – Jeff Mariotte
15. "Either you decide to stay in the shallow end of the pool or you go out in the ocean." –Christopher Reeve
16. "We are tied to the ocean. And when we go back to the sea, whether it is to sail or to watch – we are going back from whence we came." – John F Kennedy
17. "The ocean makes me feel really small and it makes me put my whole life into perspective… it humbles you and makes you feel almost like you've been baptized. I feel born again when I get out of the ocean." – Beyoncé Knowles
18. "Being out there in the ocean – God's creation – it's like a gift he has given us to enjoy." – Bethany Hamilton
19. "You can either see yourself as a wave in the ocean or you can see yourself as the ocean." – Oprah Winfrey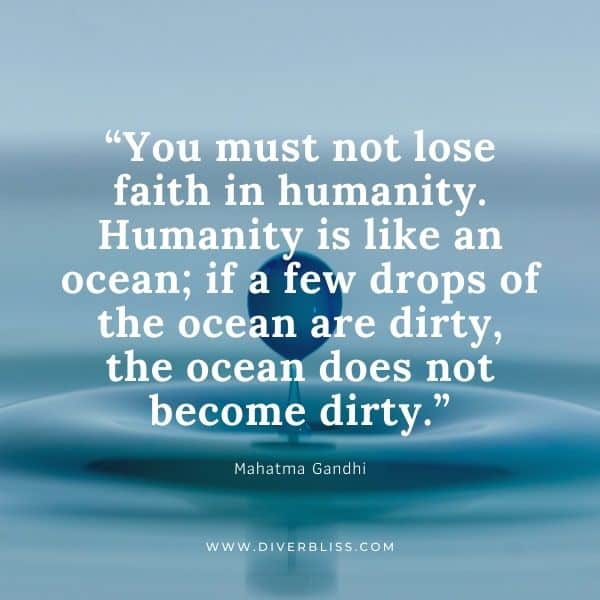 "You must not lose faith in humanity. Humanity is like an ocean; if a few drops of the ocean are dirty, the ocean does not become dirty."
– Mahatma Gandhi
21. "We ourselves feel that what we are doing is just a drop in the ocean. But the ocean would be less because of that missing drop." – Mother Teresa
22. "God is always seeking you. Every sunset. Every clear blue sky. Each ocean wave. The starry hosts of night. He blankets each new day with the invitation, 'I am here.'" – Louie Giglio
23. "I do an awful lot of scuba diving. I love to be on the ocean, under the ocean. I live next to the ocean." – James Cameron
24. "Man cannot discover new oceans unless he has the courage to lose sight of the shore." – Andre Gide
25. "When people who love the ocean come together, they can achieve extraordinary things." – Frances Beinecke
26. "My position is this. If we can't protect sanctuaries, if we can't save the whales, the sharks, the fish, our oceans will die." – Paul Watson
27. "I'm hopeful that we'll be able to study the ocean before we destroy it." – James Cameron
28. "You're not a wave, you're a part of the ocean." – Mitch Albom
29.  "How inappropriate to call this planet "Earth," when it is clearly "Ocean."" – Arthur C. Clarke.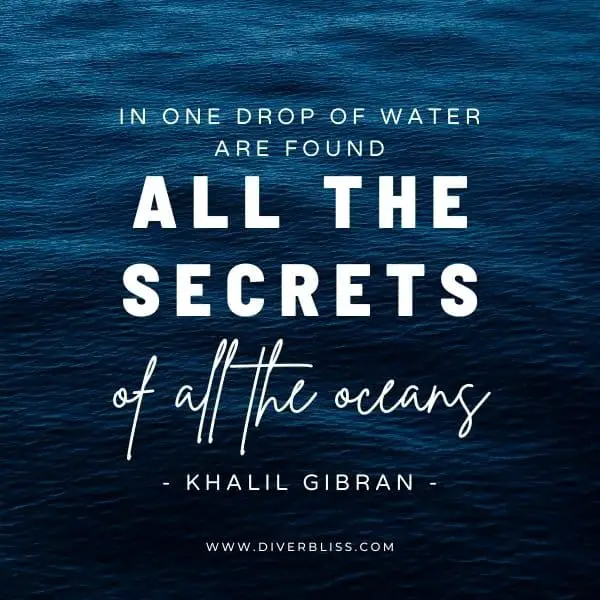 "In one drop of water are found all the secrets of all the oceans."
– Khalil Gibran
---
Do you use your Instagram to talk about our oceans? Here are some tips on how to grow your IG account to advocate for the sea!
Inspirational Sea Quotes for Instagram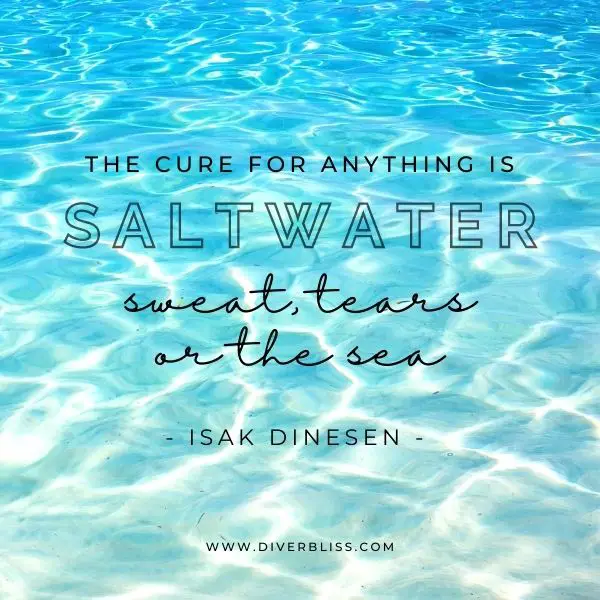 "The cure for anything is saltwater sweat, tears or the sea."
– Isak Dinesen
32. "The sea, once it casts its spell, holds one in its net of wonder forever." – Jacques Cousteau
33. "A lot of people attack the sea. I make love to it." – Jacques Cousteau
34. "The sea, the great unifier, is man's only hope. Now, as never before, the old phrase has a literal meaning: we are all in the same boat." – Jacques Cousteau
35. "With every drop of water you drink, every breath you take, you're connected to the sea. No matter where on Earth you live. Most of the oxygen in the atmosphere is generated by the sea." – Sylvia Earle
36. "I've had the joy of spending thousands of hours under the sea. I wish I could take people along to see what I see, and to know what I know." – Sylvia Earle
37. "Meet me where the sky touches the sea." – Jennifer Donnelly
38. "Mightier than the waves of the sea is His love for you." – Psalm 93:4
39. "Live in the sunshine, swim the sea, drink the wild air." – Ralph Waldo Emerson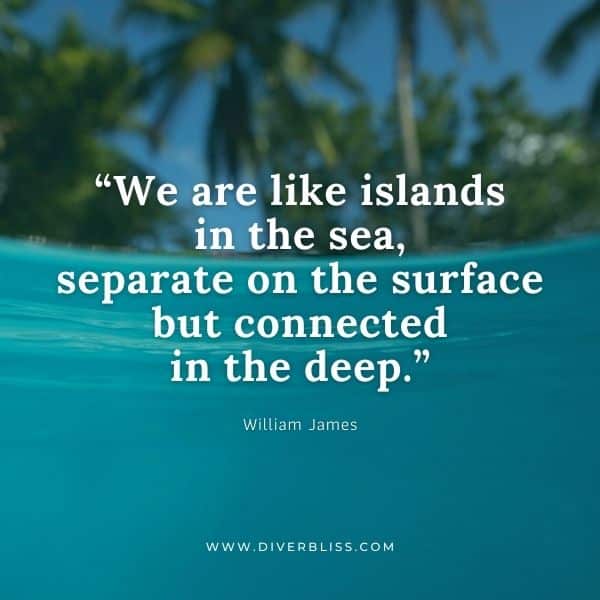 "We are like islands in the sea, separate on the surface but connected in the deep."
– William James
41. "At sea, I learned how little a person needs, not how much." – Robin Lee Graham
42. "Dance with the waves, move with the sea. Let the rhythm of the water set your soul free." – Christy Ann Martine
43. "Be alone with the sea for it is there you will find answers to questions you didn't realize exist." – Khang Kijarro Nguyen
44. "The sea is the only embodiment of a supernatural and wonderful existence." – Jules Verne
45. "For whatever we lose (like a you or a me), it's always ourselves we find in the sea." – E. E. Cummings
46. "Don't sit and wait. Get out there, feel life. Touch the sun, and immerse in the sea." – Rumi
47. "My soul is full of longing for the secret of the sea, and the heart of the great ocean sends a thrilling pulse through me." – Henry Wadsworth Longfellow
48. "It's out there at sea that you are really yourself." – Vito Dumas
49. "The waves of the sea help me get back to me." – Jill Davis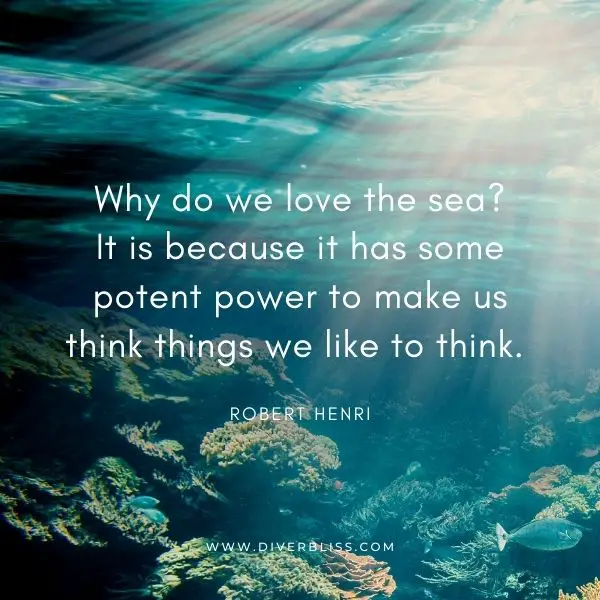 "Why do we love the sea? It is because it has some potent power to make us think things we like to think."
– Robert Henri
51. "The sea knows no limits, makes no concessions. It has given us everything and it can take everything away from us." – John Ajvide Lindqvist
52. "The sea always filled her with longing, though for what she was never sure." – Cornelia Funke
53. "Wild waves rise and fall when they arrive and that's what makes the calm sea alive." – Munia Khan
54. "Why do we love the sea? It is because it has some potent power to make us think things we like to think." – Robert Henri
55. "You could start now, and spend another forty years learning about the sea without running out of new things to know." – Peter Benchley
56. "Don't wait any longer. Dive in the ocean, Leave and let the sea be you." – Rumi
57. "I had fought on behalf of man against the sea, but I realized that it had become more urgent to fight on behalf of the sea against men." – Alain Bombard
58. "Would you learn the secret of the sea? Only those who brave its dangers, comprehend its mystery!" – Henry Wadsworth Longfellow
59. "There must be something strangely sacred in salt. It is in our tears and in the sea." – Khalil Gibran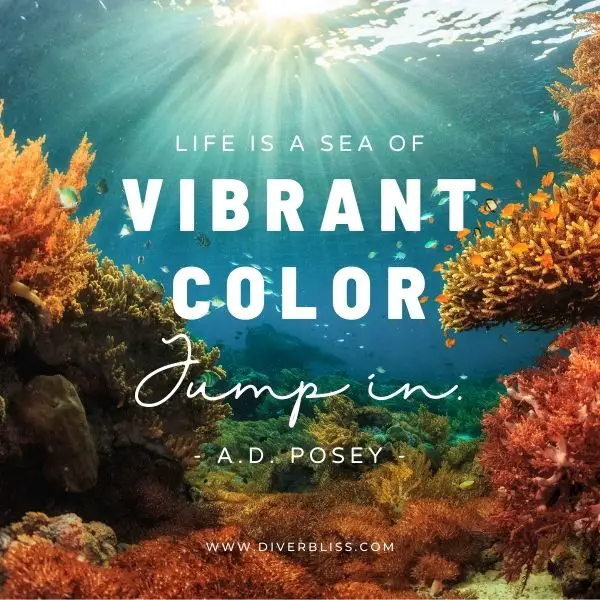 "Life is a sea of vibrant color. Jump in."
– A.D. Posey
---
Need more quotes for Instagram? Check out my list of 100 Best Scuba Diving Quotes and 70+ Inspirational Beach Quotes and Instagram Captions
Short Ocean Captions for Instagram Photos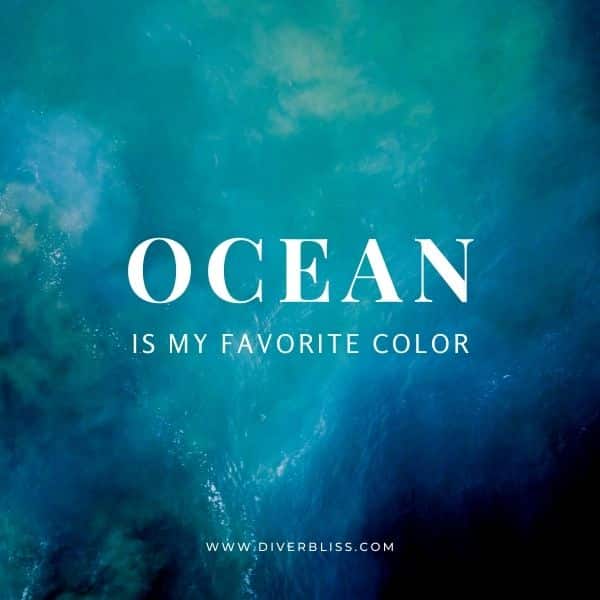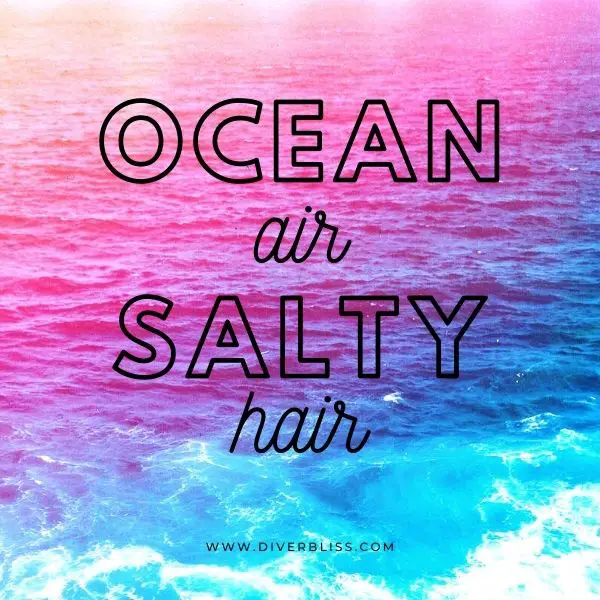 61. As free as the ocean.
62. Be as wild as the ocean.
63. Ocean air, salty hair
64. As endless as the ocean, as timeless as the tides. 
65. Ocean is my favorite color. 
66. The ocean calms my restless soul.
67. And into the ocean I go to lose my mind and find my soul.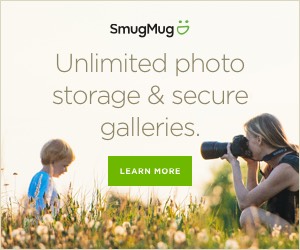 68. The ocean is calling and I must go.
69. Ocean breeze, salty hair, palm trees, sunset
70. Stay wild, ocean child
71. Happiness is crystal clear ocean water. 
72. Go where you feel most alive.  
73. The ocean is everything I want to be. Beautiful, mysterious, wild and free.
74. The ocean's roar is music to the soul.
75. The ocean stirs the heart, inspires the imagination, and brings eternal joy to the soul.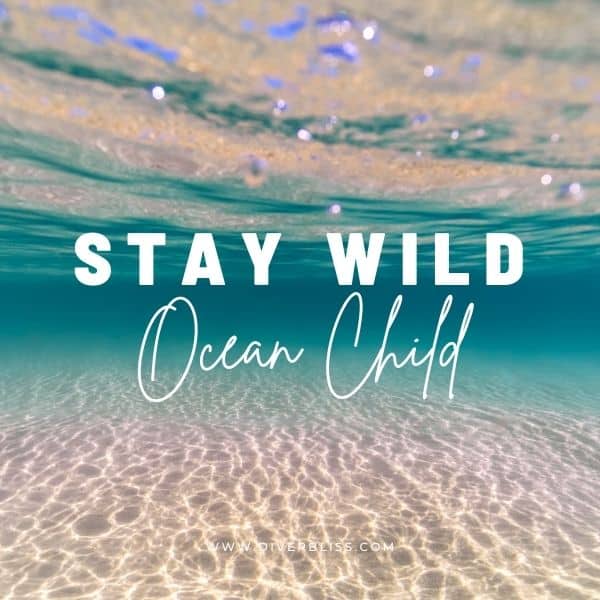 ---
Short Sea Captions for Instagram Photos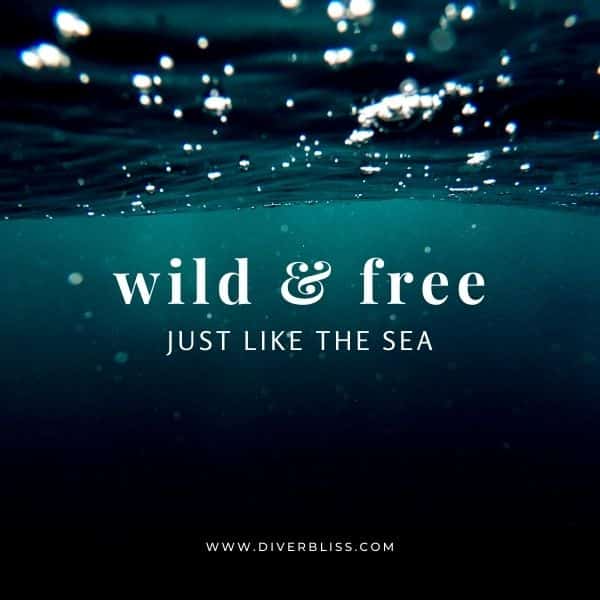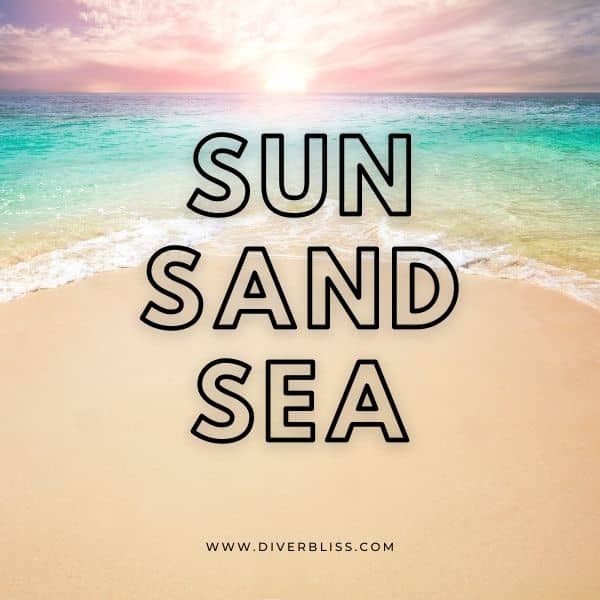 76. Wild and free just like the sea
77. Sea sand sun
78. I love you like the sea loves the shore.
79. Meet me where the sky touched the sea
80. Salty hair don't care
81. Just another day in paradise
82. Good times and tan lines
83. Smell the sea, feel the sky, let your soul and spirit fly.
84. A smooth sea never made a skillful sailor
85. Not all the stars belong to the sky
86. I lost my heart to the sea
87. You, me and the sea
88. I dream in colors borrowed from the sea.
89. Catch me by the sea
90. Endless blues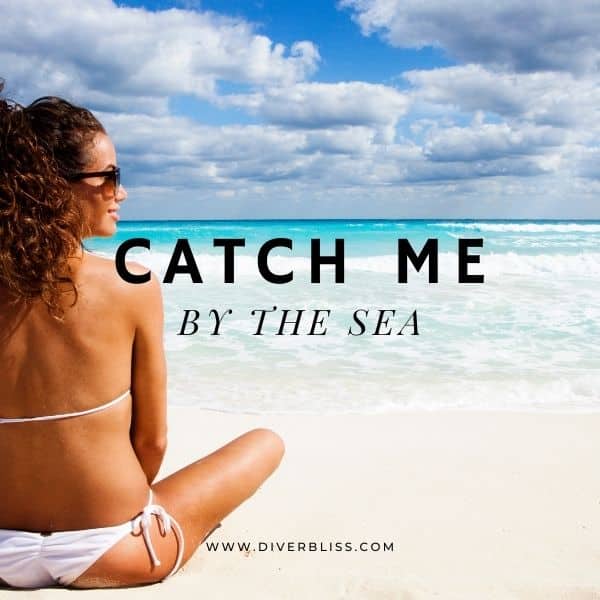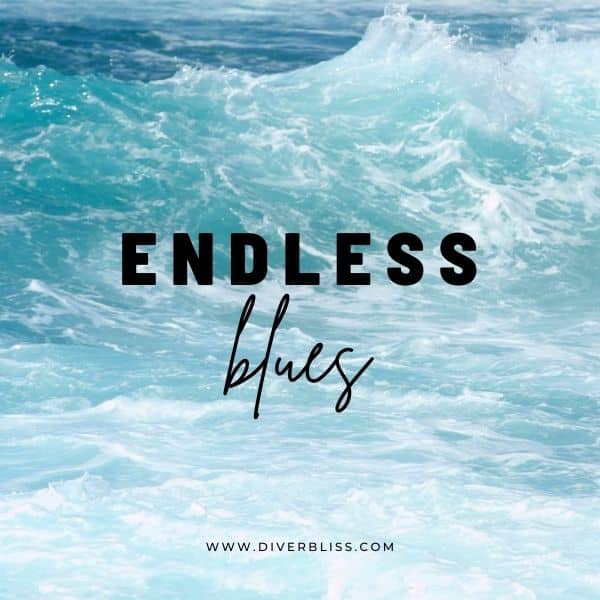 ---
For more ocean inspiration check out these 15 Amazing Underwater Photographers You Should Follow on Instagram.
Witty Ocean and Sea Puns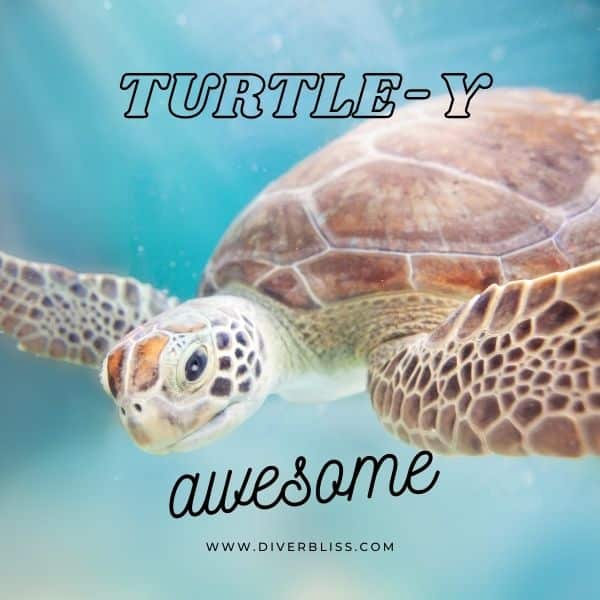 91. Turtle-y awesome
92. Whale, hello there! 
93. Shell yeah!
94. Sea you at the beach
95. Seas the day
96. All I need is vitamin sea
97. Tis the sea-son
98. Happy as a clam
99. Feeling nauti
100. Seek to sea more
101. Feeling fin-tastic!
102. Stay salty.
103. Seal of approval
104. Shrimply the best
105. Holy crab!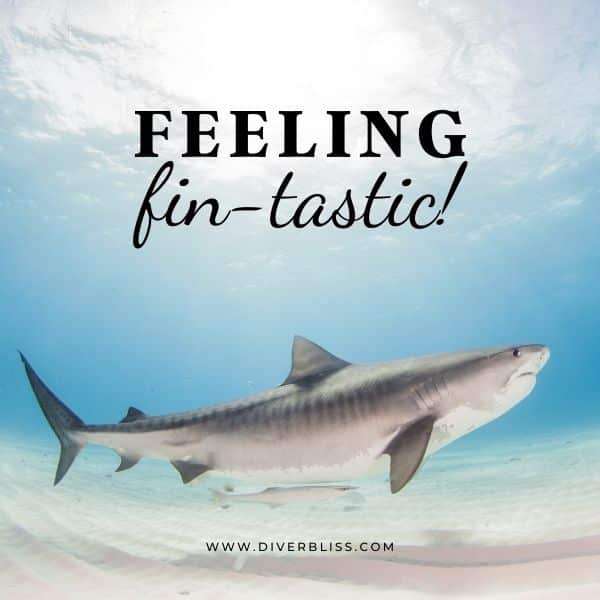 106. Don't be jelly 
107. Have a whale of a time
108. Make a splash
109. Yeah buoy! 
110. Having a Jaw-some time!
111. Let's get hammered! (hammerhead shark)
112. You're a star (starfish)
113. Time to shell-ebrate! 
114. Cute and cuttley! 
115. Tail as old as time. 
116. Ray of sunshine (eagle rays, stingrays)
117. I love nudies. (nudibranchs)
118. Hey there slug! (sea slug)
119. Bad-ass mother-puffer (pufferfish)
120. Doing my life porpoise
---
Level up your Instagram game by adding hashtags to your post! Here are 500 best hashtags for your scuba diving and ocean Instagram photos!
Ocean Waves Captions for Instagram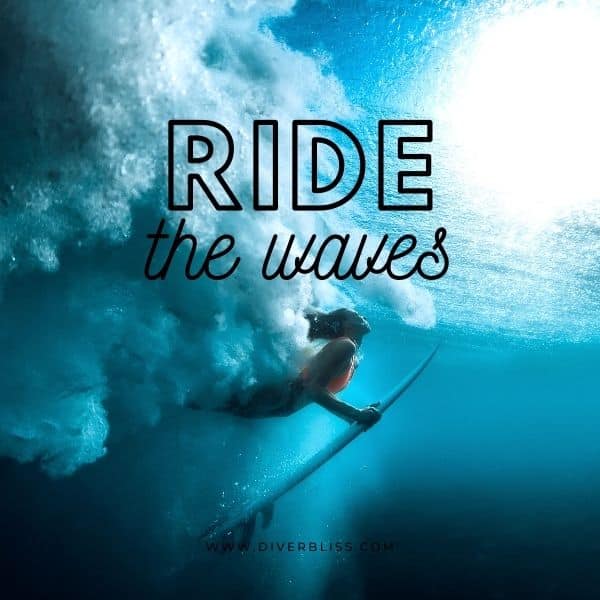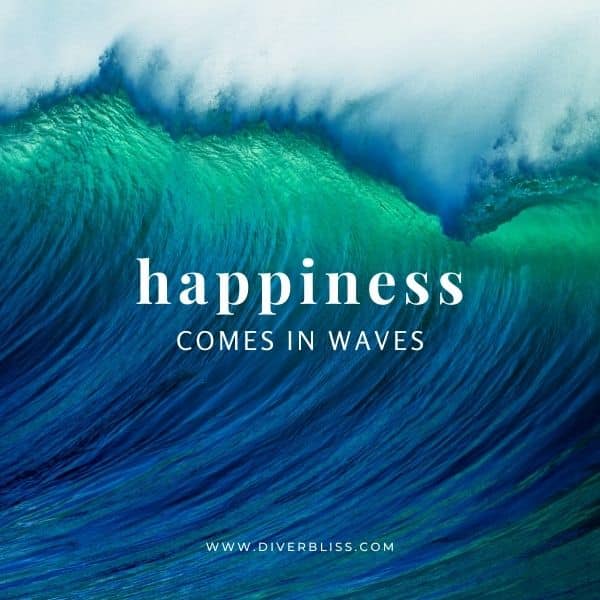 121. Ride the waves
122. Happiness comes in waves 
123. Just go with the flow. 
124. Sometimes in the waves of change, we find our true direction
125. Make some waves
126. It's always a good day to dance with the waves
127. High tide or low tide, I'll be by your side. 
128. Sometimes in the waves of change, we find our true direction
129. Be a mermaid and make waves
130. Hear the sound of the waves and relax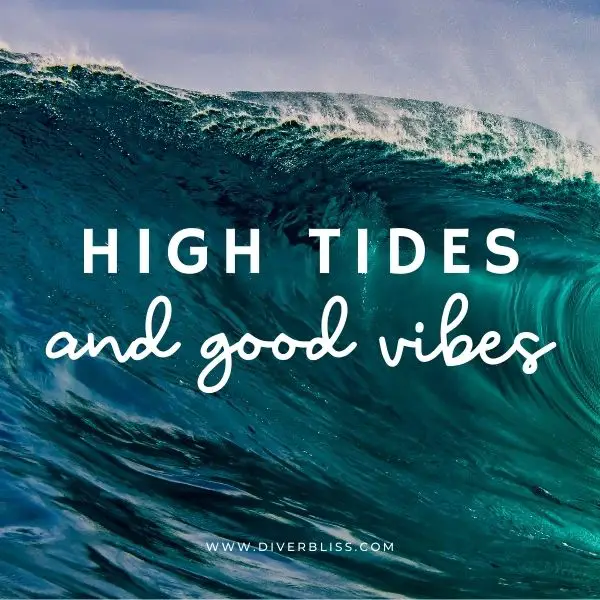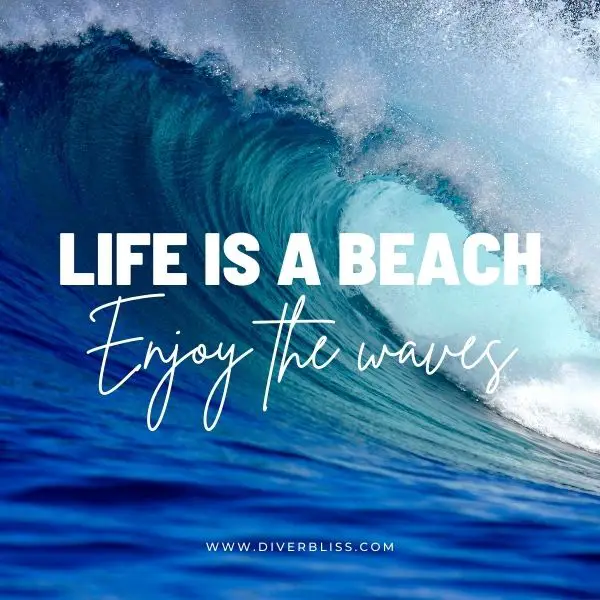 131. High tides and good vibes
132. Life is a beach enjoy the waves
133. Flow with it
134. Go with the waves
135. Chasing waves
136. Make your own waves
137. Wave after wave, I'm slowly drifting away
138. If there's a will there's a wave.
139. See you on the next wave
140. It comes and goes in waves.
---
Ocean Conservation Captions for Instagram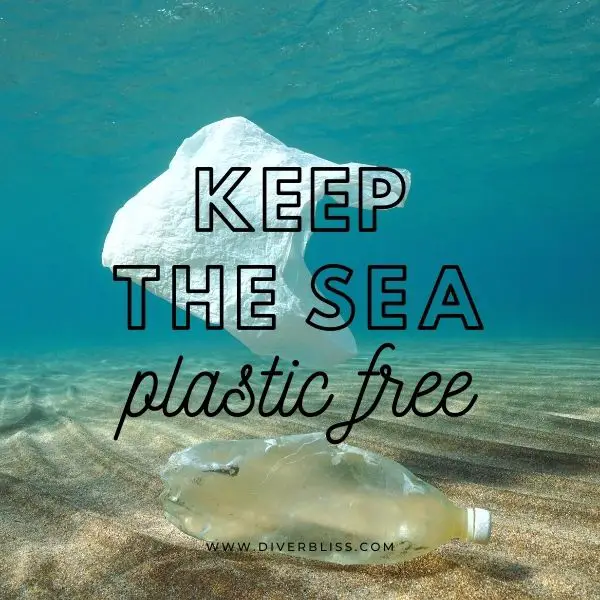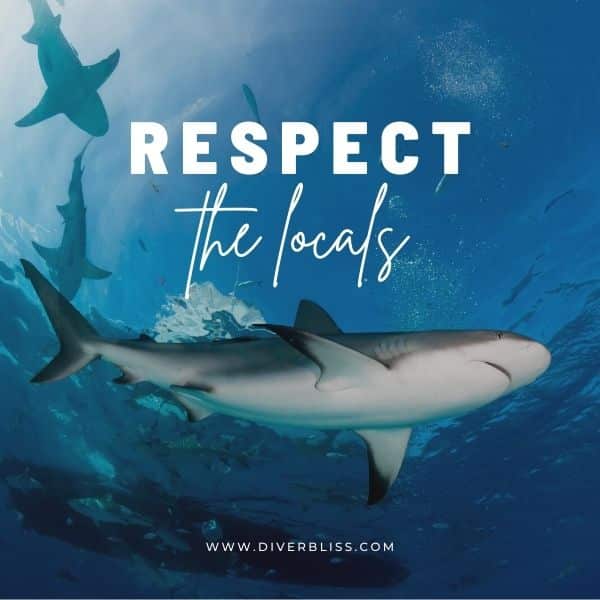 141. Keep the sea, plastic free!
142. Respect the locals.
143. Less ocean trash, more marine life
144. Water is where the life comes from
145. The ocean isn't the world's trash can.
146. Protect our ocean, protect our future
147. Now water, no life
148. The ocean doesn't need more plastic. 
149. Stop dropping trash where we splash 
150. Love turtles, hate plastic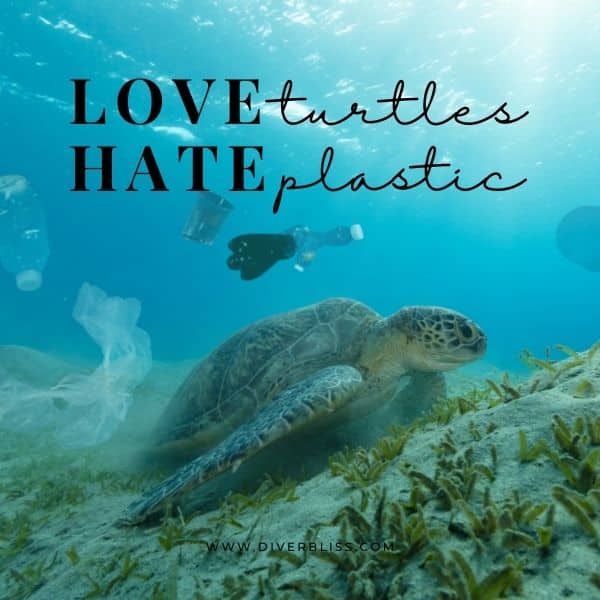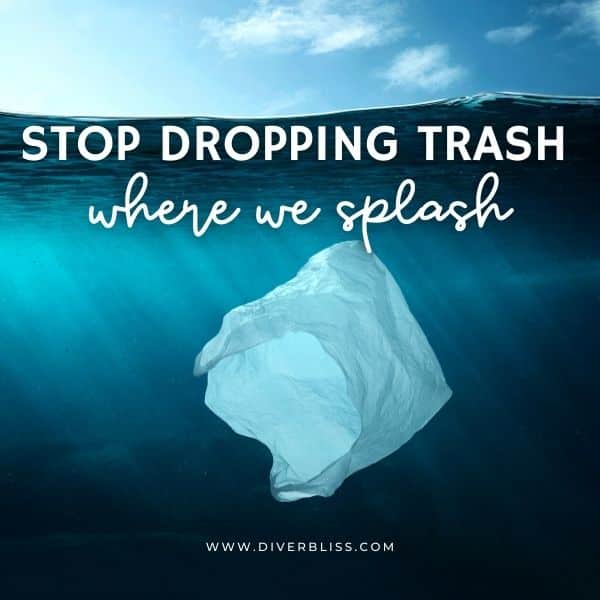 ---
For more ocean conservation captions for Instagram, check out my post on the most thought-provoking ocean plastic pollution quotes of all time.
One-word captions for ocean or sea photos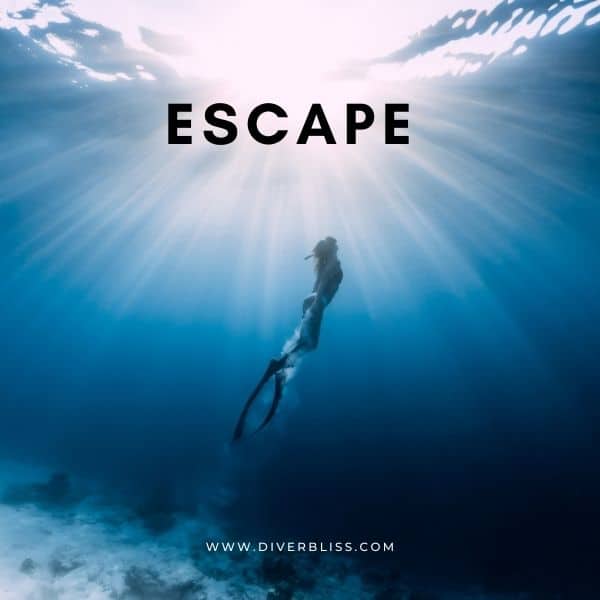 151. Unstoppable 
152. Strength
153. Serenity
154. Aquaholic
155. Daydreaming
156. Bliss
157. Vibes
158. Chill
159. Vibin'
160. Happy
161. Unwind
162. Therapy
163. Inspired
164. Fearless
165. Glowing
166. Happy
167. Blessed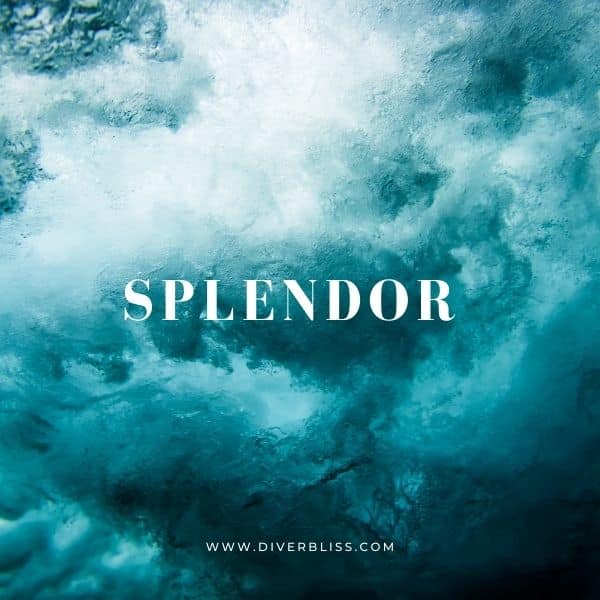 168. Pleasure
169. Peace
170. Breathe
171. Relax
172. Exploring
173. Lush
174. Wanderlust
175. Nostalgic
176. Awesomeness
177. Sacred
178. Gratitude
179. Adventure
180. Endless
181. Nirvana
182. Calm
183. Unforgettable
184. Imagine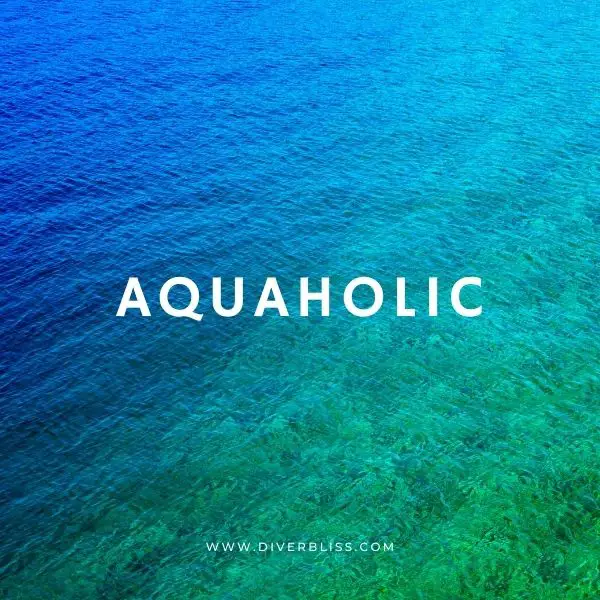 185. Splendor 
186. Power
187. Grace
188. Elegance
189. Wild
190. Expand
191. Mermaiding 
192. Savor
193. Ecstasy
194. Surrender
195. Paradise
196. Tranquility
197. Sunkissed
198. Escape
199. Freedom
200. Joy
201. Serendipity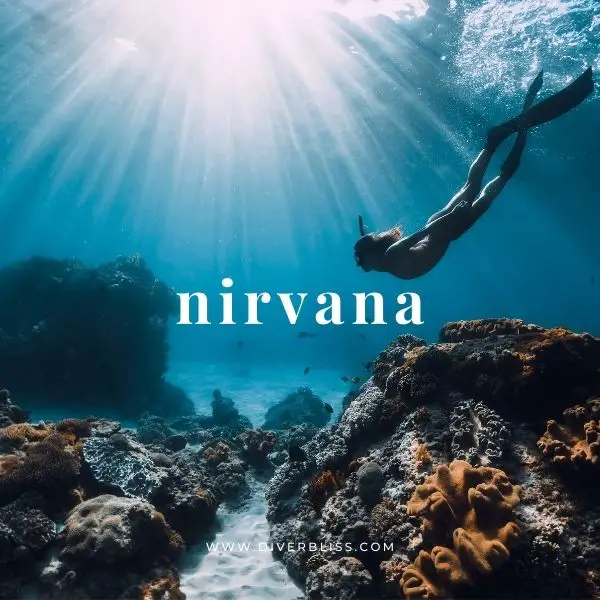 ---
Do you need help with your Instagram engagement? Increase interactions with your followers by using IG stories. Here are some samples of IG Story Game Templates I love using on my Instagram account!
Bookmark or pin this post for later!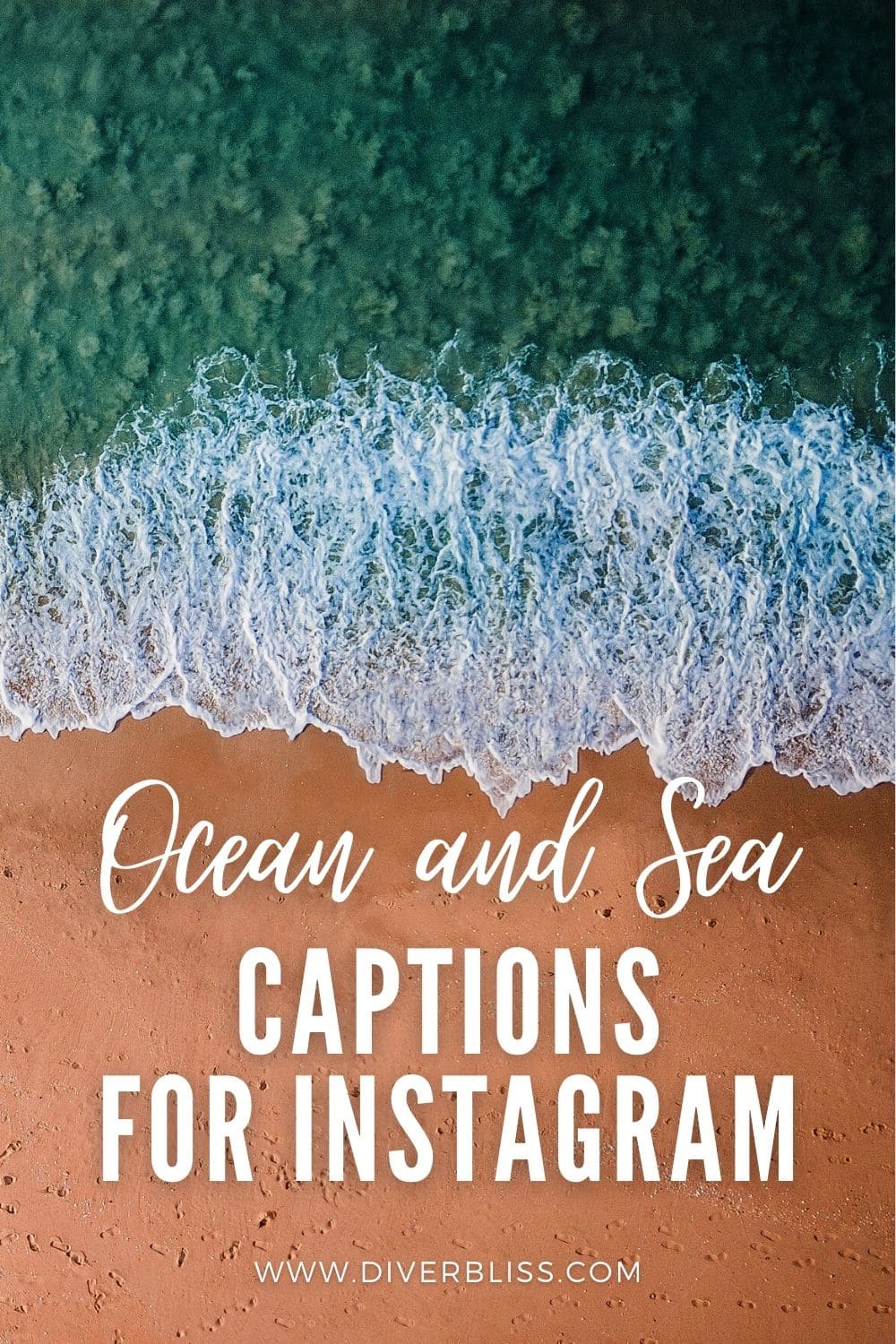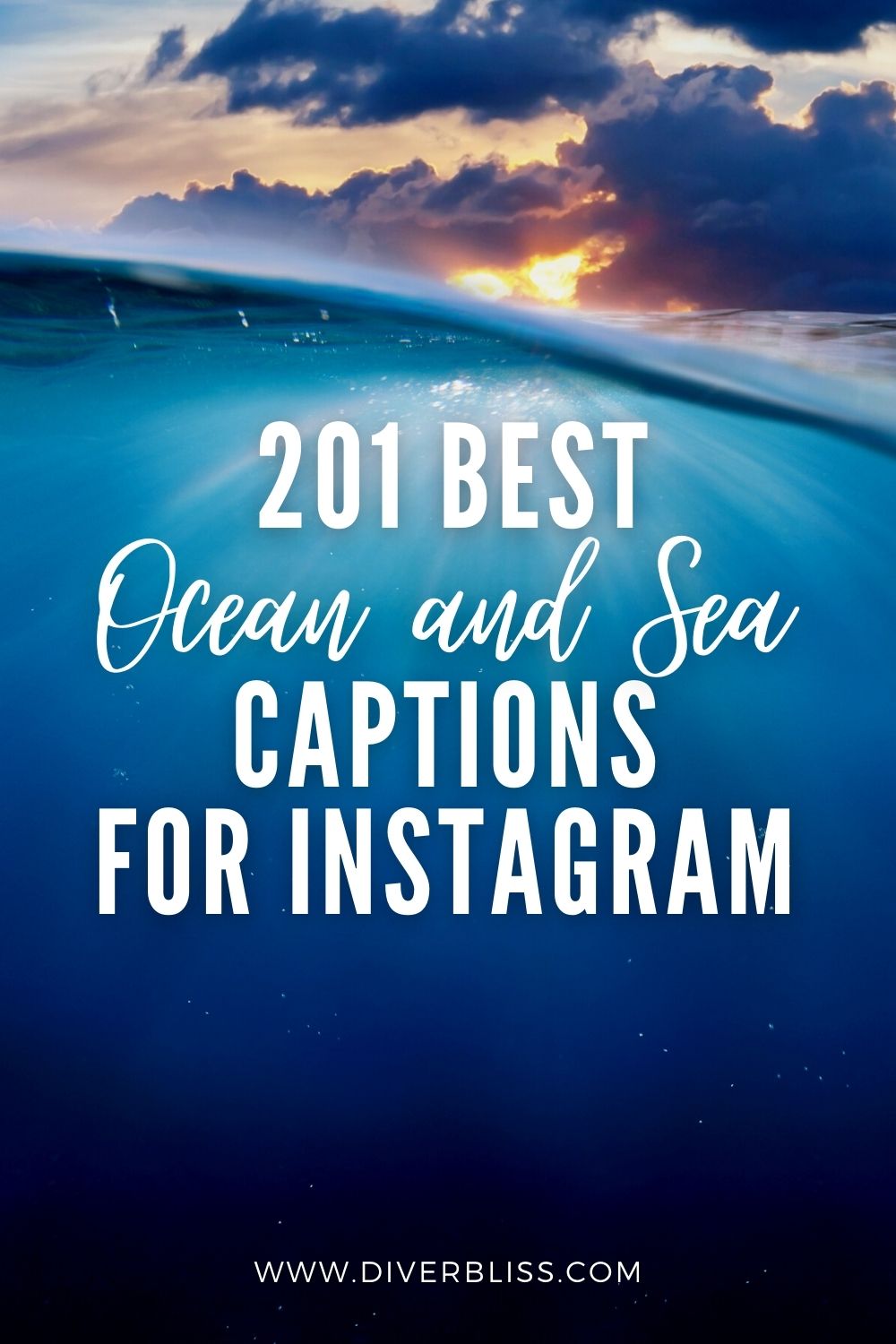 I hope this collection of quotes inspires you to keep diving and taking care of our oceans! Want an e-book of a collection of inspirational quotes for divers and ocean lovers? Sign up below so I can send it via email!