If you're always struggling to come up with the right words for your diving-related images, using inspirational scuba diving quotes might just do the trick!
The use of quotes can be a great way to express your feelings and ideas especially if you struggle with putting your thoughts into words. Your images combined with someone's powerful words can have a lasting impact on your audience.
To inspire you and help in your ocean advocacy, I've compiled 100 of my favorite and the best scuba diving quotes for your photos taken in your last dive trip or vacation.
Make sure to bookmark this article as it will have all the quotes a scuba diver will need for their Instagram captions!
Happy reading! And don't forget to follow me on Instagram!
Note: If you like these diving quotes posters I made, feel free to pin on Pinterest and share them around. For your Instagram captions, don't forget to credit the original person who said the quote!
Jacque Cousteau Quotes
Jacque-Yves Cousteau is undeniably one of the most popular ocean explorers in the world.
In 1942, he and Emile Gagnan invented the Aqua-lung which allowed people to bring air with them underwater. I like to think of him as the father of scuba diving because he literally invented scuba diving devices making it possible for us to explore the underwater world!
Not only was he an oceanographer, researcher, scientist, conservationist, but he was also a filmmaker. He even invented the underwater camera that allowed him to capture the never before seen and explored areas of the ocean. His films and documentaries inspired people to learn more about the ocean.
Today, he continues to inspire people through his works and words. Here are some of the famous Jacques Cousteau quotes that you can use as scuba diving captions for Instagram.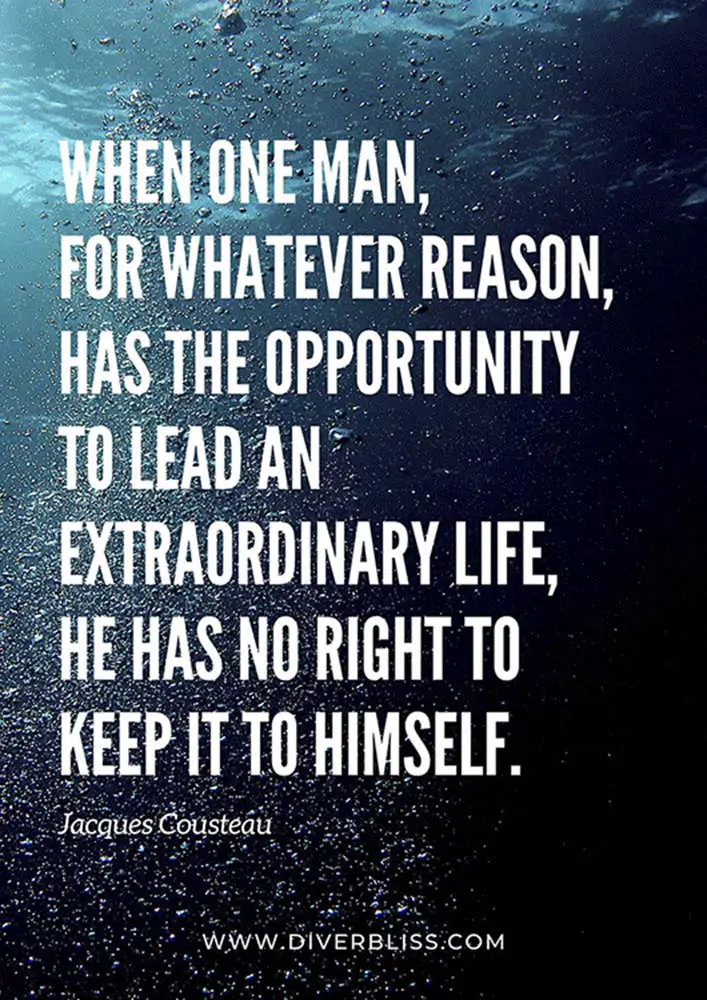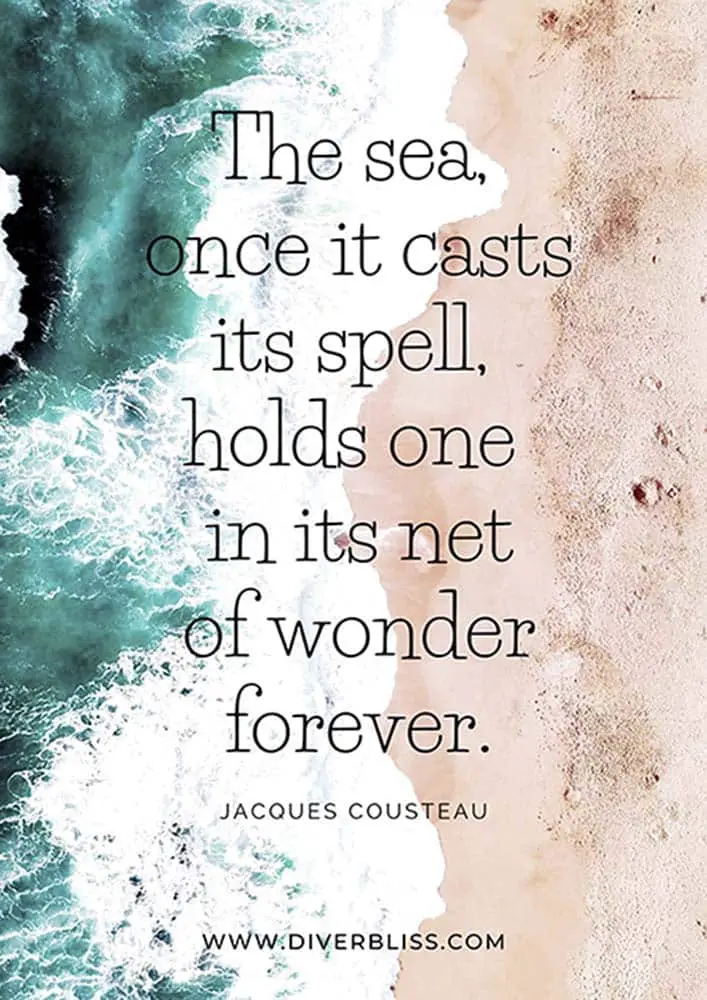 1. "When one man, for whatever reason, has the opportunity to lead an extraordinary life, he has no right to keep it to himself."- Jacques Cousteau
2. "The sea, once it casts its spell, holds one in its net of wonder forever."- Jacques Cousteau
3. "The best way to observe a fish is to become a fish."- Jacques Cousteau
4. "A lot of people attack the sea. I make love to it."- Jacques Cousteau
5. "Mankind has probably done more damage to the Earth in the 20th century than in all of previous human history."- Jacques Cousteau
6. "The sea, the great unifier, is man's only hope. Now, as never before, the old phrase has a literal meaning: we are all in the same boat."- Jacques Cousteau
7. "The happiness of the bee and the dolphin is to exist. For man it is to know that and to wonder at it."- Jacques Cousteau
8. "No aquarium, no tank in a marine land, however spacious it may be, can begin to duplicate the conditions of the sea. And no dolphin who inhabits one of those aquariums or one of those marine lands can be considered normal."- Jacques Cousteau
9. "From birth, man carries the weight of gravity on his shoulders. He is bolted to earth. But man has only to sink beneath the surface and he is free."- Jacques Cousteau
10. "People protect what they love."- Jacques Cousteau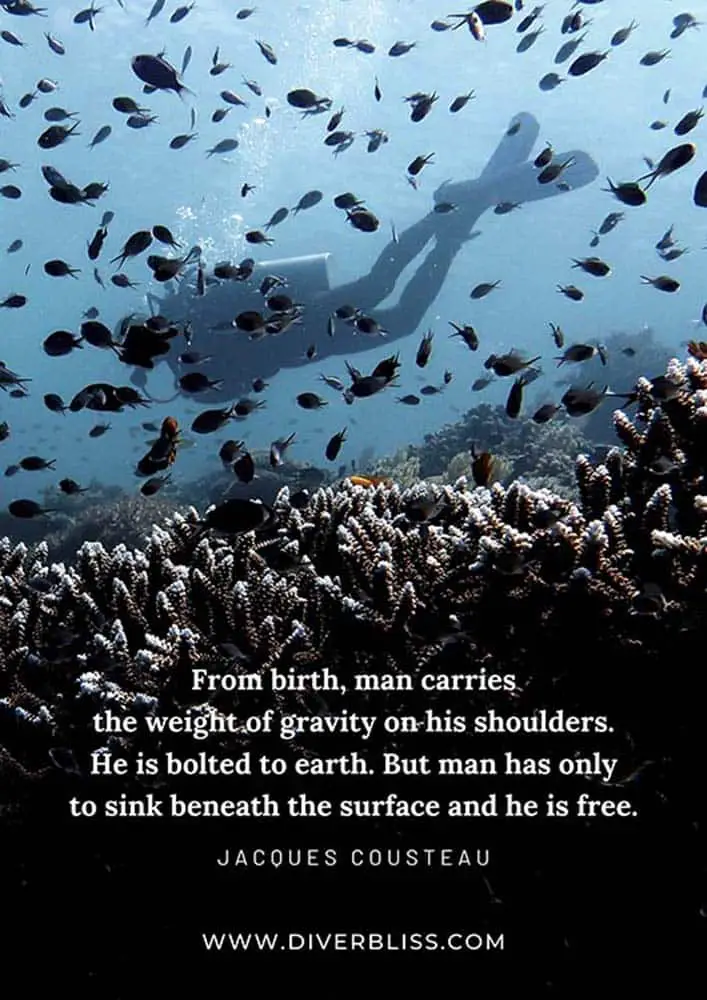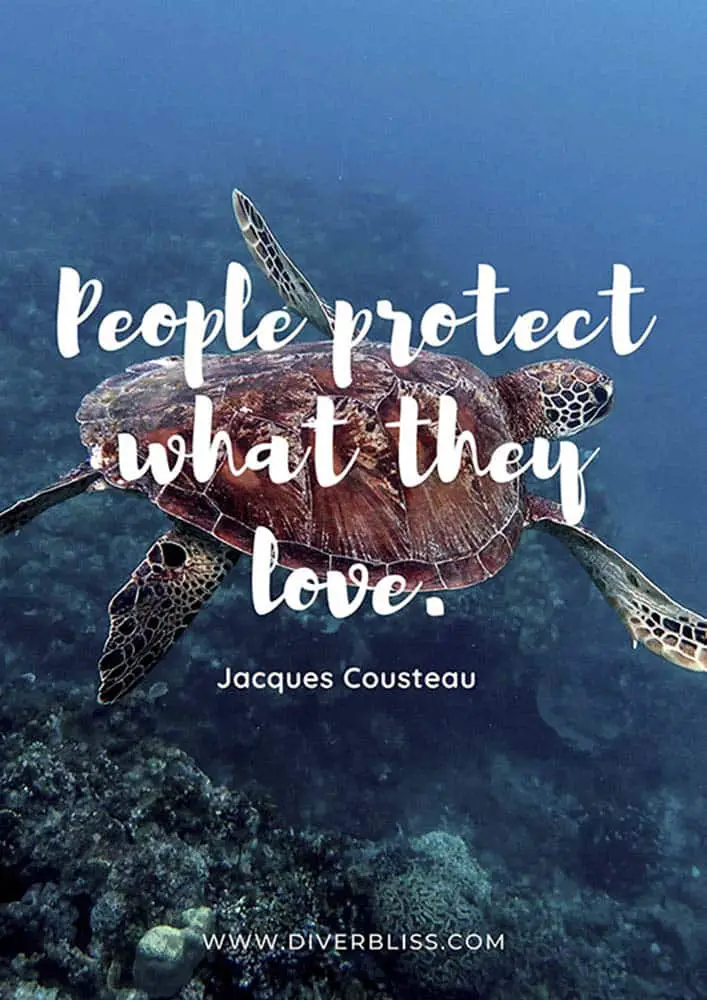 Sylvia Earle Quotes
Sylvia Earle is another renowned marine biologist and oceanographer.
At a time when women were just beginning to enter the scientific fields, Sylvia Earle led an all-female team of aquanauts as part of a study to explore the viability of deepwater habitats and the health effects of living in underwater structures. This experiment captured the attention of scientists and non-scientists alike since the project was originally handled by an all-male crew.
Aside from being a pioneer in the use of modern self-contained underwater breathing apparatus also known as SCUBA, she also took part in designing a Deep Rover, a submersible vehicle capable of reaching 3000 feet beneath the surface of the ocean.
Over the span of her career, she led numerous undersea expeditions and has written hundreds of scientific papers. Her books and documentaries continue to raise awareness of the threats that overfishing and pollution
Her contribution to science and the ocean is simply outstanding and here are some of my favorite quotes that continue to inspire many female scientists, divers, explorers and conservationists around the world!
Here are some famous Sylvia Earle quotes that would be great to use for you scuba diving Instagram captions.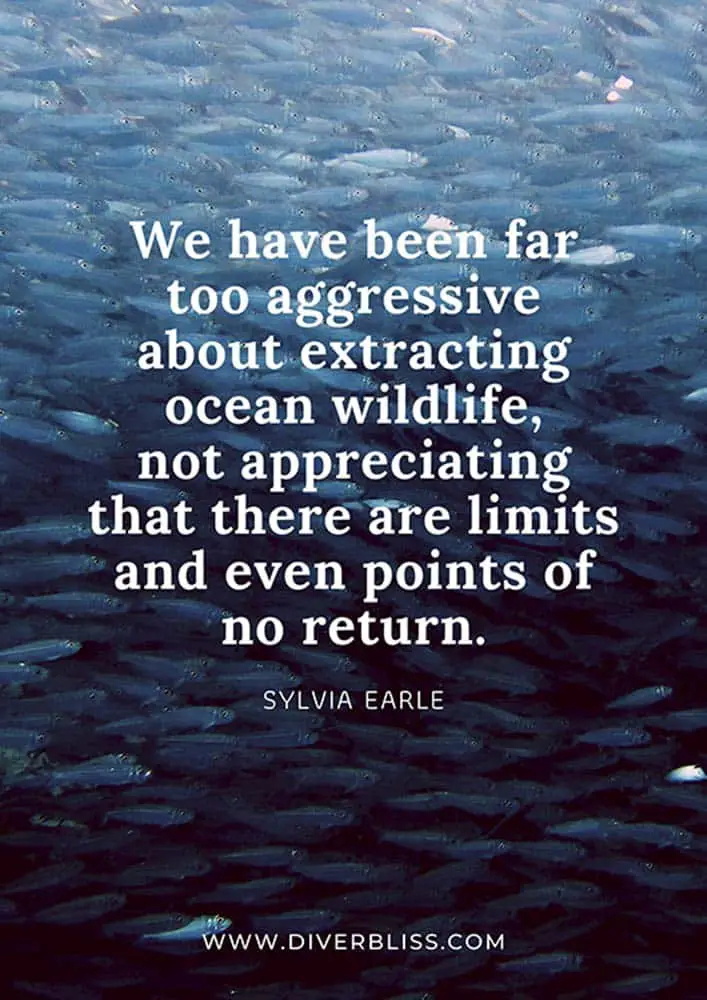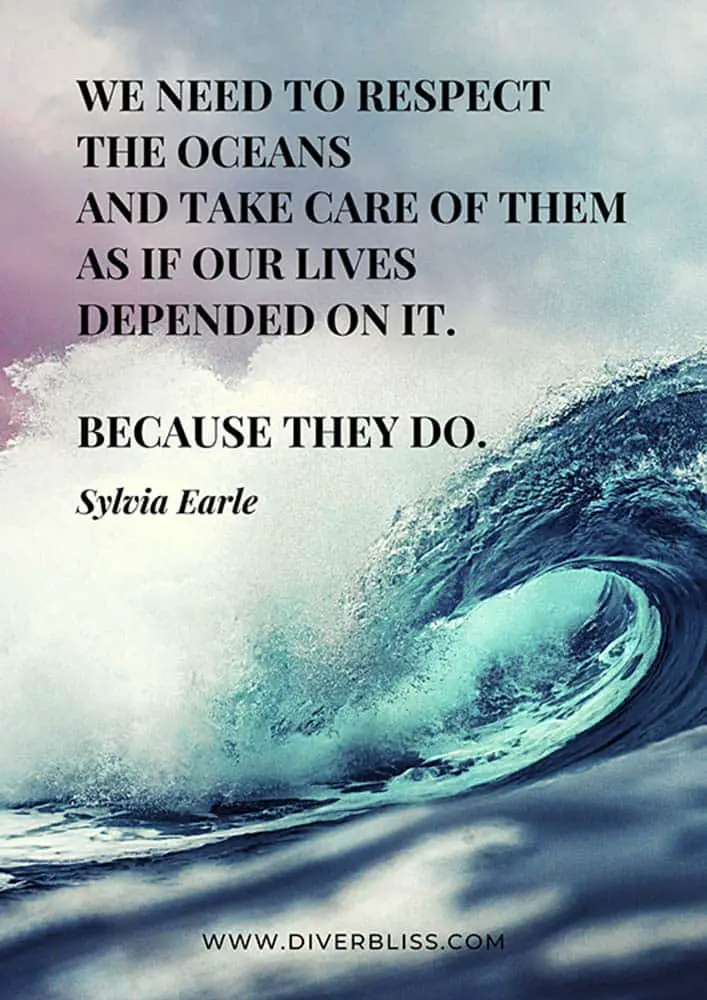 11. "We have been far too aggressive about extracting ocean wildlife, not appreciating that there are limits and even points of no return." – Sylvia Earle
12. "We need to respect the oceans and take care of them as if our lives depended on it. Because they do." – Sylvia Earle
13. "I hope for your help to explore and protect the wild ocean in ways that will restore the health and, in so doing, secure hope for humankind." – Sylvia Earle
14. "Why is it that scuba divers and surfers are some of the strongest advocates of ocean conservation? Because they've spent time in and around the ocean, and they've personally seen the beauty, the fragility, and even the degradation of our planet's blue heart." – Sylvia Earle
15. "People ask: Why should I care about the ocean? Because the ocean is the cornerstone of earth's life support system, it shapes climate and weather. It holds most of life on earth. 97% of earth's water is there. It's the blue heart of the planet — we should take care of our heart. It's what makes life possible for us. We still have a really good chance to make things better than they are. They won't get better unless we take the action and inspire others to do the same thing. No one is without power. Everybody has the capacity to do something." – Sylvia Earle
16. "Health to the ocean means health for us." – Sylvia Earle
17. "I have lots of heroes: anyone and everyone who does whatever they can to leave the natural world better than they found it." – Sylvia Earle
18. "Hold up a mirror and ask yourself what you are capable of doing, and what you really care about. Then take the initiative – don't wait for someone else to ask you to act." – Sylvia Earle
19. "Far and away, the greatest threat to the ocean, and thus to ourselves, is ignorance. But we can do something about that." – Sylvia Earle
20. "Let's talk trash…. Only we humans make waste that nature can't digest." – Sylvia Earle
21. "With every drop of water you drink, every breath you take, you're connected to the sea. No matter where on Earth you live. Most of the oxygen in the atmosphere is generated by the sea." – Sylvia Earle
22. "The bottom line answer to the question about why biodiversity matters is fairly simple: The rest of the living world can get along without us, but we can't get along without them." – Sylvia Earle
23. "Every time I slip into the ocean, it's like going home." – Sylvia Earle
24. "I've had the joy of spending thousands of hours under the sea. I wish I could take people along to see what I see, and to know what I know." – Sylvia Earle
25. "Sharks are beautiful animals, and if you're lucky enough to see lots of them, that means that you're in a healthy ocean. You should be afraid if you are in the ocean and don't see sharks." – Sylvia Earle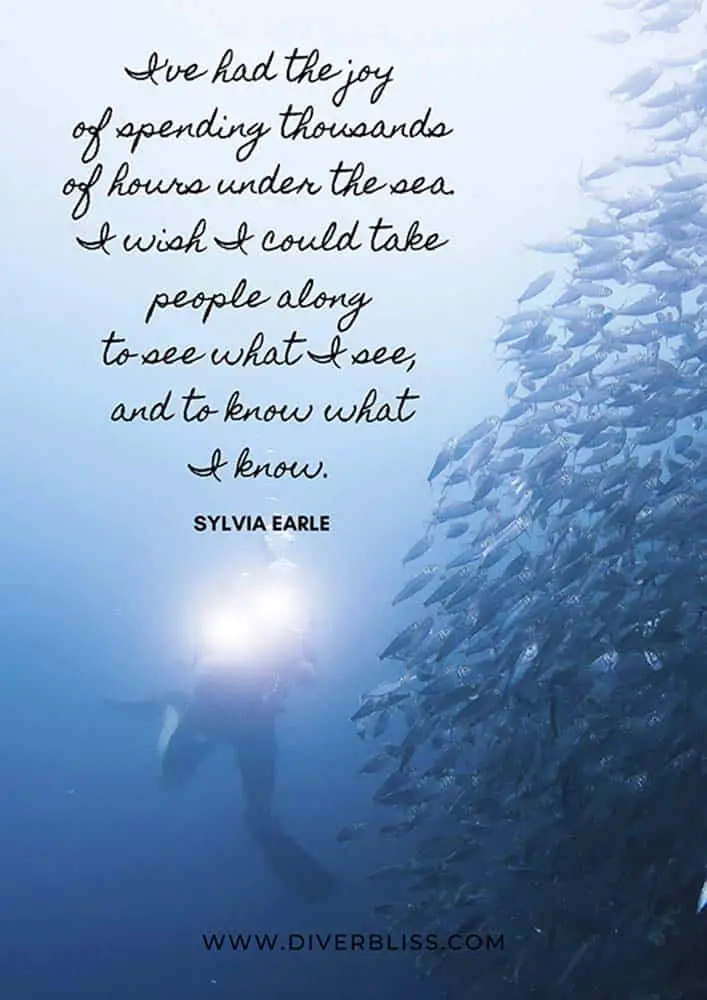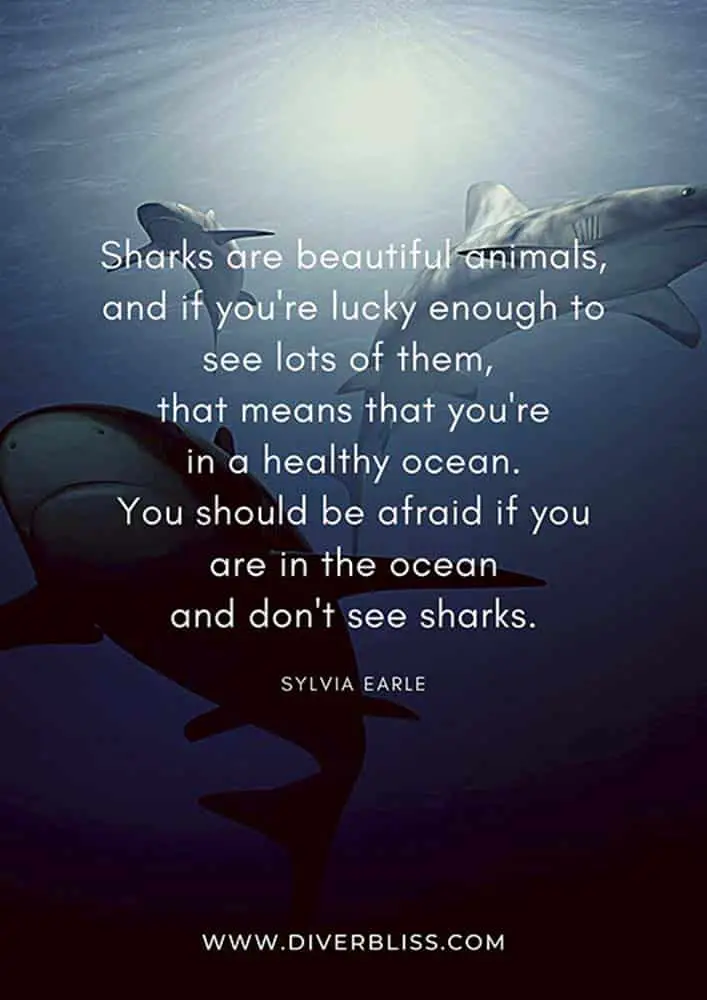 Scuba Diving Quotes
Here are more of the best scuba diving quotes that capture why divers love it and why you should experience it for yourself.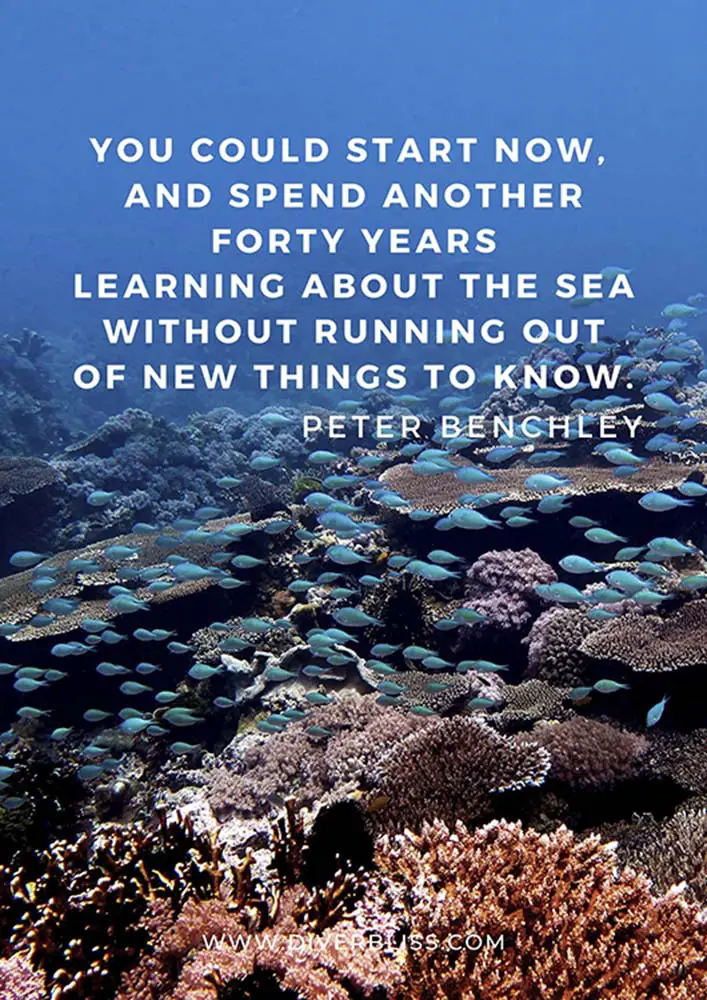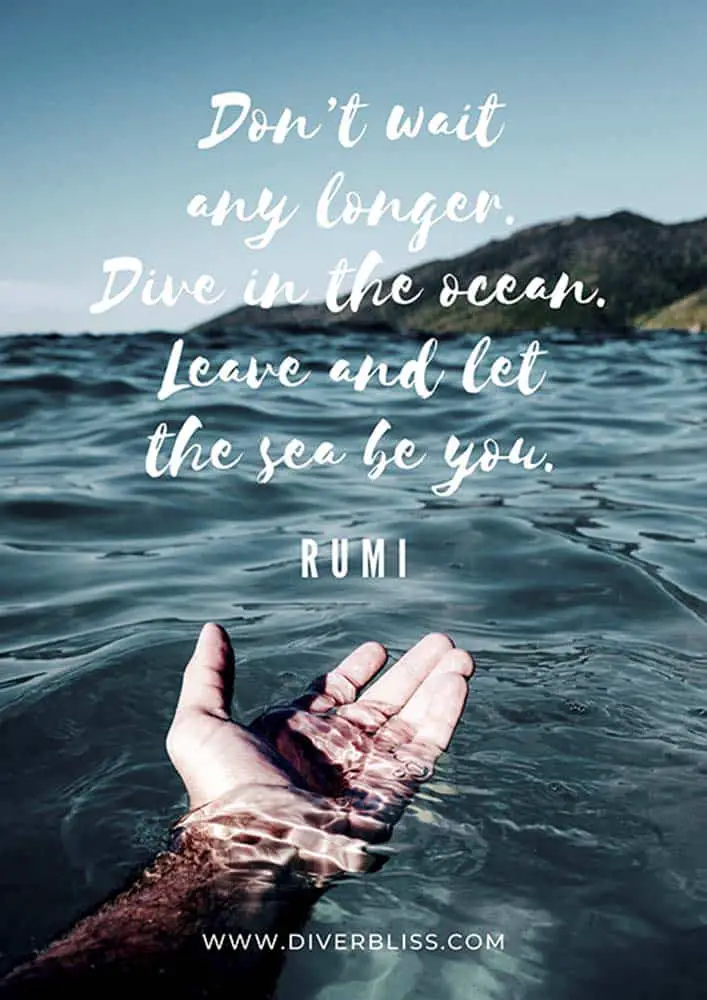 26. "You could start now, and spend another forty years learning about the sea without running out of new things to know." – Peter Benchley
27. "Don't wait any longer. Dive in the ocean, Leave and let the sea be you." ~ Rumi
28. "I do an awful lot of scuba diving. I love to be on the ocean, under the ocean. I live next to the ocean." – James Cameron
29. "I can mention many moments that were unforgettable and revelatory. But the most single revelatory three minutes was the first time I put on scuba gear and dived on a coral reef. It's just the unbelievable fact that you can move in three dimensions."- Sir David Attenborough
30. "There's nothing wrong with enjoying looking at the surface of the ocean itself, except that when you finally see what goes on underwater, you realized that you've been missing the whole point of the ocean."- Dave Barry
Level up your Instagram game by adding hashtags to your post! Here are 500 best hashtags for your scuba diving and ocean Instagram photos!
Ocean Quotes
For most scuba divers, the ocean is the source of their joy. Here are some of my favorite quotes that perfectly expresses my love for the ocean.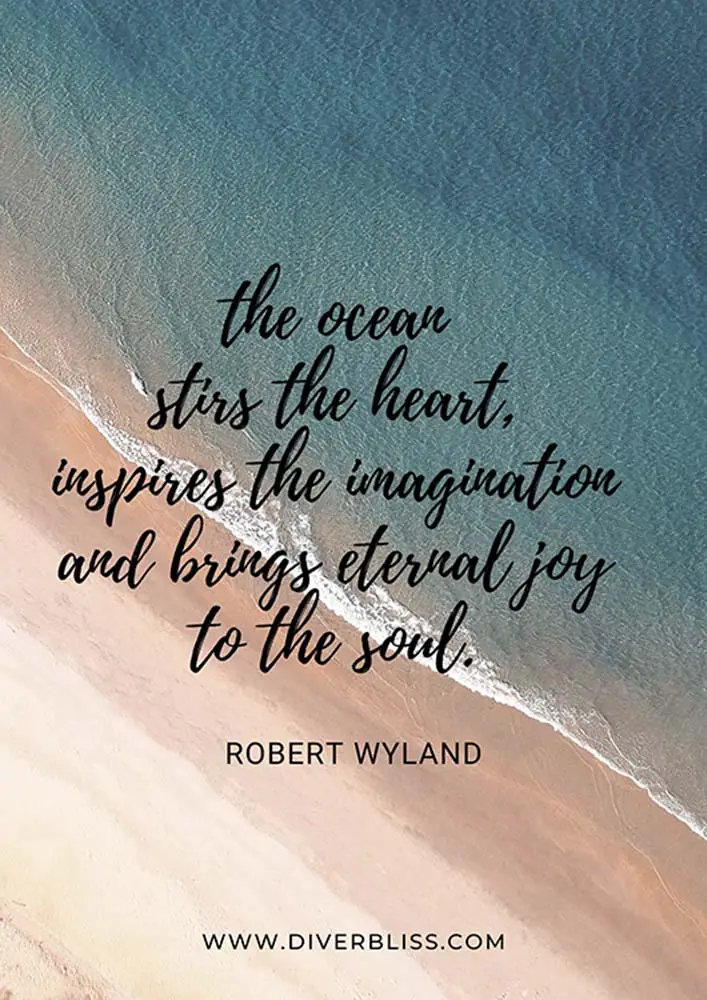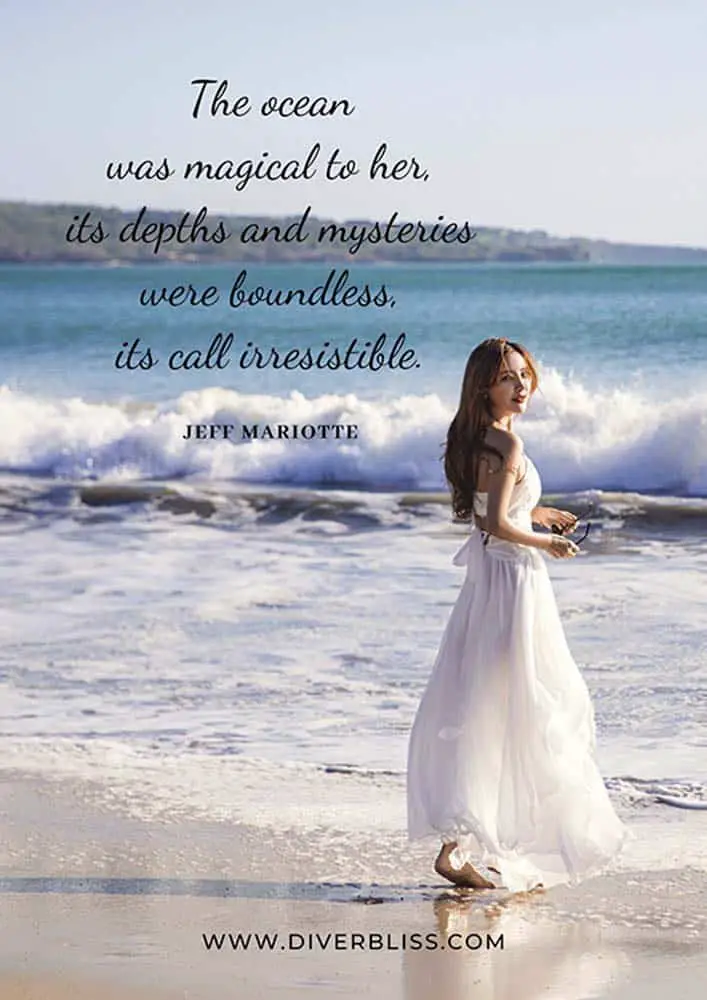 31. "The ocean stirs the heart, inspires the imagination and brings eternal joy to the soul"- Robert Wyland
32. "The ocean was magical to her, its depths and mysteries were boundless, its call irresistible." – Jeff Mariotte
33. "Either you decide to stay in the shallow end of the pool or you go out in the ocean." – Christopher Reeve
34. "We are tied to the ocean. And when we go back to the sea, whether it is to sail or to watch – we are going back from whence we came."- John F Kennedy
35. "The ocean makes me feel really small and it makes me put my whole life into perspective… it humbles you and makes you feel almost like you've been baptized. I feel born again when I get out of the ocean."- Beyoncé Knowles
36. "I love the ocean. I've always liked the blue, so tranquil and peaceful and gliding. And the fear of it."- Siouxsie Sioux
37. "In one drop of water are found all the secrets of all the oceans."- Kahlil Gibran
38. "Being out there in the ocean – God's creation – it's like a gift he has given us to enjoy."- Bethany Hamilton
39. "We ourselves feel that what we are doing is just a drop in the ocean. But the ocean would be less because of that missing drop."- Mother Teresa
40. "There's nothing more beautiful than the way the ocean refuses to stop kissing the shoreline, no matter how many times it's sent away."- Sarah Kay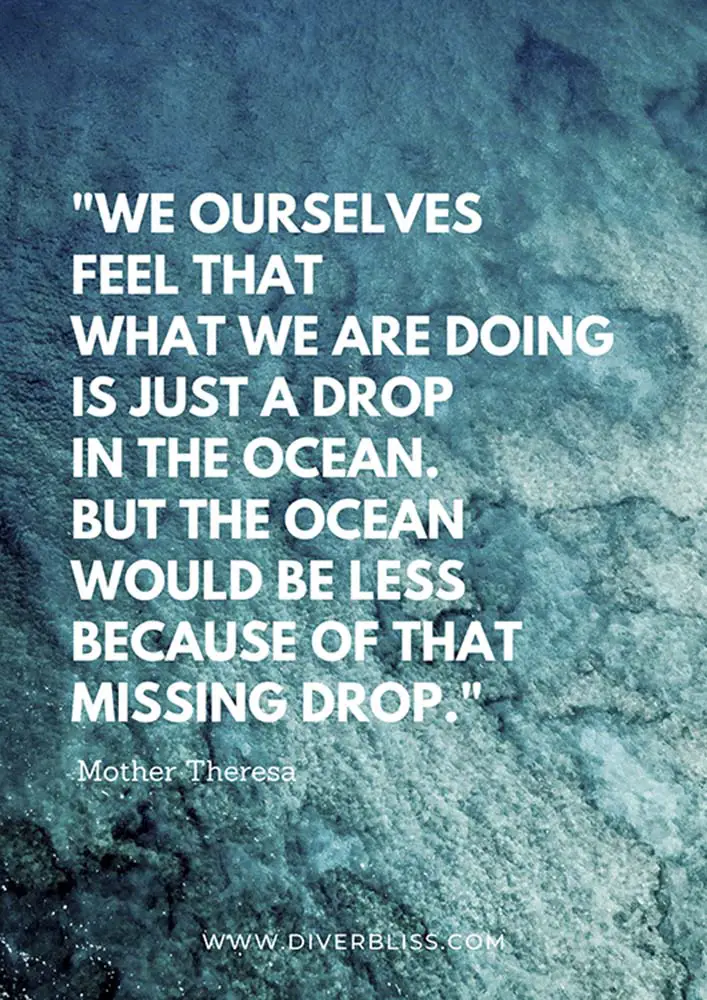 In need of some ocean inspiration, read this post on the 15 Amazing Women Underwater Photographers You Should Follow on Instagram
Sea Quotes
What is the difference between Ocean or Sea? If you ask me there really not much of a difference other than size. They both evoke emotions of serenity and bliss for me.
Here are more quotes about the sea that will be perfect Instagram captions for your scuba diving IG account.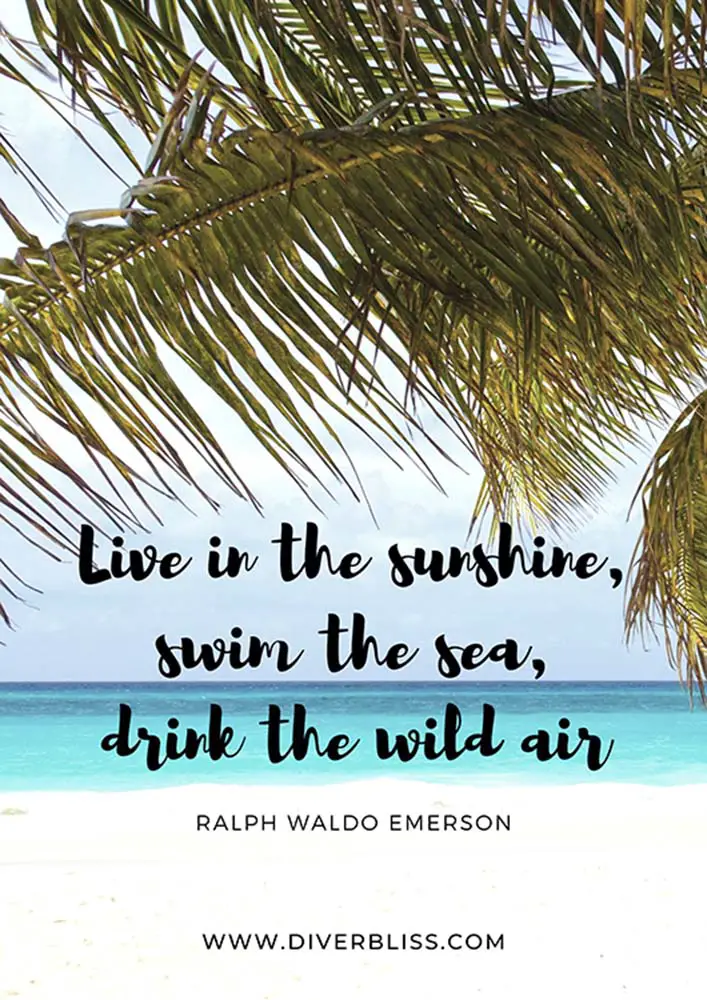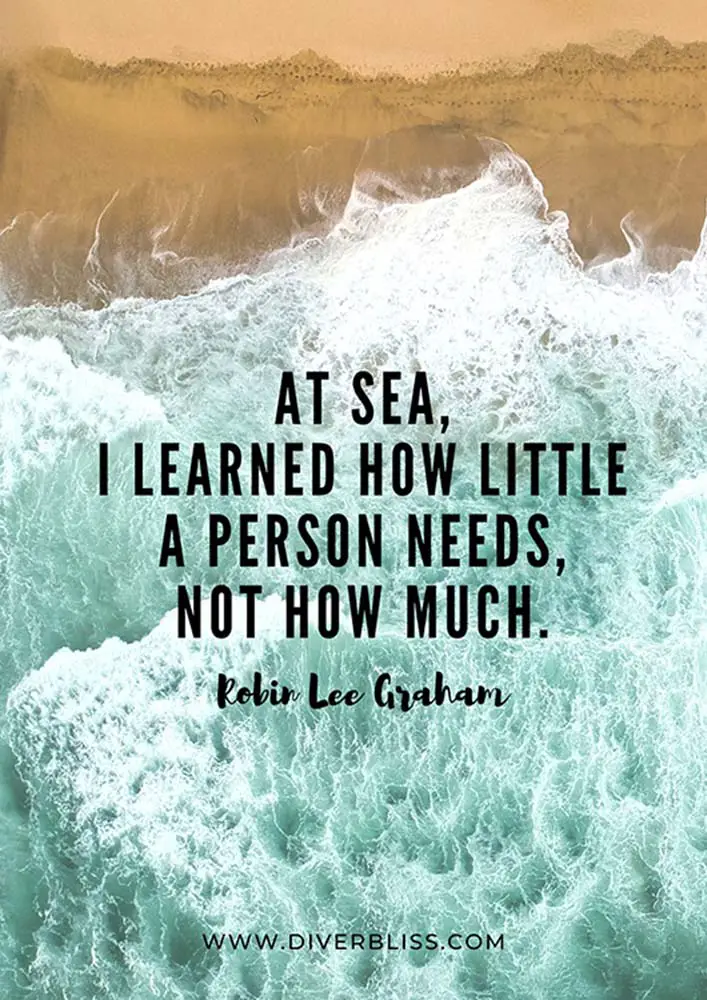 41. "Live in the sunshine, swim the sea, drink the wild air"- Ralph Waldo Emerson"
42. "At sea, I learned how little a person needs, not how much."- Robin Lee Graham
43. "Dance with the waves, move with the sea. Let the rhythm of the water set your soul free."- Christy Ann Martine.
44. "Be alone with the sea for it is there you will find answers to questions you didn't realize exist." – Khang Kijarro Nguyen
45. "The cure for anything is salt water: sweat, tears or the sea."- Isak Dinesen
46. "The sea is the only embodiment of a supernatural and wonderful existence"- Jules Verne
47. "For whatever we lose (like a you or a me), it's always ourselves we find in the sea."- E. E. Cummings
48. "Don't sit and wait. Get out there, feel life. Touch the sun, and immerse in the sea."- Rumi
49. "My soul is full of longing for the secret of the sea, and the heart of the great ocean sends a thrilling pulse through me."- Henry Wadsworth Longfellow
50. "It's out there at sea that you are really yourself."- Vito Dumas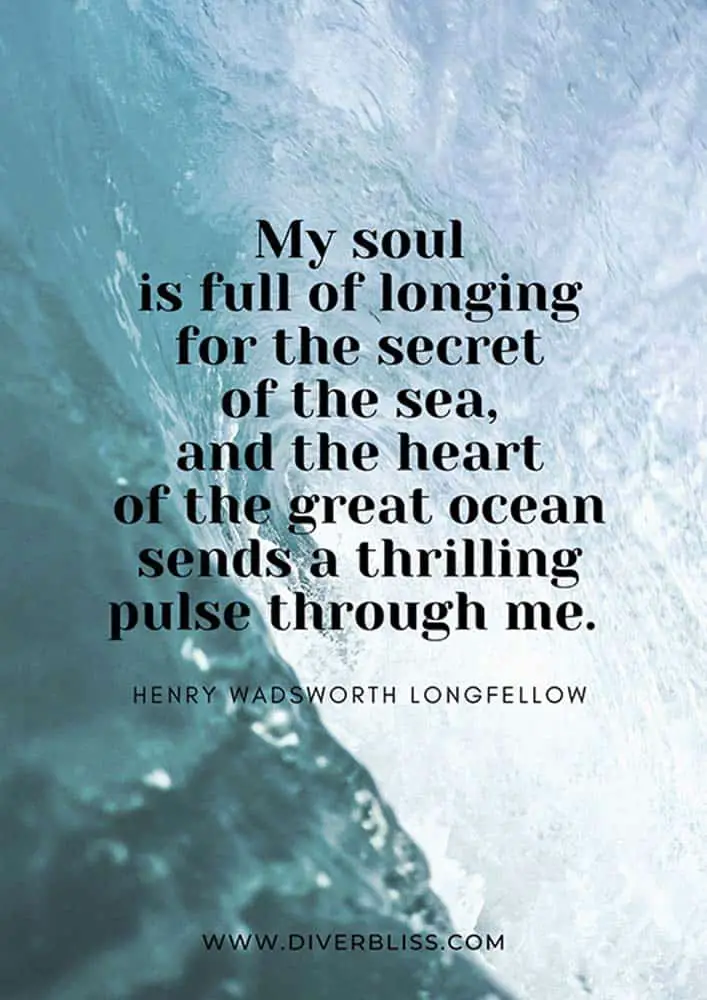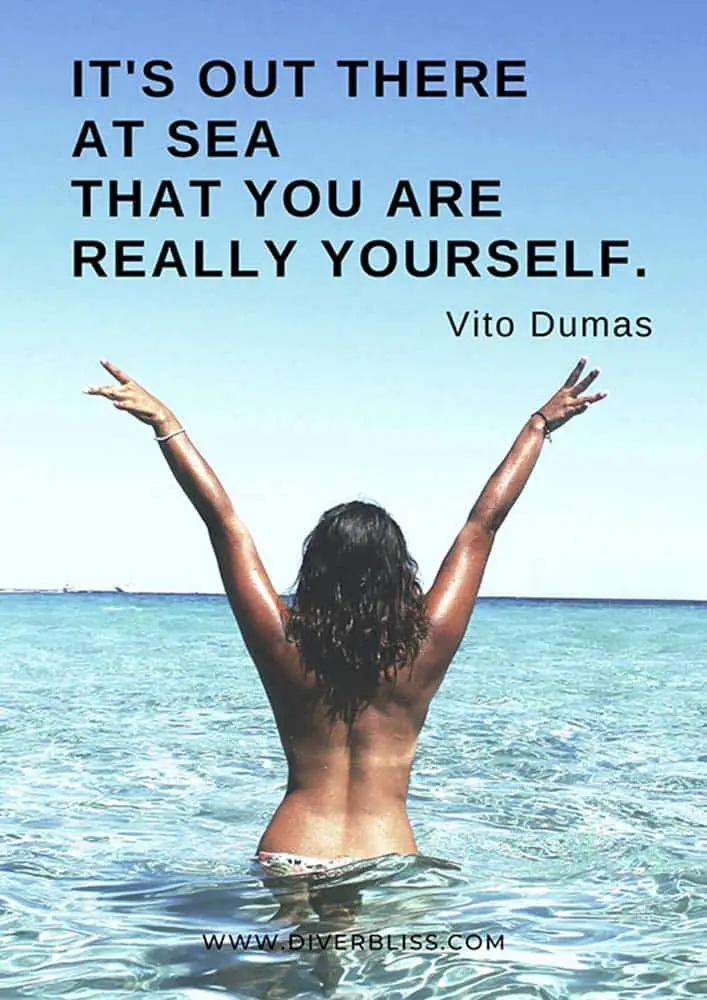 If you're looking for more captions for your ocean photos on Instagram or Facebook or Twitter, you can check out my post on 200+ Sea and Ocean Captions
Beach Quotes
Every ocean diver has at least one beach shot on their Instagram feed. After all, we all need to return home after a day of adventure out at the sea.
Here are some quotes that may fully express the wonderful things about being at the beach.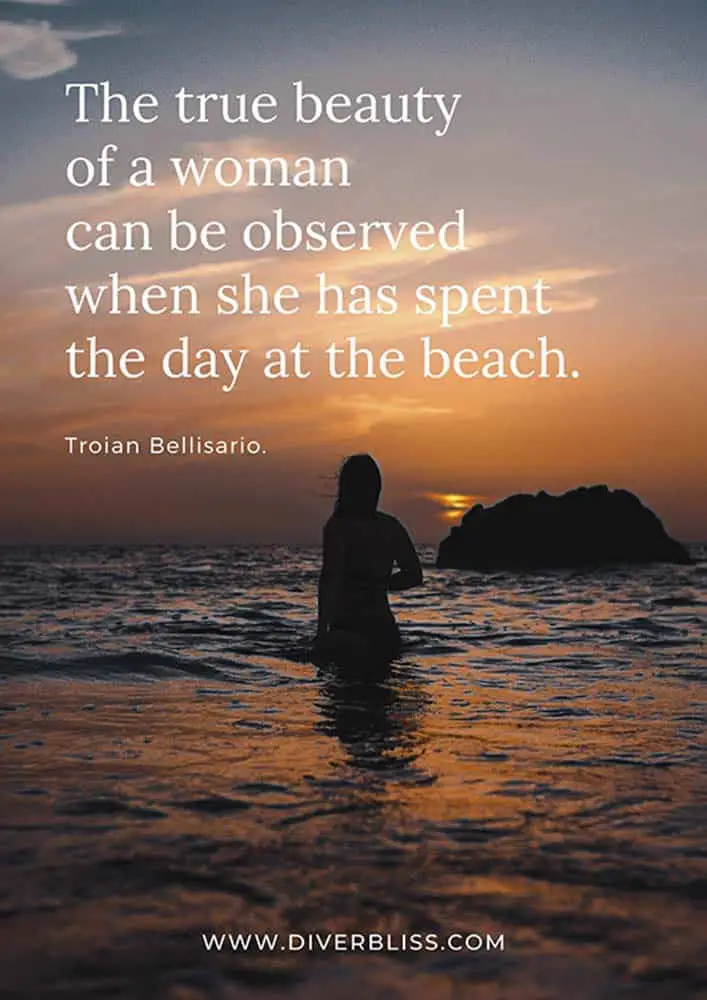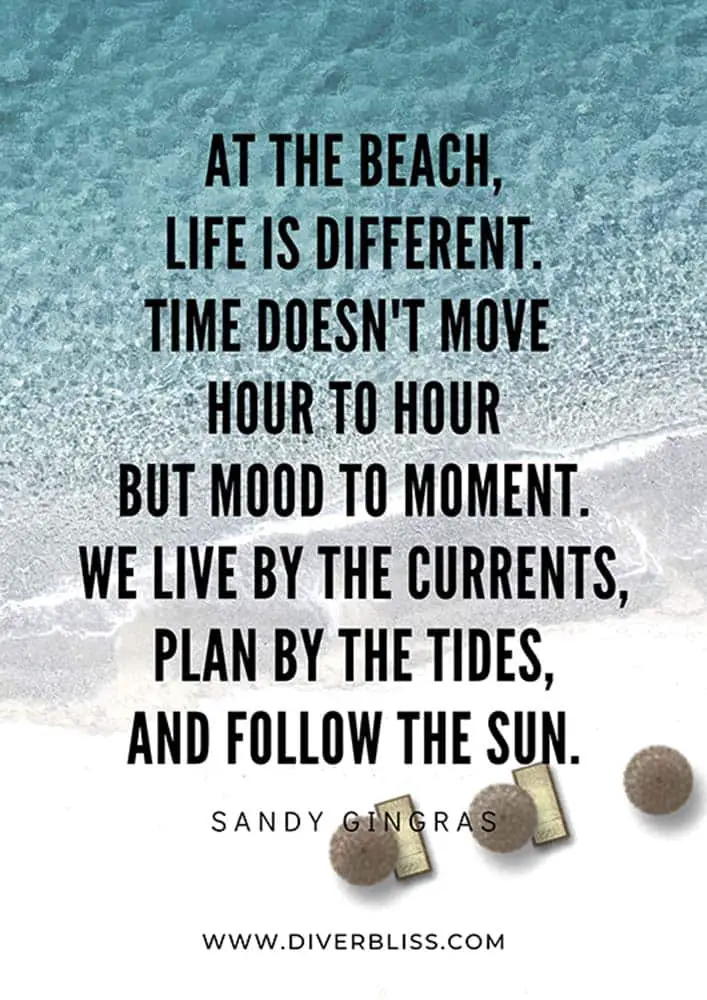 51. "The true beauty of a woman can be observed when she has spent the day at the beach."- Troian Bellisario
52. "At the beach, life is different. Time doesn't move hour to hour but mood to moment. We live by the currents, plan by the tides, and follow the sun."- Sandy Gingras
53. "It's hard for me to put into words why I like the beach so much. Everything about it is renewing for me, almost like therapy… Beach Therapy."- Amy Dykens
54. "The beach is not a place to work; to read, write or to think." – Anne Morrow Lindbergh
55. "Take time in a place you love, restore your spirit on the beach."- Luanne Rice.
56. "On the beach, you can live in happiness."- Dennis Wilson
57. "The beach is in our blood. Everyone in our family returns to the beach instinctively, just like the sea turtles."- Sandy Archibald
58. "Me, I still believe in paradise. But now at least I know its not some place you can look for because its not where you go.  It's how you feel for a moment in your life when you're a part of something and if you find that moment, it lasts forever."- Leonardo DiCaprio
59. "After a visit to the beach, it's hard to believe that we live in a material world."- Pam Shaw
60. "Don't grow up too quickly, lest you forget how much you love the beach."- Michelle Held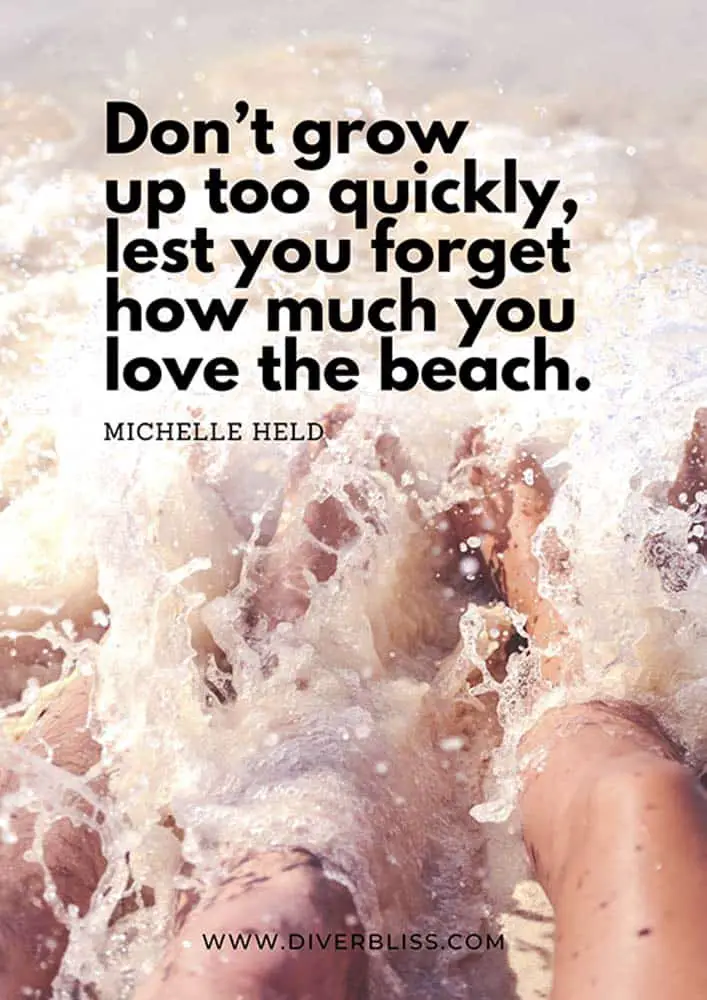 If you're looking for more captions for your beach photos, you can check out my post on 70+ Inspirational Beach Quotes and Instagram Captions
Sunset Quotes
I've always been a sunset-person. Since scuba divers often post beautiful sunset shots on Instagram, I thought it would be appropriate to share some of my favorite sunset quotes for you to enjoy as well!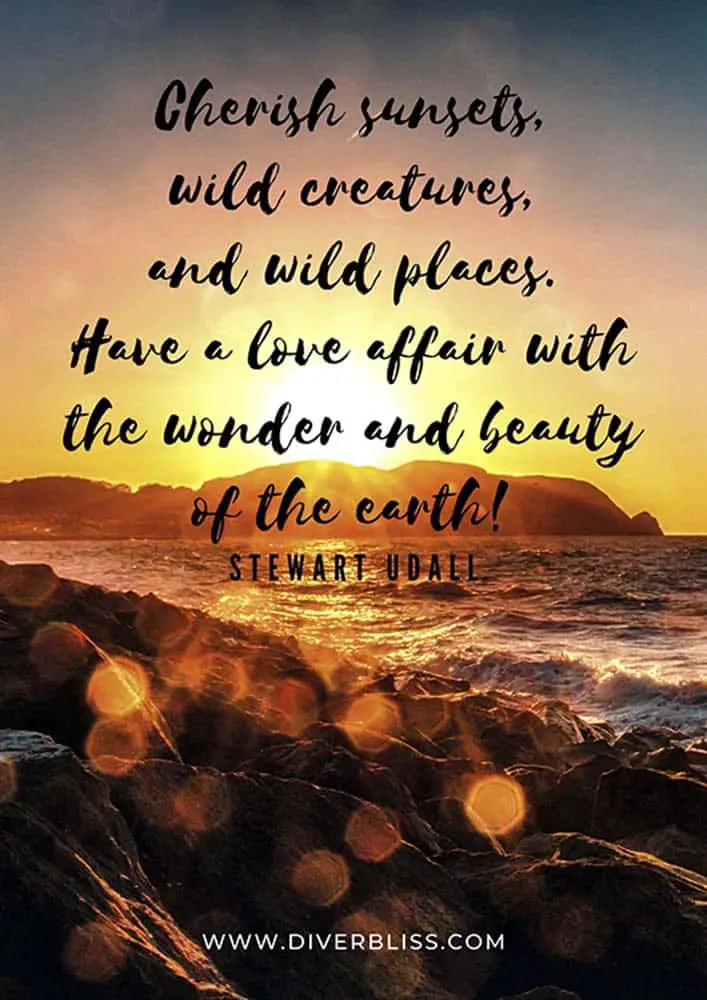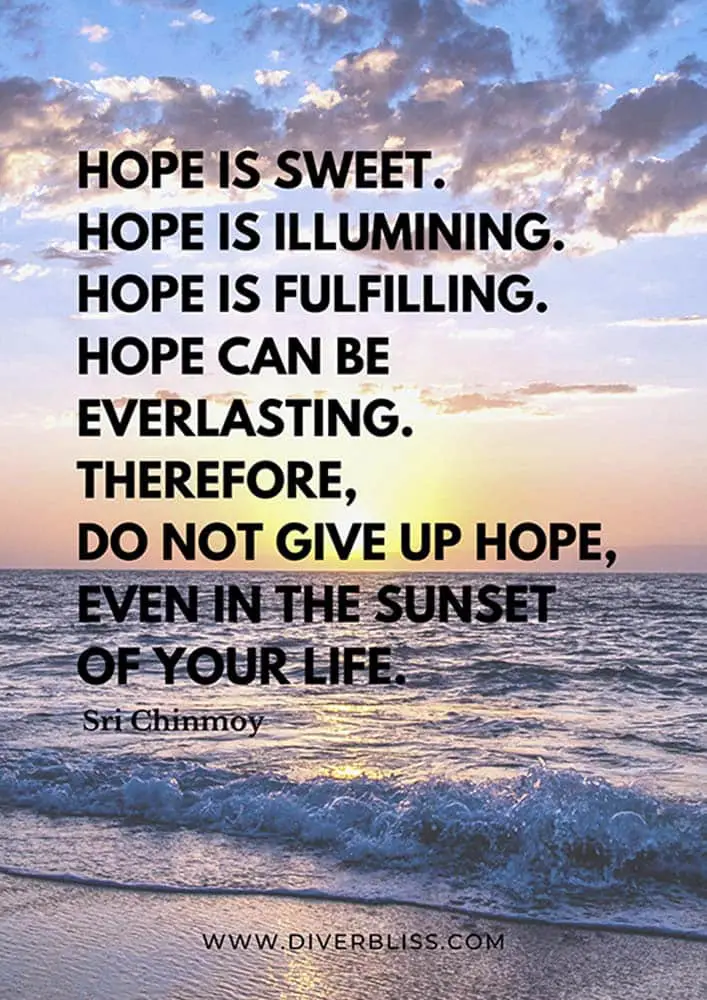 61. "Cherish sunsets, wild creatures, and wild places. Have a love affair with the wonder and beauty of the earth!"- Stewart Udall
62. "Hope is sweet. Hope is illumining. Hope is fulfilling. Hope can be everlasting. Therefore, do not give up hope, Even in the sunset of your life."- Sri Chinmoy
63. "Every sunset brings the promise of a new dawn"- Ralph Waldo Emerson.
64. "Every moment of life is unique-a kiss, a sunset, a dance, a joke. None will ever recur in quite the same way. Each happens only once in the history of the universe."- Stephen Nachmanovitch
65. "No sun outlasts its sunset, but will rise again and bring the dawn."- Maya Angelou
66. "God is always seeking you. Every sunset. Every clear blue sky. Each ocean wave. The starry hosts of night. He blankets each new day with the invitation, 'I am here.'"- Louie Giglio
67. "That a day spent with dreaming and sunsets and refreshing breezes cannot be bettered."- Nicholas Sparks
68. "There's a sunrise and a sunset every single day, and they're absolutely free. Don't miss so many of them."- Jo Walton
69. "Sunsets are my escape into the reality I want to continuously live." ~ Rachel Roy 
70. "It is almost impossible to watch a sunset and not dream."- Bernard Williams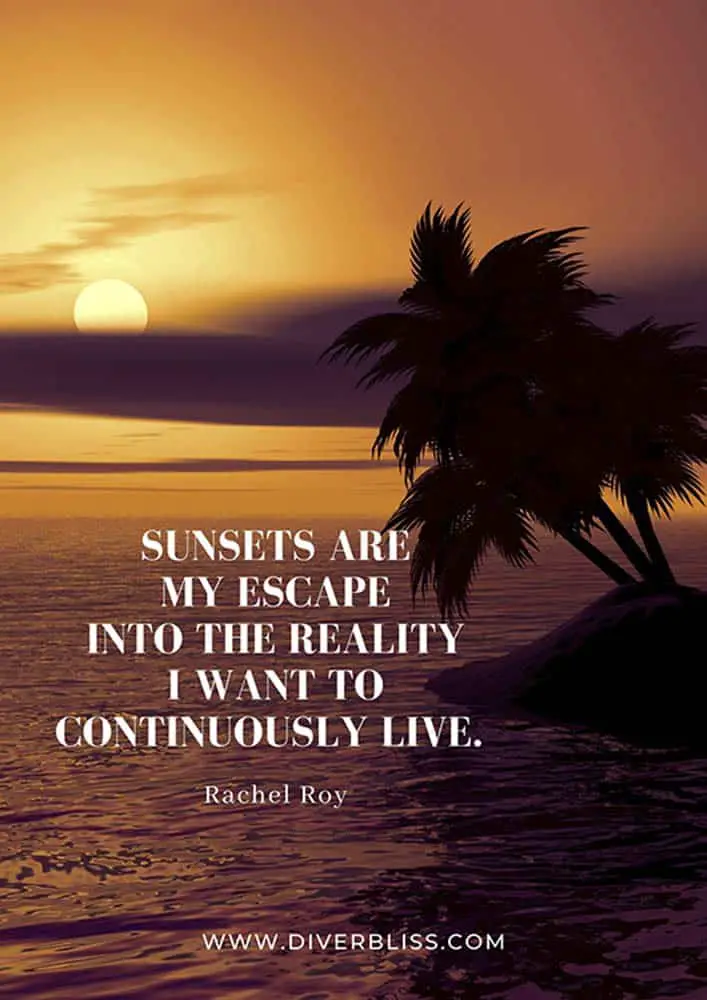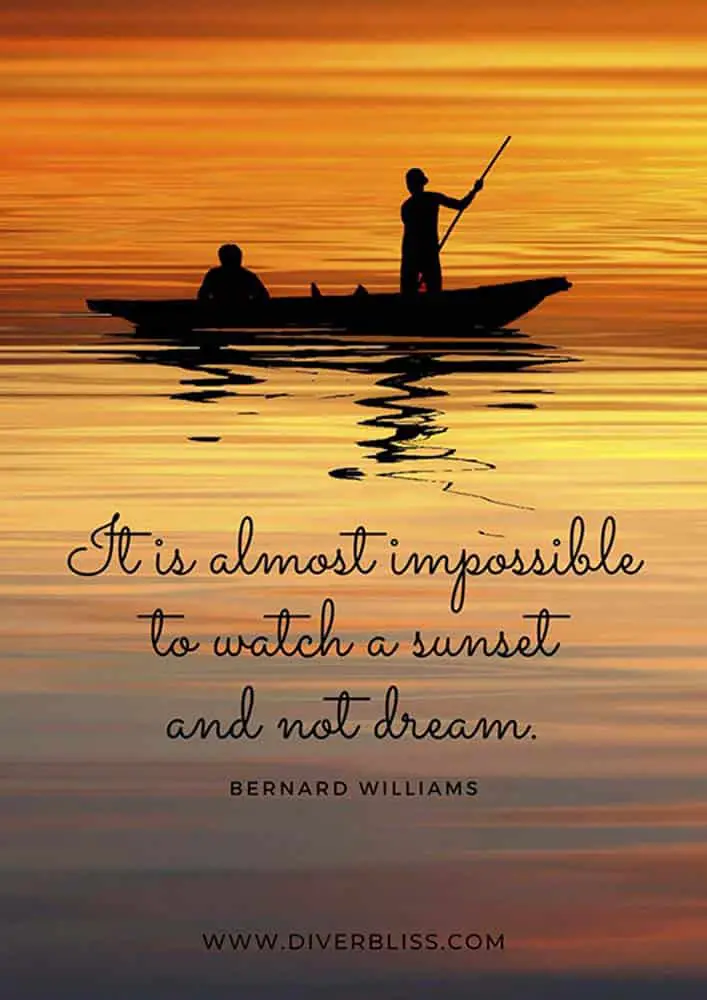 Do you need help with your Instagram engagement? Increase interactions with your followers by using IG stories. Here are some examples of IG Story Game Templates you can use on your Instagram account!
Travel Quotes
Travel and diving go hand in hand so it's only appropriate to include some of my favorite travel quotes that can easily be applicable to diving. These travel and diving quotes inspire me to be brave, take risks and just go for it!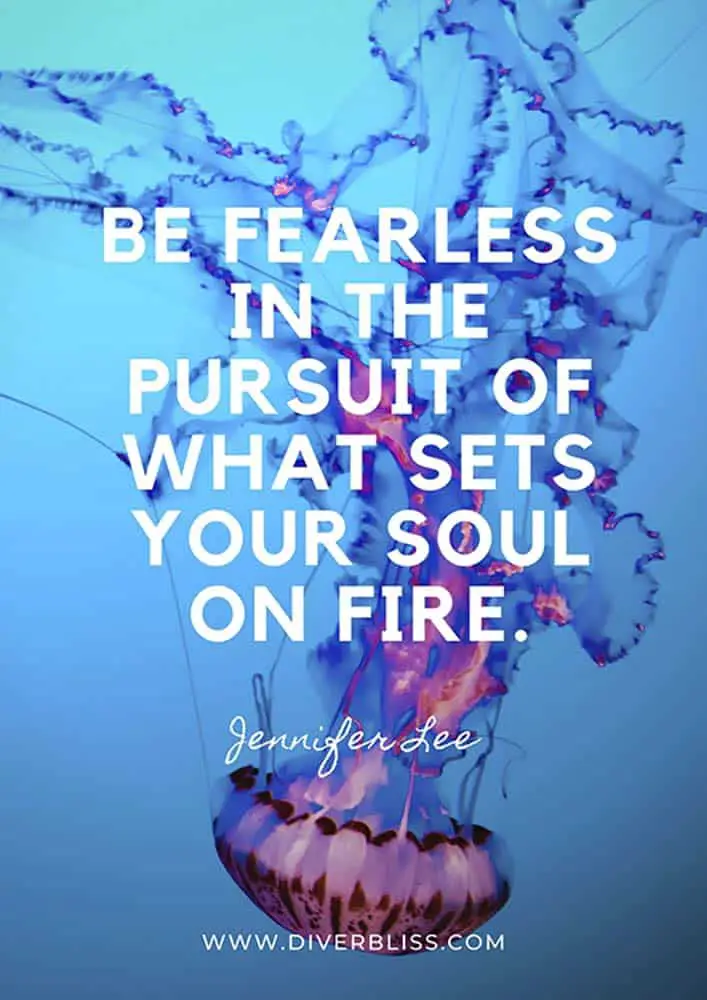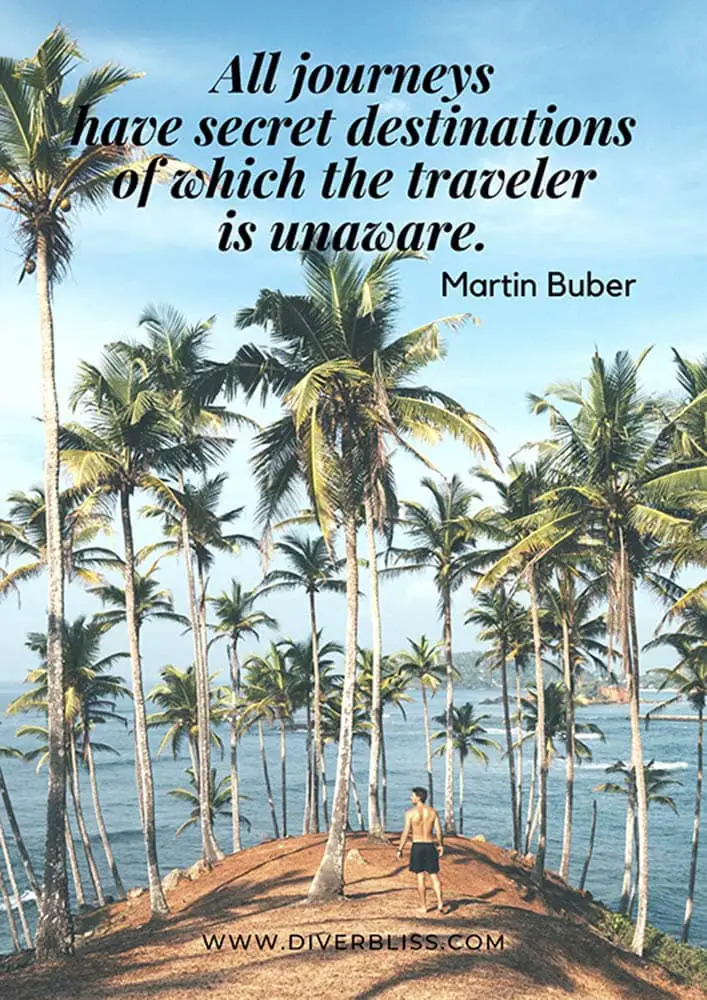 71. "Be fearless in the pursuit of what sets your soul on fire." – Jennifer Lee
72. "All journeys have secret destinations of which the traveler is unaware." – Martin Buber
73. "The life you have led doesn't need to be the only life you have." – Anna Quindlen
74. "Happiness is letting go of what you think your life is supposed to look like and celebrate it for everything that it is." -Mandy Hale
75. "One's destination is never a place, but a new way of seeing things." -Henry Miller
76. "Man cannot discover new oceans unless he has the courage to lose sight of the shore." – Andre Gide
77. "Wherever you go, go with all your heart!" -Confucius
78. "Once a year, go someplace you've never been before." – Dalai Lama
79. "Life is either a daring adventure or nothing at all." -Helen Keller
80. "Take only memories, leave only footprints." -Chief Seattle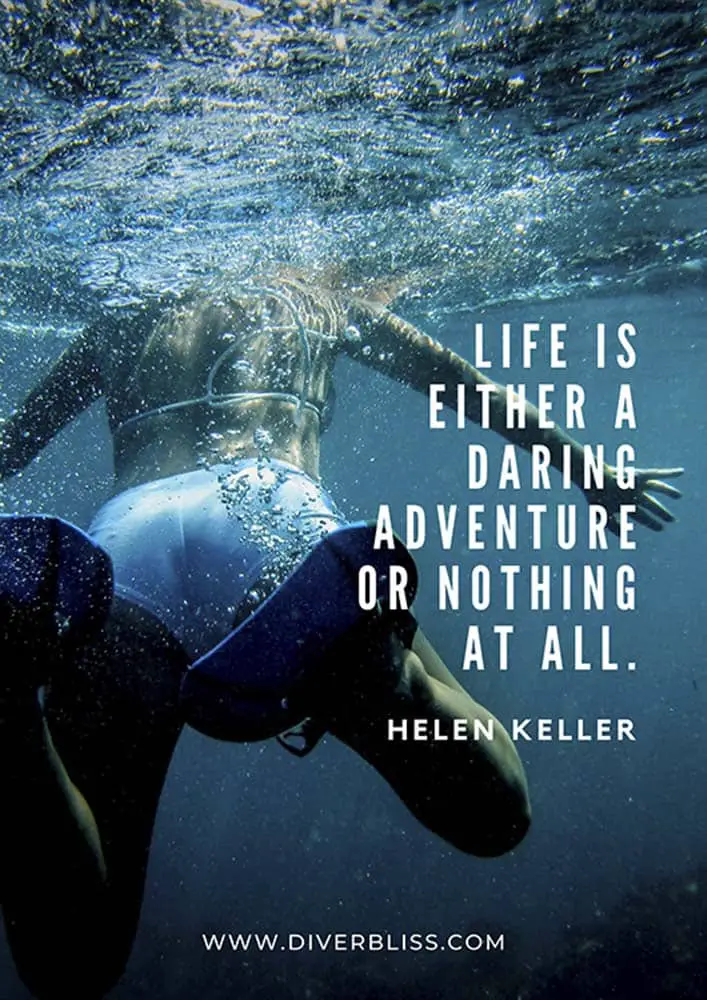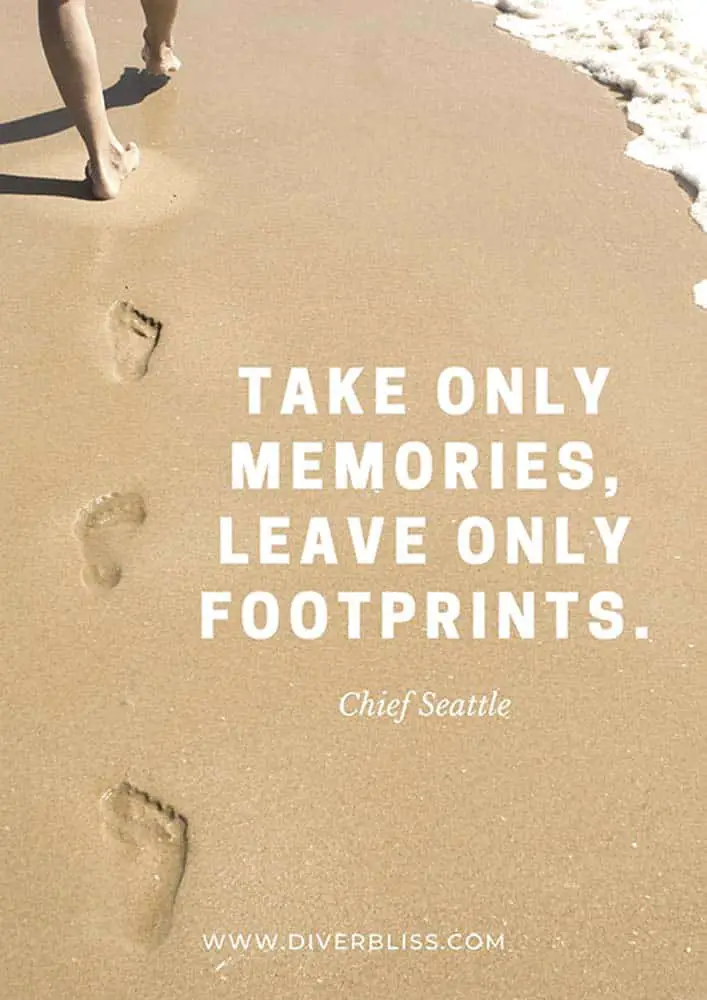 Not exactly what you are looking for? Here are some funny travel quotes.
Ocean Conservation Quotes
To rephrase Sylvia Earle, scuba divers are some of the strongest advocates of ocean conservation because we've spent so much time in it and we've personally seen the beauty as well as the degradation of it.
I've always believed in using social media for good and as a scuba diver, I always bring up the importance of saving our oceans. Here are some ocean conservation quotes which you can use as your Instagram caption to inspire others to support your advocacy.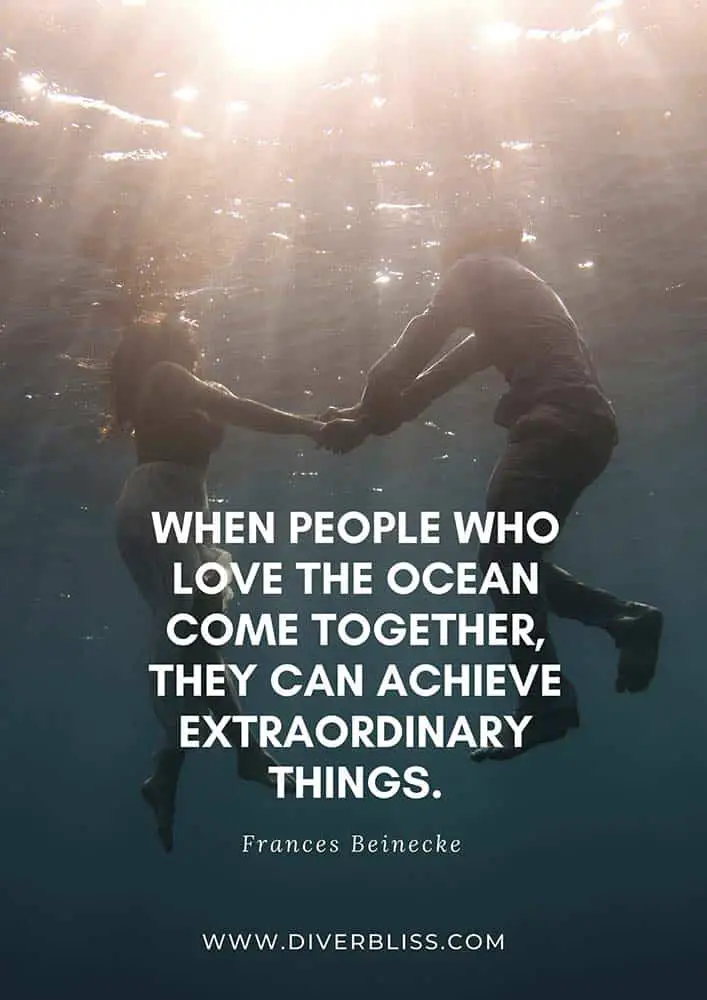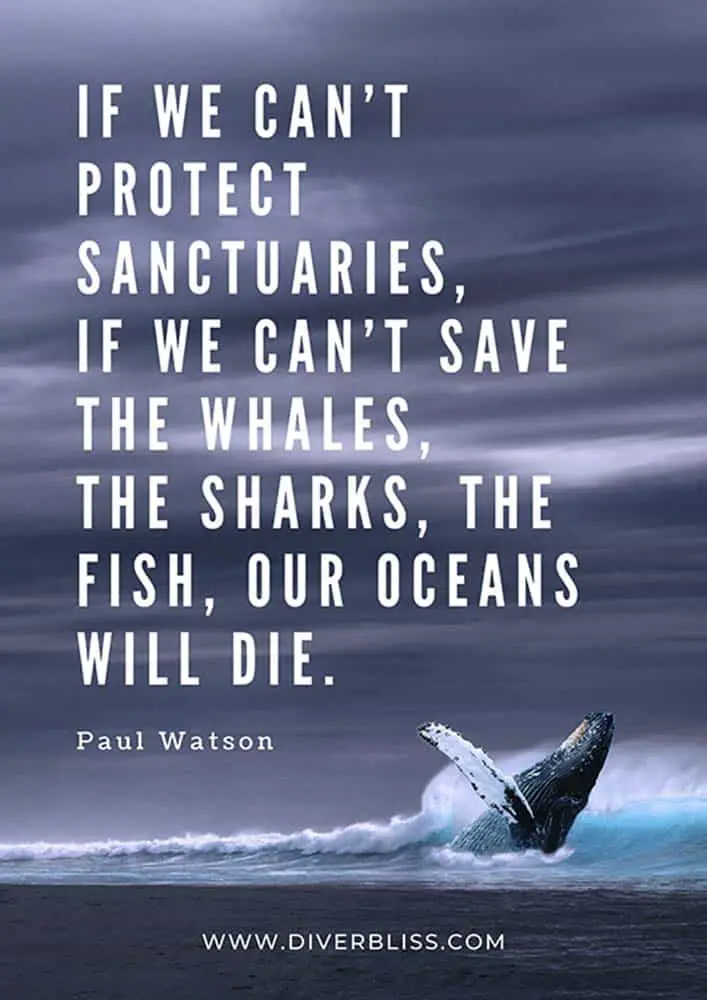 81. "When people who love the ocean come together, they can achieve extraordinary things." – Frances Beinecke
82. "My position is this. If we can't protect sanctuaries, if we can't save the whales, the sharks, the fish, our oceans will die." – Paul Watson
83. "I'm hopeful that we'll be able to study the ocean before we destroy it." – James Cameron
84. "The Earth should not be a worse place after my life than it was when I was born here." – Rob Stewart
85. "I had fought on behalf of man against the sea, but I realized that it had become more urgent to fight on behalf of the sea against men." – Alain Bombard
86. It is, surely, our responsibility to do everything within our power to create a planet that provides a home not just for us, but for all life on Earth." – Sir David Attenborough
87. "We are living on the planet as if we have another one to go to." – Terry Swearingen
88. "We don't have to engage in grand, heroic actions to participate in change. Small acts, when multiplied by millions of people, can transform the world." – Howard Zinn
89. "There is simply no issue more important. Conservation is the preservation of human life on earth, and that, above all else, is worth fighting for." – Rob Stewart
90. "Each one of us can make a difference. Together we can make a change." – Barbara Mikulski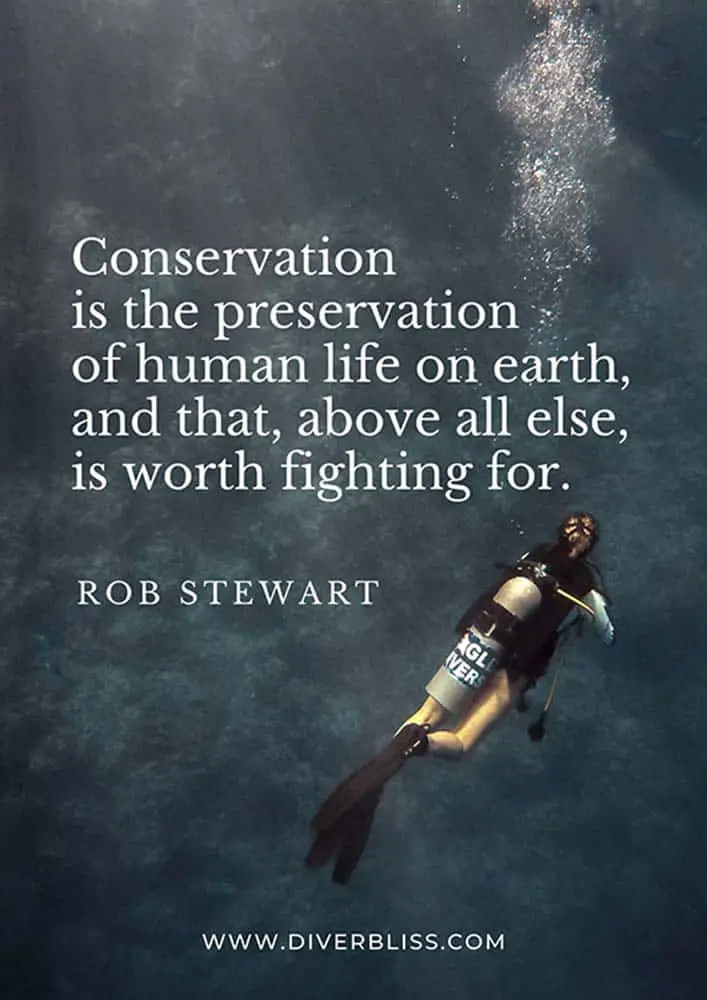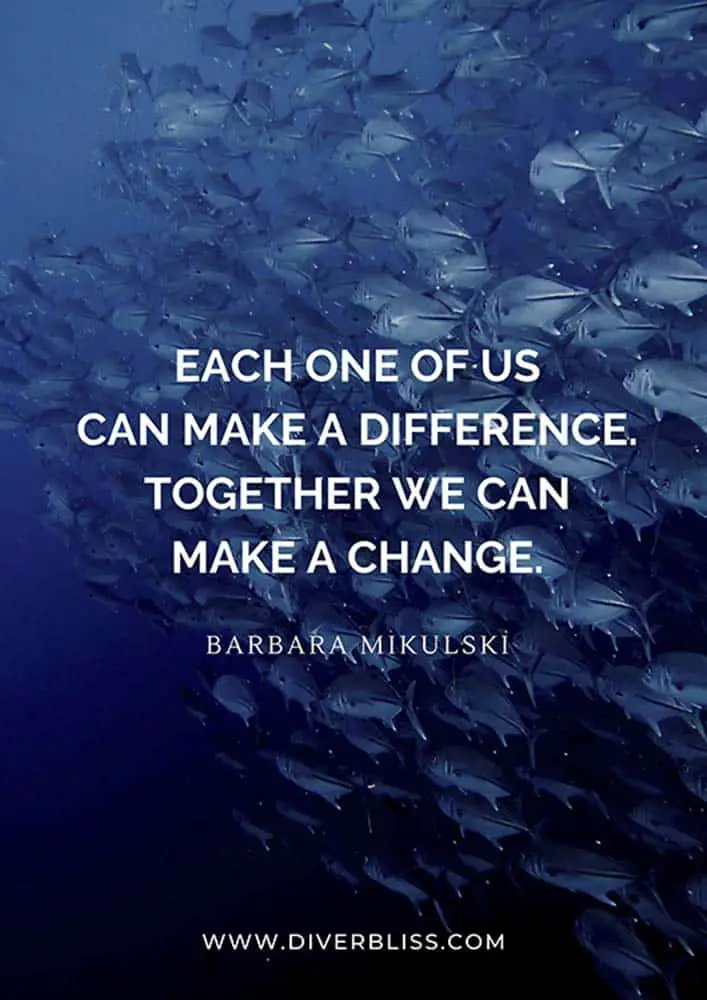 Plastic Pollution Quotes
As a scuba diver who encounters a lot of plastic trash underwater, part of my personal advocacy is to create awareness about it. Once in a while, I post not only pretty pictures from my dives but also post about the damages that plastic pollution has on our ocean.
If you want to do the same, here are some of my favorite plastic pollution quotes, perfectly worded by conservationists, environmentalists, authors about our plastic problems todays.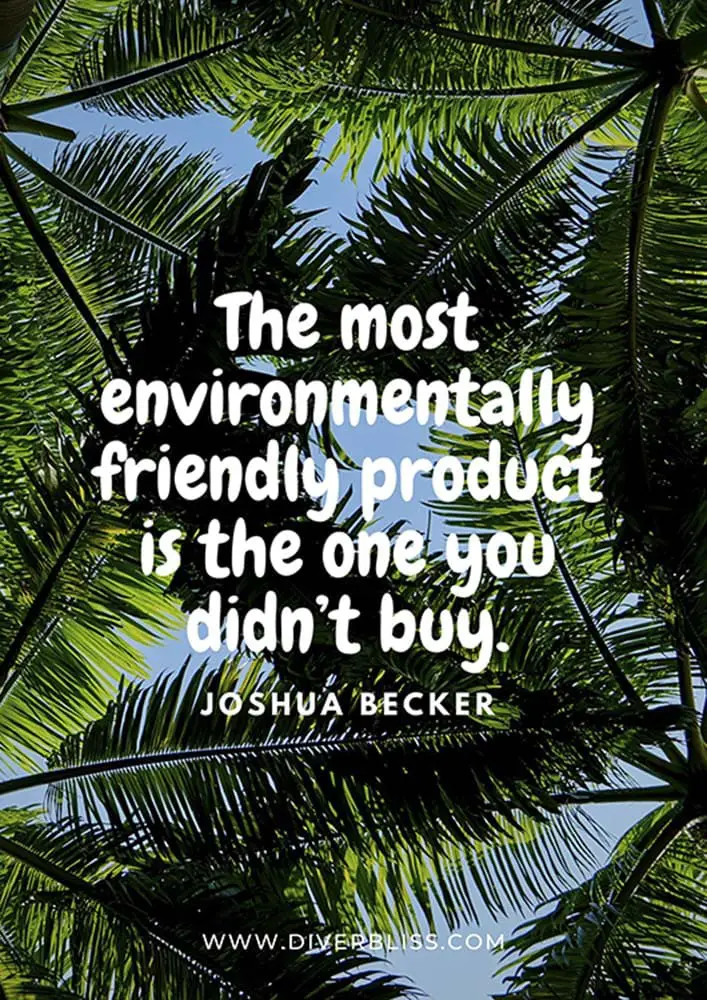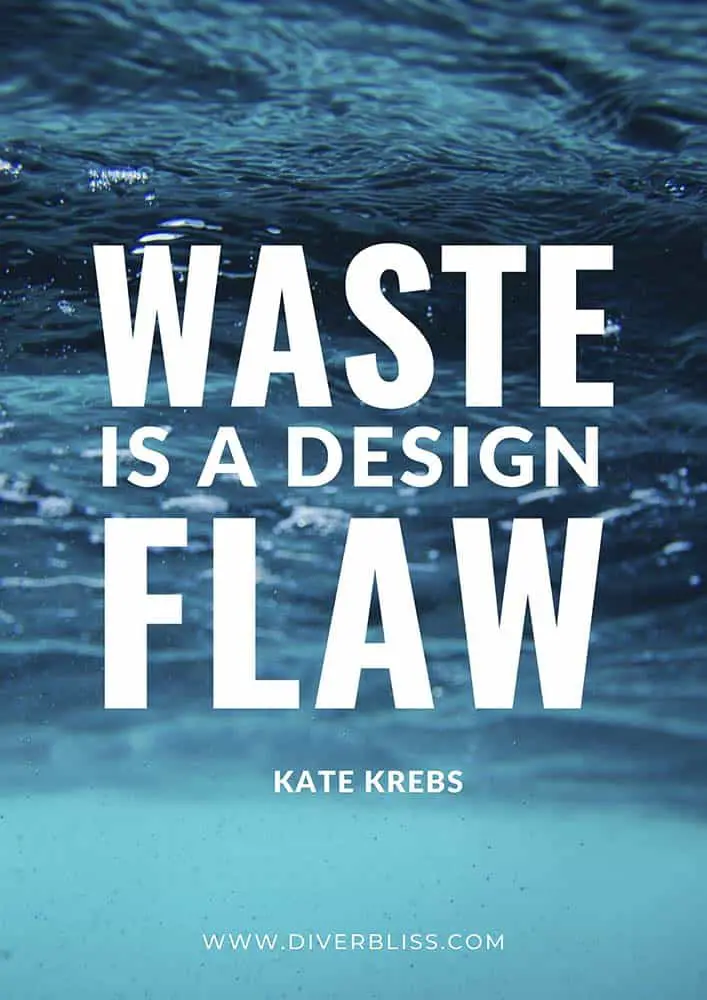 91. "The most environmentally friendly product is the one you didn't buy." – Joshua Becker
92. "Waste is a design flaw."- Kate Krebs
93. "I often struggle to find words that will communicate the vastness of the Pacific Ocean to people who have never been to sea. Yet as I gazed from the deck at the surface of what ought to have been a pristine ocean, I was confronted, as far as the eye could see, with the sight of plastic." – Charles Moore
94. "Only we humans make waste that nature can't digest." – Charles Moore
95. "The strongest governments on earth cannot clean up pollution by themselves. They must rely on each ordinary person, like you and me, on our choices, and on our will." – Chai Jin
96. "Plastic is the most destructive weapon than a nuclear bomb or an atom bomb, its impact shall remain for centuries on the future generation"- Sir P.S. Jagadeesh Kumar
 97. "It cannot be right to manufacture billions of objects that are used for a matter of minutes, and then are with us for centuries." – Roz Savage
98. "If we want to move towards a low-polluting, sustainable society, we need to get consumers to think about their purchases."- David Suzuki
99. "Industrial pollution and the discarding of plastic waste must be tackled for the sake of all life in the ocean." – David Attenborough
100. "If we pollute the air, water and soil that keep us alive and well, and destroy the biodiversity that allows natural systems to function, no amount of money will save us."- Dr. David Suzuki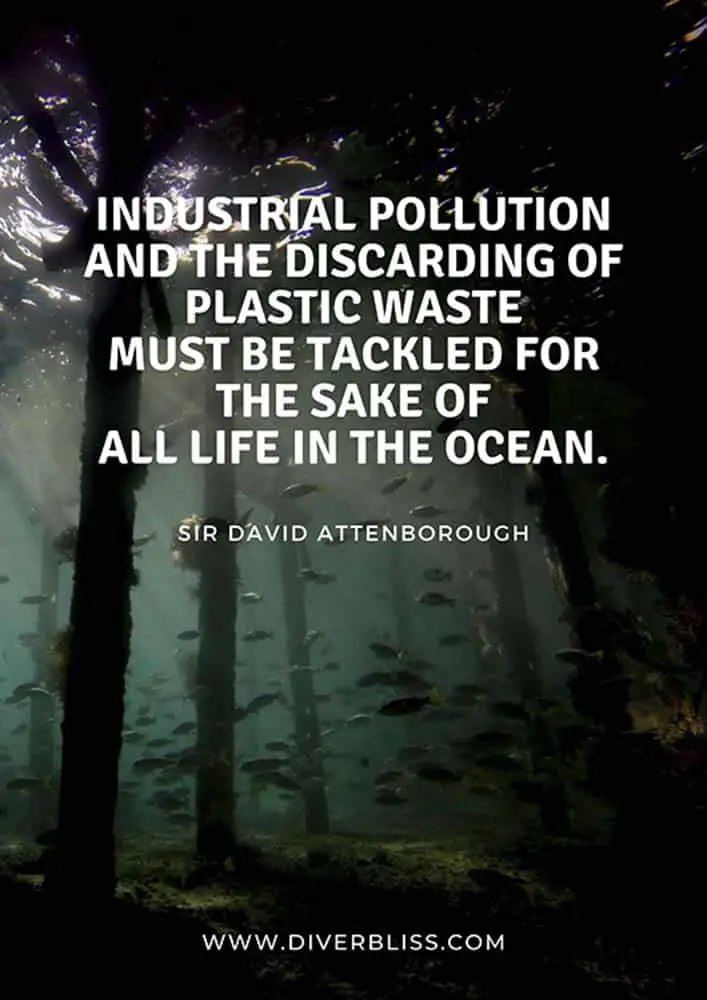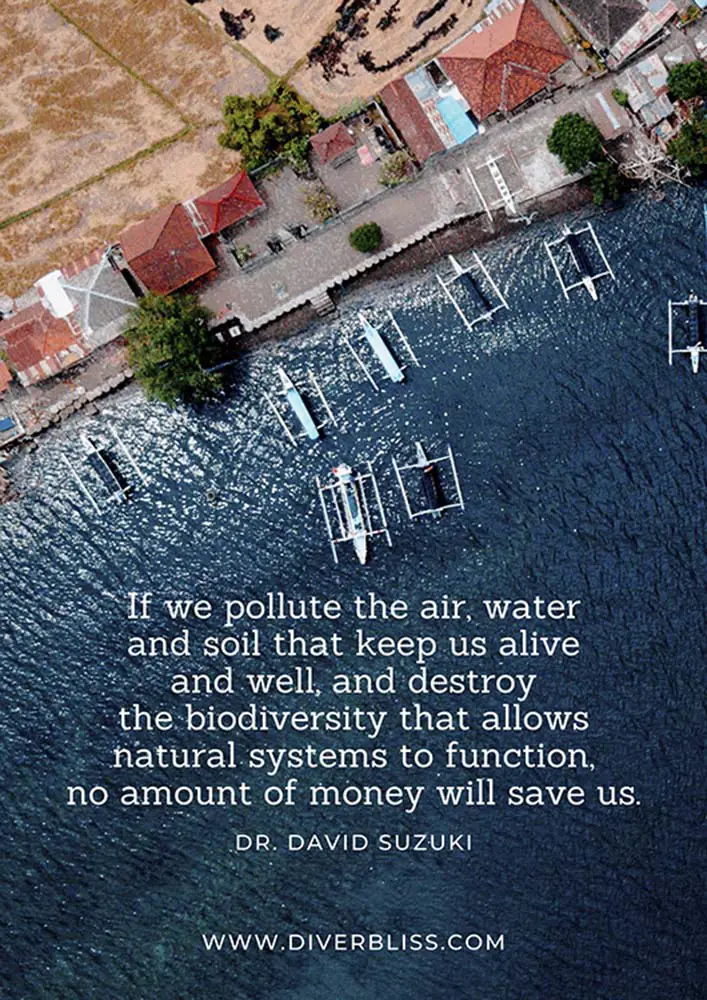 I hope this collection of quotes inspires you to keep diving and taking care of our oceans! Want an e-book of a collection of inspirational quotes for divers and ocean lovers? Sign up below so I can send it via email!
Did this list inspire you? What is your favorite ocean-inspired or scuba diving quote? Leave a comment below!
If you would like to repost any of my ocean and diving quotes digital posters on your website, you may do so with the following conditions: (1) it is not for commercial use or re-sale; (2) you must create a back-link to this article; (3)  you must not edit the image or remove watermarks.