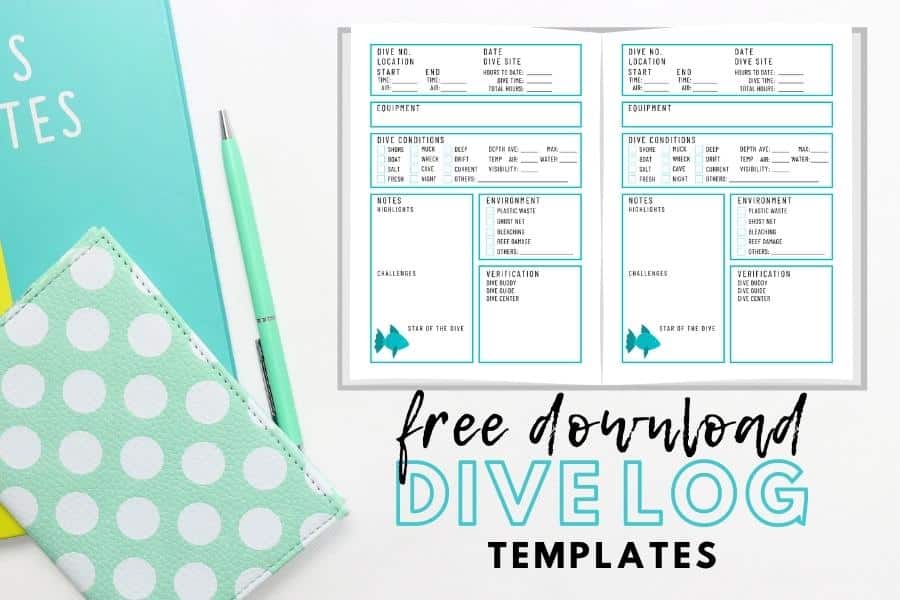 The links below may be affiliate links. If you shop through them, I'll earn a commission at no additional cost to you. For full information, please see my disclaimer here.
If you're looking for a free scuba log book template then you've come to the right place!
Here you can get a copy of a scuba dive log sheet that I designed. You may download and print my dive log templates to make your own dive log book.
What's included in this FREE printable scuba dive log template?
There are many reasons why a diver should log their dives and my free scuba log book template was designed to address those concerns.
After logging more than 150 dives, I realized that some dive log book had portions I didn't need and then some lacked in certain areas. So I designed this based on what I thought was important for me as a scuba diver.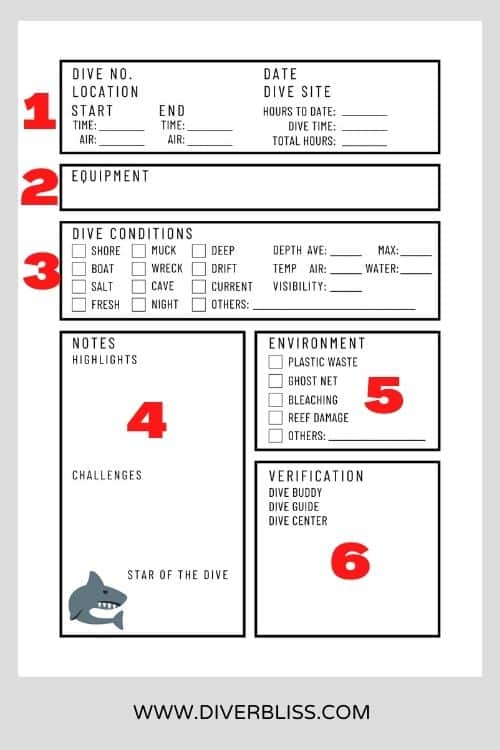 This printable dive log template has several features:
General scuba information
Equipment
Dive conditions
Notes
Environment
Verification
The scuba diving log book pages has space for your dive number, date, location, dive sites, dive time, air consumption.
If keeping track of the different dive gear you used is important to you, there is also space for you to indicate your equipment.
In terms of dive conditions, you can also indicate on the scuba dive log pages what kind of dive it was. Options like shore, boat, salt water, fresh water, muck diving, wreck diving, cave diving, night diving, deep diving, drift dive, strong currents and others are available on the sheet for you to tick off.
The depths you reached, as well as, temperatures and visibility are important things to track for most divers, so there is a space for that as well on the scuba log book page.
If you would like to go more into the details of your dive, the notes portion will allow you to write down the highlights and challenges you've encountered during the dive.
This free scuba diving log book also has space to indicate the "Star of the Dive". Whether it be a rare animal encounter or you doing something spectacular, you are encouraged to write down what or who made it the best dive ever.
One of the special features of this scuba dive log template is having the opportunity to assess the dive environment. This is to encourage divers to notice if there were plastic wastes, ghost nets (discarded fishing gear), coral bleaching, and any form of reef damage during their dives.
For verification, you can ask your dive buddy, dive guide to sign your log.  For those who love collecting stamps from the dive center, you can do so in the space provided!
Not exactly what you are looking for? Check out my list of best scuba diving log books for more ideas.
Dive log page sizes
My free dive log sheets come in easy-to-print A4 size layouts. If you find this too big, smaller A5 or A6 sizes, are also available. These digital dive log sheets are in PDF format.
One A4 Size (210 mm × 297 mm | 8.27 in × 11.69 in) layout.
Two A5 (148 mm × 210 mm | 5.83 in × 8.27 in) dive logs on an A4-sized ready-to-print layout.
Four A6 (105 mm × 148 mm | 4.13 in × 5.83 in) dive logs on an A4-sized ready-to-print layout.
As an extra bonus, the scuba dive log pages are available in 3 color schemes of black, blue, and pink. So you can choose not just the sizes but also the color!
Remember this is a FREE digital download dive log template for personal use only.
Click here to get a copy of my free printable dive log pages
How to receive my FREE Printable dive log pages?
To receive this free dive log template, kindly sign up on the form below.
You will then receive an email with instructions on where you can access my free scuba diving log templates. Click "Download", save the file to your computer, print, and enjoy!
When printing these digital scuba dive log sheets, please keep in mind there may be slight variations in color due to the differences in printing processes and computer screens
I cannot teach you how to use your printer or tell you how to fix your settings as each printer model is different. It is your responsibility to find out which setting to use for your printer. (I personally use borderless, full-color, A4 print settings on quality paper)
Can't be bothered with DIY dive log projects? Then check out these personalized scuba diving log books from Dive Proof. They can customize the size, page format, and even cover of your dive log to suit your needs. The Dive Proof log book is 100% waterproof, greaseproof, and tearproof, which is perfect for the rugged lifestyle of scuba divers.
How you may use this FREE download dive log sheets?
Since this is a FREE digital dive log sheet, you may only use it for personal projects.
You cannot redistribute/share this printable dive log sheet with anyone via email, USB or any other means.
You cannot sell the template to anyone else.
You cannot sell it as printouts in any format.
You cannot use it for any commercial business.
You cannot claim this scuba log template as yours.
You cannot modify the file and then claim it as yours.
If you would like to share this FREE printable dive log with other divers, please refer them to this page. I will personally send them a FREE copy of my printable scuba dive log templates
I have spent my time and skills to make this digital product, kindly respect the terms of use for when you get a copy of my free download dive log sheets.
The links above may be affiliate links. If you shop through them, I'll earn a commission at no additional cost to you. For full information, please see my disclaimer here.