If you're still unsure if scuba diving is for you, here are 10 reasons why diving is the best hobby you should finally get into it when your quarantine lockdown is over!
1. You can learn scuba diving safely from home.
Before you get into the water, you will need to take an Open Water course to ensure you learn the basic principles and concepts needed to dive safely. There are classroom sessions to teach you the foundations of scuba diving.
If you are worried about exposing yourself to the virus while in class, you can actually start learning to scuba dive online. E-learning courses will allow you to start your scuba journey and learn at your own pace at the comfort of your Covid-free home.
You can learn more about getting certified by reading my post on 25 FAQ about Scuba Diving Certifications.
2. You want to learn new skills.
So you've probably mastered your Tiktok game or can now open up a bakery from the amount of bread you've baked while in lockdown. If you're looking for a new hobby, preferably something outside your home, then scuba diving is a great one to consider.
Scuba diving is a very challenging but fulfilling hobby to take. If you're the type of person who likes focusing on your personal growth, then diving would be perfect for you. One of the benefits of scuba diving is learning skills that are necessary in diving but are also useful in your daily life.
For instance, diving will teach you to be mindful of yourself, others, and the environment. It will help you hone your interpersonal skills as you will be encountering different types of personalities while diving. All these are helpful skills, especially when dealing with the "new normals" after lockdown!
3. Scuba divers need to wear masks.
Once you're ready to jump into the water and put to the test the knowledge and skill you learned, you will have to suit up and wear a mask. Now if you don't like the idea of wearing masks then this might not be for you. But will you really make that come between you and having fun underwater?
You will need to wear masks as well as other scuba diving equipment to keep you safe at all times. This might also mean lesser chances of transmitting those pesky virus!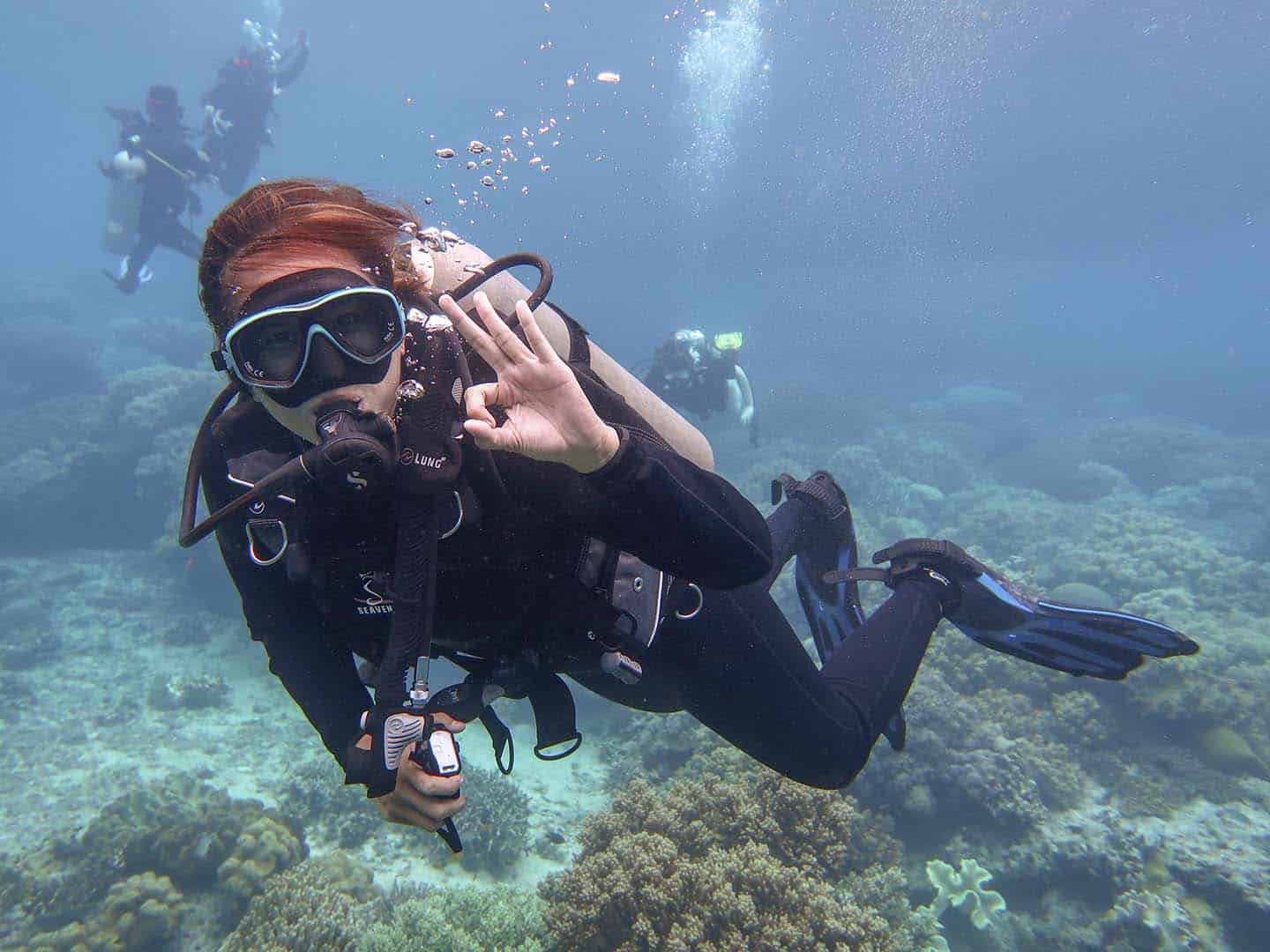 4. Scuba divers know how to practice social distancing.
Even before the pandemic, divers already knew how to practice social distancing. In the water, you will learn to dive close to your dive buddy but at the same time keep your distance. On land, you need to keep your distance from other divers to avoid accidentally hitting them with your tanks or fins!
Unlike other sports or activities where you might need close contact with another human being, diving teaches you to keep a safe distance with everyone and everything around you. It teaches you to be aware of your personal space and your surroundings.
5. Scuba diving is good for your health.
Diving is a physically demanding activity. You will need the energy to wiggle into your wet suit and carry your tanks. Then with your full gear on, you might need to jump, roll, fin, and swim. If you have gained some quarantine-weight, diving will help you burn calories, get your heart pumping and your lungs working.
Scuba diving is not only good for your health, but it also requires you to be healthy for your personal safety. You can have some peace of mind knowing that any responsible diver who might have coronavirus symptoms, will know not to push their body just to dive. A scuba diver with fever, dry cough, and difficulty breathing, will have difficulty getting into the water.
6. Scuba diving is a great form of therapy.
Surely, being in quarantine for weeks and months at a time can have a negative effect on your mental health. When you take up scuba diving, you will understand why many men and women have called this their version of therapy or meditation.
No words can explain how magical the experience is of being able to breathe underwater and be surrounded by the most beautiful part of our planet. The moment you get into the water, you cannot help but leave all your worries and problems behind, even for a little while.
Yes, diving can be physically exhausting, but the mental and emotional benefits make it even more worth it to pursue. Scuba diving has helped many individuals deal with burnout, depression, anxiety, and self-esteem issues. It will teach you to face your fears and build your confidence to dive into the ocean and into life.
"The cure for anything is salt water: sweat, tears or the sea".

~ Isak Dinesen
7. You have more opportunities to explore.
If travel is one of your favorite activities, scuba diving will fit in perfectly as an additional hobby. With travel being limited due to the coronavirus, many people feel they no longer have options. However, if you learned how to dive, this opens you up to a different world of exploration.
With 71% of the world covered in water and only approximately 5% of it is explored, just imagine the possibilities. You can easily find the ocean or lake nearest you and go diving. If you're itching to go somewhere new, the underwater world is the perfect place to visit.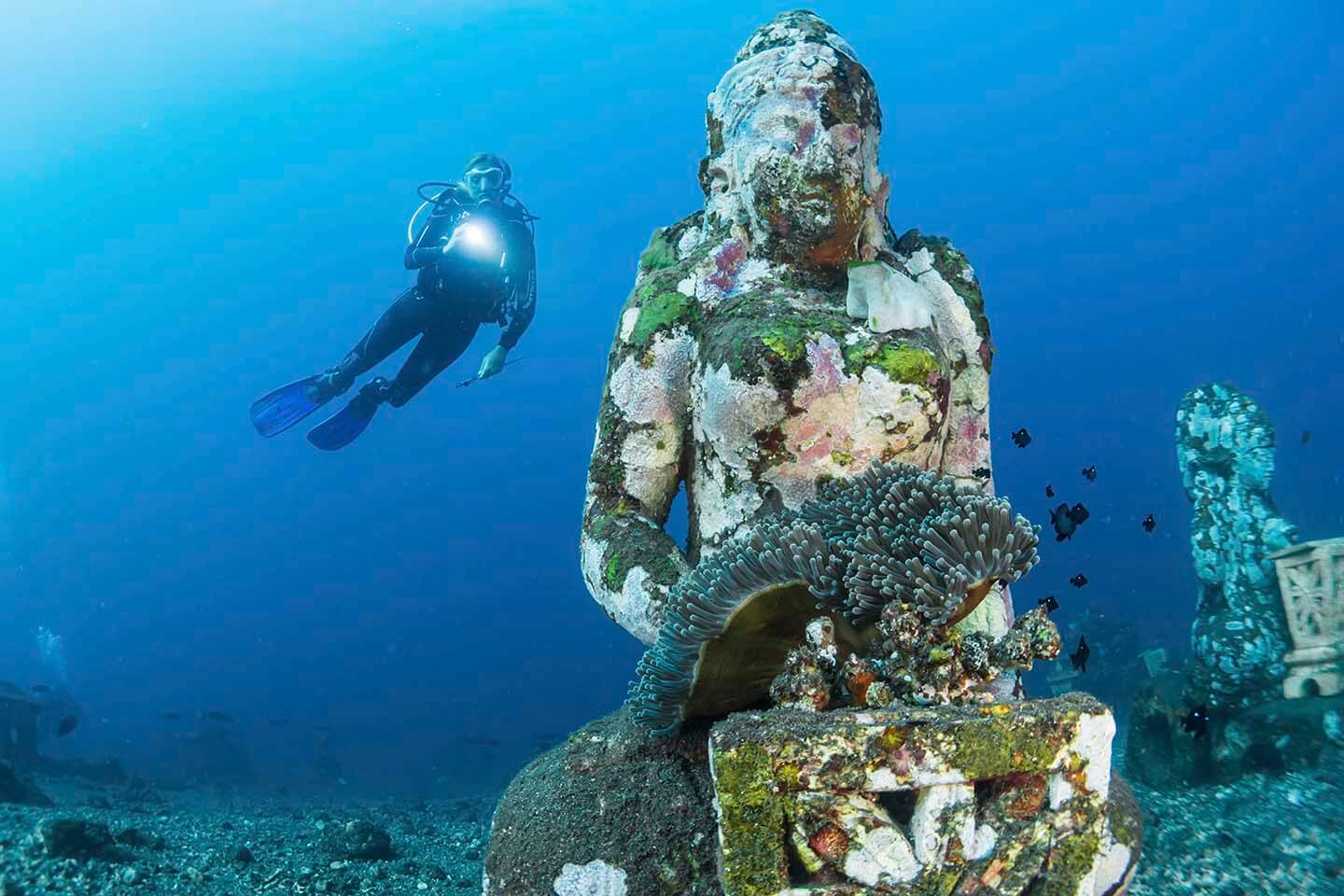 8. You will support the tourism industry.
With borders closed and movements of people restricted, the tourism industry is among the worst hit by the pandemic. Locations who rely heavily on income generated through diving are now suffering. With governments prohibiting non-essential work and recreational activities, dive businesses were forced to cease operations.
When you get into diving you are supporting the dive centers, resorts, dive shops, and liveaboards, who are employing tens to hundreds of people in the local community. At the same time, you also supporting businesses and individuals in transportation, service, and retail industries when you start to travel again. If you want a hobby that also gives back, scuba diving would be perfect for you.
Check out this post on the 11 Best Scuba Diving Spots in the Philippines That Are Easy To Visit for Vaccinated Tourists if you want to support our local tourism!
9. There are guidelines in place to keep you safer.
Safety has always been at the very core of diving. So even at the start of the pandemic, dive experts have already released guidelines on how to reduce the risks of Covid-19 when it comes to diving.
Now that some places are opening up, dive resorts and dive centers have also adopted different practices as required by local laws. You can easily check with businesses the actions they are taking and implementing as recommended by experts.
For more information about Covid-19 and dive safety, check out
DAN: http://www.danap.org/DAN_newsevents/covid-19.php
PADI: https://blog.padi.com/2020/04/03/travel-and-diving-safety-tips-during-and-after-covid-19/
10. You care about the environment.
It was estimated that over 13 million tonnes of plastic waste enter the ocean each year. We are addicted more than ever to plastic in the hope that it will shield us from the coronavirus. Gloves, masks and other PPEs are polluting our oceans.
If the plastic problem bothers you, diving is one of hobby you can get into that encourages you to be environmentally involved. Every dive can be a clean-up dive where you are encouraged to take debris from the ocean.
Scuba diving is a great way to learn about specific marine animals and ocean conservation. You can get certifications on distinctive dive specialties focused on protecting ocean life.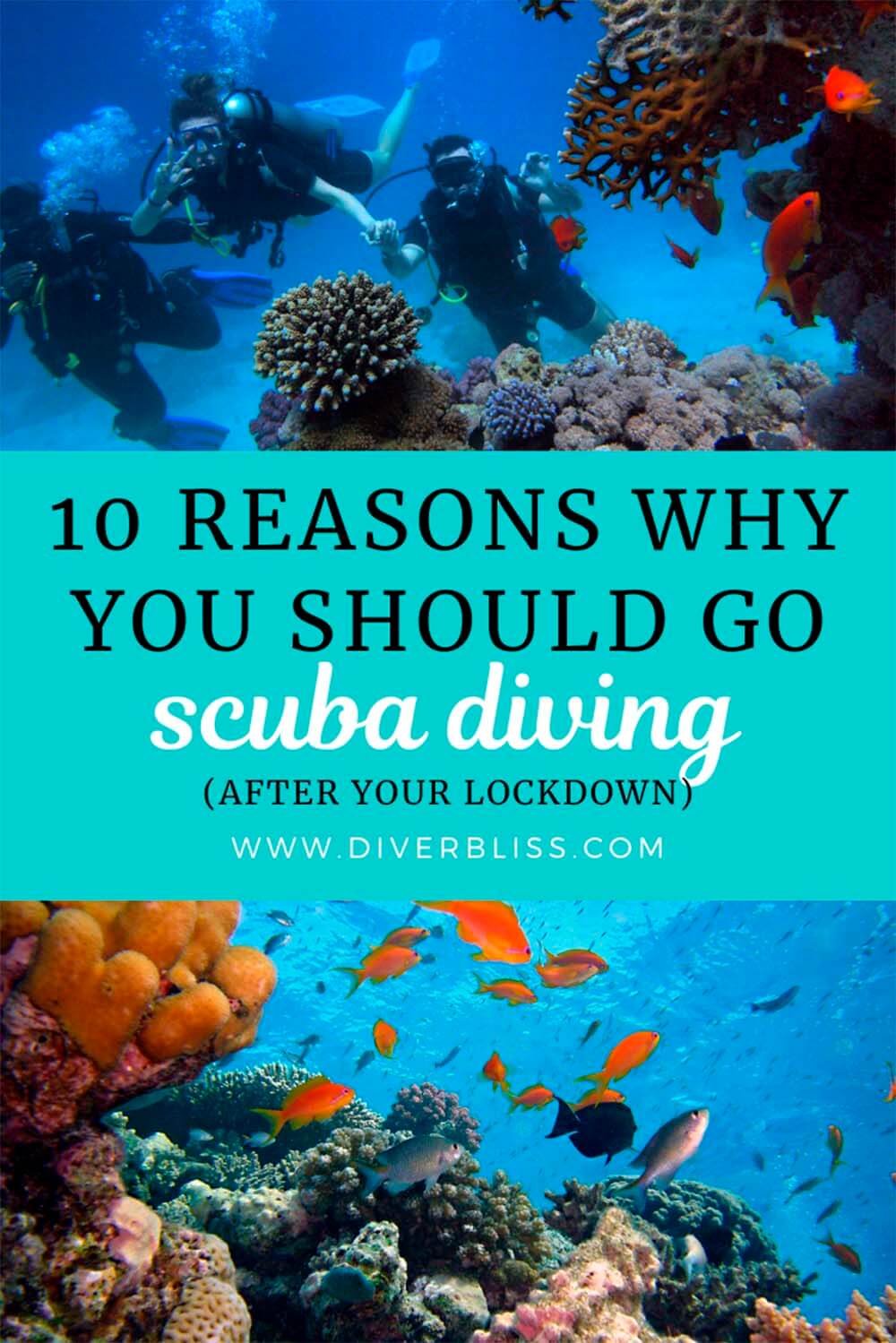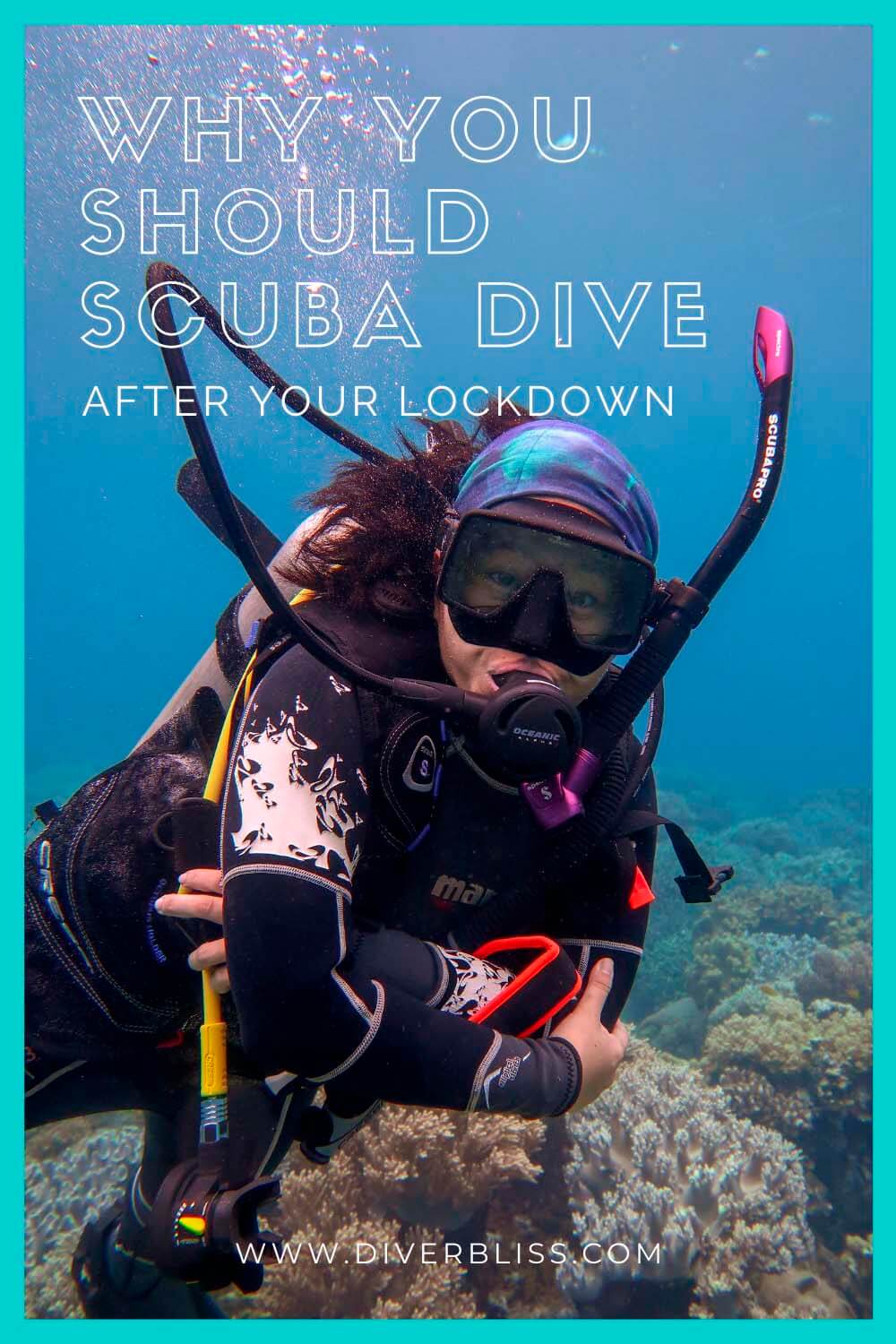 Life is too short.
Being in lockdown has probably made you think about your life. If there's one thing I've learned it's how short life is and how I have taken a lot of things for granted. If scuba diving has been on your bucket list, go do it already. That is, after your lockdown and when it is deemed safe in your location!
As I publish this, it would have been 5 months since I have last seen the ocean. No doubt, us divers will be heading back to the ocean once lockdowns have been lifted. And we really don't need 10 reasons, we just need one. It is FUN! And we could use a lot of that right now.
For many people, including myself, scuba diving has changed their lives for the better and it can do the same for you. Make the most out of your life. Take up diving. It will be worth it.
If you want to know how I started my scuba diving journey, read: WHAT IT WAS LIKE TO BE A FILIPINO DIVE SCHOLAR AT CORAL CAY CONSERVATION
---
Please do not go against any quarantine lockdown rules and laws. Your health and safety are of utmost priority.
Want an e-book of a collection of inspirational quotes for divers and ocean lovers? Sign up below so I can send it via email!