The links below may be affiliate links. If you shop through them, I'll earn a commission at no additional cost to you. For full information, please see my disclaimer here.
The Philippines is no stranger to calamities. Due to our geographic position, natural disasters such as typhoons, earthquakes, and volcanic eruptions are a constant threat to the lives of Filipinos.
With the recent eruption of the Taal volcano, the bayanihan-spirit and heroism among Filipinos once again shine through. When I see news of the amount of love that is pouring in for the victims of Taal, I am filled with awe and pride for our nation.
But at the same time, the ocean-lover in me is horrified for the amount of plastic and waste that is being generated by relief efforts. The reality is typhoons, earthquakes, volcanic eruptions will always be a part of our life. But the bigger challenge is how can we respond to these calamities without causing more damage to our environment?
The amount of single-use plastic is so alarming.
Climate change, global warming and the depletion of resources are real. And the impact on humans and animals can be devastating. We really need to think twice about the choices that we make so we lessen our negative impact on our planet.
If you're like me who wants to help but you are also concerned for the environment, I've put together a list of 10 sustainable ways to help during natural disasters in the Philippines.
These are just tips and ideas based on personal experience and observations, as well as insights from other concerned friends of mother earth who has witnessed the misuse of resources the earth has given us.
1. Volunteer your skills and time
I have always been amazed by the generosity of Filipino people. Regardless of where and when disaster strikes in any of its 7641 islands, a Filipino will always respond in any way he can.
While watching the news, I heard of a story of a woman who sewed facemask to give away to help victims of Taal's ash-fall. She didn't have money but she knew how to sew and she had extra cloth so she put her talent into good use.
Anyone can volunteer in their own way. Just take a look at what you're good at and respond to the call of need in the best way you can.
2. Coordinate properly with the local authorities
So you're eager to volunteer and donate goods? That's great! If you do, make sure you have a local contact and you coordinate with proper authorities. Don't just randomly show up in an evacuation center as this might just cause more chaos.
Check first where you can help and how you can help. Most often in a wide-scale calamity, some areas are given more help than others. I've heard situations where some areas get more donations while others are completely forgotten.
Ask the evacuation centers what exactly they need so you can help appropriately. For all you know, you might be bringing more food when they are really needing medicines.
Find out how many evacuees there are and make sure you have enough for everyone. Make a plan before heading out and make sure that the goods are immediately distributed. You don't want the food rotting and going to waste- this has happened in the past.
3. Donate appropriately.
Donations are always needed and highly appreciated but do consider what the victims need and can actually use. Do not make the donation centers a dumping site for things you no longer want.
Don't donate that canned cranberry sauce that you bought two years ago. If you yourself didn't consume it, do you honestly think a typical Filipino family would want to eat your rejects after going through such a traumatizing ordeal?
During disasters, victims of calamities may need clothes but they definitely do not need your old prom dress or a tux you wore at a wedding. They definitely do not need to wear stilettos around the evacuation center either.
Check out 1000Bearhugs to donate old but clean stuffed toys for children of calamity.
4. Skip the tiny water bottles
Remember we all need to drink 8 glasses a day. Stop buying those 250ml water bottles which they will throw out after one use! Give them big gallons of refillable water bottles.
Evacuees need a lot of clean water for drinking and cooking. Access to it may be limited.
Some have even suggested donating water filters instead. The evacuation centers might actually have access to water and they might not be filtered well for consumption. By providing water filters, plastic waste will be reduced significantly.
5. Give ready-to-eat food
Remember that victims of calamities are often relocated to an evacuation center so they may not have access to stoves or cooking ware. Even if they receive 5 kilos of rice or instant noodles they still need water, a pot, and a stove!
You might also want to consider giving food that comes in recyclable containers instead of single-use plastic. For instance, instead of giving individually packed biscuits, you can donate big tubs of biscuits which can be shared in the evacuation centers. The containers can be re-used for something else.
6. Help set up a temporary kitchen
Nothing says "I care for you" like a warm cooked meal.
This is related to the previous point that victims of natural disasters often do not have access to a kitchen. Setting up a mobile or temporary kitchen can also lessen waste that is produced by the repacking of relief goods.
When Ondoy happened years ago, my family decided to cook rice and chicken adobo for evacuees near our home. We put the meal in plastic and distribute them around the evacuation center. Unfortunately, it produced a lot of plastic waste and by the time it got to them, the food was cold.
By helping set up a temporary kitchen, you can encourage other food donations to be for communal sharing. You can even ask the evacuees to help cook food for their entire community. And best of all you can prepare something that is fresh and good for their health.
Check out these groups that have a mobile kitchen concept:
Art Relief
New Life Community Care Foundation
7. Donate items that are sustainable
Consider giving reusable plates or bowls, spoon and forks. Evacuees may spend days, weeks and even months away from home, so these are way better than using paper plates and plastic cutlery. An evacuation center can generate so much trash especially if you put their meals in styrofoam containers or paper plates.
[instagram url=https://www.instagram.com/p/B7SYoGBnuyi/ rel="nofollow" hidecaption=true width=320]
Sleeping cots, pillows, sheets, and cleaning materials are also important especially for someone who was forced to leave their home without any of their belongings. When they return home, these things will still be useful as they restart their lives.
8. Give financial support
The reality is that volunteer groups need money to ensure help gets to the most remote areas. Sending relief goods can be a logistical nightmare especially in the Philippines that is divided into islands. Money raised can go towards things that cannot be donated like fuel, transportation and even to feed volunteers.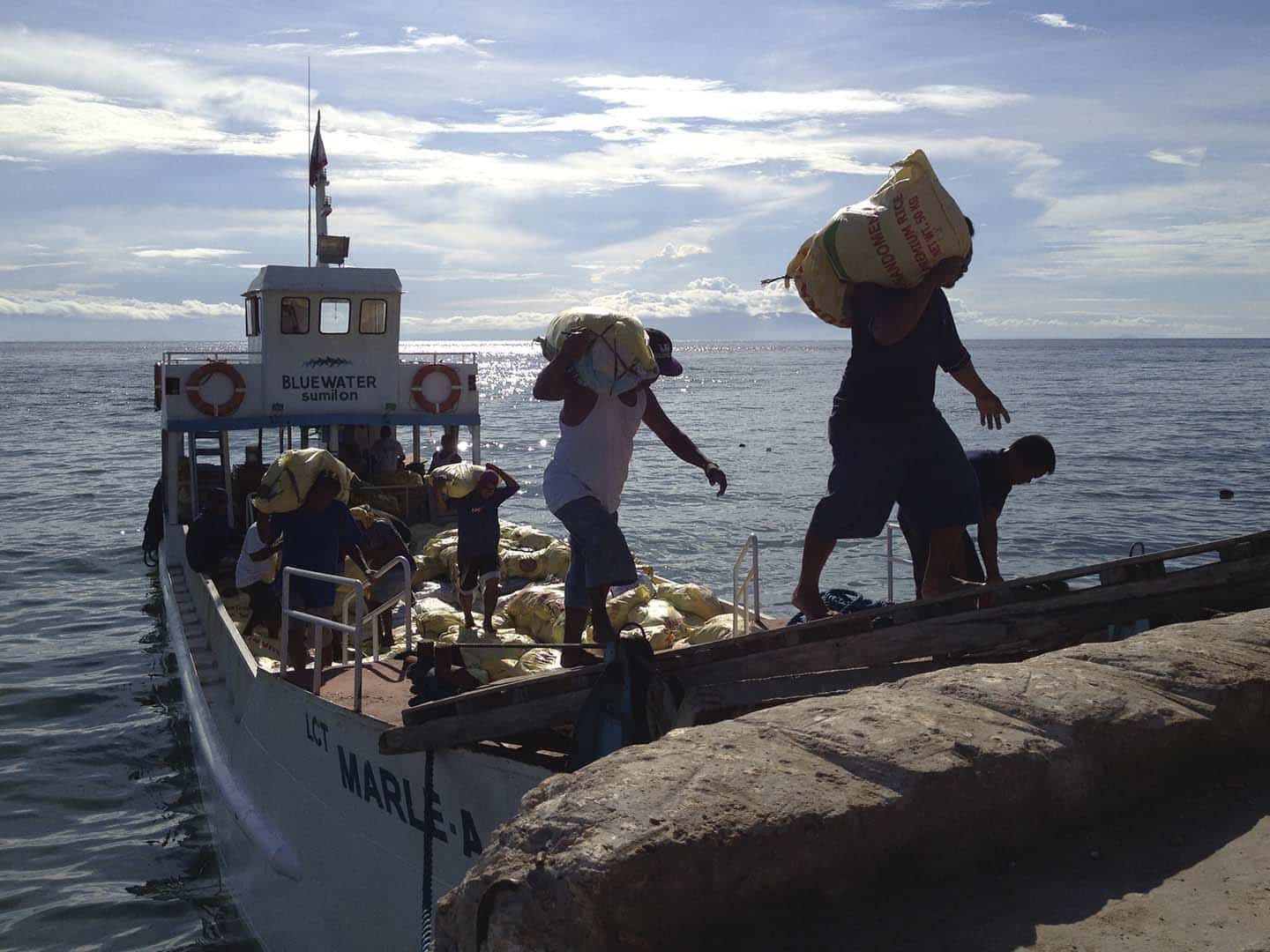 If a volunteer group is supporting an evacuation center, your monetary support can help purchase specific needs and requests of an evacuation center.
I personally prefer giving money to friends or groups whom I know. I find that with volunteer groups, mobilization is quicker and the money is being used immediately. And in any disaster, first response and immediate relief are crucial. I also know that the money is well accounted for and I don't have to worry about the misuse of funds.
If you prefer to donate to well-known established organization, check out:
Philippine Red Cross
Caritas Manila
9. Remember to take care of first responders and volunteers
In any calamity, the best resource to have are the people who are willing to take the risk and rise to the occasion. They also need our help and support. so don't forget the rescuers, the people who put their lives on the line, and those out in the field dealing with victims and traumatic situations.
Not only do they need food and water, but they might also need protective gear and equipment as they help victims of a natural disaster. Sometimes we allocate all our resources towards victims that we forget volunteers who need our support too.
10. Put your social media into good use
Instead of sharing those fake news or posting memes that are inappropriate, share only useful and verified information. There is already so much bad news online, so stop spreading lies that just create more negativity.
Back in 2013 when Typhoon Yolanda (Haiyan) hit the Philippines, I started seeing posts of people needing help. At the same time, I was also seeing friends wanting to help. Using social media and network that I had, I started connecting people who wanted to donate with people who needed the help.
That experience made me realize how powerful social media is in times of natural disasters in the Philippines!
If you have a bajillion friends and followers on Facebook or Instagram, I hope you use your influence to do good for our planet.
---
If you like this list, please "Put your social media into good use" and share this article to your family and friends. You never know whom you might inspire to help!
What do you think of this list? Do you have more ideas on how one can help while lessening your environmental impact?
Leave a comment below!
Do you like to read posts about sustainable lifestyles?
Read: 11 Tips for Sustainable Travel in the Philippines
Check out: 22 Sustainable Lifestyle Stores in the Philippines
The links above may be affiliate links. If you shop through them, I'll earn a commission at no additional cost to you. For full information, please see my disclaimer here.