In the Philippines, Romblon is known for its marble production, beautiful white beaches, and clear blue waters. Unknown to many, even the locals, its best-kept secret lies in the depths of the ocean. Scuba divers and underwater macro photographers have gone to this quiet island in search of the tiniest and rarest creatures they can find. In this post, I will share with you my experience of diving Romblon.
After hearing whispers about what this island has to offer, I decided that the long 18-hour trip from Manila would be well worth it.

I have gone scuba diving in Romblon three times. My first trip was with my friend, Jem, in April of 2018. I decided to come back on my own in October of 2018 and then again in December 2022.
My first trip was cut short due to poor logistical planning. Long story short, it was Holy Week and we ran out of tickets for the ferry we originally wanted to take back home. We ended up leaving a day early, so Jem could get back to work on time. This meant less diving than we planned.
Since I didn't see the nudibranchs (sea slugs) that we came for, I decided to make a second trip. Yes, you read that right, I came back to Romblon for sea slugs! Then returned again December as I felt I needed to revist one of my favorite places to dive in the Philippines.
---
Location of Romblon
The province of Romblon is located in the middle of the Sibuyan Sea, which separates Luzon from the Visayas Region. The province of Romblon is made up of several group islands with Tablas, Sibuyan and Romblon as the major ones.
There are many white-sand beaches, mountains, rainforest, waterfalls you can visit within the province but if you want to go scuba diving, you need to head out to Romblon Island.
The waters around Romblon Island are home to a diverse array of marine life, including colorful coral reefs, vibrant schools of fish, and a variety of exotic sea creatures. Whether you are a beginner or an experienced diver, you will find plenty of dive sites to explore in Romblon. From shallow coral gardens to deep wall dives, there is something for every level of experience.
omblon province is a must-visit destination for anyone looking to experience the natural beauty of the Philippines. With its stunning landscapes and world-class diving, Romblon is a true hidden gem that is sure to leave a lasting impression.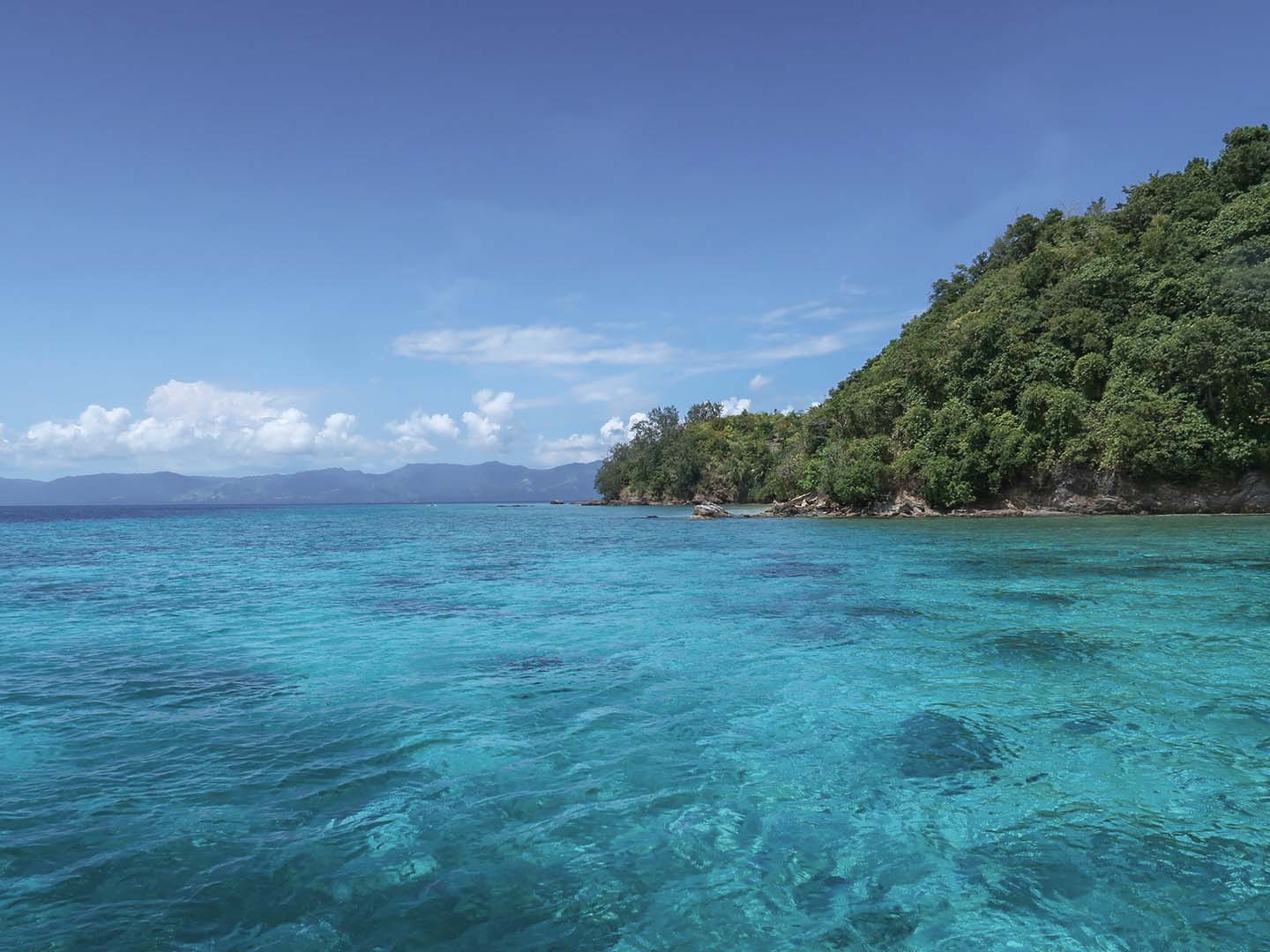 ---
Romblon Diving
Romblon is a quiet and peaceful province and the same can be said about its underwater environment. You will find a serene underwater haven in Romblon.
Romblon Island is also located at the end of the Verde Island Passage. If you haven't heard of Verde Island Passage, the scientific community dubs it "the center of center of marine biodiversity." Verde Island Passage is known to be one of the richest areas when it comes to marine species. So it is not surprising to find many rare sea creatures in Romblon.
Romblon is still not that well-known as a dive destination in the Philippines. I'm kinda hoping it stays that way!
There are only 2 dive shops in Romblon Province so it is highly unlikely you will see other diving groups underwater. If you like diving in places untouched by mass tourism, Romblon would be a great option for that.
Most dive sites are suitable for all levels of experience.
Season for Romblon Diving
You can scuba dive in Romblon the whole year-round. The best time to visit is November to June. There's a higher chance of rain in the months of July-September, but you can still dive during this time.
I have gone scuba diving in Romblon in April 2018, October 2018 and December 2022, and did not have any weather issues that ruined my experience.
If you want to book your trip in January, you might want to consider if you want to go or avoid the Biniray Festival of Romblon. This is on every second week of January in honor of Señor Santo Niño or baby Jesus. It is a huge Roman Catholic celebration for the people of Romblon. Often, there will be more tourists in the area because of all the festivities.
Recommended reading:
Amihan and Habagat: Diving Seasons in the Philippines Explained
Best Time To Dive in the Philippines + Monthly Guide on Where to Go
Water Temperature and Visibility
Water temperatures are usually between 26°C to 30°C (80°F to 86°F). Visibility underwater is amazing and can reach up to 20 meters (66 feet).
Romblon Diving Centers and Resorts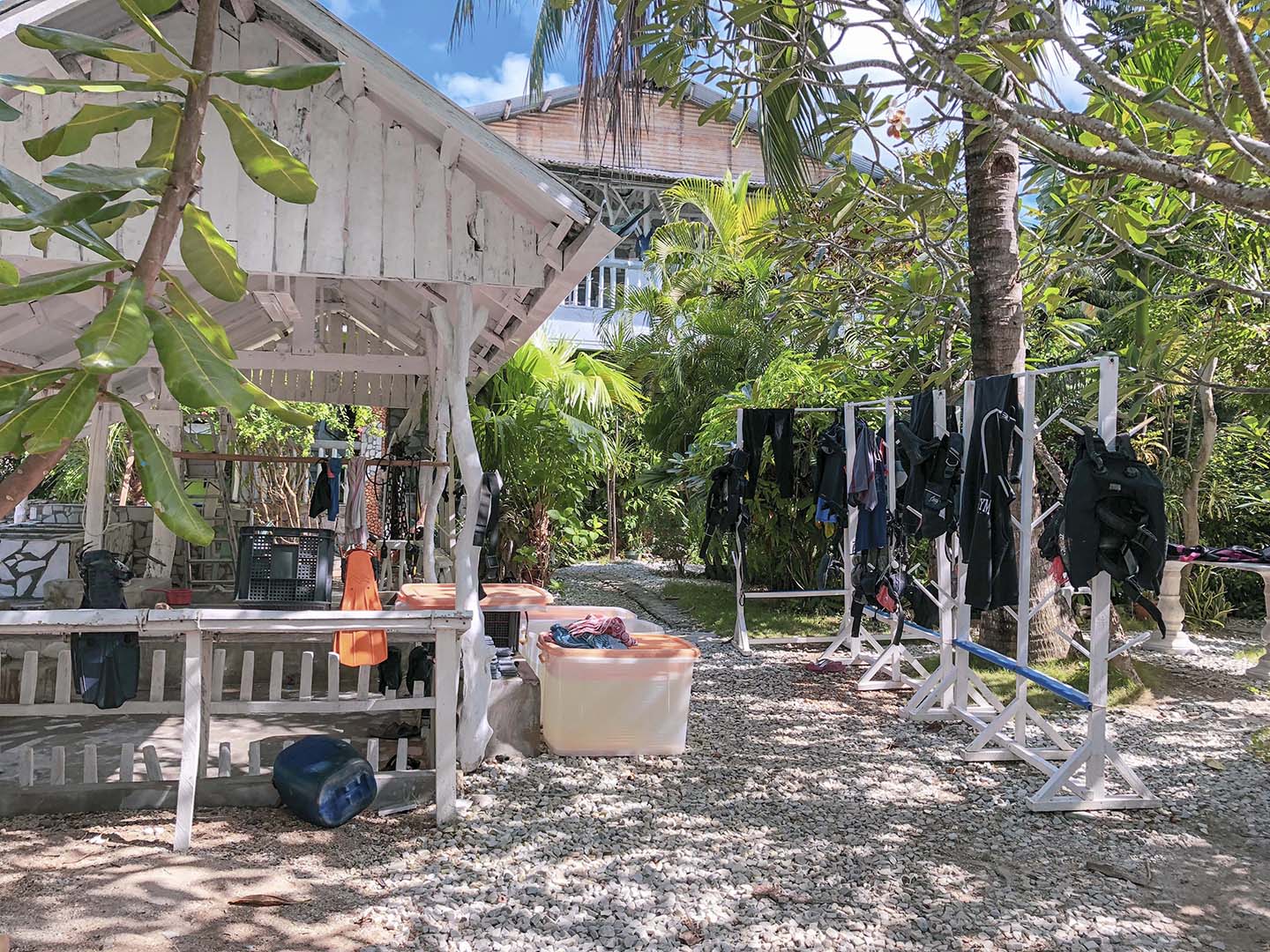 When I first went scuba diving in Romblon, I went diving with The Three P Resort. They were the only dive shop on the island, so we really didn't have much choice! Hahaha… just kidding! We were not really worried since the reviews about them were good.
The Three P Holiday & Dive Resort is a family-owned business, named after by three brothers- Peter, Patrick, and Philipp. Kati, Philipp's wife, also helps manage the resort. They've been in business for about 10 years, so they're well-established and known in the area.
The Three P Resort itself is located in Babangtan, Barangay Lonos which is about 15 minutes from Poblacion, the main town proper of Romblon Island. 3P sits on the west side of the island so expect gorgeous sunsets by the beach if you do plan to stay here.
The Three P Holiday & Dive Resort has beautiful rooms and cottages. Since they're the only dive shop on this side of Romblon, they can easily get fully-booked. You can coordinate with them via email for reservations. I would suggest getting in touch with them via mobile for quicker responses.
During my last visit, I got the opportunity to stay and dive with Three P. You can read my full review of 3P Dive Resort, and learn why I love diving with them.
Another diving resort in Romblon Province is Romblon Fun Divers. They are located on Alad Island. To get there you must take a 10-minute boat ride from the Provincial Capitol of Romblon.
Romblon Fun Divers was previously located in Romblon town proper itself, but they've recently relocated to Sunset Cove Beach & Dive Resort.
While Romblon Fun Divers is a relative newcomer in town, they are not new to diving. The owners used to run a dive shop in El Nido, Palawan, so they have experience with the hospitality industry and running a dive center. They also have good reviews online so I wouldn't hesitate scuba diving with them either.
You can book your stay with Sunset Cove Beach & Dive Resort via Agoda.com.
Dive Sites in Romblon
The dive sites in Romblon are diverse. You find various dive sites: walls, cliffs, soft coral spots, muck dive sites for macro fans, giant gorgonians, marine sanctuaries. There are at least 30 identified dive sites around Romblon Island.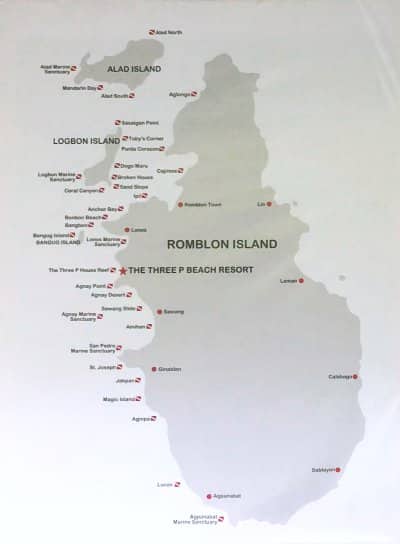 3P House Reef- rare tiger shrimp, mandarin fish and marble shrimps
Agnay Fish Sanctuary- shoals, eagle rays and sharks
Lonos Marine Sanctuary- giant clams, white Ornate ghostpipefish, spindle cowrie, crustaceans, nudibranchs
The Rope- Stiliger sp., Costasiella sp., colorful skeleton shrimp, mimic octopus, nudibrachs
Bangug Island- Severnsi Pontohi pygmy seahorses, hairy shrimp and algae shrimp
Sea Grass Valley of Bonbon
Bonbon Beach- corals and nudibranchs
Fan Coral Collection of Bonbon- pygmy seahorse, nudibranchs, cowries, rare crustaceans.
Lunas- wunderpus, flamboyant cuttlefish, blue-ring octopus, sawblade shrimps, bobbit worms
Staghorn Corazon- staghorns
Treasure's Dream- shallow waters with rich marine life
Magnificat – large gorgonias, Denise and Bargibanti Pygmy seahorses
Mapula- sea turtles, nudibranchs, small frogfish, Lembeh Sea Dragon 
San Pedro Turtle Sanctuary- sea turtles, sea snakes, eagle rays and swarm fish
St. Joseph- a large colony of garden eels, big lobsters, nudibranchs
Palje- Severnsi and Pontohi pygmy seahorse
Agpanabat Fish Sanctuary- high coral towers
Agpanabat Caves & Canyons Marine Sanctuary- unique landscape of steep walls, overhangs, caves and gorges
Marine Life in Romblon
You can expect to find these kinds of marine creatures when diving in eacHere are some of the cool and rare underwater critters I saw. Most of them I've only seen in Romblon!h spot: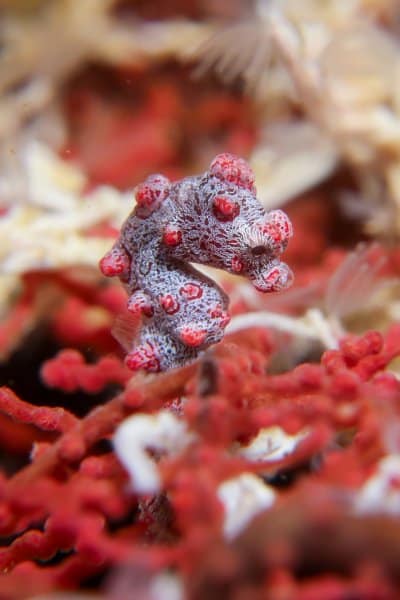 If you're into super macro underwater photography then you should definitely scuba dive with The Three P Resort Romblon! I would advise that you get a private guide or spotter to ensure that you find all the good stuff.
Expect to see super tiny critters when you dive Romblon. Any critter bigger than one inch would be considered ginormous!
If you would like to know more about the other things you might see while diving in the Philippines, check out my post on 100 Marine Life in the Philippines that you must see.
Blackwater Diving in Romblon
The Three P Holiday & Dive Resort offers blackwater diving as well. This can be scheduled but requires a minimum of 2 divers.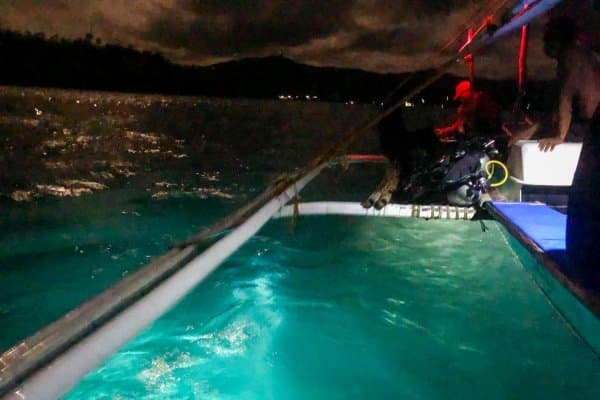 Blackwater diving is a special kind of night dive where participants are taken miles offshore over deep oceanic water. Weighted downlines are then tied to the boat.  Each diver is then attached to the downline via a shorter tagline.  These harness systems ensure that divers can't wander too far from the boat, because if you find the bottom in 3000 feet of seawater, something has gone terribly wrong. 

http://www.uwphotographyguide.com/photo-tips-blackwater-diving
Here are some of the pelagic creatures I saw during a blackwater dive in Romblon.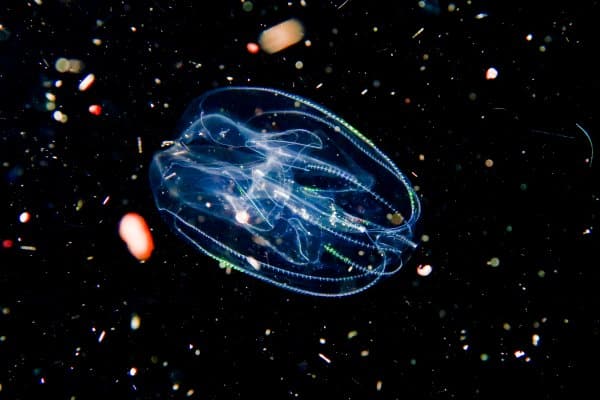 If you would like to know more about blackwater diving, read my post on Blackwater Diving for Beginners: Complete Guide for First-Timers
Deep Diving in the Blue Hole of Romblon
The Blue Hole is another scuba diving highlight when visiting Romblon. It is located in Tablas Island though. The dive shops can organize trips to Tablas Island if you wish to go. But, they usually require a number of divers per trip to cover the costs of going all the way to Tablas.
The Blue Hole's entrance is about 5-10 meters from the surface but the hole itself extends down to 30-40 meters. Diving conditions are unpredictable. Sometimes the currents can get very strong making it hard to penetrate.
I've been wanting to visit this blue hole in Romblon. But every time I visited there was no one who wanted to go. *sad face* I also got the impression that it wasn't as great as it seems. "Not much to see," from what I've heard. But who knows! The ocean always has a way of surprising us.

Liveaboard Diving Romblon
If you're into doing liveaboards, Solitude One has a route that covers Romblon and several other amazing dive locations in the Philippines. Their liveaboard starts in Anilao, which also has world-class scuba diving. It covers Verde Passage, Romblon, and Ticao Island.

What to pack for Romblon Diving
Here is the standard dive gear I bring while diving in the Philippines.
My Scuba Diving Gear
Regulator: Scubapro MK25 Evo, C300 and C200 2nd Stage
BCD: Aqualung Axiom
Mask: TUSA M-212 Freedom Ceos
Snorkel: TUSA SP-170 Platina Hyperdry II
Booties: Poseidon Pink Dive Boots
Fins: Problue
Wetsuit: Seavenger
Vest Hoodie: Scubapro Hybrid Hooded Vest
Dive Watch: Suunto D4i Novo
Dive Knife: Aqualung Blunt Tip Knife
Dive Leggings and Rash: Blue Adaptation Coral Sea Fan

My Underwater Camera Gear
Underwater Camera: Canon G7X Mark II
Underwater Camera Housing: Fantasea FG7XII
Video Lights: Big Blue AL1200XP
Underwater Action Camera: GoPro Hero9
360 Camera: Insta360 X3

> Canon G7X Mark II full review
> Insta360 X3 underwater camera review
> Scuba diving camera recommendations for beginners.

Dive Insurance
Divers Alert Network (DAN)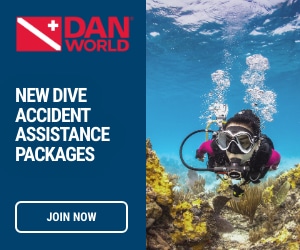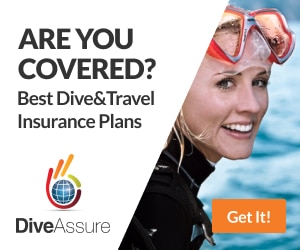 Need travel insurance for your trip? Get a quote from Safety Wing.
If you're traveling and diving in the Philippines for the first time, make sure to read my posts on
Ultimate Travel and Dive Guide to the Philippines
Philippine Packing List: What to Bring to Your Dive Trip.
How to get to Romblon Island
Option 1: Take an airplane to Tugdan Airport (TBH)
From NAIA Airport in Metro Manila, you can take a 90-minute plane ride to Tugdan Airport in Tablas Island. Swift Air services this route every Tuesday, Thursday, and Saturday.
When you arrive in Tablas, you will need to take a 90-minute jeep or tricycle ride to the town of San Agustin for Php250 (Usd 5).
From San Agustin Pier, take a 40-minute pump boat to Romblon Island. Daily trips going to Romblon are at 8 AM and 1 PM. This costs around Php200 (Usd4) per person.
Once you arrive in Romblon Pier, make your way to the resort.
Pros of Flying to Romblon : Faster travel time
Con of Flying to Romblon : Limited flight schedule, More expensive, Multiple transfers
Option 2: Take a Ferry to Romblon Island
Make your way to Batangas Pier or Port of Lucena and take an overnight ferry to Romblon Island. Travel takes 8-14 hours depending on the ferry and port of disembarkation.
I personally prefer getting to Romblon using this option as I find it easier and more affordable as a solo traveler.
Ferry from Batangas Pier
From Metro Manila, you can take Jam Liner and Alps Bus to Batangas Pier. Travel time is approximately 3-4 hours. Bus fare should cost no more than Php400 (Usd8). I recommend you leave Manila by 11 AM since the ferry departs at 4 or 5 PM. This should give you time to buy the tickets and account for other delays.
There are two ferries you can take to Romblon Island. Starlite Ferry and Montenegro services these routes. Tourist fares are around Php1000 (Usd20).
| Day of Departure | Ferry Company | ETD Batangas | ETA Romblon |
| --- | --- | --- | --- |
| Monday | Starlite Ferry | Mon 16:00 | Tue 01:00 (+1) |
| Tuesday | – | – | – |
| Wednesday | Starlite Ferry | Wed 16:00 | Thu 01:00 (+1) |
| Thursday | Montenegro Lines | Thu 17:00 | Fri 07:00 (+1) |
| Friday | Starlite Ferry | Fri 16:00 | Sat 01:00 (+1) |
| Saturday | Starlite Ferry | Sat 16:00 | Sun 01:00 (+1) |
| Saturday | Montenegro Lines | Sat 17:00 | Sun 07:00 (+1) |
| Sunday | – | – | – |
Once you arrive in Romblon Pier, make your way to your resort.
Ferry from Port of Lucena
From Metro Manila, you can take Jam Liner to the Port of Lucena. Travel time is approximately 4-5 hours. Bus fare should cost no more than Php400 (Usd8). I recommend you to leave Metro Manila by 9 AM since the ferry departs at 4 PM. This should give you time to buy the tickets and account for other delays.
If you are leaving from the Port of Lucena, Starhorse Ferry services this route on a daily basis. Fare should not be more than Php1000 (Usd20)
| Day of Departure | Ferry Company | ETD Lucena | ETA Romblon Island |
| --- | --- | --- | --- |
| Every day of the week | Starhorse Ferry | 16:00 | 06:00 (+1) |
Once you arrive in Romblon Pier, you can take a 15-minute tricycle ride to Three P Resort for Php150 (Usd3)
Pros of taking a ferry to Romblon : Affordable rates, No issues with luggage weight
Cons of taking a ferry to Romblon: Time-consuming, fewer transfers, cancelations due to bad ocean conditions
Please contact your resort or the ferry companies for the most current schedules as they may change from time to time.
---
Traveling around Romblon Island
You can hire a trike to take you to your accommodations or anywhere in Romblon island. A "special trip" is basically you having the entire trike to yourself and paying a premium fee for the driver to bring you directly to your destination. You can haggle the prices for this based on the time and distance.
A "regular trip" is when you share the trike with other passengers and pay the fee depending on the distance. Fare is usually Php 20-25 (USD 0.50)
If you're up for it, you can also rent out a motorbike to go around Romblon. Rental fee is about Php500 (USD 10) per day. This is something to consider if you plan to do some sightseeing on your own. Make sure to ask for a helmet when you do rent a motorbike. I've seen locals drive without them so just be careful. Access to medical care can be more limited in the province.
---
Romblon Beach Resorts
Even if the province has become an eco-tourism destination in the recent years, it hasn't exploded as a major tourist and dive destination in the Philippines. To be honest, I prefer going to places like these as they're more untouched and pristine.
Romblon is very laid back and less touristy so there are not much choices for accommodation. You will not find any 5-star resorts here. Here are some places that you can stay in other than The Three P Holiday & Dive Resort and Romblon Fun Divers & Inn as previously mentioned.
Stay in an Airbnb in Romblon
In my two visits to Rombon, I stayed in Airbnbs as these were the closest one to The Three P Holiday & Dive Resort. Both places were right by the beach so even if there aren't many beach resorts in Romblon, some Airbnb properties are by the sea shore.
If you haven't tried staying in Airbnb you should definitely consider it especially in places like this. There is not much hotel options in Romblon Island but there are some homestays you should definitely check out.
The main town of Romblon has more options for hostels and hotels however it is about 15 minute tricycle ride to the 3P dive resort.
If the dive resorts are fully-booked, you can stay in some other accommodations Romblon.
---
What to do in Romblon
When you arrive in Romblon, I suggest you make a quick stop at their tourism office. They can provide you with a map or suggestions on what you can do around the island. They'll know what's best if you want to DIY touring the island.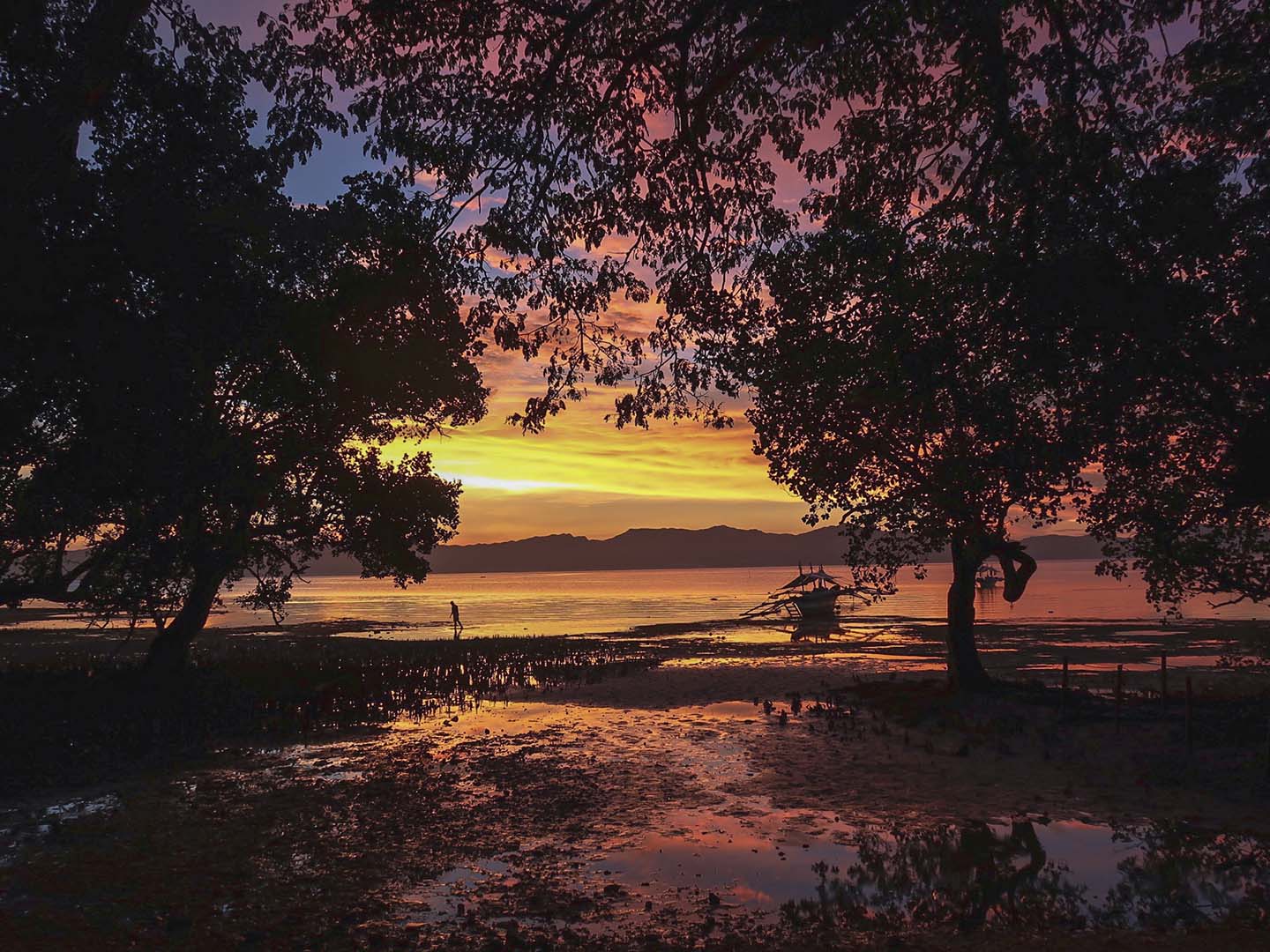 You can also ask your dive shop or accommodation to arrange for a tricycle driver / tour guide to take you around the island for a fee.
Due to limited time and maybe a bit of disinterest, I was not able to roam Romblon as much as I'd like. I'm quite happy with just diving sometimes.
If you're curious to check out the other tourist attractions in Romblon, you can check out this video of other things you can do in Romblon.
---
After visiting Romblon twice, I must say that Romblon is one of those underrated scuba diving locations in the Philippines. If you love macro and super-macro underwater photography then you will absolutely love scuba diving in Romblon!
Every dive you can expect to see something new or different. This place is truly magical!
But let's keep it our secret, okay?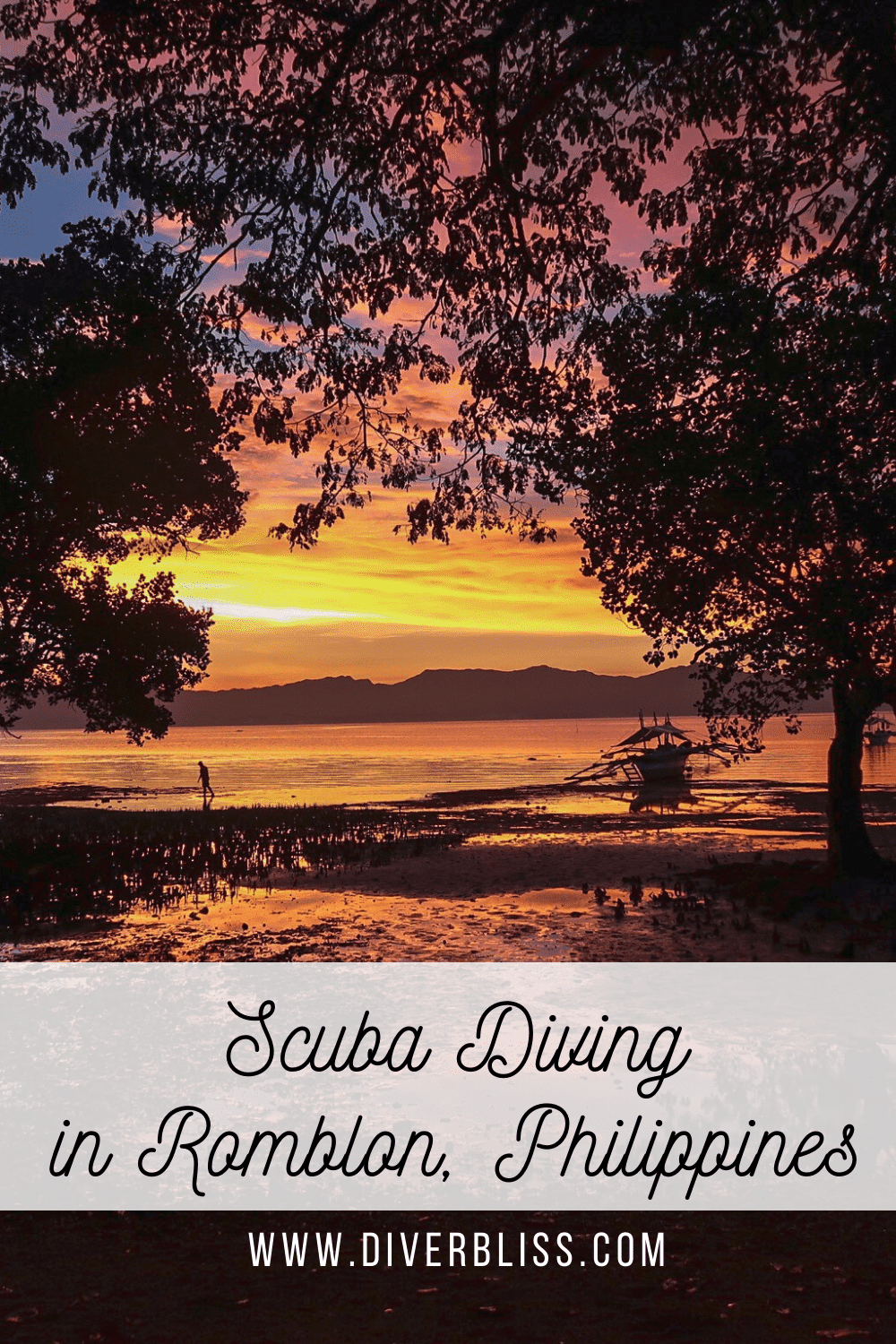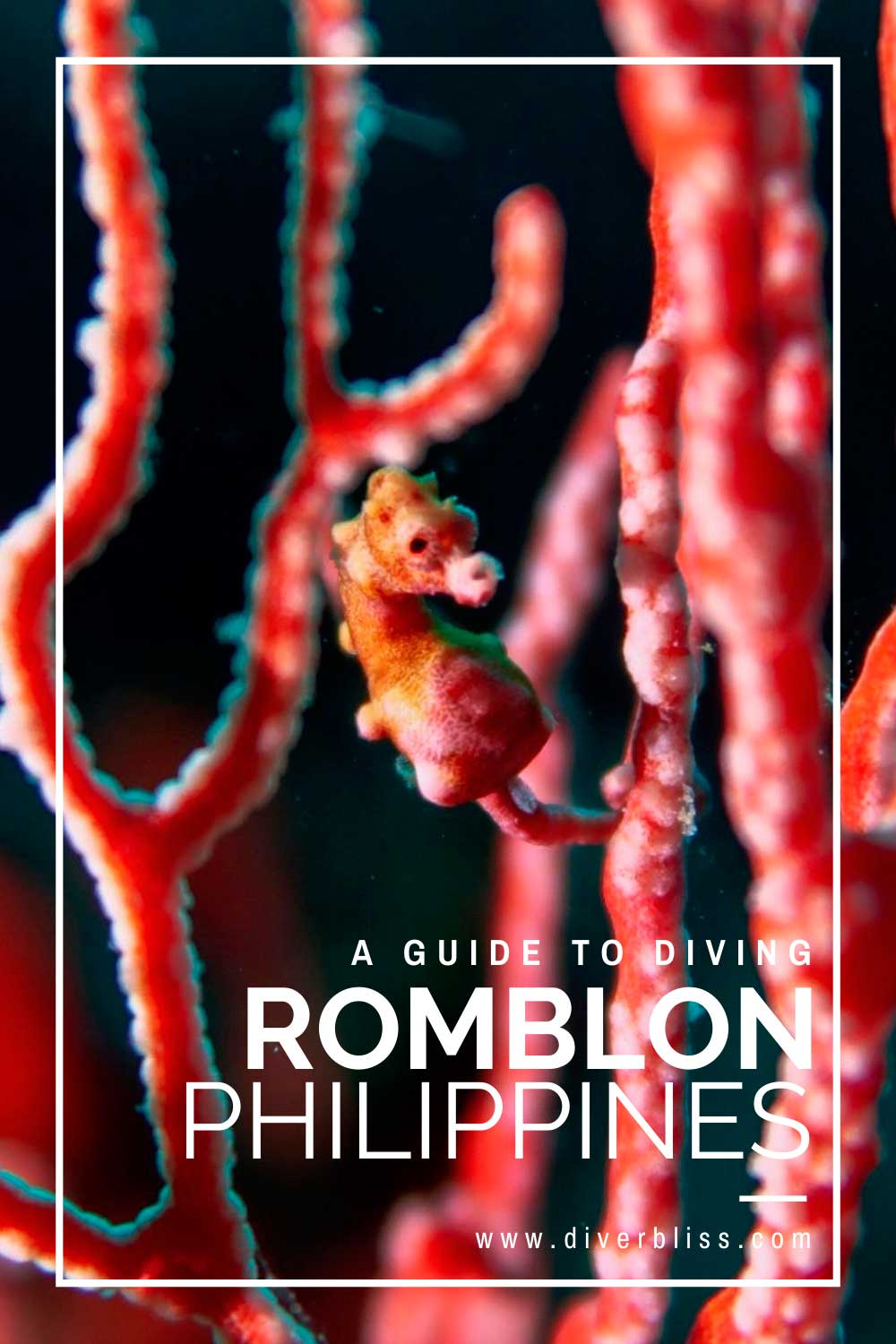 Do you want to go scuba diving in Romblon?
Which critters would you like to see when you scuba dive in Romblon?
Leave a comment below!