This post focuses on the different adopt a whale shark programs all over the world. It lists the different organizations you can support to help protect and save whale sharks.
The whale shark, also known as Rhincodon typus, is one of the most loved creatures in the ocean. Humans love sharks so much that for centuries they've been hunted for their fins and meat.
Aside from the high demand for their meat and fins, tourism and human interactions also pose a threat to these gentle creatures. Whale shark tourism can interrupt their feeding and breeding habits. Plastic pollution can be ingested by these plankton feeders. Abandoned fishing nets can strangle them and boat propellers can injure them as well.
Whale sharks are now disappearing at an alarming rate. The decrease in whale shark populations has a cascading negative effect on our planet which is why it is important to protect them.
If you would like to help protect the endangered whale sharks, you can symbolically adopt a shark through non-profit ocean conservation groups. Whale shark adoptions mean you are supporting an organization that cares for them.
These marine conservation organizations have made it their mission to protect whale sharks through various research, education, conservation, and tagging programs. They are among the best whale shark foundations that encourage ordinary citizens to get involved in the conservation of this species.
For an affordable adoption fee, you, your family or friends, can sponsor a whale shark that needs your help. Companies or other organizations can also adopt a shark if they would like to engage in philanthropic efforts. These symbolical adoptions are wonderful gifts for whale shark lovers.
If you would like to save the whale sharks, here are the 10 best adopt a whale shark program you can support today.
1. Marine Megafauna Foundation- Adopt a whale shark
"Our work has led to whale sharks, and their habitats, receiving protection in multiple countries."
Why you'll love to adopt a whale shark from Marine Megafauna Foundation:
Receive a personalized PDF symbolic adoption e-certificate to print or forward to your gift recipient
Get a subscription to MMF's Ocean Giants Magazine & our conservation updates.
Ocean-friendly digital adoptions avoid packaging waste, and enable fast delivery
Your donation supports whale sharks as a species, rather than a specific individual
MMF is a registered 501(c)(3) non-profit conservation organization so your whale shark adoption is tax-deductible in the USA
Adoption Price: $49
Marine Megafauna Foundation collaborates with ocean-conscious companies like Waterlust to promote whale shark conservation.

If you're looking for cool gifts for divers and ocean lovers, Waterlust sells Whale Shark Apparel guaranteed to make you look good and feel good. 10% of profits from your purchase will go directly towards Marine Megafauna Foundation for satellite tags that are needed to track the movements of these large female whale sharks.
---
2. Shark Trust – Adopt a whale shark
"We believe the best way to safeguard the future of sharks is through a solutions-based approach that promotes positive change. We achieve this through science, education, influence,and action."
Why you'll love to adopt a whale shark from Shark Trust:
You'll be supporting vital Whale Shark research in the Maldives
Whale shark adoption pack inculdes a Personalised Certificate, whale shark poster, fact sheet about your adopted whale shark and research project, bookmark, greeting card
Adoption Price: £25-£55
---
3. Mar Alliance- Adopt a whale shark with tracker
"Support marine conservation by adopting a satellite-tagged whale shark and living vicariously through its tracks as it pootles about the Eastern Pacific in search of food and comfortable warm water."
Why you'll love to symbolically adopt a satellite-tagged whale shark from Mar Alliance:
Choose from multiple levels of adoptions with different perks and privileges
Whale Shark Pup package, which is the most basic package, includes a fun personalised digital certificate of adoption with the shark's details, a digital picture of your adopted whale shark and a whales shark info fact sheet.
Upgrade your donation and get weekly updates about your tagged whale shark's location
Option to sponsor one of the satellite tagged whale sharks and name it
Supports a conservation project that understand the movements and habits of whales sharks. Donation covers daily satellite tracking costs and field costs
Whale shark adoptions are tax deductible donations in the US
Adoption Price: $55 – $5000
---
4. Madagascar Whale Shark Project Foundation- Name a whale shark
"The Madagascar Whale Shark Project's main scientific objective is to establish the occurrence, residency, and population structure of whale sharks off Nosy Be, Madagascar."
Why you'll love the whale shark adoption program of Madagascar Whale Shark Project Foundation:
Choose from 2 whale shark adoptions packages: adopt only OR adopt and name a whale shark
Receive personalized adoption certificate
Select from a database of 300+ whale sharks that needs to be adopted
Your donation goes towards the monitoring and protection of whale sharks in Nosy Be
Symbolically adopting a whale shark is a great gift for environmentalist.
Adoption Price: €50-€230
---
5. Shark Angels- Name and adopt a whale shark
"By adopting a symbolic shark, you are helping to support our efforts to raise awareness of the critical issues sharks face and by doing so, protect these and other threatened species."
Why you'll love the shark adoption program of Shark Angels:
All whale shark adoptions include the options to name your whale shark
Be featured on the "shark adoption wall" which lists all other adopters
Choose from 3 levels of adoption: Virtual Symbolic Shark Adoption, Original Shark Adoption, Shark Adoption Deluxe Package
Option to receive a whale shark plushies and other gift items depending on your donation level
Adoption Price: $25-$150
---
6. World Wildlife Fund Philippines- Adopt a whale shark
"WWF-Philippines has been working to protect the Whale Sharks of Donsol through ecotourism since 1998. Over the past two decades, whale shark sightings have since increased – and the town of Donsol has grown prosperous over their protection."
Why you'll love adopting whales sharks in the Philippines:
Choose from 2 adoption packages that's easy on the wallet
Receive WWF merchandise, whale shark plushie and adoption certificate
Donations go towards communities in the Philippines that WWF support
Adoption Price: Php500/ month or One-time donation of Php6,000
---
7. World Wildlife Fund- Whale shark adoption kits
"World Wildlife Fond (WWF) works in nearly 100 countries and is supported by more than 1 million members in the United States and more than 5 million globally. Your donation provides general support and makes you a member. 83% of spending is directed to worldwide conservation activities."
Why you'll love sponsoring a whale shark from WWF:
The basic whale shark adoption kit includes an adoption certificate and photo, a species card and gift box.
You can upgrade your adoption and receive a whale shark plushies in your adoption package
You can opt for a virtual whale shark adoption where you'll be sent an optional whale shark themed email certificate. This option is great if you want to donate but do not want to receive gifts and trinkets.
Adoption Price: $25-$100
---
8. Love the Oceans – Adopt a whale shark program
"Adopt a whale shark today and you'll be supporting crucial whale shark research in Mozambique."
Why you'll love to sponsor a whale shark from Love the Oceans:
Each adoption pack includes a personalised certificate of adoption, an info sheet on your adopted whale shark, a fact pack, a mindfulness whale shark colouring sheet, and a digital whale shark poster
Receive your digital adoption pack within 24hours of adopting a whale shark. No need to wait days or weeks for gift pack.
Choose to adopt 1 or all 8 whale shark individuals
Your donation goes directly to funding research and work to protect these amazing whale sharks in Mozambique
Adoption Price: £15.00
---
9. Shark Foundation- Adopt a threatened whale shark
"The Shark Foundation was established in 1997 as a lobby for sharks to actively contribute to the protection, research and conservation of endangered shark species and their natural habitats."
Why you'll love to protect a whale shark through Shark Foundation:
Receive a custom certificate, printed photo and description of the whale shark you adopted
Option to receive a PDF version of the certificate via email
Donation goes towards the projects of Shark Foundation
Tax deductible in Switzerland
Adoption Price: €50
---
10. Shark Team One – Adopt a whale shark plushie
"Shark Team One plays an important role protecting sharks, worldwide endangered species and ocean ecosystems with our core programs, conservation campaigns and marine protected area projects."
Why you'll love to adopt a whale shark from Shark Team One:
Receive a whale shark plush toy that will remind you of Rooster, a whale shark in Mexico whose dorsal fin was severely damaged possibly by a ship strike.
Your donation help in the protection and study of whale sharks in Yucatan Peninsula and other locations where Shark Team One works.
Adoption Price: $125
---
If you love supporting organizations that help our ocean, you should also check out these posts:

Adopt a Wild Animal and Track It: 11 Wildlife Adoptions for Ocean Lovers
10 Best Adopt a Shark Programs That Are Fin-tastic
10 Best Adopt a Sea Turtle Programs That Are Turtley Awesome
10 Best Adopt a Whale Programs That You Whale Love
10 Best Adopt a Dolphin Programs You Should Support
10 Best Adopt a Penguin Programs That Save The Adorable Sea Birds
10 Best Adopt a Coral Reef Programs That Save Our Oceans
10 Best Adopt A Seal Program That Will Have Your Seal of Approval
10 Best Adopt a Seahorse Programs You'll Love To Support
9 Best Adopt a Manta Ray Programs You Can Support
8 Best Adopt an Octopus Programs for Cephalopod Lovers
8 Best Adopt a Polar Bear Programs that are Bear-y Cool
7 Best Adopt a Manatee Programs

19 Amazing Ocean Companies Saving Our Seas
10 Saving The Ocean Bracelets You'll Want to Wear and Share
Pin this for later!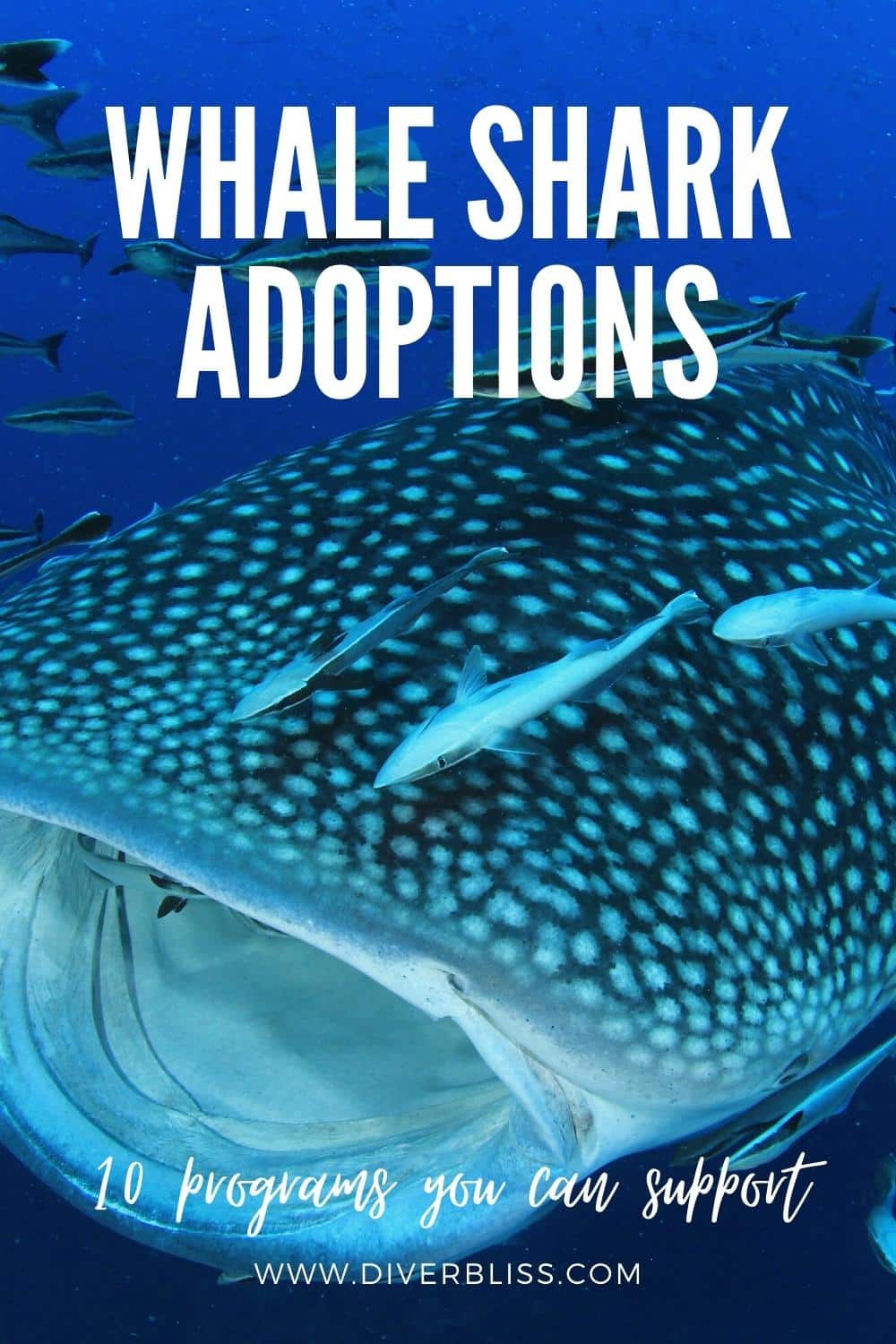 Have you adopted a whale shark before? Do you know of any other whale shark adoption programs in your own country? Leave a comment below!