Buy a bracelet, save the ocean. Will buying Saving the Ocean Bracelets going to solve the ocean's problems?
Well, you be the judge of that!
Wearing ocean conservation bracelets can spark conversation about what matters most to you- whether it be about single-use plastics that are polluting our oceans or how marine animals like sea turtles, sharks, mantas, and whales are being threatened by human activities day after day.
Not only do they look great on your wrists but ocean-saving bracelets can serve as a daily reminder for us to protect what we love the most.
These statement pieces represent your personal advocacy and you should proudly wear them to show what you stand for and believe in.
If you know an ocean lover, these save the ocean bracelets make perfect gifts for scuba divers, surfers, marine researchers, ocean adventurers, and more. They're also great to be given to anyone who doesn't know much about our oceans.
Save the Ocean bracelets are effective in raising awareness about your cause. It can inspire others to take action and change the way they think and live.
When you buy a bracelet, you save the ocean with the help of other individuals or organizations who are doing conservation work. These people are out there making a difference four our oceans. To do this, they need funding. Ocean charity bracelets provide financial aid to these groups so they can continue with their missions.
Continue reading to find out where you can buy bracelets that save our oceans and which organizations to support.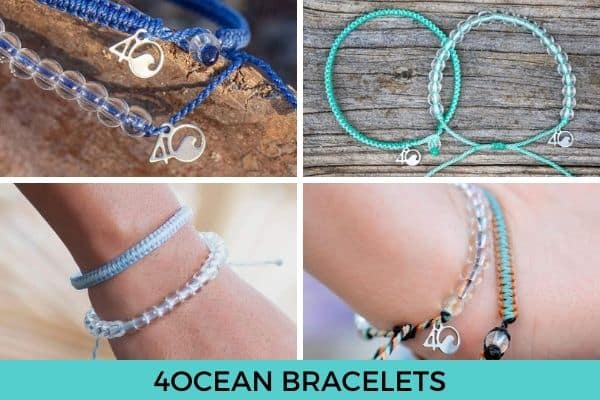 Featured 4Ocean Bracelets that Remove Ocean Plastic
4Ocean Signature Bracelets
Loggerhead Sea Turtle Bracelets
Beluga Whale Bracelets
Plankton Bracelets
Founded by Alex Schulze and Andrew Cooper in Bali, Indonesia, 4Ocean aims to save the ocean through clean-ups with the help of local communities. Plastic waste recovered from the sea are used to develop new and innovative products that raise awareness about the ocean pollution crisis.
In 2015, the 4Ocean bracelets were sold to help fund their ocean clean-up operation. If you buy a bracelet, you save the ocean by removing plastic that threatens millions of marine life each year.
4Ocean gives you the opportunity to become part of a global movement involved in a massive ocean clean-up.
If you're looking for gifts for beach lovers, 4Ocean bracelet will be a meaningful and impactful present to give.
For every 4Ocean bracelet, purchased five pounds of trash will be pulled out from oceans, rivers, and coastlines. These ocean-saving bracelets are responsible for removing more than 15 million pounds of trash in the United States, Indonesia, Haiti, and Guatemala.
While the 4Ocean bracelets are not made from the plastics that they actually recovered, they are still recycled plastic bracelets making use of 95% post-consumer recycled content.
4Ocean is committed to educating its wearer about the different marine life that needs our protection. Every month they release a new ocean bracelet that focuses on a marine animal that is affected by plastic pollution.
---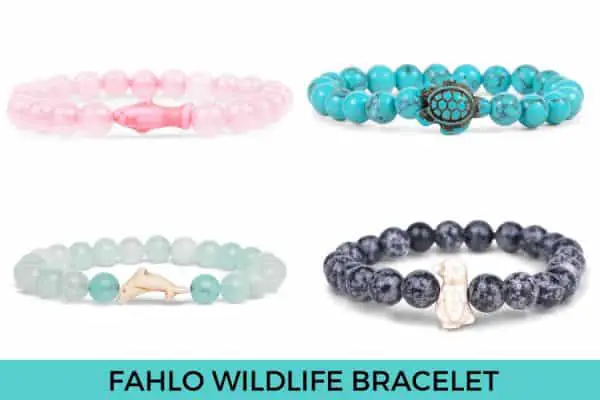 Featured Fahlo Wildlife Collection Bracelets
"Voyage" Shark Bracelet
"Journey" Sea Turtle Bracelet
"Odyssey" Dolphin Bracelet
"Passage" Penguin Bracelet
Fahlo is a company based in Dallas, Texas, USA. They partner with non-profit organizations to create bracelets that support conservation efforts.
Every bracelet from Fahlo comes with a real animal to track. You will be given its name, photo, and tracking information so you can check online where the individual animal is in the world. This interactive experience encourages you to learn more about specific species and how to protect them.
Since 2018, Fahlo, formerly known as Wildlife Collections has donated thousands of dollars to wildlife foundations. They are wonderful gifts for environmentalists, as the bracelet you buy helps fund research and conservation of different creatures.
They have partnered with:
Click here to get your wildlife tracking bracelets.
Use the code: DIVERBLISS20 to get a discount at Fahlo.
---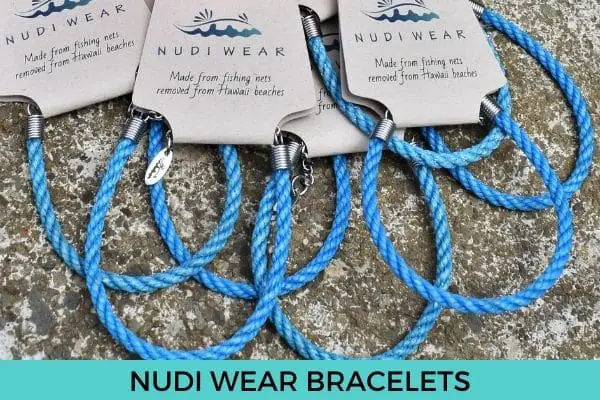 Nudi Wear was founded by two divers, Ryan and Christy, who wanted to be a part of a positive change for our oceans. Over the years, they have seen the negative impact of humans on the underwater world. Wanting to be part of the solution, they started selling products like upcycled fishing net bracelets to raise awareness about ocean pollution.
Nudi Wear's Save The Ocean Bracelets are made with fishing nets removed from the beaches of Hawaii during their cleanups. The abandoned nets are upcycled and turned into bracelets to inspire others to protect the ocean and the animals found in it. Each bracelet is unique as there are slight variations in color and condition due to natural weathering.
Each purchase helps fund future cleanup efforts and saves marine animal lives in Hawaii.
Click here to order an ocean plastic bracelet from Nudi Wear.
---
Featured Dorsal Bracelets for Ocean Conservation
Sea Turtle Paracord Bracelet
Wave Paracord Bracelet
Hammerhead Shark Paracord Bracelet
Shark Paracord Bracelet
Dorsal is another jewelry company that is on a mission to save the oceans. They have partnered with Empower Eco to collect plastics from beaches and waterways. Their partners at Coralive.org are involved in coral reef restoration projects. And they support The Ocean Agency, which is a non-profit organization dedicated to marine research and conservation
Each month Dorsal donates 15% of net profits to their partners to help fund their projects. So far they have removed more than 120,000 pounds of ocean plastic, planted more than 600 coral fragments, and have donated more than $48,000 to their conservation partners.
All these were made possible because of people who support them by purchasing Dorsal's jewelry that save the ocean.
Dorsal bracelets are wonderful gifts for yourself, a family member, or a friend. They even have a bracelet club, where each month you will receive 2 bracelets and an ocean-themed sticker. Not only will you look good wearing a new accessory each month, but you'll also feel good for contributing to Dorsal's conservation efforts.
Click here to buy Dorsal's ocean conservation bracelets.
Use the coupon code DIVERBLISS to get a 15% discount on your first order!
---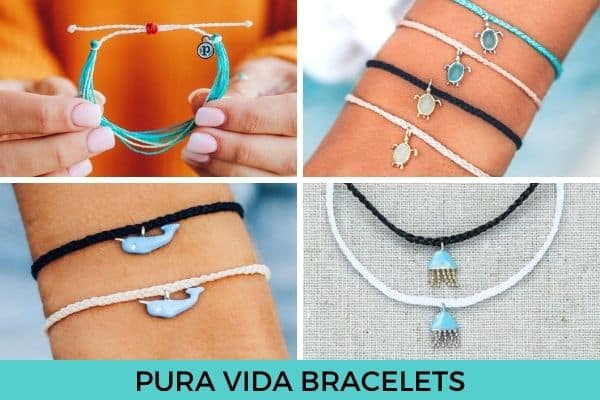 Featured Pura Vida Bracelets that Save the Ocean
For The Ocean Bracelets
Save The Sea Turtle Bracelets
Narwhal Charm Bracelets
Jellyfish Charm Bracelets
Founded in Costa Rica, Pura Vida Bracelets provides sustainable jobs to artisans in Costa Rica, El Salvador, India and more, worldwide. They sell friendship bracelets made from colorful strings to celebrate the simple things in life- or "Pura Vida," as Costa Ricans would call it.
Having found success, their company also sells bracelets to raise awareness for charities that make a difference in the world. Pura Vida has donated more than $3.8 million to more than 200 charity partners in the environmental, humanitarian, and health sectors.
When you purchase one of their saving the ocean bracelets, 5% of the profits are donated to ocean conservation groups like Oceanic Preservation Society, Sea Turtle Conservancy, World Wildlife Fund, and Surfrider Foundation.
You can check Pura Vida's Charity Collection to find an ocean conservation organization you can support.
Saving the ocean bracelets are the perfect accessories to give beach lovers! For more ideas, check out this list of best beach gifts.
---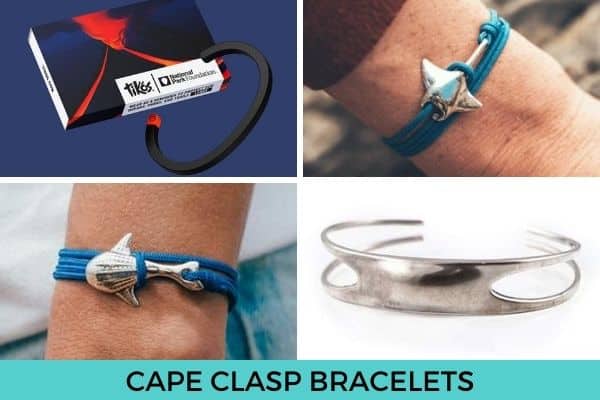 Featured Saving the Ocean Bracelets from Cape Clasp
Recycled Ocean Plastic Cuff Bracelet
Manta Ray Bracelet
Whale Shark Bracelet – great gift for whale shark lovers!
Mermaid Cuff Bracelet
Another company that makes jewelry to save the ocean is Cape Clasp. Founded in 2013, they created a bracelet shaped like Cape Cod to support Cape Cod National Seashore. After selling out their first batch, they started creating other ocean-inspired bracelets to support more non-profit causes.
Today, Cape Clasp is an ocean brand that has made a difference in the protection of sea life. Each of their designs supports an organization that works towards the conservation of the ocean and its inhabitants. When you purchase any of their ocean-saving bracelets, 15% of profits are donated to their charity partners.
Cape Clasp also makes recycled plastic bracelets. Their Tikos cuffs are basically a bracelet made from ocean trash! It is meant to remind you to reduce your plastic use and to protect our oceans, parks, and trails from pollution.
Their Manta Ray Bracelets support Blue Sphere Foundation to protect threatened marine species and habitats.
Their Whale Shark Bracelets support Saving the Blue in Andros, Bahamas to recover and restore a variety of threatened marine species.
The Mermaid Cuff Bracelets support Atlantic White Shark Conservancy.
Over the years, they have donated over $180,000 to their non-profit partners.
If you would like to support Cape Clasp and its partners, click here to discover other saving the ocean jewelry.
Do you love wearing jewelry that reminds you of the sea? You might also enjoy this post on beautiful handmade ocean jewelry.
---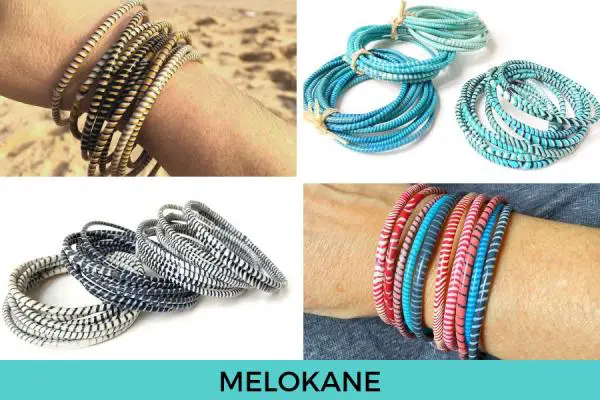 Featured Melokane African Bracelets from Recycled Plastic Flipflops
Beige tones african plastic flip flop bracelets
Turquoise colors African recycled flip flops bracelets
Black and white recycled plastic bracelets
Multicolored African plastic bracelets
Melokane is a company that sells bracelets made from recycled plastic. Their bracelets are made in Mali, Africa from plastics flip-flops. The slippers, that could potentially pollute the rivers and ocean, are recast into thread to make the ethnic-inspired bracelets.
Inspired by the colors of Africa, the bracelets come in various colors that is perfect for any season. No two bracelets are alike. Because they are made of plastic, the bracelets are also waterproof and can be worn all day, every day.
When you purchase one of these recycled plastic bracelets, you are preventing more flip flops from entering the ocean.
Click here to learn more about Melokane bracelets.
---
8. Bracenet Bracelets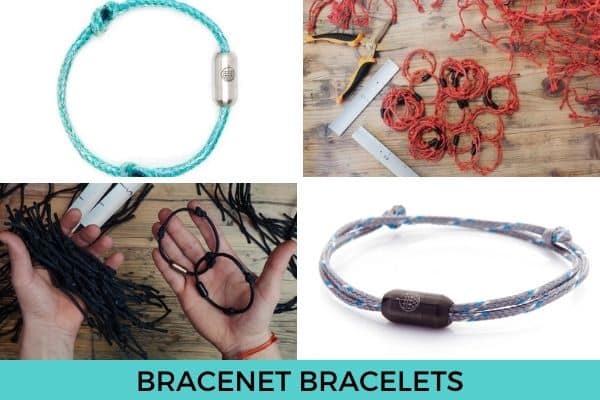 Featured Bracenet Bracelets
North Sea Bracelet
Red Sea Bracelet
Black Sea Bracelet
Baltic Sea Bracelet
Madeleine von Hohenthal and Benjamin Wenke were scuba diving in Zanzibar when they first encountered ghost nets. Ghost nets are abandoned fishing nets that are responsible for killing millions of marine life each year. It is estimated that 640,000 tons of fishing nets are lost or dumped in our oceans each year.
Their experience gave them the idea to take home the recovered ghost nets and make bracelets out of them. To help save the ocean, Bracenet was born.
Bracenet's ocean trash bracelets are made from fishing nets dumped at sea. They encourage you to "Save the seas, wear a net."
Working together with marine conservation organizations like Healthy Seas and Ghost Diving, they have recovered over 5 tons of old fishing nets that have been lost or intentionally sunk. The plastic nets are cleaned, processed, then handmade into upcycled plastic bracelets to raise awareness about ghost nets and ocean conservation. 
By buying their bracelets that clean the ocean, you are also donating to organizations like Sea Shepherd, Pacific Garbage Screening, Shark Allies, Ocean Voyages Institute, and Doctors Without Borders.
Learn more about Bracenet.
Are you enjoying learning about these awesome companies? Read my post on the 22 Ocean Companies That Are Saving Our Seas
---
9. MBRC The Ocean Bracelets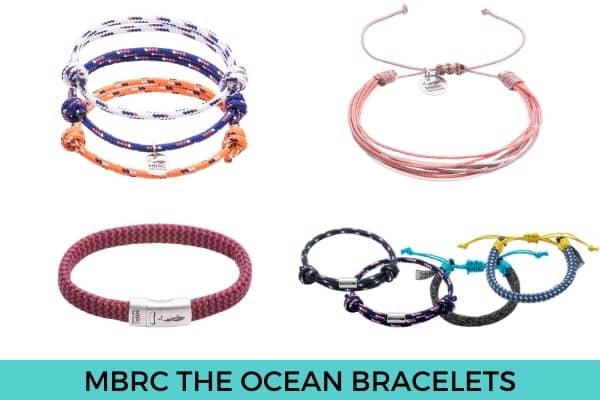 Featured MBRC The Ocean Bracelets Recycled Plastic Bottles
Surfer Pack Bracelets
Octopus Bracelet
Atlantic Ocean Bracelet
Coral Reef Kids Bracelet
The MBRC is a social venture that markets fashionable and sustainable products made from recycled plastic waste or from natural and sustainable materials. Their recycled plastic bracelets are made of ECONYL®, which is a nylon fabric made from old fishing nets, fabric scraps, and other waste.
When you purchase any of their products, as much as 15% of profits are donated to the MBRC The Ocean Foundation. This non-profit partner organizes volunteer beach clean-ups around the world and educates the next generation on how to care for the ocean.
So when you buy from MBRC The Ocean, you are supporting efforts against ocean plastic pollution.
Do you hate ocean plastic too? Here are 101 Ways You Can Say No To Plastic Every Day.
---
10. Clean Sea Bracelets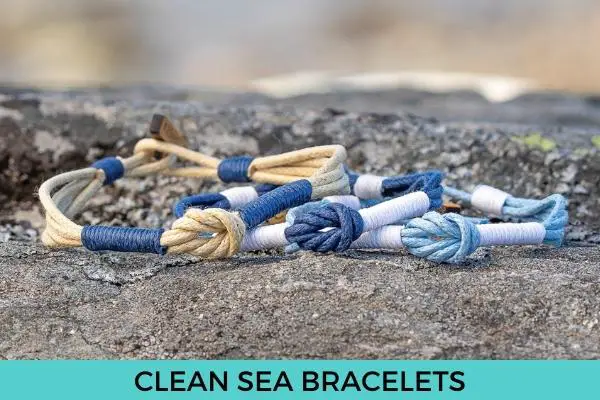 Clean Sea is another group that sell bracelets that save the ocean. This initiative was started by sibling, Lukas and Mikaela, who one day noticed a bay in Ramsvikslandet that was full of trash. After learning how much plastic was being washed up along the shores of their hometown in Sweden, they decided to do something about it.
They introduced Clean Sea bracelets which help fund coastal and beach cleanups in Sweden. When you purchase one of their handmade cotton cord bracelets, they commit to removing 1 kilo of trash from the ocean.
Since 2019, they have done 100 cleanups in nearly 200 bays along the Swedish coastline. Ocean lovers who have supported Cleans Sea are responsible for the removal of 10,000 kilos of plastic from the ocean.
Want to make a difference in your own community? Here's a guide on how to do a proper beach cleanup that makes an impact.
---
I hope that this post inspires you to help the ocean. If you do not want to buy a bracelet, you can also show your support by donating directly to the various non-profit organizations linked above.
You can also consider symbolically adopting sea animals. Check out my list of animal adoptions you can support:
11 Best Adopt and Track a Wild Animal Programs
10 Best Adopt a Sea Turtle Programs
10 Best Adopt a Shark Programs
10 Best Adopt a Whale Programs
10 Best Adopt a Dolphin Programs
10 Best Adopt a Whale Shark Programs
10 Best Adopt a Penguin Programs
10 Best Adopt a Seahorse Programs
10 Best Adopt a Seal Programs
10 Best Adopt a Coral Reef Programs
9 Best Adopt a Manta Ray Programs
8 Best Adopt an Octopus Programs
8 Best Adopt a Polar Bear Programs
7 Best Adopt a Manatee Programs
Every little bit counts in the protection of our ocean and marine life.
Pin this for later!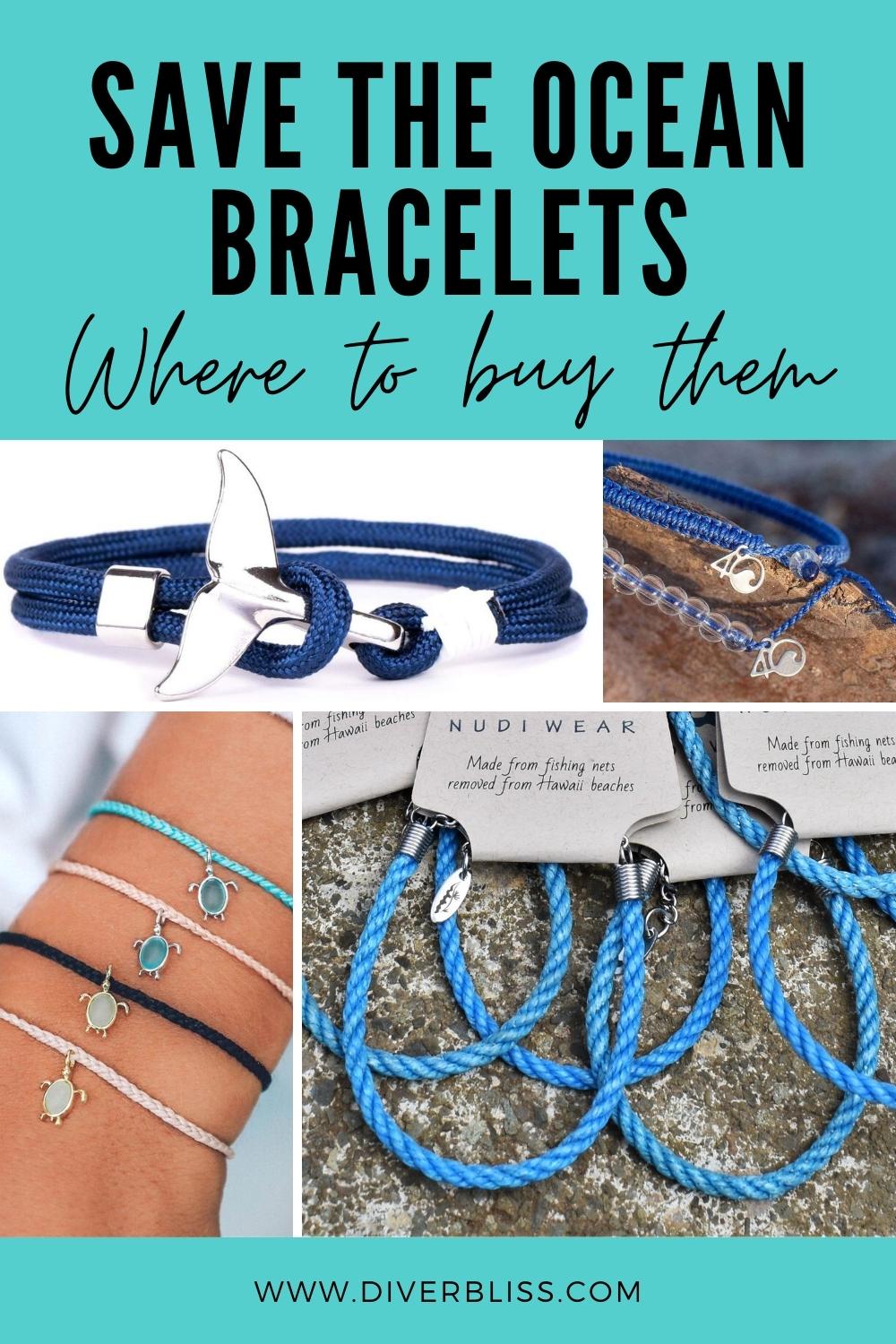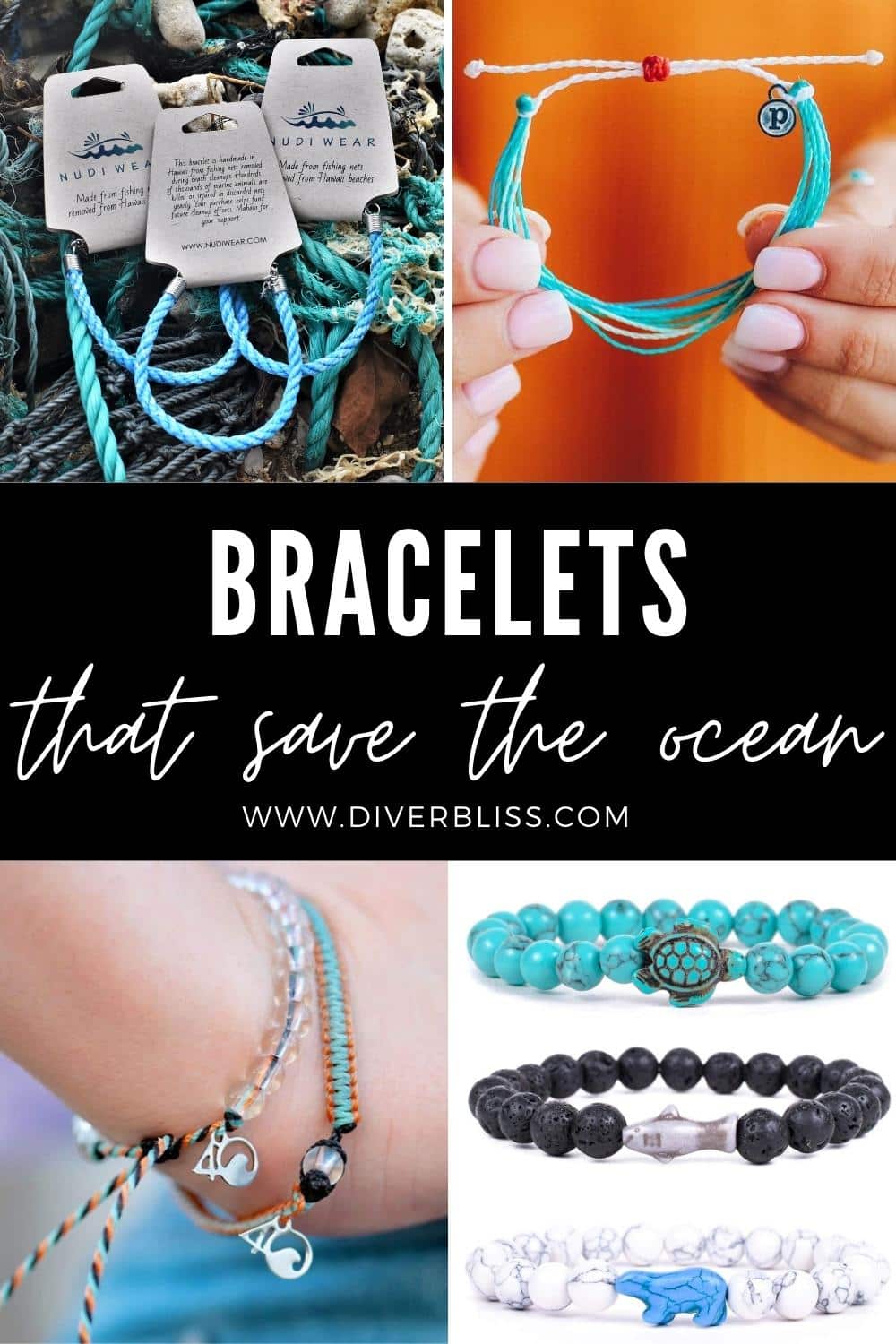 Do you love wearing bracelets that advocate for our oceans? Which ocean conservation efforts do you support? Leave a comment below!