The links below may be affiliate links. If you shop through them, I'll earn a commission at no additional cost to you. For full information, please see my disclaimer here.
Did you know that June 8 is World Oceans Day? This is the official day where people around the world celebrate and honor the ocean!
If you're an ocean lover, you can easily participate in the events happening around the world. Or you can even plan your own activity to show your love for the ocean. You too can celebrate the ocean and help protect it in your own little way.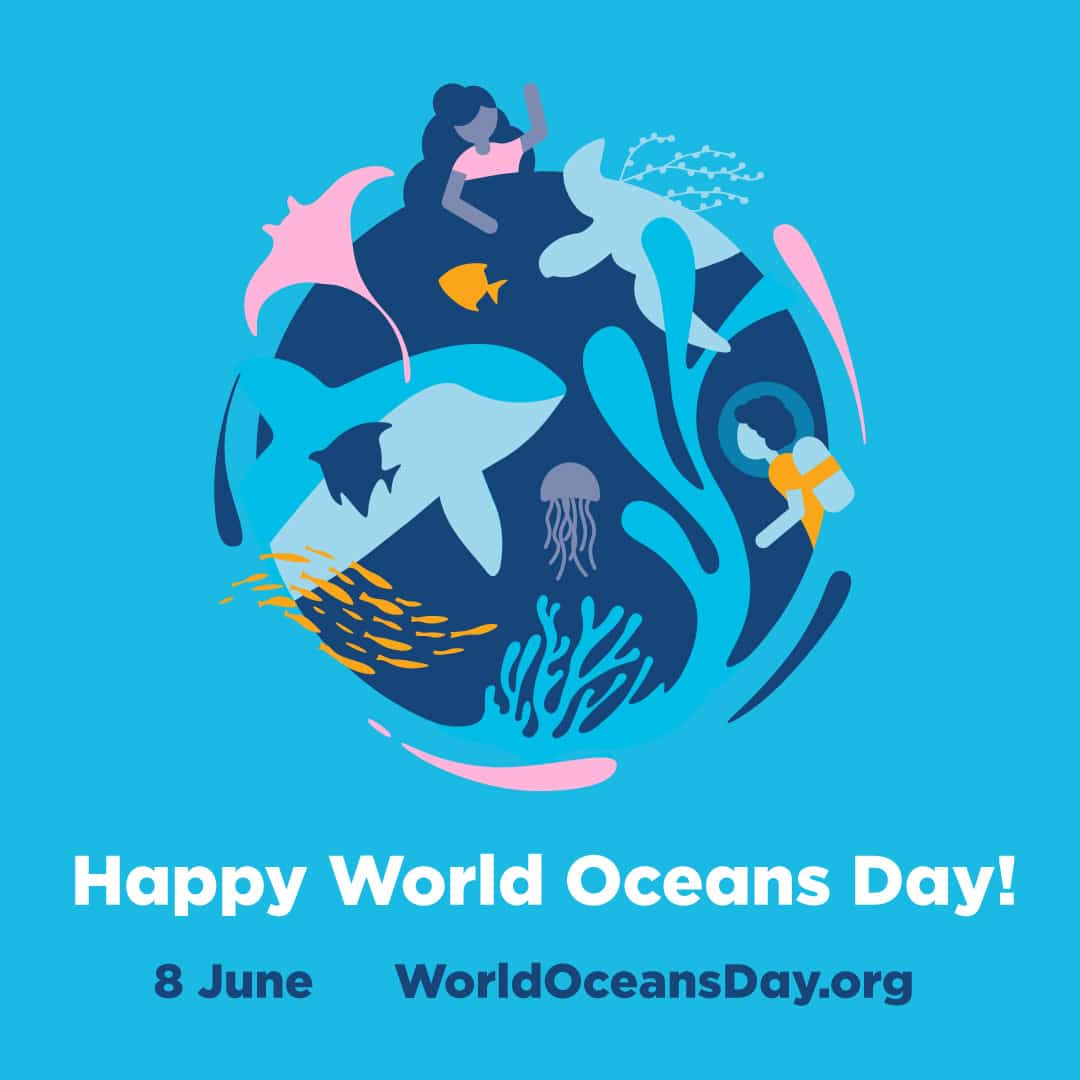 Here are some ideas for World Ocean's Day:
---
1. Join a Beach Clean Up
If you find yourself near a beach, do a World Ocean Day beach clean up!
You can make your traveling sustainable and participate in events like these too. Spend the day at the beach and make a difference for our oceans. Don't forget to bring your plastic-free reef-safe sunscreen.
If you happen to live by the beach and no one has organized a beach clean up then why not organize one yourself! Gather your friends and family for a day at the beach and challenge them to a beach cleanup contest. Learn how to do a beach cleanup that makes an impact.
To inspire you, here are some beach cleanup events that has happened in the past in my own country.
Worlds Ocean Day beach clean in Doljo beach, Bohol started at 7:30 in the morning! If you missed this event, Plastic Free Bohol organizes beach clean ups all year round.
Coastal Clean Up in Olango Island, Cebu with Sugbo Sea Saviors
The event was open to all sea and nature-lovers. Swimming skills were not required as this was a coastal cleanup. Participants can safely stay on land!
Sugbo Sea Saviors, together with the Lapu-Lapu city government of Cebu, was responsible for making this event possible.
For more details, visit: https://www.facebook.com/events/2297790270491903/
Beach clean up in Siargao with SEA Movement
Siargao Environmental Awareness Movement, also known SEA Movement, is a non-profit group that seeks to preserve the beauty of Siargao Island. They organize beach cleanups every weekend.
The time and venue are announced the Friday before the cleanup. Follow them in their social media accounts for updates. For other volunteer work and inquiries, you may also email them directly.
For more details contact SEA movement:
Facebook: https://www.facebook.com/seamovementph/
Instagram: https://www.instagram.com/s.e.a.movement/
---
2. Adopt a marine animal
Did you know that you can adopt marine animals? While you won't be taking home the animals, you will be symbolically adopting the species of your choice. Your adoption fee or donation goes towards helping the animals from the ocean through various research, education, and conservation programs.
This is a fantastic way to get involved during World Oceans Day as you are surely contributing towards helping endangered or threatened species from our oceans.
If you like to symbolically adopt a sea creature here are some programs you can support:

Adopt a Wild Animal and Track It: 11 Wildlife Adoptions for Ocean Lovers
10 Best Adopt a Shark Programs That Are Fin-tastic
10 Best Adopt a Turtle Programs That Are Turtley Awesome
10 Best Adopt a Whale Programs That You Whale Love
10 Best Adopt a Dolphin Programs You Should Support
10 Best Adopt a Whale Shark Programs That Protect Them
10 Best Adopt a Penguin Programs That Save The Adorable Sea Birds
10 Best Adopt a Coral Reef Programs That Save Our Oceans
10 Best Adopt A Seal Program That Will Have Your Seal of Approval
10 Best Adopt a Seahorse Programs You'll Love To Support
9 Best Adopt a Manta Ray Programs You Can Support
8 Best Adopt an Octopus Programs for Cephalopod Lovers
8 Best Adopt a Polar Bear Programs that are Bear-y Cool
7 Best Adopt a Manatee Programs

Animal adoptions make wonderful gifts for environmentalists and ocean lovers. You can get one for youself or for your family and friends to raise awareness about our oceans.
---
3. Do a Clean up Dive
If you are a scuba diver, you should definitely gather your diving friends and do a clean-up dive! Instead of visiting a dive site with pristine coral reefs, change it up for once and visit a site that is polluted with plastic. Clean-up dives are also a great way to raise awareness about our oceans. So don't forget to show your trash haul on social media.
Here's a video of a cleanup dive I did during International Coastal Clean-Up Day, which is another conservation event that happens in September.
You can also ask your favorite dive shop or local dive group, if they have anything for World Ocean's Day. Join their activity and connect with other ocean lovers.
If you are in the Philippines, this you can contact Knight Stewards of the Sea in Cebu. They usually have a "Scubasurero" Dive every Sunday! (Scubasurero is a creative term combining "scuba" and "basurero," a Filipino word for the garbage collector.) So they might have something planned for World Oceans Day.
You can also check with PADI if there is a Project AWARE Dive Against Debris organized in your community. If there are none yet, look into collaborating with a local PADI dive center or recommend that they organize one for World Oceans Day.
Before you go to your dive cleanup event, read this post on 15 Underwater Cleanup Tips for Scuba Divers Who Want To Help Clean Our Oceans.
---
4. Participate in a Discover Scuba event
Scuba divers are the biggest advocates of the ocean. So if you want more people to love the ocean, get non-divers to go try scuba diving.
You can work with a local dive shop to offer a discounted price for their Discover Scuba Or Try Scuba Diving Courses exclusively on this day. Get your non-diving friend into the ocean on World Oceans Day. This way they can finally experience and understand why you're so passionate about the ocean.
Hopefully, the experience will convert them and get them into diving as well.
---
5. Get additional dive certifications geared towards ocean conservation.
If you're already a scuba diver, you can get additional dive certifications that can teach you about specific ocean animals and how to protect them. You can celebrate World Ocean Day, by heading to your favorite dive shop and learning about your favorite marine animal. Grab your dive buddies so all of you can get certifications geared towards the protection of sea creatures like turtles, sharks, whales, and more.
So if you are a diver passionate about the different animal species in our seas and want to learn how to protect them, then check out this amazing list of distinctive specialty courses you can take.
---
6. Organize an educational event
If you are well connected with ocean experts or you yourself are one, you can organize an educational event to teach people about our oceans. Educational events are a great way to expose people to ocean problems and issues.
Nowadays, with the help of technologies like Zoom or Facebook Live you can easily connect with people from around the world. You can invite them to an online educational forum you've organized to celebrate our ocean.
If you're in need of educational resources, you can also check out this collection of educational materials from World Ocean Day Organization themselves. There are activities covering topics on ocean animals and plastic pollution for children of all ages.
---
7. Watch an ocean documentary with friends
Do you have a favorite ocean documentary you love watching over and over again? Why not get your family and friends together for an afternoon of binge-watching your favorite ocean movie on World Oceans Day.
Some of my favorite are Chasing Coral, Mission Blue, A Plastic Ocean and My Octopus Teacher! If you don't like documentaries, Finding Nemo and Moana are always fun to watch.
---
8. Raise funds for your favorite non-profit ocean organization
Wherever you are in the world, there are many ocean non-profit organizations that will always need funding to further their agenda. If you have an ocean organization you believe in and support, you can organize a fundraising event on their behalf.
For instance, If you are a business owner, you can pledge to give a portion of your sales to marine conservation organization of your choice.
You can also tap into the power of social media. Actively campaign for these ocean non-profits and ask your followers to make a donation.
If you are organizing World Ocean Day activities you can make it a part of the program that money raised will be donated to a specific ocean conservation group.
---
Celebrate World Oceans Day Every Day
While World Ocean's Day is celebrated every June 8, it doesn't mean that it stops there. Advocate for the protection of our oceans not just on one day but everyday. Set an example and show your love for the ocean by making changes in your life. Make better choices and say no to plastic whenever you can.
If you need to buy things support companies that are helping save our oceans. Buy from sustainable shops that care about the environment as much as you do.
Encourage your family and friends to do the same.
---

I hope this list inspires you to participate in World Oceans Day in the Philippines or wherever in the world you are!
If you are not able to go to any even or cannot organize your own, show your support by letting other people know about this special day. Use your social media for good. You can create awareness and educate your social network about the importance of our oceans and why we need to protect it.
Are you planning a World Oceans Day event too? What are you doing to get your community involved in World Oceans Day? Leave a comment below!
The links above may be affiliate links. If you shop through them, I'll earn a commission at no additional cost to you. For full information, please see my disclaimer here.